Posted April 15th, 2014
How about joining the 'sea gypsies'?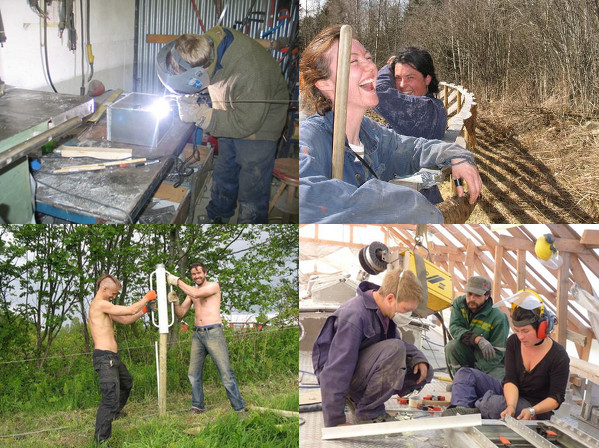 The Sea Gypsies at 'Sailing the Farm' have been posting about their exploits on our forum for years. We wondered if you'd like to learn about them, and maybe even think about joining them. Sounds like an excellent way to escape the rat-race, learn lots of great skills, meet interesting people and have an adventure. Over to Zeyang.
Welcome to 'Sailing the Farm', a collective for all wannabe Sea Gypsies!
On an organic farm, two hours north of Oslo, we are working to create a community, which combines a love of the sea with a sustainable way of life. We are building a 12 x 4.70 metre lapstrake aluminum sailboat; when completed she will be equipped for sailing in all regions, almost to ice-class level. Anyone who helps us out will have the chance to join our crew. Eventually we hope to form a floating nomadic tribe, part at sea and part on land, co-operating with eco villages around the world, living and traveling in the most eco-friendly way possible.
At the moment our project is relatively new. We have been running since 2009, so there is still a lot of work to be done. We are currently building up the farm, focusing on the infrastructure in order to form a stable, self-sufficient home for our community. We live with two dogs, the farm cat and some (very) free-range chickens. We keep bees and make jam; this year we harvested our first crop of potatoes and planted next season's raspberries. Eventually we hope to grow all our food and are searching for new ways to make our dreams more long-term. This is not just a project for sailors; if you have a knowledge or interest in permaculture, please come and share your ideas with us. We want the farm to flourish; a place where food, thoughts, plans, adventures, and of course boats, can grow.
We normally ask for a minimum commitment of thirty days, with a weeklong trial period. At the moment we have enough beds for eight volunteers; we all live together on the farm and the schedule is Monday to Friday, with approximately eight hours of work a day. You may be asked to do anything from ploughing and harvesting to jam making, roof building, beekeeping, digging, painting, or even grinding the barley for our morning porridge. It is guaranteed that you will be asked to cook; our diet is vegetarian and we all take turns to prepare the meals. We welcome anyone, of any age, nationality, religion, or sexual orientation, as long as you are happy to work hard and help out wherever needed.
We hope that the boat will be finished and ready for her first shakedown cruise in 2014 She is based on a 100-year-old design by Colin Archer; we work on her whenever we can but at the moment this is predominantly during the winter when the weather prevents us from being outside. Jobs include welding the deck, installing the engine, sewing the sails, constructing the mast and fitting the interior. If you have any particular skills in these areas, please let us know.
We are aiming to have a crew of six on each leg of the journey (we hope to reach China in the first year). Do not worry about safety; all care has been taken with both quality of materials and workmanship. Our captain has years of solo sailing experience, and it is ok if you are new to sailing. As for on the farm, experience is perhaps less essential than the drive to contribute, learn new things and adapt to life at sea. It wont be a pleasure cruise; safety will be of upmost importance, no alcohol or drugs allowed, and everyone will take an equal share of the work. This project is based on contribution; right from the beginning, the people who contribute most during the building of the boat and the construction of the farm will have higher priority when it comes to sailing. Cost will be kept as low as possible and we are also looking for ways to continue our sustainable lifestyle whilst at sea, for example growing our food on board using hydroponics.
Our dream is for a world-wide community of sea gypsies, sharing, learning, and traveling, always striving to be self-sufficient. If you are interested in finding out more, please visit our Facebook page.
Love from Sailing the Farm
by Zeyang of Sailing the Farm
---
The views expressed in our blog are those of the author and not necessarily lowimpact.org's
---
Leave a comment