Posted February 23rd, 2017
Interested in setting up a local food co-op? Mobile shop for sale, with free training thrown in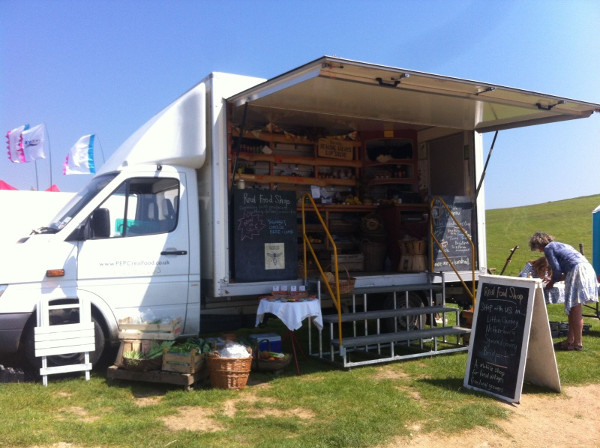 We are a real food co-op in Dorset, and we have been delivering food via our trusty mobile shop, 'the Charmouth Dragon'. We're now taking the shop online with the good folks of Open Food Network UK, with the idea of using the village halls, pubs, schools and coffee shops where we've been parking up for the last three years as drop off / collection points, to maintain our customer base and hopefully become accessible to a wider rural base of folks who couldn't always make our weekly stops. And we'll still be at the Bridport market, where the organic smallholders of our coop have had a stall for the past twenty years (the same rusty old stall, as it happens, although the owner of Leakers Bakery in town has kindly offered to help us toward the purchase of a new stripey tarpaulin). I suppose that's local news, but if there's anybody among your readership who's interested in talking the pros and cons of setting up a rural smallholders cooperative or mobile shop, we're more than keen for them to make that use of our experience.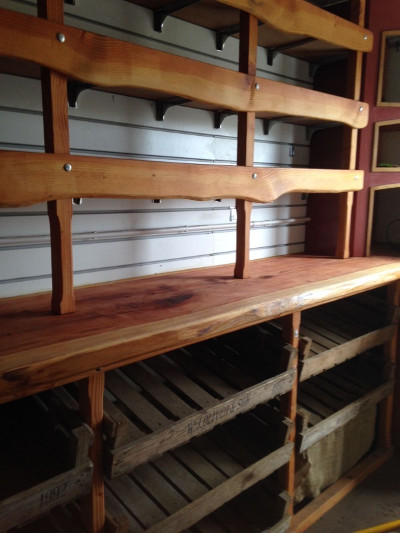 We've just listed our mobile shop on eBay.
It's a 3.5tonne Mercedes Sprinter with fridge/freezer/till/chocks and beautifully handbuilt shelving. We'd love to see it stay within the food sovereignty 'family'.
Please do have a look if you're interested, forward where relevant, and feel free to get in touch with any questions. Here's the link: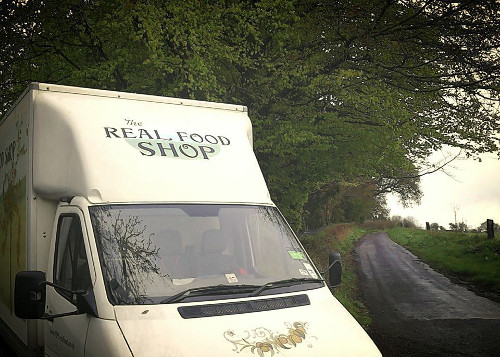 And here's some more about the mobile shop:
A mobile shop like no other, ready and raring to get back on the road. Ideal for festivals, markets, fairs, or setting up an exciting and innovative rural or urban mobile farm shop scheme. This is a reluctant sale.
Mercedes Sprinter 313 CDI LWB LGV in great used condition with strong engine and low miles. Box's hydraulic flip-up side door (see photos) is recently reinforced. Door and flip-down stairs can be handled easily by one person of average strength. Cab clean, in good condition. Dent on passenger side of cab (pictured), repair priced at £300. Two sets of keys, owner's manual included. MOT until April 2017.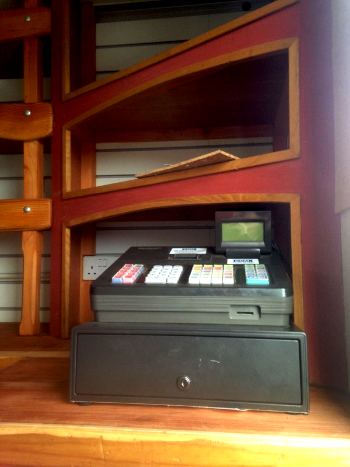 Handbuilt wooden shelving custom designed and added in 2013 features vintage market crates, redwood countertop and storage drawer and cupboard.
Display fridge, chest freezer and electric till (see specs below) currently run off a Honda EU20i genny (not included), which fits into generator box built in (see picture).
Beautifully detailed hand painted landscape-themed exterior with some surface scratches commensurate with three years on Dorset's country lanes.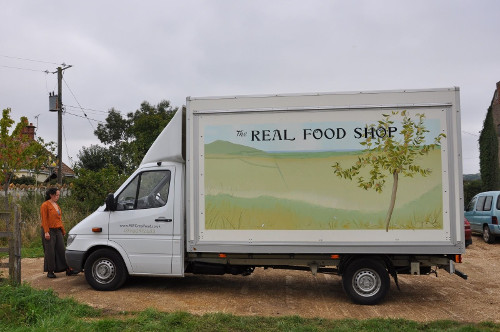 Included with purchase (all in used working condition, bought new in 2013):
Till: Sharp XEA 207 Electronic Cash Register
Refrigerator: Apollo double door sliding back bar chiller w/ four adjustable shelves
Freezer: Elitech ETC-60HT chest freezer, double sliding glass doors at top
Chocks: pair of Froli chocks with case (pictured)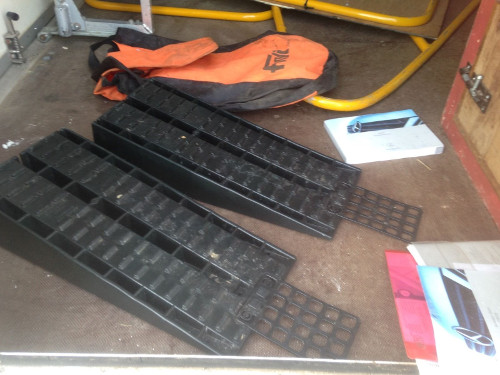 Real Food Shop: The Charmouth Dragon
+44 (0)7460 972683 / www.PEPCrealfood.co.uk
A project of The Peasant Evolution Producers Co-operative
www.peasantevolution.co.uk
Support our work with LocalGiving:
www.localgiving.org/
Join us on Facebook: https://www.
or Twitter: https://twitter.com/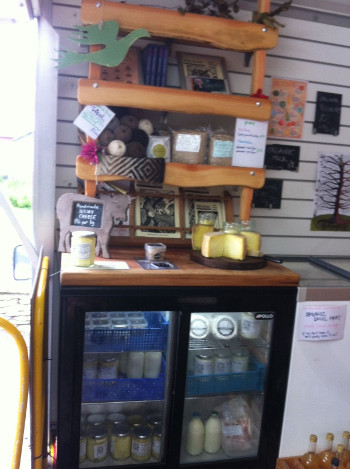 ---
The views expressed in our blog are those of the author and not necessarily lowimpact.org's
---
Leave a comment