Posted March 12th, 2017
What we're losing: the joy and satisfaction of crafting things by hand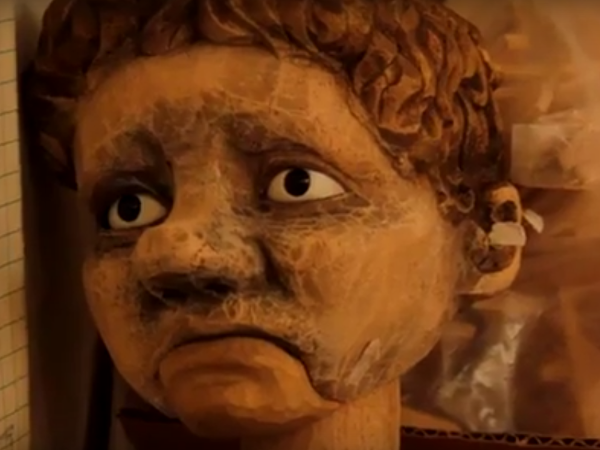 The video below shows various stages of the production and finish of a 1-metre tall puppet by Jan Zalud. Jan makes all sorts of things – crafted by hand from wood. He recently collaborated with various other puppet makers to make a selection of puppets for the Globe Theatre in London. The film is made by Jacob Hesmondhalgh. More from Jacob below.
———————————————————————————————–
From Jan:
I see myself primarily as a wood-carver, and this skill takes me in a number of different directions. My interest in carving started when I decided to make some small puppets as Christmas presents. These early puppets utilised driftwood and branches complete with bark. They had a primitive and slightly wild feel. I enjoyed the process, and was pleased with the results. I felt very encouraged in my new creative direction when I got a grant from Northern Arts, as well as some opportunities to exhibit my work.
During the early '80s I came to London and succeeded in getting a Setting Up Grant from the Crafts Council. This allowed me to develop my carving skills further.The puppets got larger and more sculptural. I enjoyed emphasising the natural qualities of the wood, leaving it unpainted but highly finished. These puppets were received favourably, and I started to exhibit them extensively around Britain. My work was then included in exhibitions which promoted British makers in Kyoto and Tokyo (British Council), Munich, and Avignon (Crafts Council). The puppet making process led smoothly to automata making. I became fascinated by the process of combining the sculptural with the mechanical.
I discovered the exciting world of Cabaret Mechanical Theatre, and was very inspired by other automata makers. Finding new ways of making the work move became part of the creative process. Leaving the mechanisms exposed made them almost as important visually as the actual carving. During the early 90s I got involved with the renowned 'Little Angel Theatre' in London, and became their resident carver, making puppets, as well as props for a number of productions. My most recent work with the Little Angel (now as a freelance) was for The Tempest, a co-production between the Royal Shakespeare Company and the Little Angel Theatre.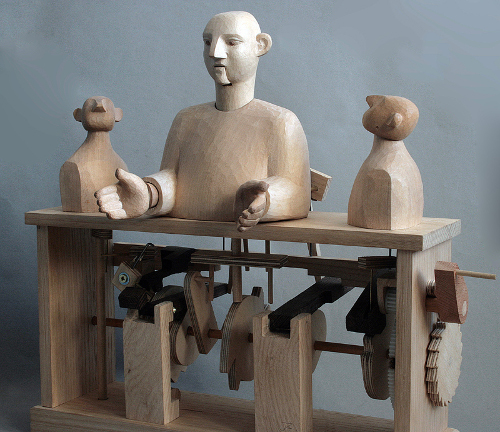 ———————————————————————————————–
From Jacob:
I love to make videos of people who are involved in craft production. I find their work meditative and inspiring. The skill, the pace and the thought that goes into it is an antidote to the mass-produced, stressful, wasteful world around us.
The film I made about oak swill basketmaking is going into permanent display in in the Lake District – in the Museum of Lakeland Life and Industry – and they've since commissioned me to make a film for them about the Stott Park Bobbin Mill. Links to these are below.
I make films promotional films for businesses and films for galleries such as this. The 'Crafted' series is done in my spare time. The next one I hope to be about traditional loom weaving up on the Isle of Lewis. It's very much a passion project, attempting to spread some nice films about interesting people, creating beautiful handmade items. Perhaps in a way which is being lost.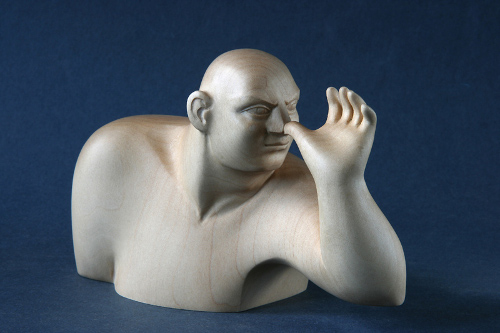 We shot this in a day and edited it in my evenings. The film shows various stages of the production and finish of a 1 metre tall puppet. Jan makes all sorts, generally piece by piece. He recently collaborated with various other puppet makers to make a selection of puppets for the Globe theatre in London.
His website gives a great intro to him, he does a great range of woodwork. He's originally Czech, he lives near Manchester, and he's a very nice man.
———————————————————————————————–
From Lowimpact.org: 
There is a common objection to hand-crafted products generally – that they are only for the wealthy. Well, there are different ways to look at this. First, the price of the finished product has to reflect Jan's time and skill. If the price was the same as mass-produced items, he wouldn't be able to make things this way, and neither would anyone else. Craft production would die out. Second, if Jan receives a fair price for this work, he'll be able to purchase other quality products from other craftspeople, or organic growers, or natural builders etc., and that sector can grow, allowing more people the opportunity to have more satisfying work. Jan seems like the kind of person who would favour the hand-crafted and sustainable over the corporate. And third, the mainstream system for producing the things that we need inolves sweatshops and the unsustainable, undemocratic corporate system. It's a price worth paying. One more thing – the argument – that organic food / craft products / non-toxic or non-exploitative good generally are unfaffordable – is often put by people wearing £150 trainers, who fly on regular 'city breaks', shop as a leisure activity and own giant, flat-screen TVs. It's a question of priorities. But if the middle-classes have to lead the way when it comes to building a sustainable, non-corporate sector, then so be it. It will allow more people to escape the corporate system and to continue a craft tradition that is hanging by a thread.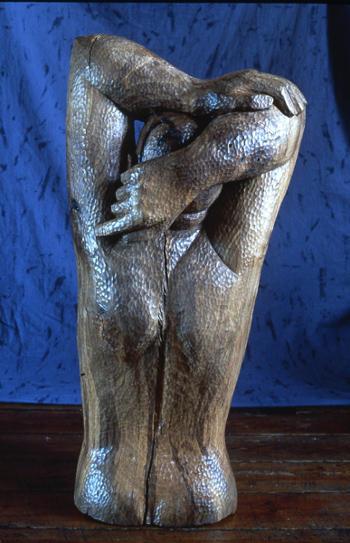 If you agree with this position, there are two things you can do. First, try to support the craft sector if you can, and second, think about gaining the skills yourself. Who knows, it might lead to a new career. See here.
---
The views expressed in our blog are those of the author and not necessarily lowimpact.org's
---
3 Comments
1

Peter Green March 12th, 2017

Wow, that first picture put me right off reading the rest of the article… put a smile on it! :-/

2

Dave Darby March 12th, 2017

Ha! Well, that's what he carved. I think the puppet must represent a sad character.

3

Peter Green March 12th, 2017

I guess, but what a picture to use at the top of an otherwise uplifting (I assume as I work with my hands and enjoy it) article. Maybe a smile at the start and the deeper darker realities lower down? Maybe just me ?
Leave a comment