Posted August 29th, 2019
Low-impact & the city 13: How to get lots of fruit from a small garden with no work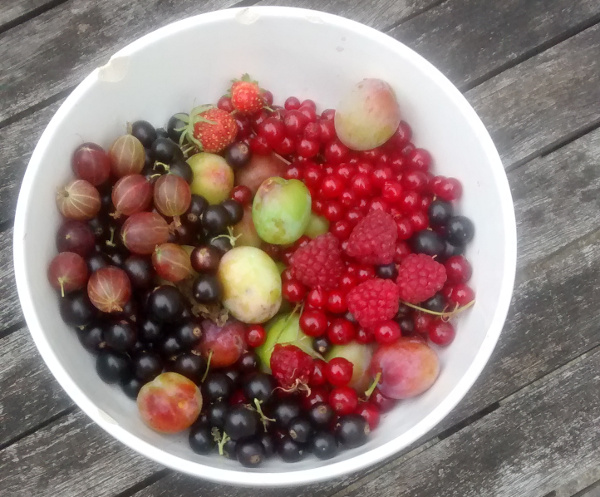 I'm too busy to have a vegetable garden. I don't have the mental energy to think about when it's time to buy seeds, to plant them, water them, prick them out into pots, dig the garden, plant them, and then continue to water them, weed them and harvest them.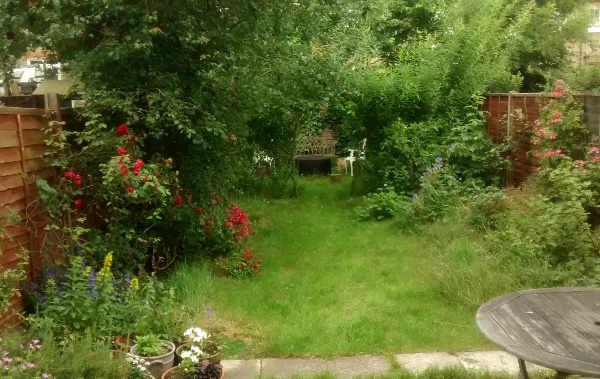 Don't get me wrong – I'm not saying that these are unpleasant activities. Quite the opposite. I'd love to have the time to do them. We were moving that way – baking bread, making yoghurt and kefir, planting fruit trees and bushes, composting, we installed solar and a rainwater barrel, had herbs in pots, collected wild blackberries. I also cycle, we use local, small businesses, switched to Linux – all that sort of thing.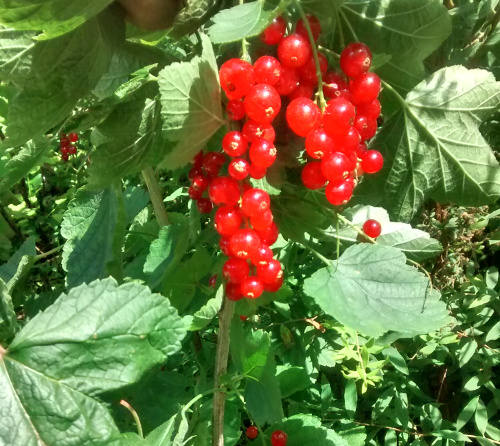 But then the Open Credit Network happened, and now quite a lot of my time is spent working out how to explain to the world how mutual credit can change the system, and why the system needs to be changed. For no pay. I know – sounds a bit mad, but it does feel like being on the Titanic, but with life going on as normal, as if there's no iceberg. So it feels as though I have to put effort into something that might be system-changing.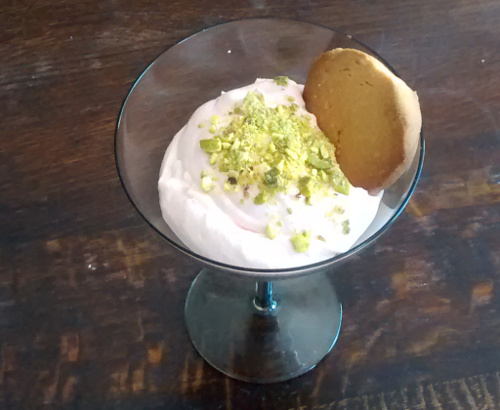 So growing veg has taken a back seat, along with the bread and the yoghurt. But composting continues, because it's not time-consuming (and you get to see the magic of turning waste into lush soil), and so does the cycling – and of course we still have the solar panels.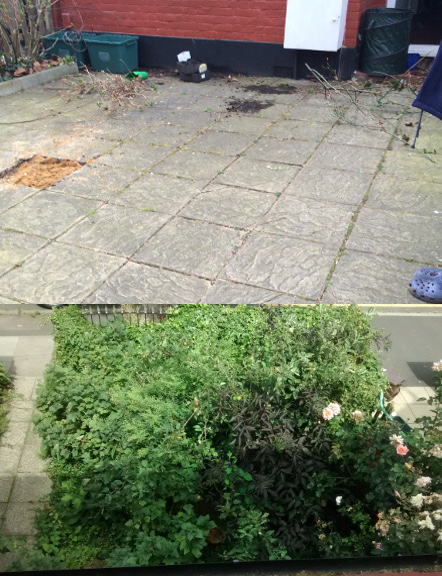 But I really want to sing the praises of fruit. It's prolific, delicious, and takes virtually no work. I want to stress this, because I think a lot of people are super-busy (especially in London), and they're scared of having a garden with any plants in it, because they're scared that it might mean a lot of extra work.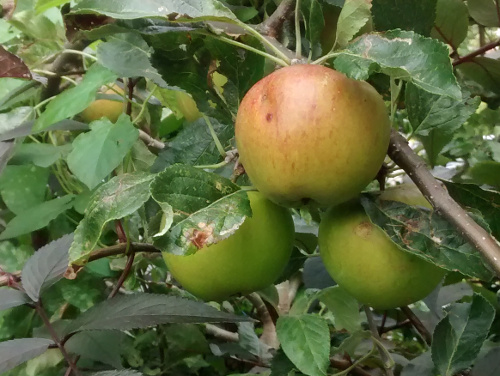 The response of a lot of people is way beyond not having time to grow veg – this is about astroturf (three doors away – back garden completely astroturfed), or completely concreting front gardens for cars (next door, and it's a creeping trend), so that they'll never have to mow grass, clip the privet, pull up weeds, prune roses etc.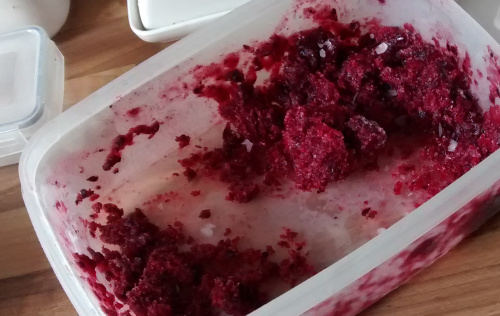 When we moved here, we dug up the concrete slabs in the front garden (just as our neighbour was concreting his), and removed a skipful of concrete from the back garden too. We had a few trips to the local garden centre, and planted ivy to climb the fences, a living willow 'fedge' across the garden, wild flower seeds, grass seeds, rosemary, mint, chives, spinach, nasturtiums, and, in terms of fruit:
two apple trees
two plum trees
several blackcurrant bushes
redcurrants
gooseberries
loads of strawberries
recently, a raspberry bush
and the blackberries came by themselves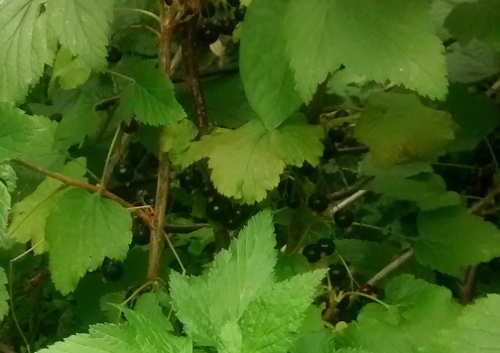 So over the last couple of months, we've had a bonanza – which is continuing with the blackberries and apples. All the pics on this page were taken in our garden and kitchen.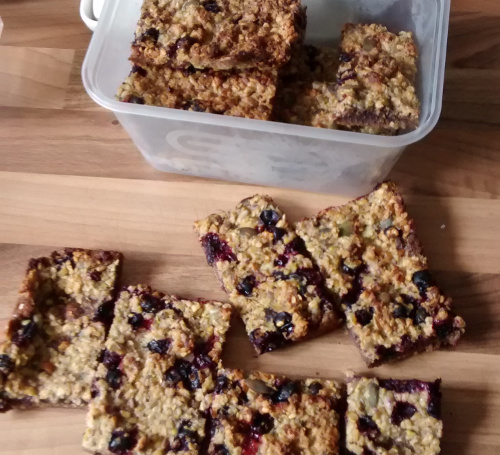 Here's what we've done with the fruit.
eaten it, in handfuls. I particularly like going out and just grazing.
juiced it
made blackcurrant energy bars (with oats, honey, banana, hazelnuts and sweet potato)
made gooseberry and redcurrant fool
made blackberry sorbet
had the plums and apples with cheese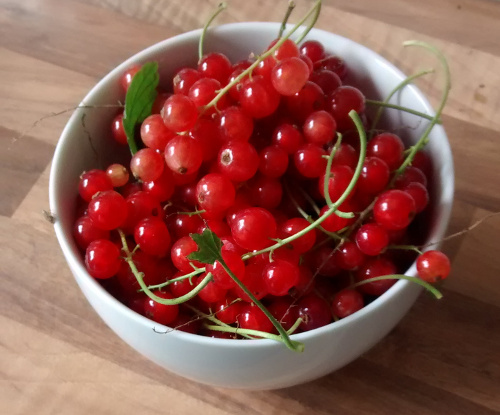 So yes, we do have to mow the grass, cut back the privet and fedge (and compost it), and I guess we should start to work out how to prune the fruit trees and bushes. But we want a little natural oasis, not stripy lawns or manicured flower beds, so it really isn't much work – and the fruit we get makes it worthwhile.
So, is fruit more delicious when it's home-grown? Yes.
---

About the author
Dave Darby moved to Redfield in 1996. Working on development projects in Romania, he realised they saw Western countries as role models, so decided to try to bring about change in the UK instead. He founded Lowimpact.org in 2001, spent 3 years on the board of the Ecological Land Co-op and was a founder of NonCorporate.org.
---
The views expressed in our blog are those of the author and not necessarily lowimpact.org's
---
12 Comments
1

annbeirneanimalwhisperert August 29th, 2019

I love you Dave Darby someone else who thinks like me and is helping out the planet in other ways.! Also written without the usual superior attitude of most people doing this. We are also moving onto natural wraps for food covers moving away from plastic boxes and cling wrap and changing from boxes of tissues to organic hankies, also trying to source organic fabric to make own wraps and hankies at some point.

This has soooo cheered me up, especially with all the dreadful news at present.

Ann

2

Jan Wilmot August 29th, 2019

I would add honeyberries to your collection as they are trouble free and up to a month before any of the other fruit, although granted a little work to harvest.

In my next small garden I'm also planning a living screen of ballerina type fruit trees as there are now so many available and I have always fancied trying cherry and apricot. Strawberries do really well and are much easier to pick in hanging baskets.

3

Dave Darby August 29th, 2019

Ann and Jan – thanks for the tips.

Plus I think all comments on Lowimpact should begin 'I love you Dave Darby'. Unlikely though.

4

Theresa August 29th, 2019

I agree, fruit is real value for little effort. Rhubarb is a reliable plant as well. How about cultivating edible weeds too? They grow by themselves and tend not to suffer from drought. A few years ago I ripped the cover of my gazebo while taking it off for the winter. As it had become green and brittle, I decided not to use it anymore and three years on it is 50% covered with grapevine and loads of bunches of grapes too. It's great, as it shades the oven like sun trap outside my back door but when the leaves drop, I get the Autumn/winter sun, with very little work.

5

Eloise Sentito August 30th, 2019

We love you Dave Darby ?

6

Dave Darby August 31st, 2019

I could get used to this.

7

jojograham2018 September 1st, 2019

I love Dave Darby's flapjack. Looks delicious. This article made me smile too. Thank you.

8

Angharad September 8th, 2019

I live really close to the north circular in London and a busy B road at the front of my flat and often worry about pollution levels when it comes to growing fruit and veg. Should I be?

9

G F September 9th, 2019

Angharad, I think your fruit and veg will be better for you than supermarket produce, which are routinely sprayed with all sorts of nasties, let alone exposed any pollution from nearby roads including motorways. Plus yours won't have been in transit for days or weeks. If it's possible to have some sort of non-edible plant barrier (like a hedge, or even a vine like ivy growing on a fence), that should mitigate pollution to some extent.

10

homeminderukMarcia McGrail September 19th, 2019

I love you Dave Darby is the ivy to clothe the fence or do you think that it could eventually graduate to choking the fedge? There are so many ivy clad trees and hedgerows etc that look alive due to the deceptive covering of ivy but are in actual fact slowly being choked to death. I know my point takes the conversation away from homegrown fruit but the natural infrastructure is all connected and at risk.

12

Cathy Chua October 13th, 2019

" I think a lot of people are super-busy (especially in London), and they're scared of having a garden with any plants in it, because they're scared that it might mean a lot of extra work."

What are these people doing that makes them so poor in time for gardening? If they have Netflix they have time to garden. If they go to the pub they have time to garden. If they have time to 'do' facebook, they have time to garden.

It's such a cop out in other words. I'm often accused of having time to do things that other people don't, but that's a deliberate choice. It seems to me, if you don't have time to spend an hour or two a week 'gardening' then you are probably more or less dead.
Leave a comment