Posted May 14th, 2017
One man and his sticks: meet stickmaker Joe Musialowski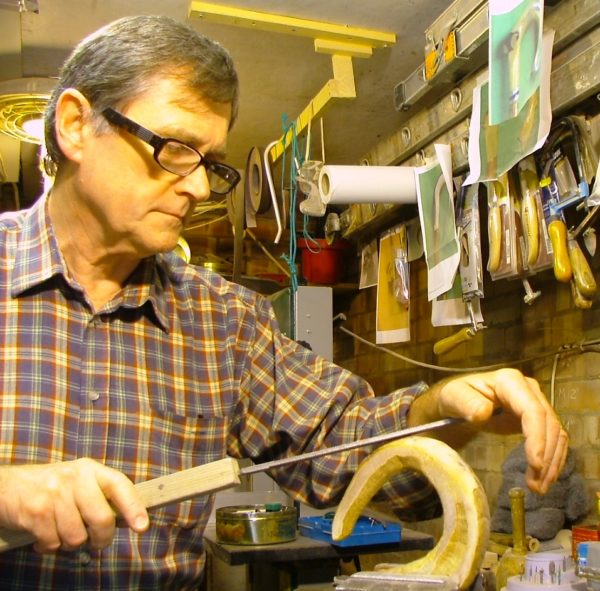 A traditional rural skill sometimes overlooked, crook and stickmaking is making a comeback in the UK. Lowimpact.org's Sophie Paterson spoke to Joe Musialowski of Wren Country Sticks about his journey to become a professional stickmaker and what the future might hold for this timeless country craft. Supplier of bespoke sticks, crooks and croziers for walkers, shepherds and Bishops, it's over to Joe to tell us more in his own words.
When Sophie contacted me with a proposal to write a short blog about stickmaking and my personal introduction to it, I felt it was an opportunity to make the reader aware of a country craft and hobby that very few people know about or have come across, and yet is something that is not only flourishing but growing and being exported to other countries.

My introduction to this functional craft and art began on a visit to what was then The Lowther Horse Trials, primarily as the name suggests a horse trial competition which culminated in a three day fair and show. This was such a major venue for so many country related crafts and pursuits that it attracted exhibitors and vendors from all over the country. One of these pursuits was that of competitive "stick dressing", more commonly known as stickmaking.

I did not know who the organisers of the stick competition were at the time as I had no idea that such a thing existed. However I later learnt that there was a young and growing company of individuals who had created what would turn out to become the governing body of competition stickmaking in the UK: The British Stickmakers Guild (BSG), a unique body where membership is open to all with a interest in walking sticks of any description. Their membership is now multinational and runs into the thousands in the UK, with members kept in touch with the production of an excellent magazine.

Having discovered these works of art at the show I immediately decided that I must have a shepherd's crook made from ram's horn and with a hazel shank/shaft. This where my education started. These works of art were prized show sticks and if the maker would only sell one they would not be cheap, so I had the bright idea that I should make one. Now at this time there was not a lot of information on how to make a crook. I bought two paperback books which did not give a great deal of detail on crook making, however I almost wore the pages thin with my constant thumbing of the pages. Eventually I came across a group of stickmakers close to home in the form of The Midland Counties Stickmakers and with them attended many country fairs and shows. Slowly I learnt the art of working ram's horn and other materials such as buffalo horn and my circle of stickmaker contacts and knowledge increased.

I happily continued as a member of this local group as well as becoming a member of the BSG and when at a show would try and prise the secret of how to win a rosette out of the stickmaking stars of the time. Like any competitive pastime, there where many contenders but only a few well known stickmaker names who would always walk away with the majority of rosettes. I continued like this until about 2006, when I was made redundant for the second time in some twenty years. At the age of fifty nine I felt I no longer wanted to work for someone else, and, as I was so close to retirement, could try my hand at (to my wife's dismay) self employment. I had always been a practical person and there was not much I could not turn my hand to, especially if I enjoyed it, and I enjoyed stickmaking.

So Wren Country Sticks was born. I quickly learnt about websites and how to optimise them, advertised in all the places sheepdog men and farmers may see my products and slowly built up a busy little business as a stickmaker. The materials used on the whole were all natural: ram's horn; buffalo horn; hazel; and many other types of timber.

A fine example of Joe's crookmaking work: a stylised ram's head on a hazel shank, complete with a painting of the owner's border collie

A note on horns: the crook in the picture above is made from a ram's horn. It has to be ram's horn and not a ewe's horn. Not all rams' horns are suitable for crook making and with the increase in popularity of the hobby it is now very difficult to find good horns at a sensible price. The crook has a stylised ram's head carved on what we call the heel and the painting of the dog (a border collie) would have been a portrait in miniature of the owner's dog. The shank or stick would most likely be hazel. Standing on average at about 50 inches tall, the crook needs to strong but light in the hand, and not tire the shepherd in its use.The end of the stick should have a metal ferrule to protect the tip against wear on hard surfaces. The average time taken by a stickmaker to make a crook could be two weeks of stop start work, as the horn has to heated, worked on and left to cool. On the smaller Welsh Mountain horn there is less work but these on the whole can only be used for plain un-decorated crooks. Horns used to be sourced from a abattoir, but since many of the small abattoirs have closed down it has become more difficult for a stickmaker to find good horns; so many are now simply destroyed as the big abattoirs cannot afford the man hours to sort horns for hobby buyers.

To supply the many stickmakers in the country a niche market has slowly grown, however, supplying both domestic and European timbers. There has been somewhat of a revival in coppicing throughout the country, old neglected woods have come back to life with the sounds and smells of a coppicer's camp. Some of the Southern Counties that once relied on harvesting hazel and chestnut have started producing annual stocks after decades of neglect. Indeed the number of young coppicers grows each year, with many offering courses to those that have discovered a interest in the products available from coppiced timber and the techniques needed to produce those products.

When so many traditions and crafts are being forgotten, stickmaking can claim that it is in the ascendancy, and no longer restricted to the rural past, but the focus of many very good carvers and horn workers of all ages.
With thanks to Joe Musialowski of Wren Country Sticks for sharing both his story and the two photographs above. You can see more examples of Joe's work, with some available to purchase, on his website – find full links in our online directory. For further information about stick and crookmaking and its history, head over to our sticks and crooks topic page.
---
The views expressed in our blog are those of the author and not necessarily lowimpact.org's
---
Leave a comment