Posted May 24th, 2020
Mutual credit – a lifeline for small businesses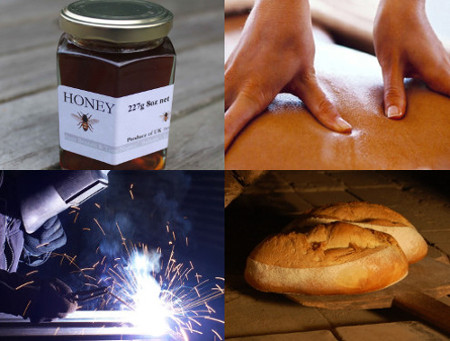 This post follows on from yesterday's, about community wealth building. Tomorrow, Dil Green explains how community wealth building and mutual credit could be a match made in heaven.
The coronavirus crisis is causing an economic crash that will only get worse. Research has indicated that a shortage of money will mean that up to a million UK small businesses may close in the coming months. To prevent the devastation of small businesses, and therefore our communities, there needs to be an alternative means of exchanging goods and services, that doesn't require conventional money.
That alternative exists – it's called mutual credit, and it really works. Here's an explanation.
You join or start a 'club' of businesses that trade with each other – that are known and trusted. It could be a club of 5 businesses, or 200. They could all be in the same town, or the same sector, or nowadays, some of them could be in different countries. Clubs are mutually organised – one member, one vote.
There's a directory, and you get an account. Find potential customers or suppliers, and contact them to suggest a trade. If you sell, your account goes up, and if you buy, your account goes down. These are just numbers in your account, that can be used to buy from any other business in the network. There are limits to how far you can go into credit or debit, and that's it. No money is required, and it's very easy – you'll soon get the hang of it. However, you can also trade in conventional money – or a mix of both.
It means that if some of you have cashflow problems, you can still trade. In effect, businesses in the club are providing interest-free credit to each other. And let's face it, banks aren't really interested in offering credit to small businesses. Other businesses can be introduced into the club, and trade with conventional money, or in mutual credit, but without receiving a line of credit until they are known and trusted.
Then it gets really interesting. You won't be able to get everything you need from inside your club – but clubs can trade with each other. You can see out as far from your club as you want, or just stick to your club. Software can link all the clubs together in a global network. Every business you trade with is in a club of trusted businesses, so you know you can trust them, even if you've never traded with them before.
And it's already working. In 2009, a group on the island of Sardinia in the Mediterranean (where the last crash had caused massive unemployment and a money shortage) launched a mutual credit network called Sardex. Last year almost 50 million euros' worth of trade was conducted in mutual credit in Sardinia. There are successful schemes in other parts of the world too.
So – no money required, no interest charged, mutual credit is a lifeline for small businesses during the biggest economic crash that any of us will have seen in our lifetimes, and it's a way of building trusted groups of trading partners, who commit to buy from each other.
What's not to like?
The federated 'clubs' approach is coming soon, and right now you can sign up to the Open Credit Network, a UK-wide mutual credit scheme.
---

About the author
Dave Darby lived at Redfield community from 1996 to 2009. Working on development projects in Romania, he realised they saw Western countries as role models, so decided to try to bring about change in the UK instead. He founded Lowimpact.org in 2001, spent 3 years on the board of the Ecological Land Co-op and was a founder of NonCorporate.org. and the Open Credit Network.
---
The views expressed in our blog are those of the author and not necessarily lowimpact.org's
---
Leave a comment