Posted March 21st, 2020
Mutual credit is a solution to the COVID-19 economic crisis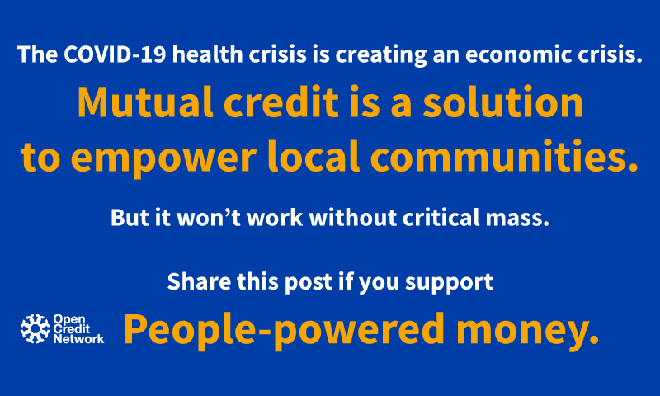 This is the first in a series of articles over the next week or so about how mutual credit can help us get through the economic problems caused by the corona virus. The main points to get across are:
There's going to be a shortage of money.
Mutual credit is a moneyless trading system.
That's it! Mutual credit can help local economies survive when there's no money around.
---
The COVID-19 health crisis is creating an ECONOMIC CRISIS.
Soon, MONEY WILL BECOME EXTREMELY SCARCE.
But we will still have needs – and plenty of capacity.
We can't let a money crisis prevent capacity from serving needs.
MUTUAL CREDIT is one solution – to empower LOCAL COMMUNITIES
By enabling PEOPLE-POWERED MONEY and LOCAL TRADE.
We already have a solution running for business to business TRADE in the UK – it's OPEN SOURCE.
And we're getting a lot of interest in a PLATFORM FOR INDIVIDUALS
To enable members of MUTUAL AID NETWORKS to trade with each other
WITHOUT using conventional, fiat MONEY.
BUT THIS WON'T WORK WITHOUT CRITICAL MASS.
So we want to know:
WOULD YOU LIKE TO BE PART OF A MUTUAL CREDIT NETWORK IN YOUR COMMUNITY?
If we get enough interest – via your shares and likes of this post,
WE WILL make a new copy our code and MAKE IT WORK FOR YOU!
SHARE THIS POST IF YOU SUPPORT THE IDEA OF PEOPLE-POWERED MONEY.
Sign up for occasional updates.
Follow us on Facebook and Twitter and spread the word.
WOULD YOU BE ABLE TO WORK ON THIS PROJECT?
Coding, Design, Community support, Facilitation – please let us know.
And tell any UK businesses you know to register now for access to more leads and interest-free credit.
---

About the author
Oliver Sylvester-Bradley is co-founder of the Open Credit Network, who are building a mutual credit network for the UK; he also runs The Open Co-op which produces an annual conference to encourage the development of the collaborative economy.
---
The views expressed in our blog are those of the author and not necessarily lowimpact.org's
---
Leave a comment