Posted January 19th, 2018
My reflections on the Oxford Real Farming Conference 2018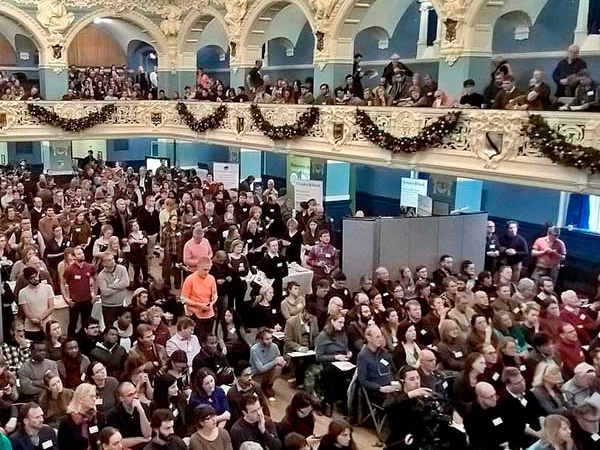 I've heard several people say they love going to the Oxford Real Farming Conference because it fires them up for the farming year, and I couldn't agree more. ORFC is so inspiring to people like us because it was set up by a group frustrated at the lack of representation for organic and small-scale producers at the decades-old Oxford Farming Conference. It focuses on practical farm issues, new ideas for change, succession in farming and – this year – farming policy post Brexit.
This event is so energised and motivating it has quickly expanded, in its nine years outgrowing the more conventional Other event, which takes place at the same time in the same city. This year there was a special BBC Farming Today programme dedicated entirely to the real farming conference. The subsidised price of £60 for two days keeps it accessible for all and between this and its excellent reputation, it sold out in mid December. We here at WWOOF UK received several pleas from members desperate to get their hands on a ticket but we were unable to help, only having the one ticket ourselves.
For the first time we had a small stand which was situated in the entrance hall. Several hosts – perhaps 15 – were present. Many popped over to say hello, ask advice or to lend a hand on the stand (special thanks to Helen at Elder Farm who did several shifts, and also Beth at Sheffield Organic Growers). There were a significant number of people coming along and asking if they could be hosts if they weren't certified organic. The answer is of course YES, you just need to be living and stewarding the land in an ecologically responsible way. Please membership, do help us get that message out there.
I also had a very satisfying chat with a wannabe WWOOFer, who had so far been unable to screw up the courage to volunteer. For her, the thought of going to a place she didn't know, to stay with people she didn't know, just tipped the balance into not acting. Even so, she was obviously still hankering have a go, so Helen and I gave her some pointers – including looking for a travel friend on the forum – and gave her our farm names so she could check us out on the listing. That way, if our farm profiles appealed to her, at least she'd have met her host in advance.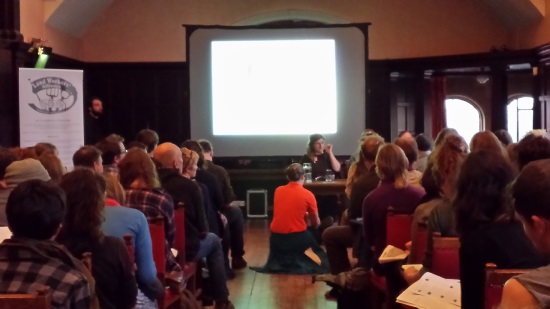 Five WWOOF hosts at least were presenting in the conference's 50 sessions, on subjects as diverse as bringing back beavers, access to land and the planning system, farm livelihoods and two on herbs. We even had a WWOOF UK Trustee sharing her experience on marketing produce for box schemes in the very first session.
In between talking to people on the stand I was able to go to some sessions and glean, amongst other things, some interesting statistics and thoughts. These are my five favourite stats:
Land prices have gone up 400% in 20 years, outstripping London residential prices.
France spends 18% of disposable income on food; in the UK its 9%.
Two thirds of the land in this country is owned by 0.36% of the population.
In the UK we eat double the amount of protein we need.
There's been more change to our diets in the last 150 years than in the last 1.5 million.
And two interesting ideas:
Allocate farm subsidies – at least partly – per labour unit employed.
Integrate DEFRA and the Department of Health to form a Department of Wellbeing.
One of the sessions which aligned most with the WWOOF charitable aim of education started with an fascinating talk from Jean Baptiste Cavalier from the French organisation RENETA – Le Réseau National des Espaces-Test Agricoles. That's the French way of saying incubator farms; typically one hectare start-up plots where aspiring farmers are given access to equipment, facilities and expertise for two to three years. Essentially it is an opportunity to launch a real, autonomous business with a safety net, and provides a much needed channel for new entrant farmers.
Given our interest in apprenticing people in the world of organic farming – and chiming strongly with Professor Tim Lang's question about where the UK's skilled food production labour force will come from post Brexit – it seemed right to offer contact details and pledge WWOOF's willingness to get involved in the UK incubator farm movement where possible. The breakout groups all agreed priorities would be getting all the stakeholders together in one place, and a Charter to document shared values.
For interest, it's worth reporting that 400 people have now completed the French RENETA program.
66% completed the trial and have gone on to farm.
10% preferred to be farm workers.
15% returned to their old job or a sector nothing to do with farming.
9% are not sure or have not started their project.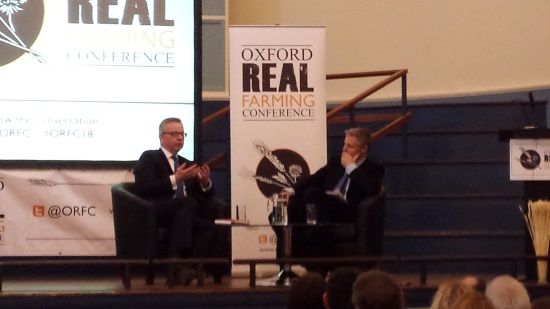 But looking back, the best thing for me about the 9th ORFC is that it has now become so big, so popular, that the decision makers can no longer ignore it. This was evidenced by DEFRA Secretary of State Michael Gove appearing for an 'interview' with Zac Goldsmith, followed by a Q&A session. In that hour he said a lot of things which would chime with the organic and agroecological movements, making reference to land being used for tax purposes and how £3 billion in subsidies being handed out for ownership have led to a 'certain type of farming'. He acknowledged that post Brexit (2024 was mentioned a lot) we'll need to transition to a different system because 'public money should go to people thinking hard and working hard to ensure our environment is improved'.
'Natural capital' was the buzzword of the moment, appearing several times. Externalities were acknowledged to be hidden with the true cost of farming not being reflected, and maintaining some of the highest animal welfare standards seemed high on the agenda. In the Q&A the biggest round of applause came when one woman said 'It seems counter-intuitive that organic producers have to pay for certification and those covering their crops in chemicals don't have to do anything. Can this be changed?' When the clapping and cheering finally died away this was noted as a good, popular and well-made point, but sadly anything further was not forthcoming.
Due to his track record many found it difficult to fully trust the words of this politician. However he's already made a couple of welcome moves (banning neonicotinoids and being open about the fact the UK is 30-40 years away from 'eradication of soil fertility' at the Sustainable Soils Alliance launch) and it's fair to say there was a mood of cautious optimism afterwards. Several expressed hope that Mr. Gove wouldn't be moved on from DEFRA in the looming cabinet reshuffle (he wasn't).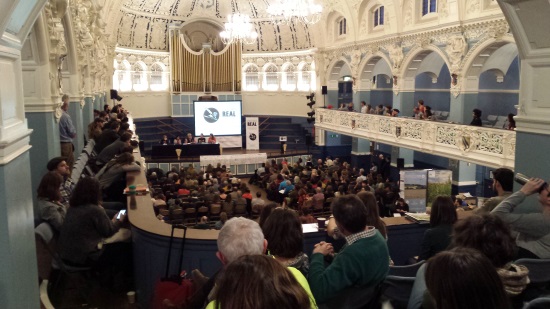 Even better than that, in a rousing closing plenary session Jyoti Fernandes of the Landworkers' Alliance shared that she'd had lunch with him and at the end, he and his advisors had invited her and other small-scale agroecological farmers to speak with him see if they could 'works things out together' for a post Brexit strategy. After years of tireless campaigning, it was great to see Jyoti fired up and punching the air in jubilation and shouting 'we have a way in!!!'
She called now more than ever for solidarity in terms of funding, explaining it costs her £100 in travel alone every time she leaves her Devon smallholding to go to London. So to that end – and to end – I'll share the crowdfuding page here http://www.crowdfunder.co.uk/landworkers-alliance-more-farmers-better-food and suggest making a small investment if you'd value a better land ownership and farming model in this country in future. ***But hurry up folks, it closes 23rd January 2018***

Scarlett Penn is the co-ordinator of WWOOF UK, and a director of the global Federation of WWOOF Organisations. For a long time Scarlett has lived and farmed with other people in intentional communities, hosting many volunteers along the way. Recently, she's taken on a smallholding of her own near Ludlow, Shropshire.
---
The views expressed in our blog are those of the author and not necessarily lowimpact.org's
---
Leave a comment