Posted July 1st, 2016
Nature in July – what to look out for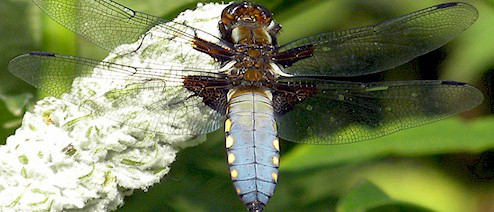 The ponds in the garden have been rather disappointing so far this year in terms of the numbers of dragonflies we have seen. There have been very few individuals of only a small handful of the larger species – nothing like the usual numbers that we see at this time of year. Yesterday I found a few larval cases of newly emerged individuals so I am hoping more adult insects appear in the next few days. Earlier in the summer there were plenty of smaller damselflies around plus we had a great many Beautiful Demoiselles this year – stunning damselflies that have slowly increased in the Big Pond in spite of their preference for running rather than stationary water. Banded Demoiselles also used the pond but this year there have only been a handful of individuals of this species in the garden. Now that the meadow is in full flower I am missing Broad-bodied Chaser and Common Darter sitting on the knapweed flowers waiting for a passing insect, or cruising over the borders and alighting on a tall flower head – a vantage point from which to keep on eye on any passing prey. This is always a good time to get some wonderful pictures of them. In spite of the lack of dragonflies and damselflies the ponds here have been very productive in one respect. We have more toads here than we have ever had before. They are turning up in a wide variety of places from the greenhouse and borders to the long grass in the orchard or around the wildflower meadows. Although the Marshy Pond was almost overwhelmed with frog spawn this spring no toad spawn was seen at all, but it is easy to miss when it is wrapped around submerged aquatic plants. Clearly the garden is now very attractive to amphibians but the lack of dragonflies this summer bothers me and my thoughts are turning to predation at the larval stage perhaps. We know we have water shrews here – we see them rushing around as well as finding the occasional dead one in the garden – perhaps this lovely little mammal is the culprit!
It is always nice when, amongst the bees, butterflies and birds, our gardens are also visited by something bigger – a fox maybe, or even a hedgehog. Here we see far fewer of these larger creatures as there are naturally fewer of them around, but we do have regular but infrequent visits from foxes and larger birds including carrion crows, and even buzzards are seen in the garden from time to time.  But one of the joys of my garden is that at this time of year we see and hear a Tawny Owl or two, especially newly fledged youngsters. Not only do these have the 'wow' factor, but are also extremely cute, giving us twice the wildlife thrill! From early in the year we hear the adults calling from the wood next door, and from May onwards will recognise the 'squeaks' of the youngsters as they start to explore their new surroundings including our garden. Slowly these little contact calls come closer and closer to the house until we start to catch glimpses of the young ones at dusk on the house roof or in the large apple trees in the garden.  At this time of year I often switch on an outside light late in the evening to see what species of moth are around but invariably at the moment it's not moths that catch my eye but tawny owls, wandering around on the short grass, picking up worms and beetles and even chasing after the odd large moth! They also perch on the backs of the outdoor chairs and even the rotary washing line if I have forgotten to put it away.  It is interesting to see how ungainly they are on the ground compared with their ease and elegance when they spread their wings and take off.  It is also wonderful to get a closer view and notice small details that I wouldn't see at other times – for instance their wonderfully fluffy feathered feet! We have had occasional barn owls in the garden, which are majestic creatures, but these little tawnies are captivating. It really is a privilege to share my garden with these beautiful birds and I hope they will be around for a while yet.
June and July are excellent months for moths in the garden, and I have to confess that I am a moth addict. As a small child I was fascinated by caterpillars and would find and collect them from around the family garden or from the long grass and nettles along the edges of a lane beside the river Thames, close to my home in Oxford. I would always collect a little of what appeared to be the larval food plant and place each caterpillar plus food plant into its own little jam jar with a perforated top for ventilation. A daily job would be to clean the jars and add fresh food for my 'pets'. I liked them entirely for their own sake and had no great interest in what they would turn into. Once pupae formed I would return them to their original habitat as it was the caterpillars themselves that fascinated me. The one exception was a Privet Hawk-moth Caterpillar that I knew was something very special! This was kept through pupation and released as a fully-fledged adult moth – the biggest I had ever seen! Although I am still a huge fan of caterpillars I now appreciate the adult moths even more. Over the last few years a home-made moth trap (specially made for me by my over-indulgent husband as a birthday present) has transformed my interest and as cataloguing the more identifiable wildlife in my garden has always been something that absorbed me, the moths that visit my trap are tending towards being an obsession! It is hard to explain just how fascinating they are – many are stunningly beautiful of course and come in all the colours imaginable but it is not just the amazing variation in colour, pattern and form that makes these insects so special. Their life cycles can be complex, their camouflage exquisite, variation within species is extraordinary (and challenging from the point of view of identification!) but with careful observation and dedicated effort it is possible to become familiar with many species especially if they are photographed in order to ID them later. I am still nowhere near the league of proper moth experts and frequently badger the ones I know with mystery moths, but slowly I have improved. So this month I will be testing my powers of observation in order to identify my moths, but I'll also be relying on my camera, a special book, some incredibly knowledgeable friends, and lots of time!
With the five young spotted flycatchers successfully fledged and out of the nest, my attention over the last week has turned away from the local birds and more to the butterflies that we have around in ever increasing numbers.  Most spectacular are the large numbers of 'whites' especially Green-veined White.  Yesterday afternoon I attempted a count of these on lavender, marjoram, purple loosestrife and other favourite nectar plants of this species that we have around the borders and meadow and gave up at an estimated 100 plus.  There have also been surprisingly large numbers of ringlets and meadow browns which I didn't expect after last summer.  In addition it is always a delight to see a brimstone, especially a male.  When we first moved here we planted buckthorn – their larval foodplant – especially for them but we see only a few here, so the occasional one always catches my eye and deserves a photograph.  Along with the comma, which we also have around at the moment, brimstone is amongst my favourites.  A caterpillar hunt yesterday around the wych elm in our hedges revealed some larvae of the comma so hopefully they will fare well and we will have more next year.  It is also good to have the large skipper butterfly this summer which is a new species for the garden, along with small skipper and huge numbers of the six-spot burnet moth.  The knapweed in the Big Meadow is alive with butterflies and moths at the moment.
A few weeks ago I noticed that a tiny home-made open fronted nest box close to the door of my potting shed appeared to have the beginnings of a mossy nest complete with a feather or two.  Assuming an abortive attempt by one of our robins (we have had several successful robins' nests so far this year, with spotty youngsters everywhere) I ignored it and continued to use the potting shed frequently until a slender bird popped out of the box and disappeared into the trees.  I was able to get a quick photograph and there were five pale blue eggs with reddish brown spots – not something I immediately recognised. Later when she returned I photographed the sitting bird from a distance to discover not just a new species for the garden but actually nesting in the garden – a Spotted Flycatcher!  All useful tools were quickly removed from the shed so I no longer had to pass her and she continues to sit in peace.  I have since seen at least one bird catching flying insects from the dead branch of one of our apple trees and hope to get more pictures from a discreet distance when the fledglings are being fed. This unobtrusive little bird has declined dramatically since the 1960s for a variety of reasons, some of which relate to its status as a migrant, but habitat changes here in the UK – its summer home – are also thought to be responsible for its decline.  We feel very fortunate to have a nest here, even if I can no longer use my potting shed!
For the first time this year we have had a Pyramidal Orchid in long grass in the back garden!  This is an area of lawn that was left un-mown – a gamble that clearly paid off! This gorgeous plant is known to be rather ephemeral – it can pop up here or there and then not be seen again for several years, surviving underground in a dormant state. I have made a mental note of its position in the lawn in the Nectar Garden and will make sure that this area is left un-mown every year in future. Hopefully we will have the pleasure of seeing it again sometime soon.
---
The views expressed in our blog are those of the author and not necessarily lowimpact.org's
---
Leave a comment