Posted April 5th, 2015
Our partner Janet's upcoming knitting, spinning, sewing & craft tour of Scotland by folding bicycle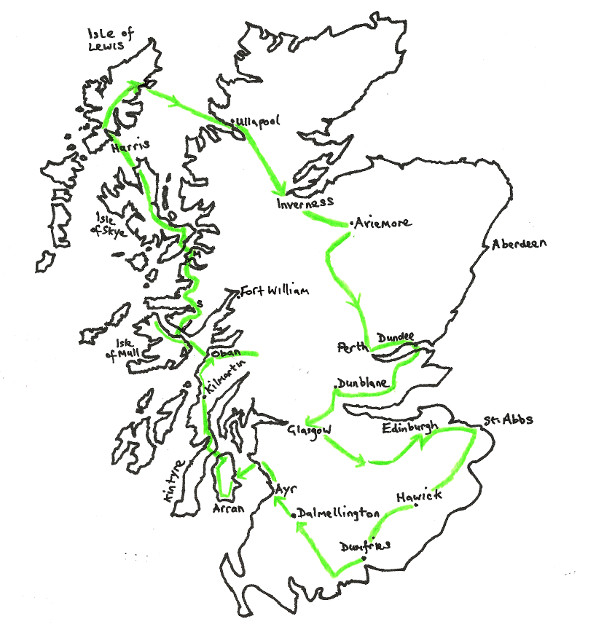 Knit 1 Bike 1 – a journey, a book and an exhibition: Janet Renouf-Miller of Create With Fibre sets off on 29th June 2015, on a Brompton folding bicycle to cycle 850 miles round Scotland, giving free talks and workshops in exchange for accommodation.She will be creating Woolly versions of not only insects, animals and other wildlife, but also scenery, the road itself and things left at the side of the road such as takeaway cartons.  She will also crochet little baskets for things that she wants to take home with her.
The work produced will form an exhibition and Janet is offering FREE mini workshops to those who offer her a bed for the night or somewhere to pitch a tent, as well as for fellow fibre artists, knitting shops, galleries, museums and cafes.  She is still looking for venues for some of the workshops and if you think you can help and would like a mini workshop have a look at the itinerary  and/or contact Janet on [email protected]. Her itinerary is below.
The whole thing will result in a book, which will be published by Lowimpact.org.  It will tell the story of the journey, the environment and creatures of Scotland, the things Janet finds and the people she meets.   The exhibition of the work produced will tour small galleries and museums.  Janet is currently looking for funding for the work and her kickstarter campaign https://www.kickstarter.com/…/knit-one-bike-o…/knit-1-bike-1 runs until 28th April 2015.
NB Janet's Brompton is 13 years old and is her faithful companion. They have been through a lot together.  A couple of years ago, she noticed that the cross piece between the back forks had rusted through. Brompton's response?  'That shouldn't happen – send it back!@  they refurbished the whole bike and returned it like new. So if you are wondering whether a Brompton is worth the extra money, now you know it is!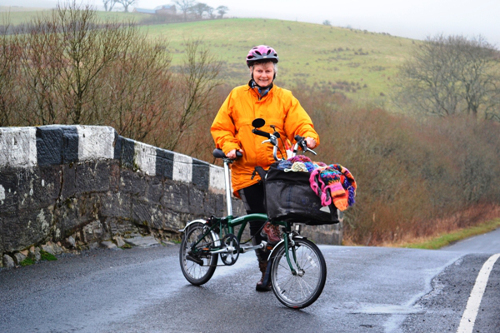 itinerary
Provisional cycling itinerary – a work in progress.
As people make offers of hosting a mini workshop or providing a venue this will change.
Depart Mon 29th June 2015
Day 1 – 29th June Workshop/talk Dalmellington. leave 29 Dalton Avenue Dalmellington KA67QR East Ayrshire. Workshop in Dalmellington. Cycle to Ayr. (South Ayrshire). Talk/workshop at Burns Cottage, Alloway.
Stay with Lyn, Ayr. 15 miles
Day 2 – 30th June Cycle Ayr to Seamill on bike route. (North Ayrshire) total 26 miles. Stay Seamill. Meet knitters Seamill/Largs (North Ayrshire).
Day 3 – 1st July Cycle to Ardrossan. Ferry to Brodick Isle Arran. Cycle to Kildonan. Camp Kildonan. Total 19 miles.
Day 4 – 2nd July Meet with knitters/spinners on Arran. Stay Kildonan (North Ayrshire)
Day 5 – 3rd July Cycle Kildonan to Lochranza 30 miles. Stay Lochranza campsite.
Day 6 – 4th July Stay Lochranza. Knit and crochet, write blog etc.
Day 7 – 5th July Ferry Lochranza to Claonaig, Mull of Kintyre. B8001 to Kennacraig, A83 to Lochgilphead A816 to Kilmartin. (Argyll & Bute) Total 31 miles.
Day 8 – 6th July Talk or meet with local knitters or spinners possibly at Kilmartin Museum. Stay Kilmartin.
Day 9 – 7th July Cycle Kilmartin to Oban 29 miles. Stay campsite Oban. Mini workshop – venue wanted.
Day 10- 8th July Ferry to Mull. Cycle to Tobermory 22 miles. Rendezvous with Hubby for bike maintenance check. Mini workshop evening Tobermory, Mull. (Argyll & Bute) Stay with local spinner or with Hubby in caravan.
Day 11 – 9th July . Cycle Tobermory to Salen 10 miles. ?Mini workshop Salen.
Day 12 – 10th July Cycle (& bus if needed) Salen Mull to Loch Don Mull. ( Argyll & Bute). 14 Mini workshop local knitters/spinners.
Day 13 – 11th July cycle/bus Loch Don to Tobermory 25 miles. Ferry Tobermory to Kilchoan. Cycle Kilchoan to Strontian. (Highland). 28 miles. Stay Ariundle/ Strontian.
Day 14 – 12th July Stay Strontian. Deliver 2 hour mini workshop. Catch up with crochet, knitting and blogging. Stay Strontian.
Day 15 13th July Strontian to Lochailort . 30 miles.
Day 16 14thJul offer mini workshop Lochailort. Stay Lochailort.
Day17-15thJul Cycle and bus/train to Benderloch for Woolfeis.
Day 18 – 16th July 16th -18th July (or 17th – 19th) talk/ stitch n bitch Wool Feis. Camp or B&B
Day 19 – 17th July mini workshop Wool Feis.
Day 21 – 18th July Mini workshop/stitch n bitch Woolfeis.
Day 22 19th July Cycle to Dalmally?/ Oban. Train to Mallaig. Ferry Mallaig to Skye. (Highland). Stay on Skye. Visit Handspinner Having Fun.
Day 23 20th July Stay on Skye. Mini workshop – venue needed.
Day 24 21st July Cycle to Uig. Ferry Uig to Tarbert Isle of Harris. (Western Isles). Cycle Tarbert to Horgabost. Camp at Horgabost. 20 miles. Mini workshop Harris Venue needed.
Day 25 – 22nd July Spend a day writing and crocheting/knitting and socialising.
Day 28 – 23rd July Bus to part way to Stornoway. Cycle 25 miles. Ferry Stornoway to Ullapool. Rendezvous with Lee Renouf-Miller for bike maintenance and to replenish yarn supplies/ offload finished crochet and knitting. Camp Ullapool. (Highland)
Day 29 – 24th July Visit members of Grampian Guild of Weavers, spinners & Dyers? Offer mini workshop/stitch n bitch session in exchange for accommodation or camp Ullapool. Stay Ullapool. Venue needed.
Day 30 – 25th July crochet and Knitting/blog time. Stay Ullapool.
Day 31 – 26th July Train Ullapool to Inverness. Cycle Inverness to Aviemore 30 miles. Camp Aviemore. Stitch n Bitch, meet with local knitting group? meets Tues 7-9. Rendezvous with Lee Renouf-Miller for bike maintenance etc.
Day 32 – 27th July Offer talk/workshop Aviemore.
Day 33 – 28th July Sustrans Route 7 Aviemore to Newtonmore. 16 miles. Visit Highland Folk Museum. Offer mini workshop Newtonmore. Camp Newtonmore.
Day 34 – 29th July writing and knitting time. stay Newtonmore.
Day 35 – 30th July Newtonmore to Blair Atholl Perth & Kinross. 34 miles Stay Blair Atholl.
Day 36 – 31st July Cycle Blair Atholl to Bankfoot. Visit Appletree Man organic fruit nursery Bankfoot. 25 miles.
Day 37 – 1st August Day off. stay Bankfoot.
Day 38 – 2nd August Offer workshop/ talk Perth area.
Day 39 – 3rd August Bankfoot to Dundee. 29 miles. Stay Dundee. Offer mini workshop Fluff knitting shop.
Day 40 – 4th August Dundee to Auchtermuchty. 24 miles.
Day 41 – 5th August Auchtermuchty to Kinross. 17 miles. Rendezvous with Lee Renouf-Miller.
Day 42 – 6th August stay Kinross. Offer knitting session and talk. Venue needed.
Day 43 – 7th August Kinross to Dunblane. 34 miles. Talk/ workshop Dunblane.
Day 44 – 8th August Cycle/train to Glasgow. 33 miles
Day 45 – 9th August Stay Glasgow blog and crochet/knit. Visit Yarncake knitting shop Glasgow. (Glasgow City) Offer mini workshop/talk.
Day 46 – 10th August Glasgow to New Lanark Woollen Mill. (South Lanarkshire) Stay youth hostel new Lanark. 30 miles.
Day 46 – 11th August Offer talk Lanark/New Lanark. Venue needed.
Day 47 – 12th August New Lanark to Biggar. 14 miles. Rendezvous with Lee Renouf-Miller.
Day 49 – 13th August Time off knit, crochet, blog Biggar.
Day 50 – 14th August. Time off knit, crochet, blog Biggar.
Day 51 – 15th August Attend Broughton spinners Gathering. Stay campsite Broughton.
Day 52 – 16th August Broughton to Colinton Edinburgh. 27 miles.
Day 49 17th August Stay Colinton. (Edinburgh City) Mini workshop Edinburgh.
Day 50 – 18th August Colinton to Penicuik Arts Centre return. (Midlothian) 20miles. Offer knit and natter/talk Penicuik. Stay Colinton. Knitting and blog time. Rendezvous with Lee Renouf-Miller.
Day 51 – 19th August Colinton to Haddington 22 miles. Stay Haddington
Day 52 – 20th August offer talk/workshop Haddington.
Day 53 – 21st August Haddington to Innerwick. Stay at Innerwick. 16 miles.
Day 54 22nd August offer mini knit workshop Innerwick. Stay Innerwick.
Day 55 – 23rd August Innerwick to St Abbs. Stay Woolfish St Abbs. 16 miles
Day 56 – 24th August Offer talk /workshop St Abbs. (Borders) Stay St Abbs.
Day 57 – 25th August St Abbs to Coldstream. Stay Coldstream. 28 miles
Day 58 – 26th August Coldstream to Hawick. Stay Hawick. 31 miles. Visit Borders Textile museum.
Day 59 – 27th August Offer talk or mini workshop. Stay Hawick.
Day 60 – 28th August Stay Hawick. Blog and crochet/knit.
Day 61 – 29th August Cycle Hawick to Langholm. 23 miles.
Day 62 – 30th August Mini workshop Langholm. Stay Langholm. (Dumfries & Galloway)
Day 63 – 31st August Cycle Langholm to Lockerbie. 19 miles. Stay Lockerbie.
Day 64 – 1st Sept Cycle Lockerbie to Kirtlebridge. Mini workshop Kirtlebridge.
Day 65 – 2nd Sept Lockerbie to Dumfries. 15 miles. Stay Dumfries.
Day 66 – 3rd Sept Talk/workshop Dumfries. Stay Dumfries.
Day 67 – 4th Sept Dumfries to Castle Douglas. 16 miles. Stay Castle Douglas.
Day 68 – 5th Sept Castle Douglas to New Galloway. 14 miles. Stay New Galloway.
Day 69 – 6th Sept Talk/workshop New Galloway/Carsphairn. Stay New Galloway.
Day 70 – 7th Sept New Galloway to Dalmellington 22 miles. – HOME. (East Ayrshire)
---
The views expressed in our blog are those of the author and not necessarily lowimpact.org's
---
Leave a comment