Posted October 20th, 2016
Promoting public transport – how to travel by train more cheaply (without breaking the law)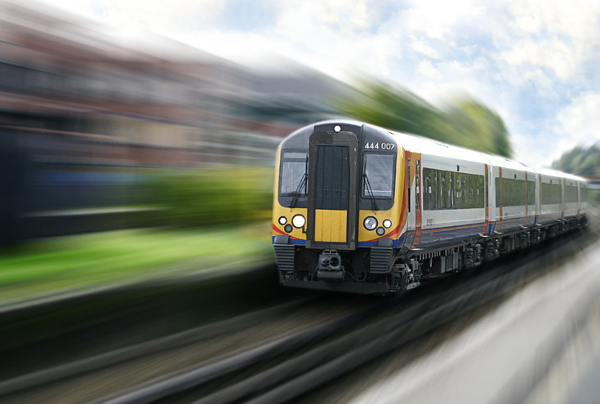 A way to reduce our impact on the environment is to increase the number of journeys made on public transport relative to the number made by car. So we're doing this to encourage you to take the train rather than drive.
Why is train travel more sustainable than driving? Well, according to the journal Environmental Science and Technology, you'd have to have at least three people in a car to make the average per capita carbon emissions the same as for the average train journey. But as you'll know if you check traffic, most cars don't carry three passengers, or even two.
But most comparisons you can find online only mention the emissions from trains and cars in use. It's when you look at the embodied energy / pollution caused by manufacture that trains pull away from cars easily. First, larger trains often carry 500-1500 passengers, and weigh around 200 tonnes. Let's be generous and say that the average number of passengers in a car is two (and just have a look for yourself – it's usually one), so for (say) 1000 passengers, that's 500 cars. A car weighs around a tonne, so that's already 500 tonnes of materials required in to transport the same number of people as a 200 tonne train. Add to this the fact that few cars do more than 200,000 km in their lifetime, whereas a train can easily cover 4 million km before being retired, then a rough calculation will show that trains are at least 40 times better than cars when it comes to embodied energy and materials. For more see here.
That's not even considering the vast areas of land that is covered in asphalt for motorways, dual carriageways and car parks.
But train travel can be very expensive. A peak time single standard fare from London to Manchester won't give you much change from £200, and recently my partner and I bought tickets from London to mid-Wales, return, for £130 (for both of us), which was reasonable – but she asked what the price was for first class, as she would be coming straight from work after a hard week, and she fancied a nap. The price was over £700, so we gave it a miss. There weren't even any first class carriages from Birmingham to Wales, and as you can fly to Greece for thirty quid these days, that seemed a bit excessive!
If you really sit down and do the sums however, and include the cost of the car, insurance, repairs, MOT, road tax etc. as well as just fuel, then car travel gets more expensive too. I've had this argument with someone before, and we had to agree to disagree, but my position was that once you've got a car, it doesn't then make sense in pure financial terms not to drive it. You've already paid the extra costs, and so fuel is always going to be cheaper than train tickets – especially if you have more than one person in the car. If we want to encourage use of public transport, we have to encourage people to give up cars altogether – especially if they live in a city.
Then of course there's the added nonsense of having lots of different train companies in competition with each other. It means that some tickets are only valid with some companies, and if your train is cancelled and you ask for your money back, you might get a voucher – which is fine if you can use it anywhere on the network, but useless (as happened to me recently) if it can only be used in an area that you're not likely to go back to for years. All this makes train travel that bit more annoying – surely it's not beyond the imagination of train companies to work together to make train travel easier?
But because of this disjunction, ome bright sparks realised that because the left hand doesn't seem to know what the right hand is doing, if you split journeys up, and instead of buying a ticket from A to B, you buy tickets from A to C, from C to D and then from D to B, it can work out cheaper. It sounds crazy, because in the end, you're still going from A to B, but it's true.
The problem is, it doesn't always work out cheaper, and so you can spend an awful lot of time trying to work out what route to take and what tickets to buy to get a bargain.
So after all that, this is what you've been waiting for – this is the website where they do the searching for you, and tell you whether your proposed journey can be split into its constituent parts to save you money – https://raileasy.trainsplit.com/times.aspx. It's called Trainsplit, I've used it, and it works. On some journeys you can save £10-£20, but sometimes you'll find a beauty that will cut the price of your journey by half.
The site has a special search engine that does all the rooting around for cheaper split journeys (which doesn't always mean that you have to change trains, by the way – only that the train goes a particular route, or stops at a particular station).
At the moment, they're the only site that splits tickets like this.
Let us know how you get on.
---
The views expressed in our blog are those of the author and not necessarily lowimpact.org's
---
2 Comments
1

sarah October 25th, 2016

I have never had success with splitting train tickets but I often get amazing deals on advance fares. For instance, I travelled home from London to Hastings for £3.30 this afternoon, using my 16-25 Railcard. These tickets are not useful if you are taking a spontaneous train journey, but I have found some available on-line the day before I was planning to travel, so it's always worth a look. I bought tickets for this journey about a week ago. I also had to buy a ticket for my partner from the same station to Gatwick, and it would have cost around £12, so I got him the same ticket as mine and he just left the train early! More information: http://www.nationalrail.co.uk/times_fares/ticket_types/46583.aspx

The other thing I think is great is my railcard. It saves me so much money! There are a few different cards available, although not something for everyone: http://www.nationalrail.co.uk/times_fares/46540.aspx

2

Livya Jen February 6th, 2020

Great article and information. For Split ticketing to get the cheapest train tickets. You can also book the cheapest train tickets online. For more information

https://www.splittraintickets.net/
Leave a comment