Posted April 8th, 2018
Public debate featuring yours truly: is capitalism the best system for a sustainable future?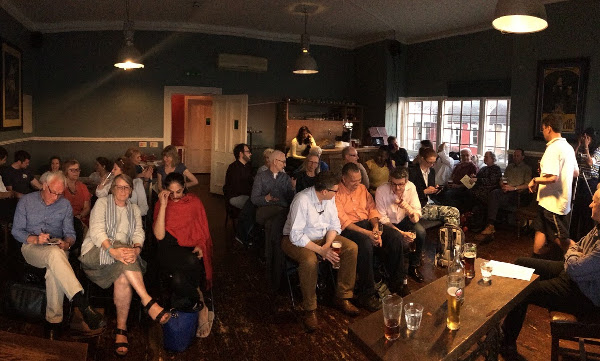 If you're in London on April 18th, there's a public debate you might be interested in, upstairs in a pub in Tooting. I've been asked to put the case against capitalism. There will be initial presentations, rebuttals, questions from the audience, and then a summing up. People will be asked to vote for or against capitalism before and after the debate, and the winner will be whoever persuades more people to change their mind.
I'll blog after the event about how the debate went, but if you're around, you'd be very welcome to come along. The event is organised by Transition Town Tooting and Tooting Green Drinks, and below is their promotional material:
TTT & Tooting Green Drinks proudly present:
"Capitalism is the best way to achieve a truly social, environmental and economically sustainable future"
Find yourself in an echo chamber tailored specifically for you? Does your Facebook feed reinforce your opinions, back you up every step of the way and leave you dumbfounded when life doesn't play out the same?
Capitalism is the underpinning formula for much of what we enjoy today, particularly in the so-called "developed" world. Our basic human needs of shelter, food and water are met with a competitive market giving us the best service at the best price, driving industrial creativity to come up with solutions to all our problems at a scale that can soak up all the pressures of population increase, freak weather events and a changing political landscape. Even the challenge of climate change is met square on by industrial innovation in the shape of giant wind turbines, sucking carbon emissions out of the air and non-fossil fuel cars that fire you down the High Street in style. Meanwhile saving for the future in a global capitalist market structure maximises your investments whilst the cost of stuff just keeps on coming down …
But … hold on … a truly sustainable future is about more than just economics isn't it? Who gets left behind in capitalism's raging wake? Top-down hierarchies mean we need "a nation of doers, not thinkers". Leave it all to the market and will you actually get cheaper and better? Zero-hours contracts and the threat of a privatised health service indicate life could be much worse for many. And what about the environment? Global resources are there to serve the markets, surely? And if economics is the prime driver, does anyone care about the waste that a linear system produces?
On Wednesday 18th April, Transition Town Tooting will be holding a debate on capitalism. Is it really the best way for us to reduce our impact on the environment and adapt to an already changed global climate? We have 2 wonderful debate Captains in Dave Darby (lowimpact.org) and Oli Griffiths and will be running it like a proper debate with opening statements, rebuttals, an opportunity for you to make your points and challenge Dave and Oli before closing statements., all in the wonderful confines of the upstairs room at The Selkirk in Tooting.
We challenge you to be challenged! Encourage you to speak with opposing points of view! Reinforce your standpoints or have the courage and humility to change!
---
The views expressed in our blog are those of the author and not necessarily lowimpact.org's
---
3 Comments
1

John Binet-Fauvel April 9th, 2018

If capitalism and consumerism are so great why are there so many poor lonely and hungry people in the world, Surely we need a more community based soceity which cares for every one who ever they are and from where ever they come from. So often companies don't try to bring down price, take the big 6 energy providers, but create private monoplies which destroy any smaller compition.

2

Grandfather Michael April 9th, 2018

Don't agree with the descriptive words "what we enjoy today"… its what we've out of apathy allowed ourselves to be presented with. For generations schooling has indoctrinated our kids followed close on its heels, the media … denying free thinking, instructing top down.

I formed a young Communist party in a Public school when I was 13 because i knew the system was rotten.

Socialism is not just a political way ahead, there is a need to encourage a more fundamental evolution from homo sapiens – the hunter gatherer.

As Christopher Fry's poem speaks " but will you wake for pity's sake"

We are not born with all this junk in our heads, a few seized the opportunity to prescribe a progression of heirachical domination from top down with the tool "divide and rule".

Movement of thought begins with the seed, the germ of an idea. Move from the human centric idea of life toward Ecocentric ideas. To ignore our predicament in the light of global facts is to accept our extinction as a species Its not about saving the planet, she will rebuild life long after we've gone.

3

Tidakada April 11th, 2018

Of course one problem is that we live in a society propelled by capitalist free market ideas. It is within us and we are within it. It's very hard to extricate ourselves from this system and plenty of us in this country do very well because of it. I'm looking forward to the debate Dave.

If anyone is around next Wednesday evening, do try to bring a capitalism suporting friend or relative! An ocean comes from many raindrops.
Leave a comment