Posted January 15th, 2014
Re-skilling vs distributism: how to turn 'do-it-yourself' into small businesses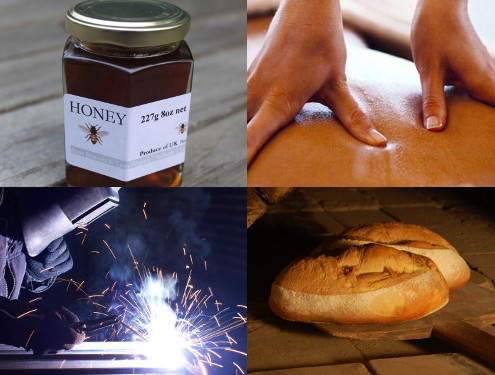 Hi all, Lowimpact.org has been all about re-skilling since we started in 2001, and we've gained a big audience through that. I was sitting on a bus in London last year, looking down at people in the street in Brixton, and realised that if we're interested in real change (which I am), then re-skilling isn't enough. I could see that we weren't going to reach the people below by talking about chainsaws, or basketmaking or keeping pigs or building a straw-bale house.
But – we could reach them by explaining that someone else could install renewables for them, or build them a natural extension, or that they could get organic veg from a veg box scheme, or that there are craftspeople producting baskets, pots, clothes, furniture etc, and the reasons why it's better to support those people than the corporate empire.
Most people are too busy to grow, build, install, make or fix things for themselves – and so to reach many more people than re-skilling alone, it's better to try to build an economy of small-scale producers to provide the things that we need – bakers, butchers, soapmakers, builders, potters, renewables installers, credit unions etc.
Re-skilling is still very important for people who want to do things for themselves, but maybe even more important for people who want to start a small business and be part of the supply side as well as the demand side. This idea – developing an economy based on small businesses, family firms, self-employment, co-ops, smallholdings, small farms etc. is called 'distributism', and it's going to be Lowimpact.org's second string after re-skilling/individual lifestyle change (and we've got a big political idea too – but that's for later).
Our first blog of the year was about distributism, see what you think – here.
So, my idea is to contact specialists to write guest blogs for us, about how to turn their specialism into a career – all the things people will have to think about – skill levels, premises, income, legislation, paperwork, pointers for success, and of course, how to compete with corporate economies of scale, sweat shops and tax avoidance. There will be a prominent link to their website at the top of the blog, so it's good promotion. We're going to have a big 'distributism' section on our new website (coming soon) – to try to persuade people to support small businesses, and then maybe to start one.
Do you have a skill or a hobby that you've turned into a small business? Do you know someone else who has? Would you (or they) be willing to write an article for us? We'll blog it and promote your business. We have 180+ topics on our website, and there are plenty more, so there's a long way to go. You can contact us via the Lowimpact.org email, the forum, Facebook or Twitter.
I'd really appreciate it if you could share this, and we can start to build a bank of articles to help people get out of mind-numbing corporate jobs and into small businesses that provide the essentials of life, including fulfilling work.
---
The views expressed in our blog are those of the author and not necessarily lowimpact.org's
---
Leave a comment