Posted January 4th, 2018
Earth.Food.Love: the story of the UK's first zero-waste shop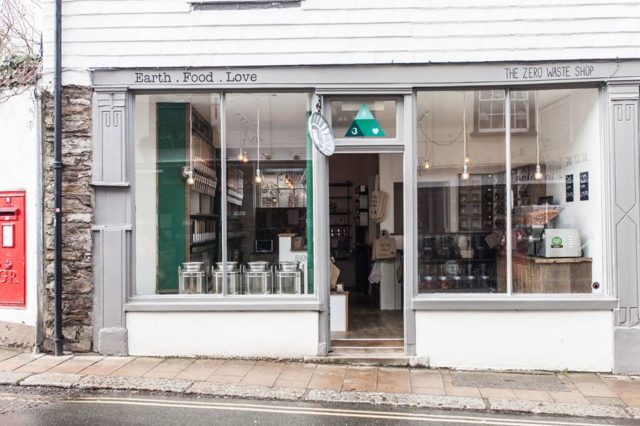 Nicola and Richard Eckersley, founders of Earth.Food.Love, share their journey to pioneering the UK's first zero-waste shop in Totnes, Devon.
Our inspiration
Not so long ago, living a fast-paced city life in an apartment block that had no recycling facilities we soon began to notice the accumulation of recycling we as a family of two created each week. It was during these trips to and from the recycling plant that we thought 'there must be another way?' Each shopping trip then became a frustrating ordeal, as we so desperately tried to avoid unnecessary and often toxic packaging.
Inspired on a trip to Berlin by the existence of Unperfekthaus, the idea to set up a similarly sustainable shop in the UK was born. Earth.Food.Love is a family-run, organic, wholefoods, zero-waste shop based in Totnes, South Devon. We want to live in a world where consuming doesn't have to cost the earth. Focusing on creating a better future, we decided to look back to the past, where eating real food with minimal packaging was the norm. We believe returning to these simple ways will benefit not only our health, but the planet's too and are motivated by the likes of Bea Johnson, Rob Greenfield, Mark Boyle and Kathryn Kellogg.
What does zero-waste mean?
To live zero-waste is to eliminate or drastically reduce the products that get sent to landfill and recycling centres. As you glance out your window at your (probably) full bins, this might seem unrealistic and unattainable, right? Thanks to the pioneer in the zero-waste movement, Bea Johnson, we now know this is do-able and much easier than you initially think. It just takes knowledge, compassion and an understanding of the 5 Rs: Refuse, Reduce, Reuse, Recycle and Rot.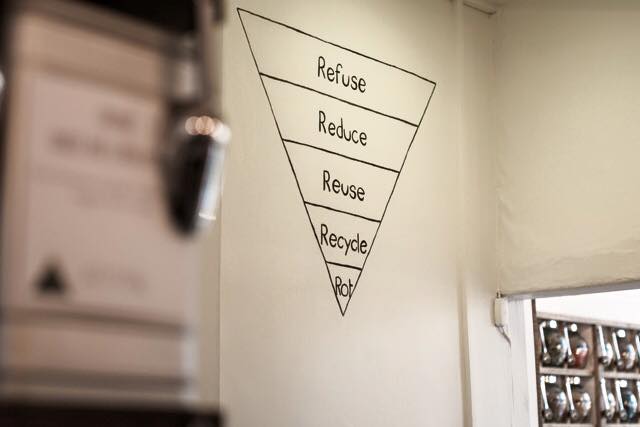 Taking priority at the top of the 5R's pyramid, 'refuse' stresses the importance of refusing. When we refuse plastic-wrapped products and disposable plastic items we are saying that we refuse to be a part of the problem. You'll notice that 'recycle' is 4th in the list, surprising to most but realistic as recycling doesn't solve anything, it just temporarily removes the plastic from our sight, uses an energy intensive process to break it down into a 'lesser' plastic that then can't get recycled- meaning it will wind up in landfill anyway. So technically speaking plastic doesn't get recycled, but down-cycled.
Refusing does take some commitment: it means turning down a drink if the only option is in a plastic bottle; taking yogurt off your shopping list if you can't get it in refillable containers; speaking up to management in shops and restaurants if you're unhappy with their packaging. If enough people refuse to participate in this wasteful, disposable linear economy that's been created, then change will happen.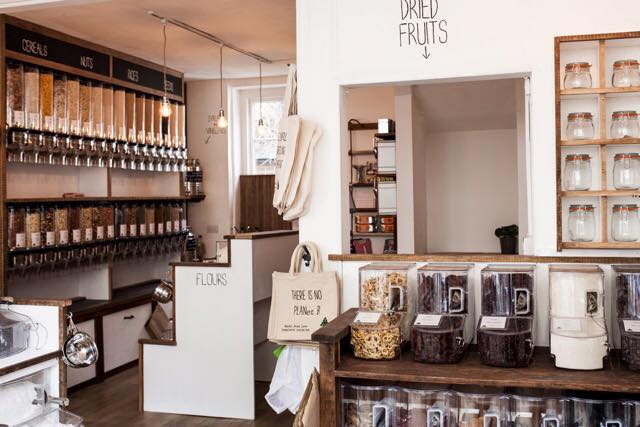 How does a zero-waste shop work?
All of our products are organic and you can take any amount, enabling our customers to bulk buy wholefoods from cereals like bran flakes and oatmeal to grains and pasta, and dried fruits, nuts and seeds to chocolate. We have a sophisticated, yet simple to use self-weighing system that allows you to bring along any container to fill.
It's as easy as 1, 2, 3…
STEP 1. Place any empty container on the scale and print a label/write directly on the container the number it provides you with. This is now the weight of this container and can remain on the container for future use.
STEP 2. Fill your container with desired product.
STEP 3. Place the container back onto the scale, type in the weight number you received in step 1 and print a ticket (or write) the weight and price calculated. Then pay for your product!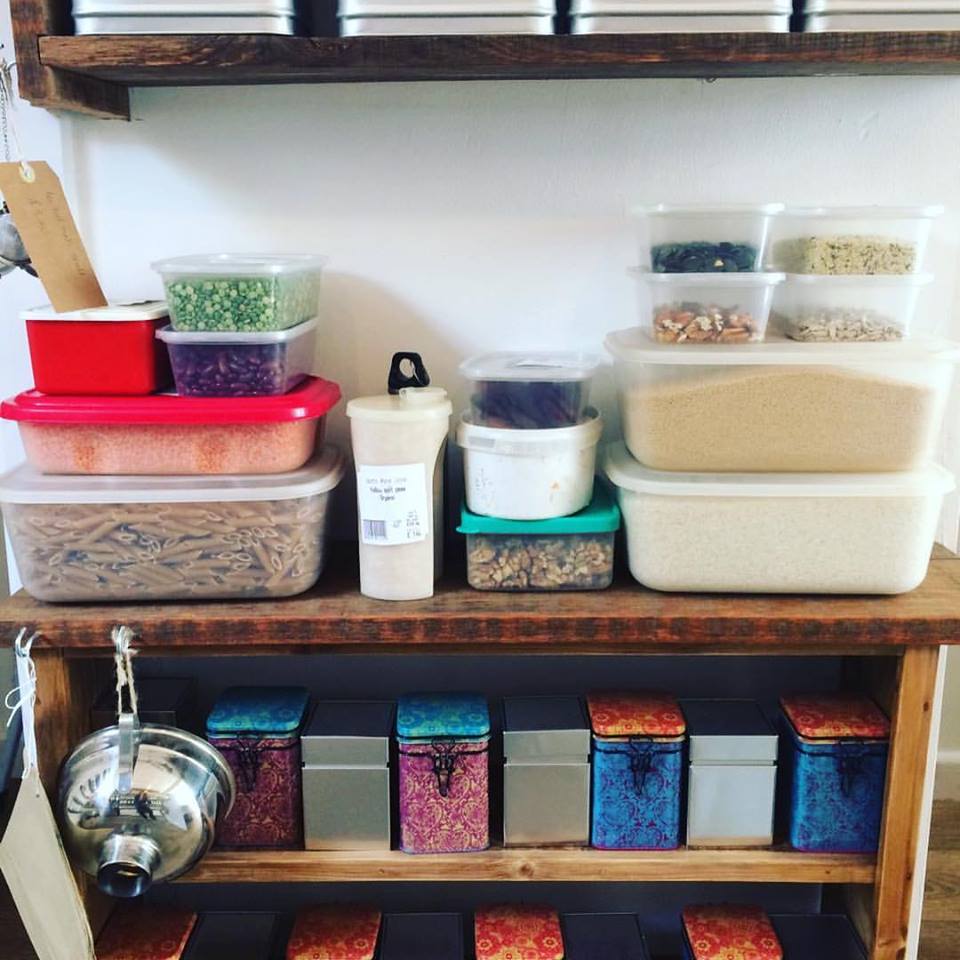 We are huge advocates of reusing over recycling so you can bring along any container that you like; a mason jar, jam jar, ice cream tub or lunchbox, if it can be weighed, it can be used! We've had customers filling plastic milk bottles with shampoo,  If ever you forget to bring a container of your own, you can use one of our paper bags (available in three sizes) which are made from FSC-accredited wood pulp and are fully compostable with your food waste at home. You simply skip to step 3 once you've filled your paper bag.
As well as our food items, we also have a small section of non-food items that help you get a little closer to living a zero-waste life. These include: toiletries; cleaning products; cloth sandwich wraps; bamboo cutlery, lunch tiffins; metal straws; mooncups; washable feminine care; wooden toothbrushes; canvas bags; bulk grocery bags; mason jars; tea caddies; tea filters; and some of our favourite books to educate and inspire you on your zero-waste journey. We had great fun researching the non-food items and discovered a whole bunch of innovative, earth conscious companies that impressed us with their ideas. You can find a full list of our products, their origins and prices (as of November 2017) here on our website.
We're also proud to be part of several schemes we believe are making a difference on a local and larger scale. We support the Totnes Pound as a local currency, Ecotricity, a company committed to clean, renewable energy, supplies the shop's energy and we're also a member of  1% For The Planet, an organisation leading the way in creating a healthier, happier planet.
Want to know how to set up a zero-waste shop yourself?
Shortly after opening last year, we were overwhelmed with emails asking for advice, tips and guidance from other people wanting to set up their own zero waste shop. This was great; it was just what we wanted; zero waste shops up and down the country and ultimately all around the world.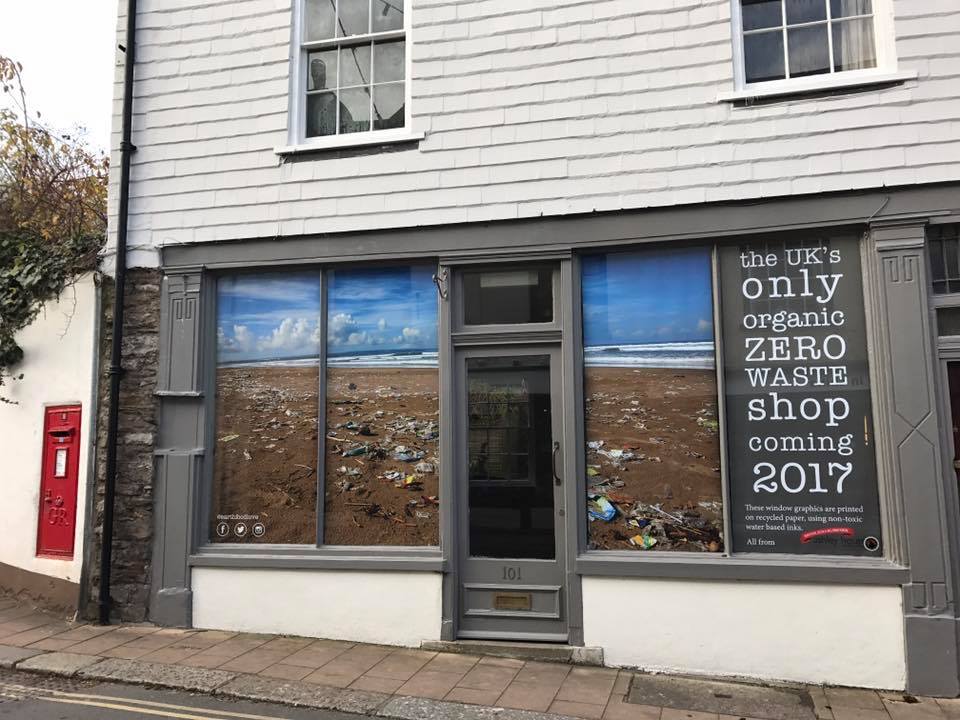 We certainly had no interest or desire to franchise or open further stores ourselves. We are just a family of 3 and already have our hands pretty full as it is! So knowing we inspired so many other people to open one themselves was a great feeling. The challenge then was to figure out how we can be of help to so many people, because answering the emails was also taking up much of our time and energy. This is when the idea for this PDF was born.
We have created a document that we hope will act as an informational guide and assist you in making the decision to open up a shop of your own. It is broken down into what we think are the 'Top 10 Steps' to take into consideration as you plan your shop to suit your own local area. We have chosen to make this document available for free here on our website, making it accessible to as many people as possible. So please, download it, pass it onto your friends, neighbours, local shop owners and lets make zero-waste shopping a reality!
Don't hold back!
We want to stress that neither of us have a background in business or retail. What we have created has come direct from our hearts; we have followed our passion and made it into a reality. We are still learning new things every day but we feel it is important to highlight that if we, two regular people, can pull this off, then so can you! Don't be intimidated by the numbers, the legalities or the journey, if you have passion, dedication and love for what you do, you'll make a success of it.
---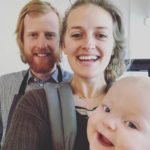 About the authors
Nicola and Richard Eckersley opened Earth.Food.Love, the UK's first bulk-buy, organic, family-run, zero-waste shop, in Totnes, Devon in 2017. Their aim is to make zero-waste shopping a reality in their local community and to help others to do the same where they live. Find them on Twitter @EarthFoodLove and at facebook.com/thezerowasteshop.
---
The views expressed in our blog are those of the author and not necessarily lowimpact.org's
---
5 Comments
1

Dave Darby January 4th, 2018

I'm beyond impressed. I wish we had a shop like that near to us.

This: 'We certainly had no interest or desire to franchise or open further stores ourselves.' is crucial I think. Our favourite local bar/restaurant was ruined when the owner decided to open a new branch. He cared about the food, music and ambience more than hired staff ever could, and it just wasn't the same when he wasn't there. Capitalism encourages entrepreneurs to grow, grow, grow. How could you be satisfied with one establishment when you could have a chain and become rich, after which you don't have to work – just employ other people to do your work for you? If you have a successful business, it's now seen as strange to be satisfied with it. Enough is never enough.

2

Annie Leymarie January 4th, 2018

Such a lovely shop, with a delightful and inspiring atmosphere! I've recently moved from Totnes, now in Brighton where there is an 'alternative supermaket' that includes a waste-free refill bar (http://hisbe.co.uk/) and another great co-op run shop (http://infinityfoodsretail.coop/) but I love the fact that Earth.Food.Love don't sell animal-based food and inspire others in such a positive manner. I look forward to stocking up on a visit there soon!

3

Mehengy January 25th, 2018

I am truly inspired but doubt that I can convince my other half, unfortunately.

I have so many questions, but top of my list right now is; in what packaging are your food products delivered in? Not trying to trip you up; I am curious to know if there are any

'no packaging' food wholesalers out there and how they acomplish delivery.

Great initiative and I truly wish you evers success and happiness.

4

Eloise Sentito January 27th, 2018

But this growth compulsion is not only due to greed or perceived insecurity Dave, but due to the dynamic of the monetary system that actually *compels* growth *just to not quite keep up*. Because debt-servicing forces prices to always (in aggregate) be higher than wages, everyone is condemned to chase to the bottom. Until we collectively take back money creation and/or break our dependency on it via alternative currencies (I love your collaborative credit article), then individuals are relatively helpless. It takes a LOT to sustain these alternative models and not 'sell out', if indeed it's possible in current economics.

BTW Nicola and Richard, I met you (Richard) recently in Totnes, where my folks live, and raised the question of barter. I'm currently abroad but would still be well up for it in the future. I love your shop. And do join me and other makers in the Green Cloth Collective (Facebook group) if you're interested in discussing the economics of all of this.

5

Dave Darby January 27th, 2018

Agreed.
Leave a comment