Posted June 17th, 2015
Support the art of blockprinting fabrics – watch this fantastic video of how it's done and we're sure you'll want to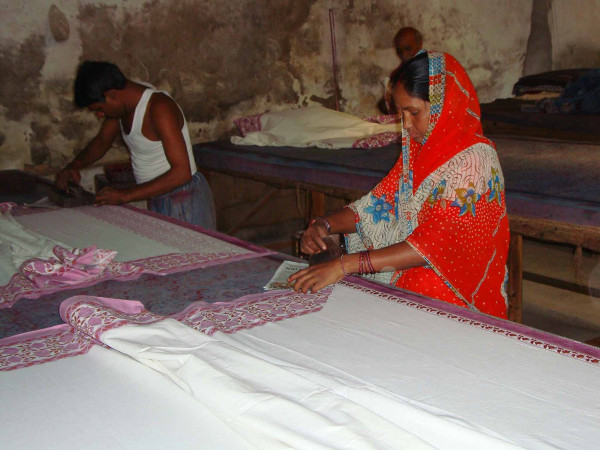 This hand block printed bed and table linen is made from organically grown cotton, certified by IMO, sourced by Hilary in India and printed at a small workshop in Rajasthan where the same two hand block printers have worked for the last 25 years, switching to organic cotton and low impact dyes over the past ten years.
The cotton is beautifully soft and very strong. You can order online or come and visit us here at The Organic Farm Shop near Cirencester where we keep a wide selection of hand block printed bed and table linen throughout the year alongside a range of environmentally friendly skincare, interesting and unusual books, food from the farm and further afield, combined with an award winning cafe serving fresh simple food inspired by the vegetable garden.
The workshop employs 2 full time craftsmen, Shaithneth who is the master dyer and Raju who has been printing for Hilary for many years. Shaithneth used to live on site with his wife but now they have earned enough money to buy their own house a few kilometres away. Raju lives on site, with his wife and 5 children, four of whom are in school.
Shaithneth, Raju and 5 other printers and washermen came to Abbey Home Farm a few years ago for a three week visit. We set up blockprinting tables in the Green Room next to the cafe, and hosted 16 school printing sessions, 4 adult printing days and an art teacher inset day. It was wonderful to see the very positive and stimulating interaction between the printers who had never travelled far from home before and the local visitors. Everyone took something home, a scarf, a cushion cover or just a piece of material that they had printed themselves.
Dinesh, a master block carver, came too. He sat carving blocks each day, with the minimum of tools, making blocks large and small. His trade is dying out, as is that of the blockprinters. He learnt his trade from his father and he from his father before him. Lately Dinesh has bought a grocers shop, but luckily for us he still carves our blocks when we need them.
Raju, Shaithneth and Dinesh of course want 'more' for their children and grandchildren, they encourage them to aspire to work in an office or even a call centre. Understandable of course, but who will make the blocks and indeed hand print in the future. Part of the aim of this little workshop is to show that there is a fair wage to be made in this craft. By buying a piece of blockprinted cotton you are helping to keep the art of blockprinting alive.
NB: we now have a fab new accommodation building, the orchard, built with over 80% of our own wood and milled on site which groups can stay in and enjoy the block printed cotton designs on the duvets and the curtains!
---
The views expressed in our blog are those of the author and not necessarily lowimpact.org's
---
1 Comment
1

JANICE Stover June 20th, 2015

absolutely beautiful work it can't die out what a terrible waste
Leave a comment