Posted October 7th, 2020
Sustainable alternatives to garden lawns: Part 2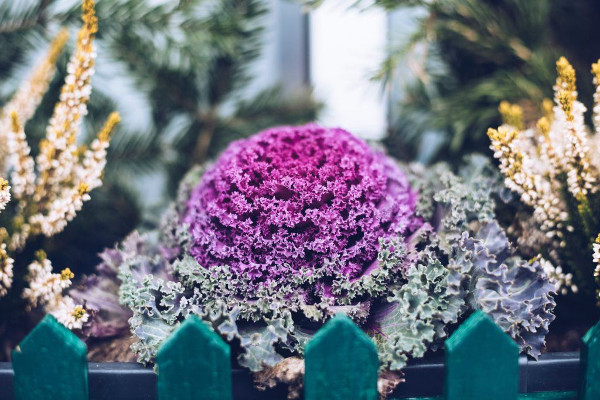 In this second look at sustainable alternatives to garden lawns, we hear from our friends at Ethical.net about growing your own food, keeping the kids happy and more.
---
Of all the ways your garden can help you live more ethically and sustainably, growing food is top of the list. People are often put off of turning their lawn into an edible garden because they think it will be a lot of work – both to get started, and to maintain. But creating and maintaining an edible garden is far easier than you might imagine.
Creating new garden beds on your lawn – the easy way
The most traditional way to produce food is by growing annual fruits and vegetables – either directly in the ground, or in raised beds. Growing annual produce will take more work than a lawn – but creating your new growing areas is quicker and easier than it might seem.
There are several different ways to make vegetable beds on an area of lawn. Perhaps the easiest is what is sometimes called a 'lasagna bed': a growing area built up in much the same way that you might make a lasagna. In this case, however, you are not layering pasta, tomatoes, cheese, etc, but organic materials that will compost in place to feed your plants.
Begin by laying some thick cardboard over the area of the lawn that you want to turn into a bed. You don't even have to mow first. Create edges for your beds if you wish, building up the sides for a raised bed. (You could use reclaimed timber, logs, rocks, reclaimed bricks, clay, or even straw and mud to make edges. There are plenty of options.)
Next, take twigs, sticks, branches, and other brown, carbon-rich materials and lay these on top of the cardboard. Then, add plenty of leafy green material, like grass clippings, kitchen scraps, and any other nitrogen-rich ingredients.
Continue to create thin (5-10cm) layers of these green and brown materials until you almost reach the desired depth (at least 30cm).
Top the lasagna bed with 5 to 8cm of topsoil and/or good quality, peat-free organic compost.
Water the beds well before sowing seeds or planting out new crops.
The beds will sink over time, as the materials break down and compost in place. Create your own compost and mulch plants with organic matter each year to maintain fertility, and you could grow edible plants there for years to come.
For a lower-maintenance edible garden, think about planting the lasagna beds with edible perennials rather than annuals (which won't need to be replanted each year).
There are plenty of edible perennials to choose from – for example, perennial brassicas (members of the cabbage family) and onions, as well as more familiar perennial edibles like rhubarb, asparagus, and globe artichoke.
Planting choices for a low-maintenance edible 'forest garden'
The ultimate perennial food garden is a 'forest garden'. These mimic natural forests or woodland, incorporating plants that benefit each other, but which are also useful to us. Planting trees is a wonderful way to turn a boring lawn into a magical, abundant space. Instead of a monotonous expanse of lawn, you could have a winding path leading into the dappled shade of a wooded glade, and be able to forage food from this mini woodland.
A forest garden doesn't have to be huge; adding one or more fruiting trees to even a small garden can be a great choice. In an edible forest garden, fruit trees are not planted in the middle of the grass – instead, collections of different plants, known as 'guilds', are created to support each other and improve the whole ecosystem, while providing food and other things for the gardener.
Planting is added in layers, with shrubs beneath the trees, herbaceous plants and ground-cover beneath them, and perhaps some climbing plants winding between them. Each plant is carefully chosen for its role in feeding the system, or feeding you.
Turning a lawn into a perfect playground for kids
Sometimes, garden owners keep a lawn because it's a good place for kids to play, kick a ball about, or enjoy other games. However, many of the eco alternatives given above can also make perfect playgrounds. While an area with dense planting, trees, or growing areas wouldn't be suitable for a game of footie, it could provide bountiful opportunities for other sorts of play.
A few fruiting trees (and other perennial plants) with paths between them can make a wonderful place for hide and seek, or for imaginative play. Any sort of planting between paths, or mown trails between wilder areas, could allow you to make a 'race track' for kids to run or cycle round.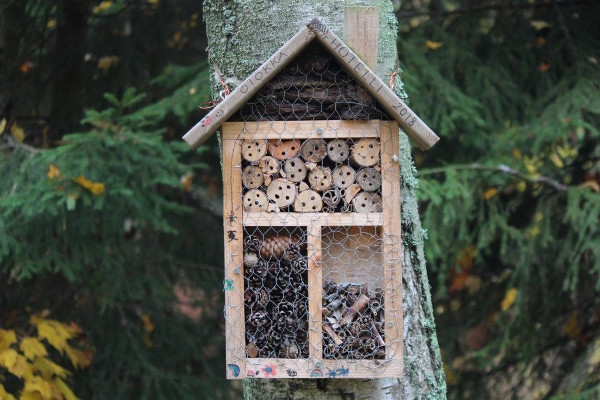 Once they grow big enough, new trees could also be a place to hang a swing or hammock, which could be wonderfully relaxing. Replacing an open lawn with wilder, more abundant and fruitful areas can also provide plenty of hidden corners that are perfect for a den. For example, make a tipi with branches or canes and grow beans up and over it. You could also train fruit trees to make a den, or weave one from a living willow.
Of course, a wildlife-friendly garden will also be wonderful for kids, who will love going on a bug hunt, building a bee hotel, peeping into a pond, or discovering other interesting creatures. Kids will also love tending an edible garden. Replace a dull lawn and your kids are likely to be able to find no end of ways to entertain themselves in your garden.
Creating new eco-friendly patio areas
While, generally speaking, it is best to forgo the hard-standing and opt for more plants instead, there may be times when you wish to get rid of your lawn and install new patio areas that allow better use of the space. (For example, by creating a place to put a table and chairs for dining outdoors.) Permeable patio areas, which allow rainwater to reach the soil below, are best – for example:
 Wooden decking made from reclaimed timber.
Natural rocks with moss or other ground-cover plants between them.
Flat stone paving with naturalistic planting between slabs.
Reclaimed bricks laid directly onto the soil, or onto gravel.
Recycled glass paving with gaps between for ground-cover plants.
There are plenty of ways to avoid barren expanses and instead create stable surfaces between lush planting, while creating a space for outdoor eating could enthuse you to grow and cook more of your own food.
Remember, your garden can be far more than just a lawn with planting round the edges. However you choose to proceed, you should begin to appreciate just how many amazing options there are for more ethical and eco-friendly alternatives to a garden lawn.
Missed Part 1? Find it here.
Find the original post by Elizabeth Waddington on the Ethical.net blog. Main image by Markus Spiske on Unsplash.
---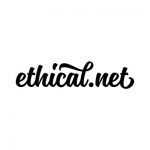 About the author
Ethical.net is a collaborative platform for discovering and sharing ethical alternatives, whether purchasing from a social enterprise, thrift shopping, or learning how to fix your old phone instead of buying a new one. They aim to make ethical the new normal.
---
The views expressed in our blog are those of the author and not necessarily lowimpact.org's
---
1 Comment
1

lin scrannage October 7th, 2020

This is lovely Sarah and thank you for all the work you have done on this. I will use these articles as a resource for our cohousing neighbourhood – we are building 53 affordable eco homes in Dorset and they should be ready to move into in early 2022. The back gardens of the homes will just be bare patches of soil for people to create their own spaces – this will inspire them to be really creative when it comes to planting (hopefully not lawns!!)
Leave a comment