Posted September 28th, 2022
The transport challenge – beyond electric cars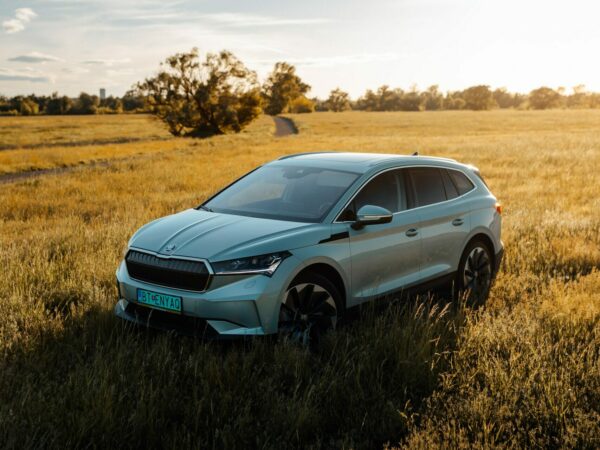 This week our blog continues to explore being car-free, and looks ar how we can go beyond electric cars in our communities.
With the sale of new petrol and diesel cars set to be banned in the UK by 2030 the electric car market is ready to skyrocket, but does replacing like-with-like go far enough? Joel Rawson looks at the benefits and impacts of electric vehicles and explores ways of reducing overall car use.
The electric vehicle (EV) industry is moving quickly. At some point this decade the cost of an EV is expected to drop below other cars, while lower running costs can already make an EV a better long term investment. Battery improvements mean drivers can now make a bigger carbon saving by going straight to a fully electric vehicle, without the stepping stone of a hybrid car.
However, just switching to EVs won't solve our transport problems. There are still manufacturing impacts (particularly for batteries), particulate emissions from tyre and road wear, and traffic congestion and road safety issues. Plus the cost of a new car is out of reach for many. This article asks how we can go beyond electric cars and covers some of the potential benefits and impacts, and how car sharing and e-bikes can enable efficient electric travel for more of us.
What are the carbon savings?
There are many studies comparing the impacts of electric vehicles with petrol and diesel cars. The main finding is that fuel emissions dominate the lifetime carbon emissions for a conventional car. That's not only exhaust emissions, but also those during oil production, refining and delivery.
Carbon Brief has a useful factcheck drawing on various studies, comparing emissions over a car life of 150,000km. An average petrol car led to about 260 grams of carbon dioxide per km (gCO2/km), with over 80% of that from fuel use. For a petrol hybrid, emissions were about 170gCO2/km. For an electric car they dropped to 95gCO2/km, with 30% of that due to charging up from the UK grid mix.
When comparing other studies, carbon emissions vary slightly depending on where the battery is manufactured, but remain much lower than for conventional vehicles. And they will reduce further with continued decarbonisation of the UK grid and of the energy used in manufacturing elsewhere.
What about other pollution?
EVs don't have nitrogen oxide exhaust emissions, but they still cause particulate emissions from tyre wear, road abrasion and the churning up of particles in the car's wake. This all contributes to air pollution and to microplastics getting into soils and oceans.
A recent European Environment Agency report found that some researchers estimated similar particulate emissions for EVs and other cars, with most from non-exhaust sources. Whereas other researchers calculated much higher particulate emissions from petrol or diesel cars when using real-world exhaust emission data.
The picture also changes in urban areas, where stop-start driving means that brake dust can be about half of the particulate emissions. EVs cut the use of friction brakes greatly by using regenerative braking systems. This means much less wear of brake pads and so much less local urban pollution. Basically, regenerative braking uses the motor as a generator, slowing down the car by drawing energy from the turning wheels back into the battery.
Research will continue to help us evaluate these impacts, and to develop solutions such as better tyre materials. In the short term, pollution from an EV can be reduced by choosing the most durable tyres, and also the smallest and lightest vehicle for your needs.
What about the batteries?
There are environmental and social impacts from the extraction of raw materials like copper, nickel, cobalt and lithium to make batteries. Last year the European Commission proposed a new regulation covering areas including the supply of raw materials, manufacturing processes, and the collection and recycling of end-of-life batteries. Given the international nature of the car industry we'll need worldwide agreements like this to ensure that the carbon benefits of EVs don't come at the expense of workers or natural habitats.
In the last few weeks, the campaign groups Transport & Environment and Amnesty International published a joint paper calling for improvements to the EC regulation, in particular to the standards for mineral extraction, saying it must do "more to ensure that human rights and the environmental concerns are not ignored in the energy transition." The Deep Sea Conservation Coalition is calling for a moratorium on proposed deep-sea mining for the sort of minerals needed for batteries, before potentially irreversible damage is done.
Alternatives to electric cars
Therefore, while EVs enable big reductions in carbon emissions and can also reduce other types of pollution, there remain issues to address. For a faster route to a zero carbon future it's important that we reduce car use whenever possible. CAT's Zero Carbon Britain scenario includes better provision for walking, cycling, and public transport – to reduce pollution, improve urban areas and make us all healthier.
Using EVs in car share schemes makes more efficient use of the cars and reduces the number needed. Electric bikes (loaned or owned) use a battery that's only a tiny fraction of the size needed for a car, but the power boost and extended range should enable many people to get out of a car and onto a much more efficient option for day-today travel. A lot of people will still find it very difficult to do without their own vehicle, but these options could allow many households to avoid buying a second car.
Promoting e-bike use Machynlleth-based Ecodyfi, just down the road from CAT, have set up a community e-bike scheme. The bikes are lent out to local people for everyday use, perhaps for a few days at a time, to help them drive less.
Project officer Freya Pryce explains more: "We chose the conversion kits (motor and battery) according to advice from Drosi Bikes, and have been really pleased with those. We're finding that the conversion option gives us better value for money than buying a brand new ebike, as we could get the original bikes free or for little cost, and then buy a motor and battery more powerful than those inside a new ebike for a similar cost. We also believe that the conversion option is more ecologically sound than a brand new ebike, as it is using more of what has already been made (a normal bike) and is more easily repairable."
As well as Drosi Bikes and Cycle Dyfi for the conversions, Freya found the local Sustrans officers were very helpful on all the administrative aspects of setting up a bike share scheme.
Car clubs
The 'Open Newtown' project is working to get EVs into local car clubs in Mid Wales, which adds big carbon savings on top of the boost to local mobility and efficient resource use that car clubs already give. You could look for nearby community-based car clubs, to see if they're interested in expanding to your town if you get enough local people signed up.
Or if you're starting a car club from scratch, the example of Llani Car Club in Llanidloes may be helpful. Founder Andrew Capel says: "If you start with three or four people who want to share, the project can be financially sustainable from the start and you have breathing space while you wait for other people to catch on … In a rural area it takes time because most people already have access to a car."
Once the booking system is in place and more people start to join in, you should begin to see benefits from reduced car use.
Andrew adds: "In my experience being a member of a car club teaches you how to use the car less, because you know how much each journey is going to cost, before you do it. That's why car clubs are a key part in tackling climate change and resource depletion."
Further information
I'll be adding more advice and links about sustainable transport to CAT's information service webpages, and I'd like to hear from you about any other useful links or resources you have found helpful when buying an e-bike or EV or developing a community transport project.
About the author
Originally published by the Centre for Alternative Technology (CAT), January 2022. www.cat.org.uk
Written by Joel Rawson and Catriona Toms – CAT's Information Officers – providing free and impartial advice on a wide range of topics related to sustainability.
You can email them at [email protected]
---
The views expressed in our blog are those of the author and not necessarily lowimpact.org's
---
2 Comments
1

David Gregory September 28th, 2022

We're a one car household with three small children and have been driving Electric Vehicles for 6 years now. Initially we started with leasing as it was the only way to afford to drive one. Since then we have bought a second hand electric car which had already covered 100k miles with the previous owner in the three years before we owned it.

We changed solely for reducing the air pollution that we previously would have caused by driving a petrol/diesel car.

As with many in the UK we are in a rural location so things like car clubs don't exist here and public transport is limited to say the least. There's also a question as to leaving our electric car at home and instead climbing onto a diesel bus that doesn't sit too comfortably.

The recent findings linking air pollution to lung cancer in non-smokers validates the move the electric vehicles, but certainly I accept that walking or bicycling is preferable wherever possible.

2

Rebecca Stacey September 28th, 2022

I know what you mean, I live in a very rural location with no public transport links, and just don't have the options or means to go electric yet. I would like to see public transport links strengthened – especially around the small train stations in the area.
Leave a comment