Posted November 15th, 2018
The Wool Journey Part 12: spinning at last!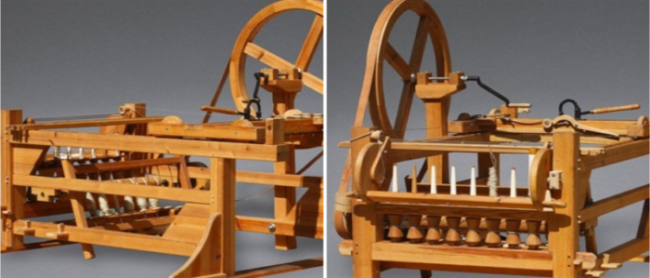 In Part 12 of The Wool Journey, spinning commences at the Natural Fibre Company mill in Cornwall. Over to Sue Blacker to tell us more…
---
Above is a picture of a replica of the original Spinning Jenny – see credits at the end of this article.
It is interesting to see that, when we have people touring our mill, those who are hand spinners at once understand what our machines are doing, since each stage in the process has been individually automated over time. Many of the machines are also not significantly changed from their original designs – they go faster, have electric motors instead of being steam or water driven, have guards to keep operators safe and have some electronic controls, but intrinsically are pushing fibre through and twisting in the same way as when they were first designed.
In addition to the 96 spindles on our HDB woollen spinning frame, there are 60 spindles on our Cognetex spinning frame (which generally spins the finer yarns as it has smaller spindles and tubes, so we can get more yarn on each spindle with finer counts. We also have 54 spindles on our Mackie spinning frame. So The Natural Fibre Company spinning capacity is the equivalent of 210 people like Barbara below, who originally taught Sue hand spinning, using spinning wheels!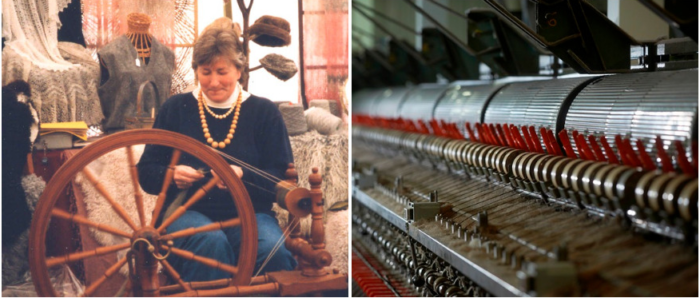 The prepared rovings are either fed from cans into the worsted spinning frames or from the bobbins onto the woollen spinning frames (see part 10 for more information). A spinning frame consists of a row of spindles which twist the prepared fibre into a yarn. This is done most usually nowadays with a ring-spinning frame where the spindles are set vertically within rings on which small travellers slide around continuously guiding the fibre to prevent ballooning of the thread. The spindles are rotated at a constant speed driven by a shaft linked to belts around pairs of spindles. The belts wear out and need regular replacement.
In older mills, the shafts were all driven from a single power source, originally water, then steam, at one end of the building and the frames might be set on several floors one above the other. Nowadays, we have busbar trunking to bring the electric power to each machine so layout is a bit more flexible, although it still makes sense to have the machines organised for ease of access, loading, monitoring, doffing and passing to the next process.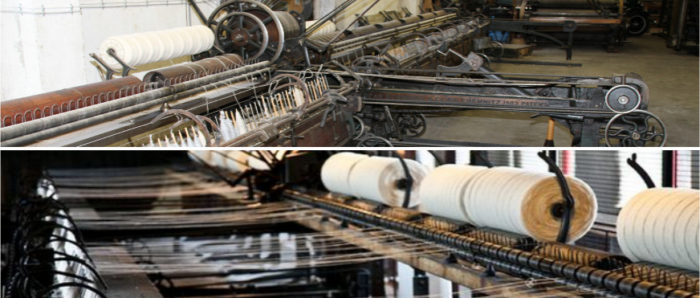 Older and smoother operating woollen spinning frames – which trundle magnificently across the floor to extend, spin and then wind onto small spindles known as pirns – are the great spinning Mules, as invented by Samuel Crompton, pictured above at each end of a traverse, though of different machines! They are said to make nicer, softer, more even yarns and may be seen in action at New Lanark or the Welsh Wool Museum, for example, but take up a great deal of space which adds to the rent, as well as being much more difficult to maintain. Worsted spinning in the older format can be seen at Coldharbour Mill, where fliers rotate above the spindles to spin the yarn. Coldharbour also has Noble combs, which are another magnificent and hard-to-maintain worsted comb, though nowadays most people use the market leader, NSC Schlumberger, machines.
In larger scale mills, the batches may be joined one to another and run continuously for many days, whereas at The Natural Fibre Company our minimum 20kg batches take between 1 and 3 hours usually. The spinning frames may be sped up a little if a batch is running well, but generally since they run at a constant speed, the finer yarns will take longer than the thicker yarns, in precise correlation to the machine speed – so a single yarn for a 4-ply knitting yarn will take half as long to spin as the single yarn for a lace-weight yarn.
The spinning process twists together the prepared fibre and enables the scales on the fibres to link together and hold into a yarn. It is always a miraculous moment when we show people how just a few twists in the fibre coming off the end of the card will create a strong yarn. Smoother or shorter fibres are therefore harder to hold together and may need to be made into thicker yarns or blended with other fibre. Below you will see our spinning frames, the woollen on the left, the Mackie in the middle and the Cognetex on the right.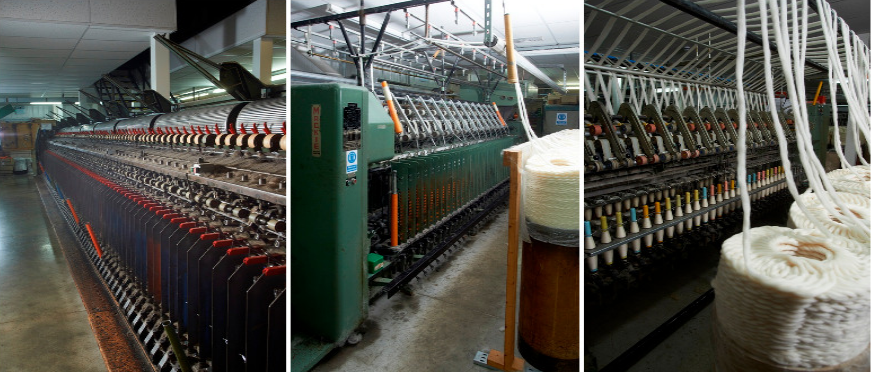 The aligned fibres of worsted spun yarns require a considerably higher spinning twist to hold them together than is needed for woollen spun yarns.  Generally we make our woollen spun yarns for hand knitting at 4-5 TPI (twists per inch) and for weaving at 6-7 TPI, and the TPI will be around twice this for a worsted spun yarn.  This also means that worsted spun yarns will need a higher twist at plying.  However, the smoother finish still makes them feel softer than an equivalent fibre woollen spun, though as already noted in Part 11 this may be by no means the only criterion on which a yarn style and specification should be chosen.
Apart from twisting the yarn, the spinning frame will have stretched or drafted it around 15-25% from the incoming fibre.  Also the number of twists per inch or metre may be set – the higher the twist the stronger the yarn, which will be important for tensile strength for weaving.  However, the lower the twist the softer the yarn generally, and the aim for a soft yarn, suitable for hand knitting, is to put in only sufficient twist to hold the yarn together well; and stop it from breaking easily, or pilling or shedding too much.  This compromise is also important in creating the appearance and handle of the spun yarn.
The spun yarn is collected on tubes set onto the spindles, which are removed or "doffed" at the end of the batch. For woollen spinning we colour code the tubes at each end of each bobbin where, due to the carding process, there is a small risk of the yarn being slightly thinner, so when we come to ply the single threads together we can combine the outer with the inner tubes for a more consistent result. Due to the worsted preparation process this issue does not arise, and generally a worsted spun yarn will be more consistent to its specification than a woollen spun yarn, although all vary a little due to the natural characteristics of wool, mohair or alpaca. Below are singles woollen on the left and worsted on the right.
If the yarn breaks while spinning there is a suction system to draw away the fibre until the yarn can be re-joined but we hope that it will spin endless for most batches. If the yarn breaks, the single yarns produced on the spinning frame can be relatively easily joined by the operator as they are spun and these joins are entirely invisible in the final yarn. There is a knack to joining woollen spun yarns due to timing the foot brake on the spindle with the joining by hand and it is easier to learn on the worsted spinning frame.
Sometimes we need to spin the yarn a little thicker than the target specification to get it to hold together – working with natural fibres may be done by our mechanical engines with their precise settings but it is more of an art than a science to coax the fibre into the required format and hand spun yarns, while maybe less even, will always feel softer.
While sorting, then through scouring and drying and again when blending, carding and/or combing we begin to get an idea of how well the yarn will spin. Monolithic batches of a single fibre type with very consistent characteristics are harder to hold together than more varied batches. Sometimes we have to add more "woolly" fibre to coarse blends to make them go through the cards or spin at all. Almost all sock knitting manufacturers like 10% nylon added to make the yarn stronger and most knitwear manufacturers for British breeds need a worsted spun yarn, as the woollen spun versions are too bulky and hairy – as also a weaver with a faster rapier loom will need a fine worsted spun 2-ply yarn to prevent any hairiness from causing breaks in the warp.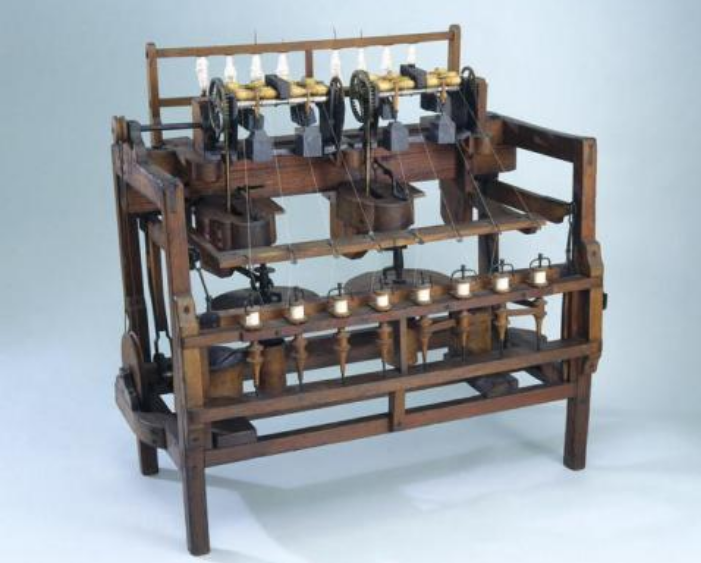 Above is a version of Richard Arkwright's original water frame which was designed for spinning cotton rather than wool. We cannot spin cotton on our machines as the fibres are too short.
Spinning is not just a mechanical process – there is art involved! Knowing what is possible with a particular fibre is the most important factor. A humid atmosphere, the spinning oil, anti-static spray and talcum powder can all aid this process too.
If we have difficulties at any stage, this will affect the finishing processes, when we have to finish to precise weights for trading standards purposes, as uneven, weak, over-twisted, shedding, nepps, vegetation or remaining grease will all affect the ease with which we can consistently make the final 50g or 100g balls or skeins.
All of our processes are best seen moving!  For a taste of this, try our film.
Credits: You can find wonderful textile machines at the Welsh Woollen Museum, in Leeds, Halifax and Bradford in Yorkshire, at Coldharbour Mill and New Lanark Mill and also items like the replica spinning jenny are at the Science Museum. All of our machines are a little younger but are secondhand and range from around 100 years old to a mere 10 years old!
---

About the author
As British wool spinners, The Natural Fibre Company add value by processing quantities of fleece from 20 kilograms up to over a tonne and more. As we scour, card, dye and woollen and worsted spin under one roof, we are effectively experts in all aspects of the process of turning raw fleece into high quality yarn. Most of our customers are in the UK for rare and specialist breeds.
---
The views expressed in our blog are those of the author and not necessarily lowimpact.org's
---
Leave a comment