Posted July 26th, 2014
Three-bedroom, earth-sheltered house with a living roof, cob internal walls & sea view; cost: £18,000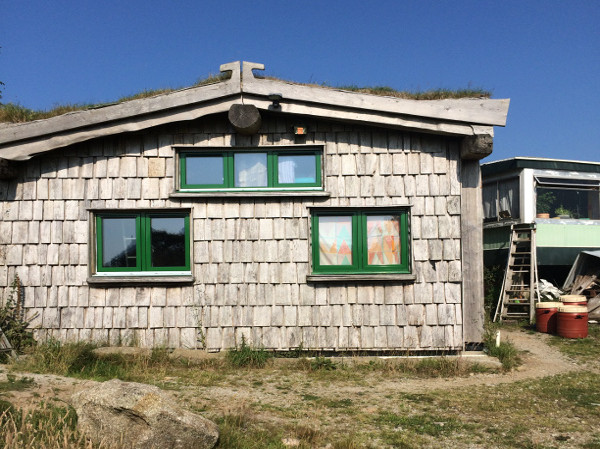 Seven years ago, a handsome builder came on a Lowimpact.org 'how to make biodiesel' course at Redfield and stole one of our staff. They now live with three children in Cornwall, in an earth-sheltered house that he built himself on his own land. My partner and I did a ten-day house-swap with them (London terraced house for earth-shelter with views to the sea on both sides – that suited us very well, but they seemed happy too). They remain anonymous due to a lack of planning permission – more below. I interviewed him about his beautiful, unusual (and cheap) house.
DD: Where did you get the idea from?
??: Mainly it was a combination of the Teletubbies and acid. Also, I lived in a cave for 3 months in my early twenties on Gran Canaria. It felt great to be inside the earth – cool in the daytime, warm at night. This place is the same. I've always loved the idea of underground houses. And finally, I was going to do it without planning permission, so from most angles, an earth-shelter is completely hidden.
DD: Why didn't you apply for planning permission?
??: I'd been living on my one-acre piece of land in a caravan for 10 years previously, and was perfectly happy – but I thought that if someone was moving in with me, I'd better build something bigger. I wanted to build it super, super eco, and I'm a local boy in need of housing. I knew that all these things would be in my favour, and I might well get planning permission. But if I didn't, I'd lose my home. Work is scarce in Cornwall – there's not much money about, and I couldn't afford to buy or rent a house in a town, and certainly not one in such a beautiful location. I make just enough money to support us with occasional building work, together with the things that we produce ourselves, including food, building materials, energy, water and sewage treatment. I decided not to apply. Maybe one day I'll have to apply retrospectively, but I've been living here for 17 years, in a way that is better for the environment than me living in a bricks and mortar house and this land being part of your average non-organic farm.
DD: I wouldn't be here talking to you now if this was a conventional home and you were commuting to a job in a town every day, or if it was a holiday home. It's the environmental aspects that interest me. And I certainly wouldn't support a conventional build without planning permission. But it's something that I care deeply about. I think that people should be able to build their own home on their own land as long as they do it in a very sutainable way, and use the land productively. I believe that there should be a set of criteria that if met, allow people to build a home in the open countryside, where no-one is allowed to build at the moment. And development land is either too expensive for low-impacters, or developers have grabbed it all already. I'm sure many people's response will be 'why should he be allowed to…… etc. etc.', to which my response would be that we'd like everyone to be allowed to – as long as they abide by strict eco-criteria and use the land to produce food for local markets. So in what ways is your home / land sustainable?
??: Well, here goes – we're generating our own energy and harvesting water; we have a twin-coil cylinder for hot water – one for the wood stove and one for solar thermal – that we haven't installed yet; we have cob internal walls, stone retaining walls and a living roof; we've used lots of waste materials in the build; we have wooden shingles, supporting posts and rafters from locally-harvested timber; we keep animals (chickens, ducks, miniature sheep and we aim to have pigs too); we grow veg and soft fruit; we have compost toilets and a polytunnel. Plus I've planted about 100 native trees (mainly hawthorn, cherry, oak and ash) around the 'drive' – if you can call a rutted dirt track a drive.
DD: So what's an earth-sheltered house?
??: It's a house that's semi-underground – from the north all you can see is a grassy bank and from the south, it's all glass, to make the most of passive heating. The bank soaks up the sun's heat and leaches it out at night, and even through the winter when the sun is low. It needs very little heating.
DD: Where did you start with your build?
??: First I dug out the bank by hand and built the retaining wall – from granite and mud that I dug out of the site – a metre wide at the base. Then I did one of the two unsustainable things in the build – I laid a concrete slab. I know the cement industry is unsustainable, and I wanted to lay a limecrete floor, but couldn't afford it.
DD: And then?
??: I built the main structure next, from sweet chestnut posts delivered from a local forest. They were delivered in the round, and because they hadn't been processed at a sawmill, they turned out really cheap. I only had to remove the bark for the main supporting posts, and each post came out at £28 delivered! The beams and rafters were local sweet chestnut too, and one of the beams was rescued from a local fire-damaged building. The total cost for all timber, delivered, was £3000. I even made the bathroom sink from a huge chunk of sweet chestnut.
Then I laid the EPDM, rubber-like impermeable damp-proof barrier, which went in front of the granite back wall and over the entire roof. I built a cob internal wall in front of that, from mud/clay from the site, then lime rendered it (it's only an infill wall, not load-bearing – the wooden posts take all the weight. In the space between the internal and retaining wall I was going to put pea shingle, but then a huge load of used polystyrene packing became available for free, so I used that instead. That turned out to be a big mistake, as sometimes I can hear mice scratching in the polystyrene. They might bite holes in the damp-proof membrane, which would be a disaster. My advice would be to go for pea shingle, or something that mice can't make their home in. There's a drain at the bottom of the gap between inner and outer walls, so that water can't build up, get underneath the EPDM and destroy the cob.
DD: And then the roof.
??: Yes. I heard that you need 20cm of soil to withstand drought, but instead I put 3 layers of turf, with no soil at all. It's worked very well. On top of the second layer I put irrigation pipes (pipes with holes in). When there are long periods of no rain (not very often in the UK) I plug a hosepipe into the irrigation pipes and run water through them for an hour.
DD: And what about the wooden shingles at the front?
??: They were made from hardwood wooden pallets. I was working on a building site that had lots of materials delivered on hardwood pallets – really fantastic timber that they were going to burn. Well I saved them the trouble, and as well as shingles, made shelves, a chicken house and furniture, and then used all the leftovers for firewood.
DD: Your old caravan is still there, isn't it?
??: Yes, it's still there at the front of the house – I've just built behind and around it. The caravan is now the kitchen, and will be until we can afford the glass for the front of the house, when we'll move the kitchen into the house and get rid of the caravan.
DD: What's left to do?
??: We're going to have glass bi-folding doors all across the front. They would cost at least £12,000, but I can get the materials for £6,000 and make them myself. I'm going to lay a marble floor. That may sound mad, but there's a local marble supplier with a mountain of off-cuts round the back. They've said that I can take whatever I want for free. So what we're going to have is a marble, crazy-paving floor of all different colours and patterns. Can't wait to see what it looks like. Where the caravan is now, we're going to have a conservatory made from recycled glass, filled with edible plants – grapes, tomatoes, aubergines, peppers, herbs – so you'll be able to go out there and just graze.
After that, we're going to direct all rainwater and waste water into the drain, through a reed bed and into the pond that we're currently building. With a small solar pump, we'll irrigate the roof when it's dry. This system means that we'll only be able to use ecological cleaning products. The rest is just conventional building, plumbing and electrics. You need to have some basic skills!
DD: Thank you. So the only new non-eco products you used were the cement for the concrete floor, and plywood for above the rafters. I'd have to mark you down for those – but overall it's not bad really. All other materials were either natural and local, or waste products. I'll be interviewing you again soon for your compost toilet system, based on Joe Jenkins' Humanure Handbook.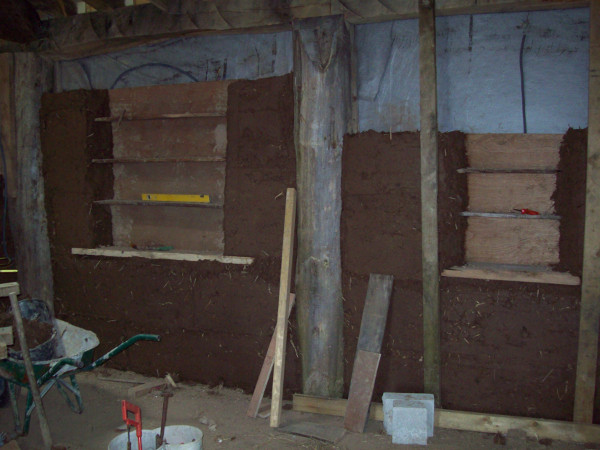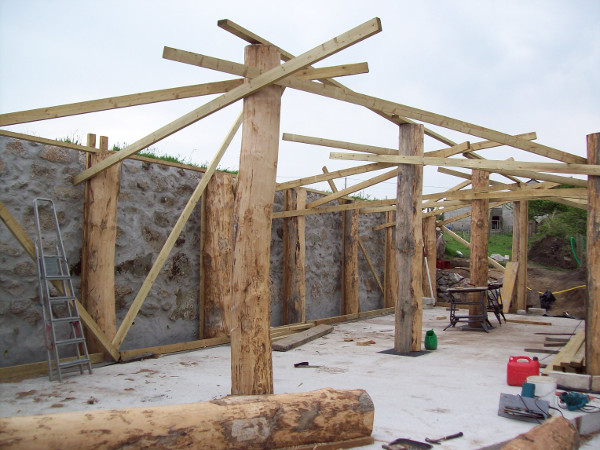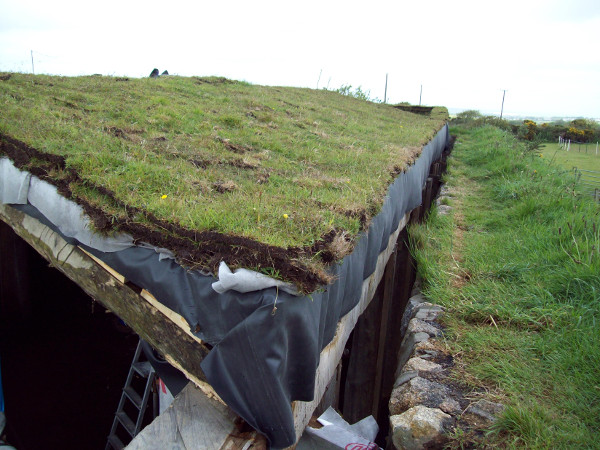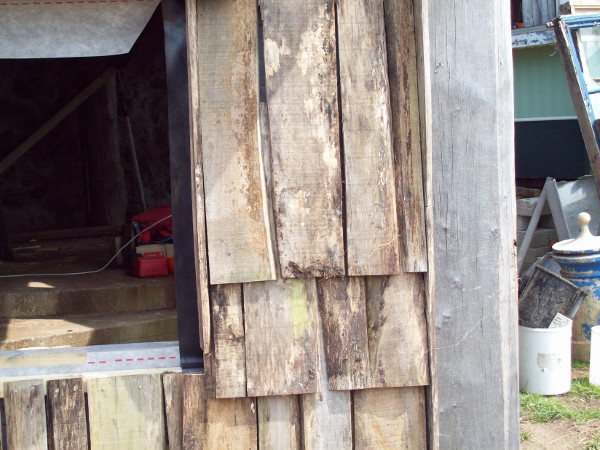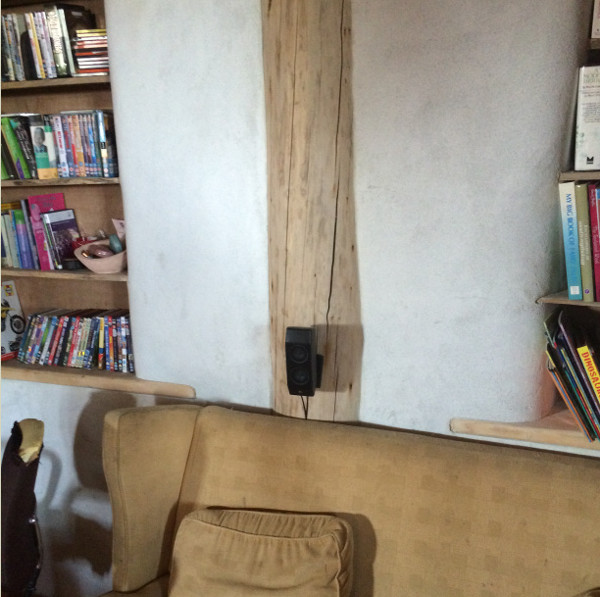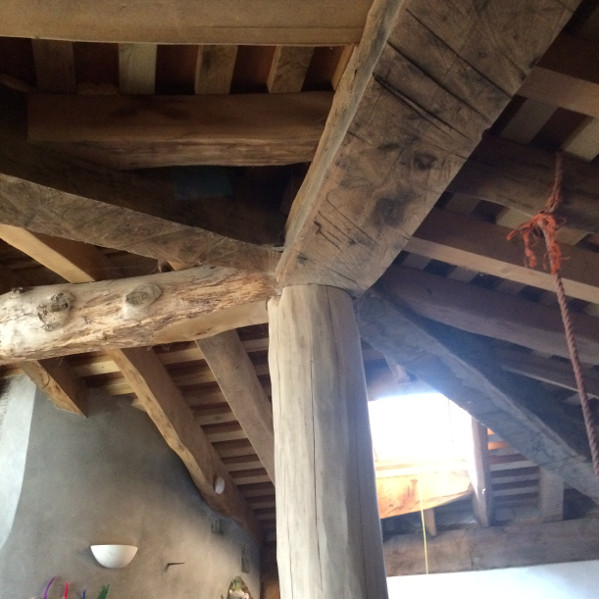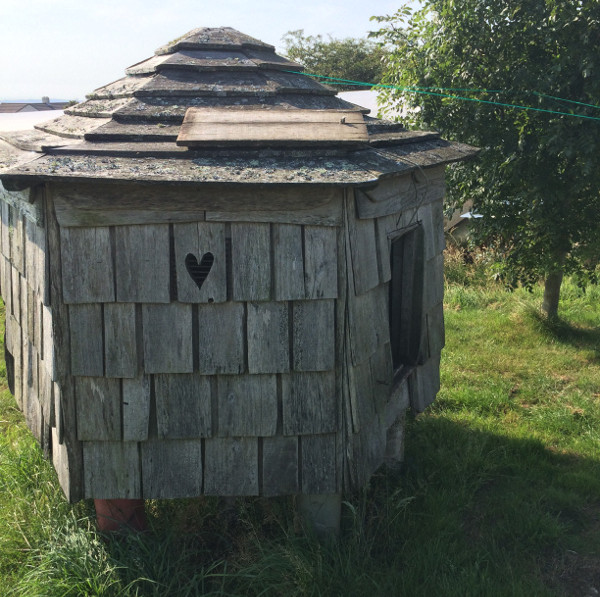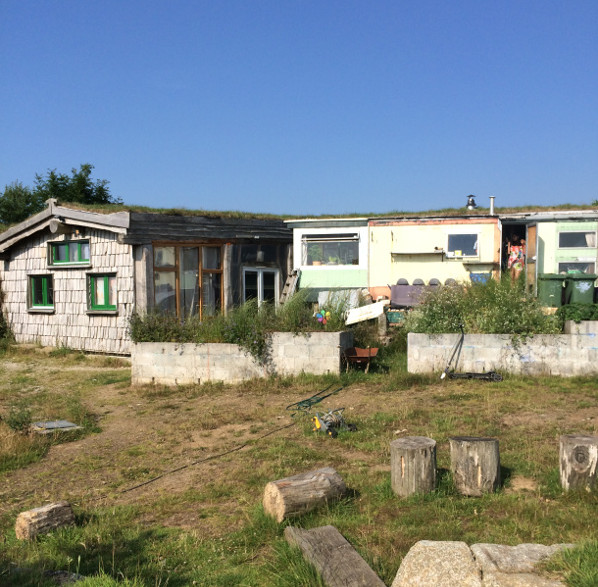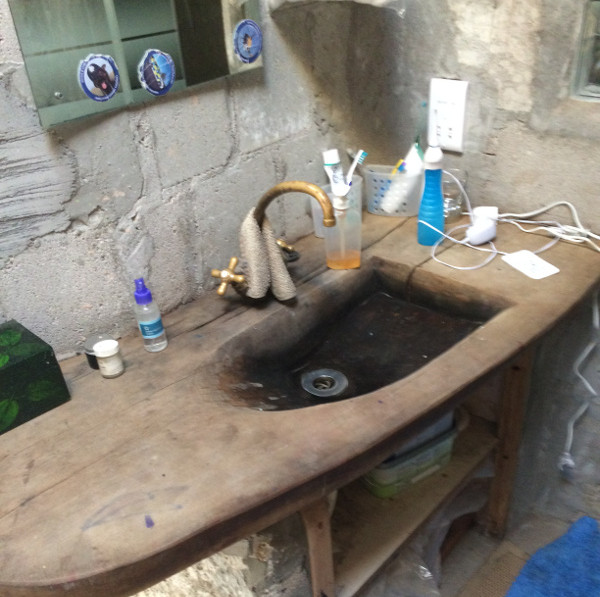 ---
The views expressed in our blog are those of the author and not necessarily lowimpact.org's
---
Leave a comment