Posted August 9th, 2015
What's it like owning a Brompton folding bicycle?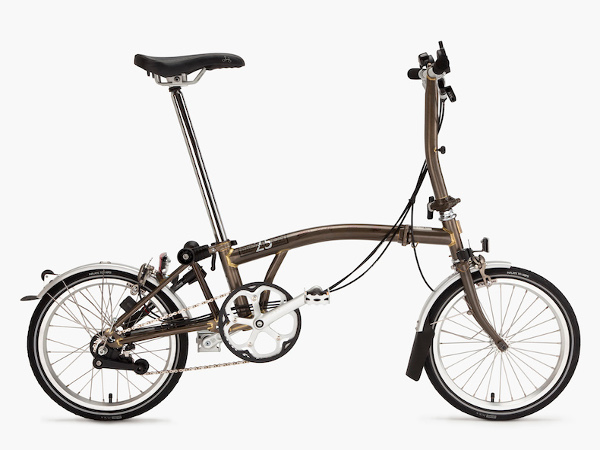 So what's it like to own a Brompton? I had forgotten how great it was to own a Brompton, actually.  I am so used to mine, which I have had for 13 years, that if feels like a part of me and I guess I took it for granted – until it was in being repaired (more about that later) and I had to manage with a 'normal' bike for a couple of weeks.  The thing about a 'normal' bike is that you end up not using it as much.   Here's why:
I couldn't just sling it in the car and take it into town with me, then use it to get around instead of driving from place to place
I couldn't take it to town and leave it in the boot of the car when I wasn't using it
I Couldn't just go to a CTC cycle run on impulse without having to assemble/fight with the bike carrier
I couldn't take my bike on the bus
I wasn't guaranteed to get it on the train because Scotrail limit the number of bikes (not Bromptons though, they just go on the luggage rack)
I couldn't take it with me everywhere, anywhere and not worry about it getting nicked outside shops and cafes – I just take the Brompton in with me and stick it in a corner folded up.
I couldn't keep it in the hall and just lift it as I went out of the front door.
And er… I seem to fall off 'normal' bikes but it's almost impossible to fall off a Brompton.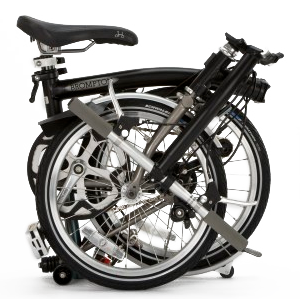 I have been on CTC main runs, on a week's touring and camping holiday and anything else that folks do on a 'regular' bike.  And of course I am at present cycling 850 round Scotland on it for my Knit 1 Bike 1 cycle journey and book which will also be published by Lowimpact once it is written.  See  www.createwithfibre.blogspot.com  for details.
And here's the story about my bike being away being repaired.  A couple of years ago I was sitting having a picnic in a park in Edinburgh.  In true Brompton style I had driven to Edinburgh and taken my bike for getting around the city once I arrived.  Having folded the rear end of the bike under so that it 'stood' on it's own, (see picture) I noticed that part of the frame had rusted through.  I contacted Brompton and they took the bike back and fixed it.  Not only that, they gave it an overhaul at the same time.  So not has the original cost paid for itself many times over, I now have a 13 year old bike that is as good as new and well up to the job of cycling round Scotland.  That's what it's like to own a Brompton!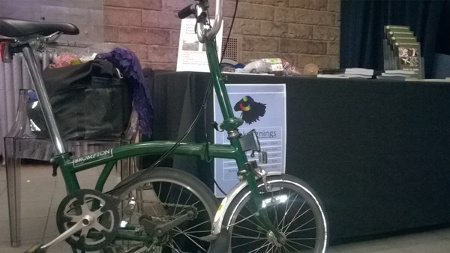 And here is a picture of my Brompton at the recent Edinburgh Yarn Festival where I did a book signing, with my LILI book How to Spin in the background…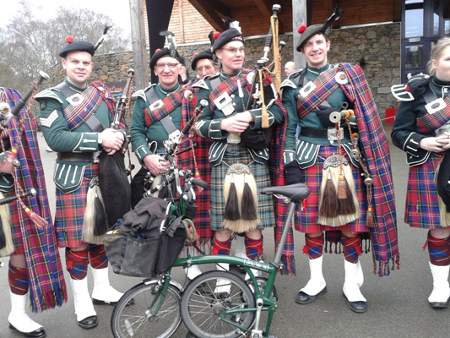 and another of my Brompton on the road on Robert Burns Birthday (Scottish Poet for those who are not in Scotland!) see how the back end folds under now?
Anyone got any other experiences of owning a Brompton.
---
The views expressed in our blog are those of the author and not necessarily lowimpact.org's
---
4 Comments
1

Andrew Rollinson August 17th, 2015

I've owned and used one regularly for commuting for eight years. It is only last year that I changed a tyre for the first time, although the seat has fallen apart (patched up and it still does the job) and the rear mud flap is now a piece of old wellington boot.

The bicycle was not cheap, and when I bought mine it only cost £550 – so these are one of the few things that increase in value. Being a Yorkshireman, I hated paying it; but it has been money well spent, plus the health benefits, money and greenhouse gases, less stressful journeying, etc.

I like these bicycles because they are British made quality engineering. They are made to last, and I see no reason why mine will not last me a lifetime. There is no rust on it and when I service it, it comes up like new. They are also still small enough to respond to personal e-mails with advice.

What I don't like is the way that Brompton has moved in the last few years. They have now made some agreement with Evans Cycles, and spurned the smaller retailers. Previously it was independent bike shops who stocked bikes and parts, but in the last few years many of these have closed, and Brompton have removed others from being their stockists. The independent bike shops knew all about the Brompton cycle, but go into Evans and they have very poor knowledge. Often they have no idea at all. I spoke to one independent bike shop owner and he told me that Brompton were demanding that they sell at a certain high price.

Andrew

http://www.blushfulearth.co.uk

2

Dave Darby August 18th, 2015

Oh dear, looks like another one is biting the dust. I suppose companies have to do that sort of thing in a competitive, capitalist economy or go under. We want to promote cycling of course, but cycle manufacturers are corporate. It's a case of trade-off and compromise unless and until we can change the system. Of course independent bike shops know/knew all about the Brompton – they were enthusiasts – in the same way that small bakers know about bread etc. The economy is moving in the wrong direction, but the thing that makes me less pessimistic is that more people are coming to see it.

3

Andrew Rollinson August 26th, 2015

I don't know what went on in the Brompton boardroom, but I suspect that they were doing well already, and that they weren't close to "going under". Probably got some Business adviser in. Simply the third of the seven sins at work here I think.

4

Dave Darby August 27th, 2015

Yes, I dare say. This is why we need some sort of cap on the size of businesses, or some sort of tax advantage for the non-corporate sector. Which of course brings us back to systemic change, because I can't see those things happening in this one.
Leave a comment