Posted January 15th, 2019
Free learning with a Wholewoods community build camp in 2019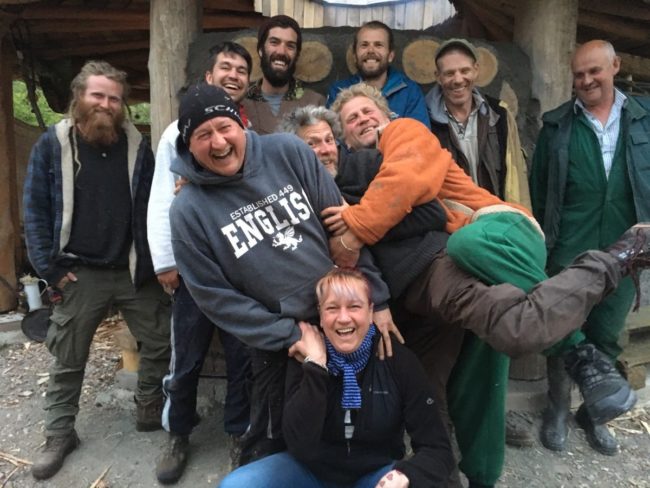 Wholewoods are continuing their fantastic work, offering volunteers on-site learning on a 2019 build camp to construct a roundhouse for OrganicLea. Adrian Leaman has all the details of how to get involved below.
---
Build Camp is a volunteering camp to help make the most mindbogglingly beautiful natural buildings affordable for schools, charities, community groups, trusts and public organisations who put other people and the environment first.
Community Build 7 Spring 2019

Level – Experience required
Date – Starting April 1st 2019
Duration – Minimum commitment 2 weeks full project 3 months.
Project – Fully Insulated Roundhouse
Price – Free
Client – OrganicLea Workers' Co-operative, Epping Forest (remember this?)
During this camp we are building a large fully insulated reciprocal roundhouse with green roof, whiskey barrel walls, doors and windows, suspended floor and so on. Organiclea Workers' Co-op will use this building as a teaching space.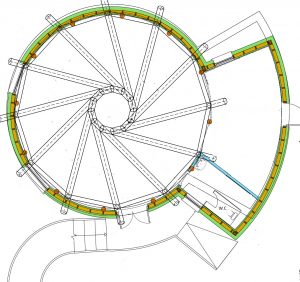 We ask a minimum commitment of two weeks but the longer you can spend with us the better. We'll be spending 3 months on this build and we'll all be camping, eating and working together on-site for the duration.

This is a REAL FULL BUILD on-site, so you'll need to be physically fit and competent with tools. You'll also need to be self-sufficient as we'll be living outdoors in basic conditions. The opportunity is available only to those aged 18 or over.
Build Camp is not a course but we will all be coming to learn as well as to give. Your participation assists Organiclea in creating this community space. The main currency is your physical work and every participant pays only for food, which is £45 per week to cover the costs of Katherine cooking our evening meals. This is also your deposit to book a place.
If you would like to apply, please click this link.
What others have said about their Build Camp experience…
It's difficult to put into words, (or music or dance). This building and the team have been fabulous. Lots of learning, experimenting, laughter, music, exceptional food and an amazing building for a fabulous charity. I don't want to go home or burst the bubble. Thank you!

Lindy, 2016 Build Camp volunteer

So much positivity to take away from this experience. Not only a valuable learning opportunity but so much fun, community and peace. Sad to be departing but leaving with inspiration in my heart. Many thanks to Adrian and Kath and to everyone who made this project possible.

Matt, 2016 Build Camp volunteer
Thanks to Kath for putting on a food fest and to Adrian for the woodworking. I think I have found a group of lifelong friends who I know will come running when called upon. I have had an absolute blast with all aspect of the past 14 days. I would like to shout a massive thanks for allowing me to be part of an awesome build and to a great charity.

Boycee, 2016 Build Camp volunteer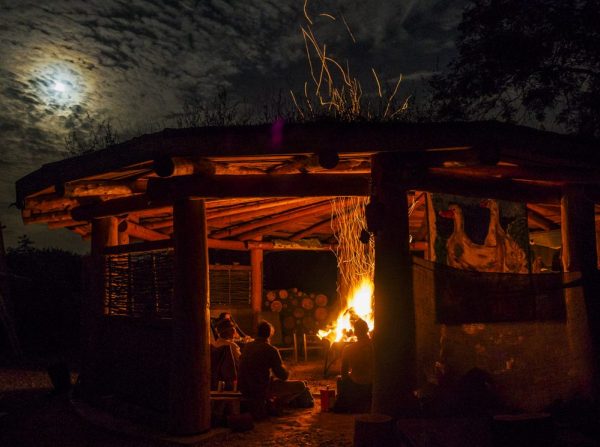 ---

About the author

Adrian Leaman of Wholewoods helped Ben Law to build his Woodland House in 2002, and since then has been roundwood timber framing, particularly reciprocal roof roundhouse building, and sharing woodland and woodcraft skills with people from all walks of life. He is a Forest School Leader and works with adults and teenagers on educational projects.
---
The views expressed in our blog are those of the author and not necessarily lowimpact.org's
---
3 Comments
1

Helen Hatt January 20th, 2019

very disappointed to discover that it apparently costs £45 a week to buy food whilst volunteering here, as a experienced, skilled, physically fit, hard working volunteer providing my own accommodation to build a roundhouse for a small business (even though it is a workers co op) …..hmmmmm wouldnt it be more honest to say free labour required by workers co op……or come wwoof here……

2

Dave Darby January 20th, 2019

Hopefully Adrian will respond, but I think the idea is that it's a free way for people without skills to gain them, rather than pay for a course, which can often be quite expensive. That way, good causes get a building for very low cost, and volunteers gain skills for free. I think £45 is extraordinarily cheap for meals all week.

3

Adrian leaman January 21st, 2019

Thanks for commenting Helen. Build Camp is a learning opportunity for people who can not afford expensive courses who are time rich and cash poor. Build Camp allows no individual to profiteer or accumulate private wealth or assets by its actions. Build Camp creates only public access structures used by grass roots organisations working towards positive social change, who also support the common person, and the planet. The small host organisations who get things built are always underfunded so there are rarely resources spare to feed everyone much as I'd absolutely love that. All moneys are transparent and at the end of the event project accounts including my wages are forwarded to all participants. Adrian.
Leave a comment