Posted February 2nd, 2017
Wood-fired pizza van: free to a good home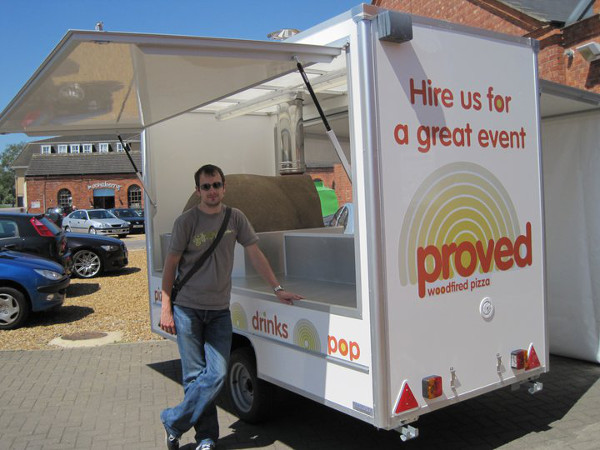 I've had six years of self-employed catering with Proved Wood-fired Pizza, alongside working full-time in the housing and homeless sector. I originally wanted to sell the van/business to help fund going back to university as a full-time student. But, things changed and I'm now looking to do something different…
NB: THIS OFFER IS NOW CLOSED.
As I've got more and more interested in sustainable living, the gift economy and all the things Lowimpact.org promotes, when it came to selling the van I simply thought, hang on – why sell? I'm in the lucky position that I don't need to sell, certainly not for monetary reasons so why not do something better?
So I'm offering the van, (or more importantly the oven!) free to a good home. I'd like for it to live out its days somewhere where it can either provide for a family or community. The oven is excellent and will last for years and could be used to bake anything, not just pizza! If this forms part of a wider project, aimed at improving skills or whatever, that'd be even better. Really, I want the van to stay in one place. It takes a lot of energy, a lot of diesel power to shift, which is part of the reason I'm gifting it – so it doesn't just contribute to the "growth" economy and increased CO2 emissions.
In terms of logistics, the van itself is a Towability Euro-Marketeer, 15ft long, 4 ft wide with the hatches closed and with a standard tow hitch. The oven is a Dingley Dell medium-sized oven. Any hard wood will burn well in it, and I can fit 3 ten-inch pizzas in there no bother. There's a gas-fired burco boiler (tea urn) and clean water tank which will work when electricity is rigged up. Otherwise, it's just a chassis with cupboards and an oven attached!  It'll come with all the associated bits and pieces if you want them – gastro trays, pizza peels etc.
I'm happy to deliver the van to its new home, anywhere in the UK at least! Either way I'd like to meet the recipient and see where it (hopefully) ends up.
Email me at ian dot dowson at hotmail dot co dot uk.
Ian
NB: THIS OFFER IS NOW CLOSED.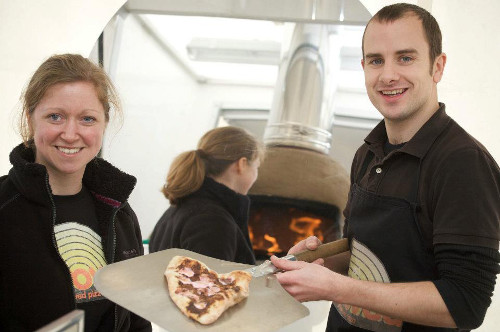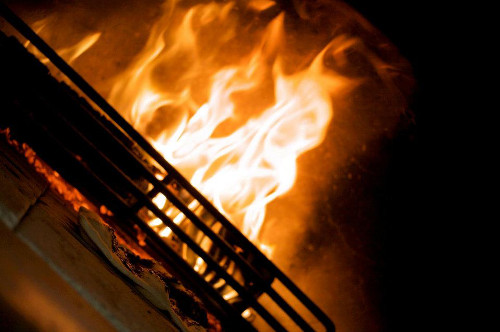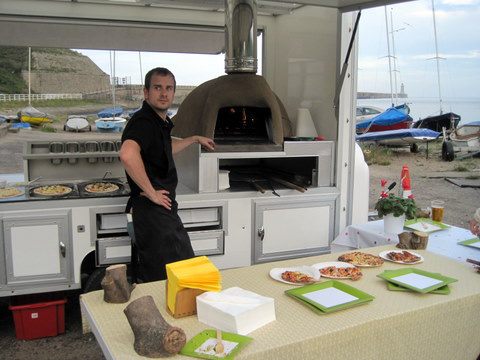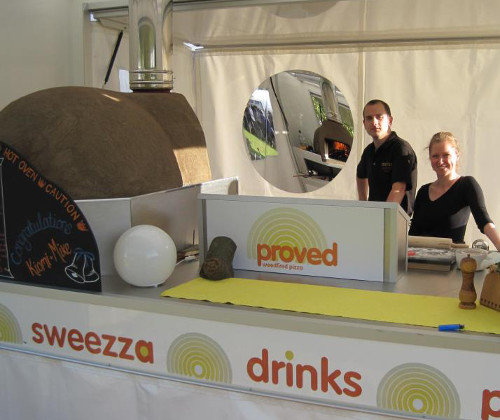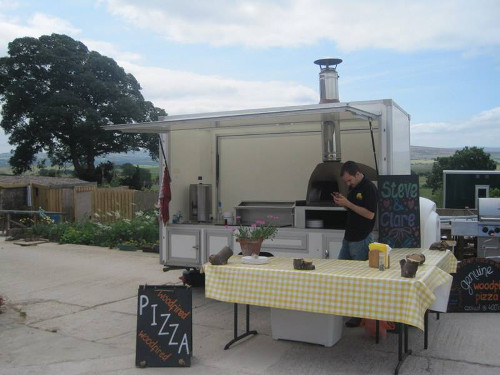 ---
The views expressed in our blog are those of the author and not necessarily lowimpact.org's
---
48 Comments
1

screenbeetle February 2nd, 2017

Lovely idea.

2

sarahlstanden February 2nd, 2017

This is amazing! I hope it finds a great new home!

3

Rachel Bedingfield February 2nd, 2017

Wonderful. What a great opportunity for some charity or community. I did the same thing with my horse trailer. It is now in Spain involved in rescuing horses from the meat market. The feeling of the value of this is far better than the money I would have got for it.

4

David Field February 2nd, 2017

Respect ?

5

J.Ben Bhakta. February 2nd, 2017

I'll ask my neighbour. He was paramount chef for Sean Connery. Guruchef.com. On the other hand we're all a bit older and this might suit a younger person. I am also interested in Pizzas and built a woodburning pizza oven drawn by oxen. This was used at Fairmile road camp. So maybe I'm your man and could raise funds for causes.

6

J. Ben Bhakta. February 2nd, 2017

Having already commented. on further reading. Simon Farley and the Tinker's Bubble project might be your better option. Jyoti has catering gear

7

Sharon February 2nd, 2017

Sent the info to an amazing young man in Brighton, Declan if he gets in touch

8

Jon Rolls February 2nd, 2017

Hi Ian, I'm interested in your pizza oven if still available??

9

JBen Bhakta February 2nd, 2017

I am in Sidmouth where we have a folk festival.. I am considering the circumstance of approaching Sidmouth folk festival. But I am on my land I keep oxen and have much development to achieve. on a land holding. I think though that you might consider a hire purchase. So that you can make a donation for Syrian refugees.

10

Heidi February 3rd, 2017

Yes please.

11

sandra sutton February 3rd, 2017

Hi Ian,

I run a community project where we do everything really except make pizzas !!

We are a registered charity driven by community needs and have a community building and community gardens.

I would be really interested to find out more about your mobile pizza maker.

Our postcode is G65 9TA . We are a small ex mining village on the banks of the forth and Clyde canal approx 13 miles from Glasgow city centre and 11 miles from Stirling. So we are basically the centre of Scotland !!!

I look forward to hearing from you.

Regards

Sandra

12

Xander February 3rd, 2017

I wish I could have this

13

Ant F February 3rd, 2017

Total respect offering it out like that. I do hope we can help it find a home at our CSA? I've emailed you. Regards, Ant

14

hugh callacher February 3rd, 2017

Ian, Hi

I am very interested in the oven to serve in one of our Social impact projects. But very much more interested in yourself, hats off to you Sir.

Please check us out http://www.themissingkind.org, we have some great projects under construction this year, the ultimate being the Co-housing intentional Community Farm.

Meeting people like you is a privilege, if we can collaborate in some way please contact me. 07889182924

Have a great journey

go well

hugh

15

Frank February 3rd, 2017

It looks very similar to what I have been thinking of making. We are trying to cover costs of our farm but the farm gate prices are so very low with the middleman making all the money I can't get close to covering costs. My idea is to make a shop or mini restaurant on a trailer and take it with our fresh organic produce into the city where retail prices are a lot higher than our farm gate prices.
Coincidentally I have built a wood fired kitchen but haven't finished the cob oven yet.

16

Conroy February 3rd, 2017

Hi Ian

I am currently developing a social enterprise crafting beautiful outdoor kitchens for people's gardens.

I have been in social ventures for over 15 years now. I love making stuff and helping people realise their potential. My initial social enterprise supported over a hundred socially disadvantaged people through furniture craft and life skills.

I would like to adapt the van into a prototype kitchen that would mainly be based at a local garden centre. It could also be set up at annual local shows such as the New Forest Show. It would be our primary marketing tool for the social venture.

I would very much like to meet you and the van so we can discuss how your generosity will benefit others in the future.

17

Rupert Dunn February 3rd, 2017

Wow, what generosity Ian! We at Torth y Tir (Loaf of the Land) have sent you an email. this would be wonderful to help develop our facilities offering pizza making and our 'field to loaf' educational courses for our local community.

18

KRISTINA February 3rd, 2017

Hello!

I might have gone already, but defo worth the shot.

I run a small travelling circus, with sideshows and entertainment. We need to run the bar and food to help us maintain our travel costs and something like this would be just amazing!

We have a place to store it and we start our travelling in April.

Please let me know if this sounds interesting and it is still available?
we can pick up!

Thank you

Kristina Carpe Diem
Inspire, educate, learn and grow

Pyratrix Circus
http://www.pyratrixcircus.co.uk

CREATIVE AGENCY
http://www.prproductionsagency.com

Theatre and Circus Show
http://www.aliceinwasteland.co.uk

19

Orlando24 February 3rd, 2017

Hi Ian my name is orlando 'o am a chef and also a pizza chef trying to get back to a small business as I lost all during ressecion
It will have a good use under me including cooking for homeless as well. If I can have the opportunity to have it.my phone n.is 07402 164654. Thank you.

20

lily watts February 3rd, 2017

Hi there

My name is Lily. I have working in kitchens/cafes and restaurants since the age of 14. This is an amazing opportunity. I have worked for other people in hospitality for 16 years and have been making pizzas for the last 3. I have dreamed about getting myself an oven so I can finally work for myself and open so pop up kitchens and event around Bristol. I would be so thrilled if this came into my life. I know I could really achieve if I had a step up in the right direction.

A long shot but worth an ask.

Lily

21

Tim February 3rd, 2017

Yes this could be put to great use as a fundraiser to loan and raise money for many school PTA's in our area. I'm in a position to hire this for many occasions and would happily show you all incomes and outgoings to prove they are going directly to the various charitable causes.

22

Mike Glanton February 3rd, 2017

Hi there,

There's a fantastic city farm here in Bristol that thrives on sustainability and has a strong community ethos –

I've just emailed them but if you'd like to know more their website is here: http://www.swcityfarm.co.uk/boiling-wells

23

Ben Richardson February 3rd, 2017

Hi Ian

This would be an absolutely amazing opportunity for us. We have set up a social enterprise called Tales by the Oven, a pop up pizzeria (currently in our own home), that aims to provide work experience and ultimately employment for people recovering from homelessness. You can see much more about us on our Facebook page http://www.facebook.com/talesbytheoven

We're based in Bristol.

I'm going to send you an email now with more details, but our expansion plan was to go mobile, and to provide a sustainable employment model.

Would be very keen to speak to you.

All the best

Ben

24

Gary Ward February 3rd, 2017

Good afternoon , My name is Gary and we have just started up a soup kitchen in Great Yarmouth for the homeless and those in need where we give out hot soups , teas , coffees and warm clothing , Please look us up on facebook Tribal Trust .Thank you….https://www.facebook.com/TblTrust/#

25

Alan hewitt February 3rd, 2017

Be great for farm diversity in cheshire . We have most logs available locally

26

Erika mcgrath February 3rd, 2017

What an amazingly generous thing to do !we need more of this fine example of direct action !I can see so many worthwhile recipients already and hope it goes to the youth who have so few opportunities to walk their talk and make their dreams of self sufficiency a reality without a helping hand!!

27

Ruby February 3rd, 2017

Hi Ian,

Firstly, what an incredibly generous thing to do!
Just yesterday I was learning about a tea van two women in my town are taking across Europe to help Syrian refugees (SolidariTea), they will be providing shelter and comforting tea for people in dire need and this sparked an idea I'm me that I could do the same thing but with food. I could potentially work alongside them to provide a meal with that hot cup of tea, pizza would be fantastic! I have emailed you as well, I hope to hear from you soon. Kind regards, Ruby Katz

28

Pete Hope February 3rd, 2017

http://www.go4enterprises.org We are a Community Interest Company working towards reducing street homelessness, unemployment in our community, our main thrust is to provide purposeful activities and paid work for those we encounter who have been marginalised.

29

Marie Turke February 4th, 2017

Incredible kindness being shown by you Ian, huge respect! I see you already have a choice of good causes, nevertheless I will add ours…. we are Incredible Edible Carmarthenshire (IEC) group in South West Wales, if you don't already know the ethos of incredible edible, it is to grow and share food by sharing kindness and using the power of small actions. We are 3 volunteers and have received no funding but we still manage to work with schools, colleges and other community groups teaching them how to grow food to share. We are planning 'grow your own pizza' and 'grow your own picnic' beds within one school polytunnel. We are also working with a soup kitchen and installing raised beds so that the service users can get involved in growing and to give us fresh organic produce to make soups. This travelling pizza oven would give us the resources to make our cooking sessions mobile and teach more groups who do not have cooking facilities.

I attended a cobbing workshop some years ago and it has always been an ambition to build a pizza oven.

I am treasurer of IEC, we are a constituted group with a committee and constitution. Find us on Facebook (Incredible Edible Carmarthenshire) or Twitter @IECarms.

Thank you for your consideration and best wishes for your future ventures.

30

Ali wallace February 4th, 2017

I have just rebuilt a new patio (for family meals and to spend more time with kids) and would love a pizza over for it – happy to come and collect and would happily give a donation to a charity of your choice – please email me on [email protected] or call me on 07984171873

31

Valentina February 4th, 2017

Hi Ian, just emailed you. Hope we can talk. Valentina

32

Helen Hatt February 4th, 2017

Dear Ian,

Fantastic opportunity, a Universal thank you sir !

We are a bunch of dedicated volunteers who run a not 4 profit creative education centre based on a small holding near to the Lammas eco project in Pembrokeshire and work with home educating families, disadvantaged traveller youth and run a mobile children's area at festivals fairs and community events, giving folk fun volunteering opportunities and providing training for young people as well as giving ace facilities to kids attending the events!, check us out here majicalyouth.com and fountainhillhec.co.uk

we run home ed days every Wednesday, periodic bush craft camps and 2 kids camps here a year, we have run catering micro business's training up young people on a mobile pancake operation, so have experience at mobile catering too!, we have recently been talking about replacing the now defunct pancake operation with a wood fired mobile pizza area and then this came up …..synchronistically spooky!……we also know of one of the other projects and they are local to us (incredible edible Carmarthenshire) who have applied on here and wholeheartedly support them too!, if you thought our project suitable we would happily SHARE this amazing resource with them to support their intention too , so 2 projects assisted in one go…… ?

We look forward to hearing from you and totally understand if you may not be able to reply to all the unsuccessful applicants!

thank you again for demonstrating such inspiring generosity, even if we don't get the wagon we are inspired to do similar where we can….

all the best Helen Hatt

Fountainhill Creative Education Centre, 01239 831641

33

Louis kaiser February 4th, 2017

I am interested in starting a pizza truck but I'm broke. Please pick me!

34

cadia February 4th, 2017

ciao ma sei quella che conosco?

35

Stuart February 4th, 2017

I emailed you, I'm part of keep cornwall fed we use food waste to feed those in food poverty http://www.keepcornwallfed.com we could really do with this it would help our project alot …. Kind regards Stuart

36

Natasha Toothill February 5th, 2017

i know some extremely amazing people that have there own group helping to combat loneliness and bringing accessibility to those that wouldn't usually get it they have started to do something called come dine with me where they get friends and people of the community to all contribute its beautiful… i feel that if still available you should consider giving it to them because it will be used to spread love xx i can put in contact

37

Ivor Scott February 5th, 2017

Hi Conroy I would be interested in talking to you on a different aspect of outdoor living/kitchens. I run a CIC in the north but our market is in the south and we are looking to work in a more sustainable way. Considering working with others in the south, very interested in your experience.

38

Gina Southan February 5th, 2017

I am looking into doing festivals, and this is perfect, right at a perfect time for me change in life too. Would give me an income living in my van, and the world my oyster ! oooh to dream of life changers, and then be able to just get up and do them ! Day by day I try to meet these challenges. Gives me ambition. Nice one for what you are doing X

39

Billy Buchanan February 6th, 2017

Hi yes we live on the Isle of Skye and the community have no access to wood fire pizza and you could really help change this Please ring sharon and Billy on 01470 552399 thank you

40

Kirsty palmer February 6th, 2017

Hi, my name is kirsty, i am a committee member for Hope For Food, – registered Bournemouth based charity. We run a soup kitchen 4 days a week for the homeless and disadvantaged people of Bournemouth. If you still had your pizza van out chairty would benefit massively from this addition! We feed between 50-100 people each soup kitchen, this van would enable us to serve hot food much easier and would provide us with an area to prepare food also. If you still have the van please consider our chairty, we have a Facebook page that is regularly updated. Please feel free to have a look at what we do. Search "hope for food" many thanks Kirsty Palmer.

41

Orlando Dessi February 6th, 2017

Hi Ian I am really intrested on it and I know how to use it. The use will be for making a wage and also a once a week to prepare food for people in need. Need to know if as gone if possible. I am in the north of England and my phone is 07402 164654. Please if you could contact me it will be really appreciated. Thank you so much and wishing you all the best on your new venture!

42

Adam Lewis February 7th, 2017

I guess it has gone already but if not I run 11 charity events a year for a variety of children's charities and would love to add it to our fund raising arsenal

43

David Hughes February 7th, 2017

Would just like to add to Kirsty Palmer's request (42) above, that I saw by chance. I've only been volunteering with Hope for Food for the last 12 months but can see what a fantastic difference your Pizza van would make here. So difficult offering hot food and drink out In the open, just using insulated containers to try to keep home cooked food warm until it can be served.
Your van would become a central asset to Hope for Food, in use several times a week, not just 'high days and holidays'.
Please consider Hope for Food, but whatever your decision, thank you for your generosity!

44

Mike Keighley February 7th, 2017

Wow love the whole scenario! I used to have a pizza business but now run a charity for people with disabilities & epilepsy. I've opened two really successful social enterprises providing meaningful & purposeful activities & employment and I've been looking for a new enterprise to offer even more to the guys we support and also to train up my daughter who has learning difficulties, autism & epilepsy and your pizza van is an amazing option! If you are interested in considering us and find out more about our exciting enterprises please, please get in contact?!
Respect either way!
Mike 07789555797

45

sharon kelly February 8th, 2017

Hi, think this is a lovely selfless thing that you are doing. I work for a mental health charity – Manchester Mind, and we run lots of food related projects and often do outdoor food events, and festivals (all homemade and vegan) offering great food, tackling discrimination and showing that vegan food is All That! All the money we raise goes into the charity and is used to help support the work we do around training, recovery and food poverty. The pizza setup would be amazing for us to be able to increase and continue doing the things we do. If you think you would like to consider us and would would like to find out more about the things we do please contact me at [email protected] or on 07736311420. Thank you ?

46

Dave Darby February 8th, 2017

Hi folks. Ian has asked me to say that this offer is now closed. He had quite a lot of applicants, and was a bit overwhelmed. The successful candidate will be informed soon.
Thanks for your interest. I wish we could give you all a pizza van!

47

Jo Blick February 8th, 2017

I'd like to endorse Helen Hatt's credentials if you want the trailer to remain in the UK, they have a very long track record of youth leading
or if you want the kitchen to go straight to Thessoloniki to feed refugees I can put you in touch with James Clarke or Mark Sutton, both of whom work directly with camps and the respective charities

48

Matthew Hooks February 14th, 2017

Thanks Dave. Please pass my congratulations to Ian for the amazing offer and I hope the lucky recipient uses the oven to best effect. ?
Leave a comment