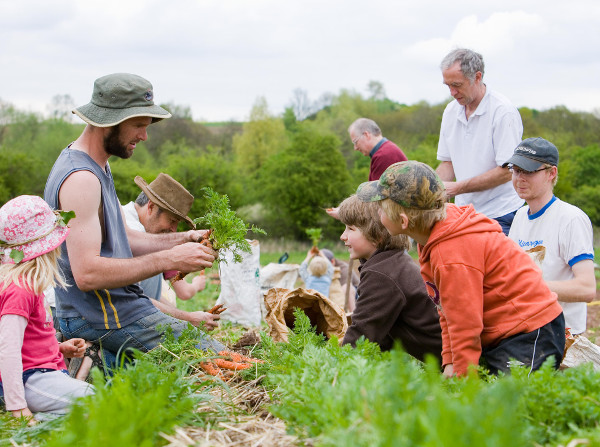 "The ultimate goal of farming is not the growing of crops, but the cultivation and perfection of human beings." – Masanobu Fukuoka
What is community-supported agriculture?
Community-supported agriculture (CSA) has no standardised model or definition (like organic certification, for example), but is a method of food production which supports a direct partnership between farmers and consumers in which the responsibilities, risks and rewards of farming are shared. A particular CSA group could be farmer-led, where local people invest in a farm or smallholding, and receive a share of the produce; or it could be consumer-led, where local people source a piece of land and produce food for themselves. There are also hybrid groups that have a core membership involved with the land / food production and other members that have more of a monetary relationship with the food producers.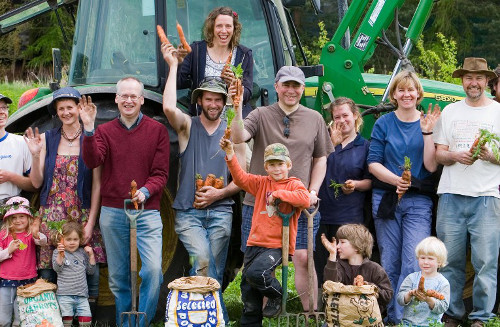 The roots of CSAs may well lie in a Japanese co-op called the 'Seikatsu Club' that began purchasing foodstuffs from as local and sustainable sources as possible in 1965, and went on to own its own farms. Similar groups appeared in Japan in the 1970s, and in the US in the 1980s, where the term CSA was coined (now around 13k CSA farms in the US). The concept wasn't as fast to catch on in the UK; about 100 British CSA projects are listed here but more probably exist.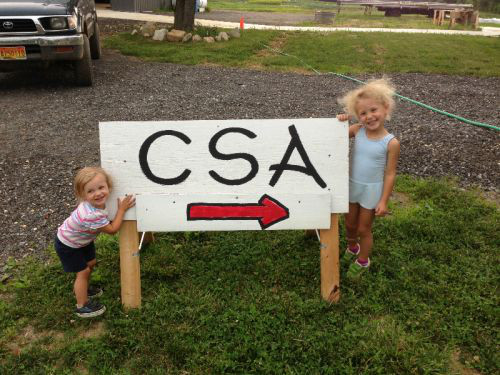 CSA is mainly about fruit and veg, but can also include eggs, honey, bread, meat, firewood or even fish. CSAs are usually local, but not always. In large cities where there are no local farmers, food may be brought in from selected farms elsewhere in the country – as close to the city as possible, to provide an alternative to unseasonal food flown from the other side of the world. In the US, CSAs tend to be less 'hands-on' than in the UK, where members are encouraged to help with food production. In the States, the relationship with food producers tends to be more monetary than physical, although of course this is still a great help for farmers.
What are the benefits of community-supported agriculture?
for food producers
CSA schemes provide a regular income and better cash flow for farmers so that they can plan more effectively and sort out finances early in the season, before the demanding work schedule starts.
shorter supply chain so 100% of the proceeds goes direct to the grower. This makes it possible to earn a living from farming in an age where the price of food in supermarkets keeps being driven down, with the ultimate cost being borne by the producers
risks such as crop failure or livestock disease are shared with the local community, and a greater tolerance and understanding of low yields from consumers because they are directly involved
if a CSA is set up for helpers, they get a bit of extra voluntary work
Hear from Ed and Chinne at Chagfood in Devon about the benefits of community supported agriculture – their passion is infectious!
for local people
better food; and often cost effective when compared to supermarket food (which of course has none of the benefits mentioned here).
community cohesion: local people getting to know each other at harvest festivals, parties, days out on farms with kids.
more money stays in the local economy, rather than being sucked out to pay shareholders elsewhere.
educational: entire families becoming more engaged in farming and growing, reconnecting with how food is produced, perhaps learning to grow a little food in their own gardens
health and the green gym: getting out in the fresh air and doing physical tasks
accessibility: often CSA schemes will offer membership in exchange for work on member farms, making it accessible for people on low incomes.
employment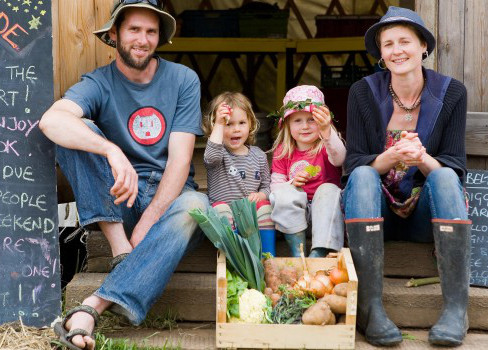 for ecology
lower food miles
food is usually produced using organic principles, although not necessarily certified organic (which is expensive for small producers) – but they don't need to be, as locals know whether producers are de facto organic or not.
less waste, as funny-shaped veg is perfectly fine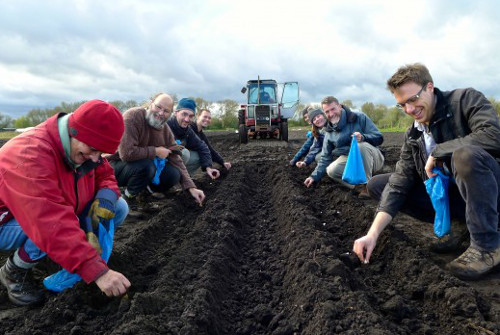 for society
being in charge of a food supply locally is a hugely powerful way to weaken the grip of the corporate sector on one of life's essentials
farming in this way is more accessible to younger people, an important consideration when the average age of a farmer in the UK is 59
the process is much more transparent financially
government help / subsidies etc. are heavily weighted towards large-scale farming. For example, in the UK, agricultural subsidies are for farmers with at least 5 hectares. This seems to indicate that government doesn't consider small producers with less than 5 hectares 'real' farmers, and yet studies have shown that smallholdings produce more food per hectare than large farms, and so are a better way of feeding the world. CSA is a way to right this imbalance – an attempt to build a better agricultural sector.
How to establish a community-supported agriculture project; made by Cae Tan CSA project in South Wales.
What can I do?
Become a member of your nearest CSA scheme. Do an internet search for 'community-supported agriculture' plus your country, find your national network and through them, find your local group. Or take the direct route and search for CSA plus the name of your town. The link for the UK is here. If there isn't a local group, well, there's a challenge for you – someone has to start one! You probably know a lot of likely people in your area who'd be interested. You could start talking to local farmers and tell them about CSA.
There are lots of different ways that a scheme can operate. For example, Cultivate Oxford in the UK started out as a CSA, but they don't get produce. Instead they get discounts from an online shop and a delivery van providing locally-produced food to the town. There aren't really any restrictions on the specific type of group you have to be and being too prescriptive may restrict the size of the movement.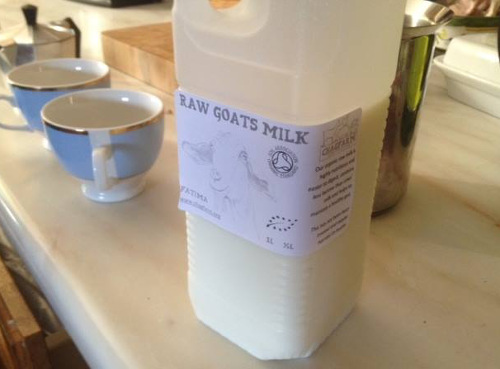 However, CSA schemes are not really about farmers' markets, pick-your-own or veg box deliveries. Those are excellent retail models, but CSA members tend to be more involved in the whole business and promotion of local food production.
Community-led groups are often given the blessing of the local authority to use a piece of land owned by the council to grow food, often with a short tenure. There is little security in this model and groups can be moved on after they've invested considerably in infrastructure and soil quality. The long-term viability of the scheme can be better when farmer-led, as the land tenure is usually secure.
CSA is largely horticultural and attracts a lot of vegetarians and vegans. That's really good, but it has been known for members to threaten to leave if livestock is introduced into the scheme. This has several negative impacts: it restricts the growth of CSA; it makes it more difficult for people to get meat from CSA schemes meaning they'll probably get it from corporate sources; those sources will be much more likely to involve factory farming; and it is unlikely to reduce the amount of meat eaten. If you have strong principles around animal farming, sticking with a scheme but informing people of the benefits of vegetarianism/veganism will probably be a more successful way to reduce the amount of meat consumed and mean that more meat will be from sustainable, high welfare standard, non-corporate sources.
CSA could include more than just fresh produce – cheese for example – but bureaucracy around food hygiene laws quickly makes that difficult. It's something that can and should be challenged in future. Small producers usually can't afford expensive stainless steel equipment or licences, but they also tend to care more about their produce, and are not involved with the horrors of factory farming. Small doesn't mean unsafe – quite the opposite, if recent food scares are anything to go by.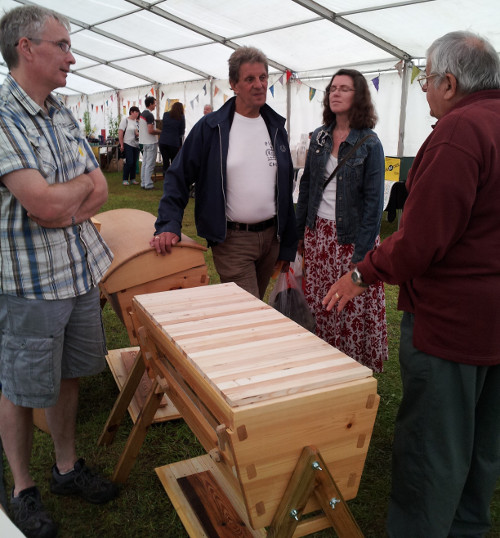 In the UK
The Community-supported Agriculture Network in the UK was supported by the Soil Association, who produced a report in 2011 on the state of CSA in the UK. From this came the idea for a network. A national conference and a crowdfunding campaign followed and the network was born, along with a website, currently featuring around 100 groups. There are probably other groups out there that are not part of the network, some of whom won't even be aware that they are a CSA group. The movement is as yet very grass-roots.
See the website of the Community-supported Agriculture Network (which includes an interactive map) and also FARMA, a group supporting farmers' markets, pick-your-own and veg box schemes.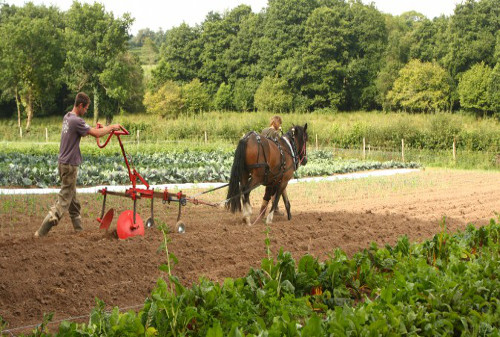 If you see the weighting toward large-scale agriculture as unfair and would prefer to support small farmers instead, try joining your local CSA, help campaign with the Landworkers' Alliance and the Campaign for Real Farming or go WWOOFing.
---
The specialist(s) below will respond to queries on this topic. Please comment in the box at the bottom of the page.

Maresa Bossano is the co-ordinator of the Community-Supported Agriculture Network. She set up and ran Moose's Kitchen – a local, organic, vegan cafe in St Leonards on Sea; she worked for Sustain for five years, managing the Food Co-ops Project, part of Making Local Food Work and also as Five-a-Day co-ordinator for Hastings Primary Care Trust, which included setting up Hastings Farmers' Market and The Community Fruit and Veg Project, a social enterprise and veg box scheme.
---
The views expressed here are those of the author and not necessarily lowimpact.org's
---
2 Comments
1

hooftales November 7th, 2019

thank you for a nice web page. I am quite interested in community agriculture and have been looking at lots of web sites but yours is the first i've seen that includes any animals or animal products. Good work! Nature doesn't do "plants only" systems and it seems reasonable that farmers would want to use nature's systems as much as possible.

2

6degrees May 28th, 2021

Hello Lowimpact community,

I am going to try and start a CSA as soon as I'm able to scale it to size. Currently I will have one largish allotment available to me in January or February or…longer. I'm going to start small by producing for 10 customers a basket of seasonal produce. I will be using honey as my main supplement of income as I scale it up. I'm looking for ways to A) how I can enlarge production by using my land better or finding more, B) market the CSA baskets, I know that exists because farmer markets are common but are not feasible for many members of the community (they happen on weekdays, are expensive and are more centralized), C) mutualize things, how could I set up deals with local shops to supply/buy from them, I will be trading in standard currency, C) do this on a budget.
Leave a comment