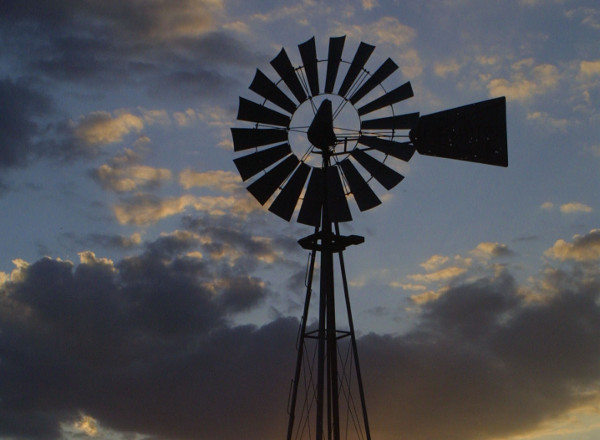 "Leaves rustle, blades turn, water moves." – Jim Barr
What are wind pumps?
Wind pumps are devices for moving water, powered solely by the wind. There are 3 main types:
direct drive: a crank on the axle of the turbine rotor raises and lowers a pump plunger via a rod
geared drive: does the same, but the crank is geared to run more slowly than the turbine; smaller turbines benefit from being geared, to enable a slower pump, but with more volume
electric generator on the turbine: the turbine generates electricity which drives the pump; you can then have the pump some distance from the turbine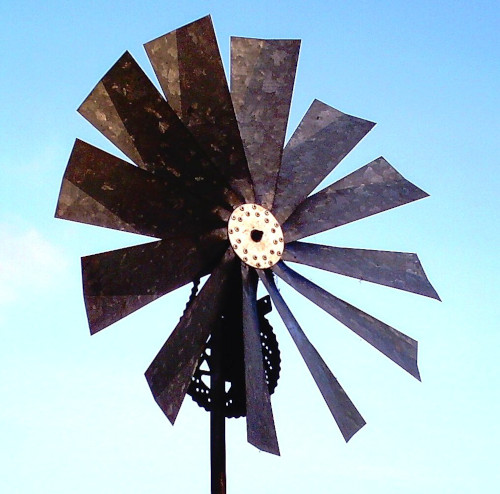 But generally, when people talk about wind pumps, they mean the first two types – a wind generator and a pump being two separate things. Wind pumps have a distinct look – usually having many more and flatter blades than wind generators. This allows them to operate at slower wind speeds, than required for electricity generation.
Very simple description of how a wind pump works – this one pumps the water directly, without gears.
The way a wind pump works has not changed for hundreds of years. The wind causes the turbine rotor to rotate, which turns a crank, which converts the rotation into the vertical up-and-down movement of a transmission rod. The rod raises and lowers a piston in a pump comprising a cylinder and two valves. During the down stroke the cylinder fills with water, and during the up stroke the piston raises the water in the cylinder and riser, taking the water to wherever you want it.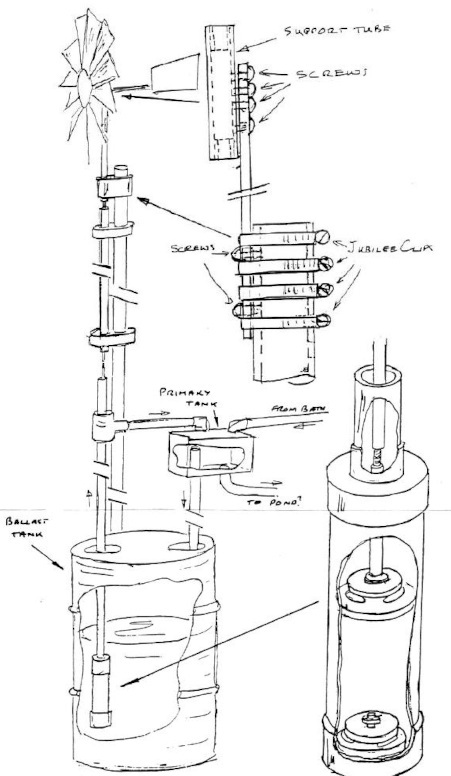 People have been using the wind to raise water for over 2000 years, mainly in China and the Middle East, and now no continent is without them. They are particularly prevalent in areas with cattle and sheep, but low rainfall, such as Australia, the mid-west of the US, and southern Africa. In fact, without wind pumps, there would be no livestock kept in those areas. The typical contemporary wind pump design was developed in the US in the 19th century, and there have been no significant design changes since.
Fascinating history of moving water with windmills – back to the designs of Hero of Alexandria in the first century.
The heyday of wind pumps was in the 1920s, with 6 million in the US alone. With the explosion in the use of fossil fuels after the war, wind pumps almost disappeared from the landscape, but as oil supply peaks and then falls, they may make a comeback – and especially in developing countries where there may be shortages of both oil and potable water.
Wind pumps can also be used domestically, but there's a narrow development 'window' between walking to collect water, and having electricity and/or tap water. But mains electricity and water is not going to reach isolated livestock stations, making wind pumps much more viable.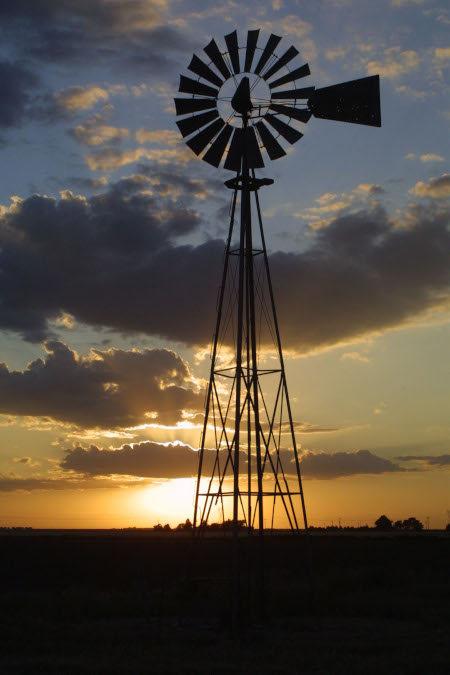 What are the benefits of wind pumps?
The main benefits are:
The energy source is free.
There are no CO

2

emissions from their use, or the pollution associated with energy generation.
They're quite low-tech, and easy to install and maintain (if you can maintain your own bicycle, you can maintain a small wind pump).
They're quite durable, and require very little maintenance – usually only some grease or oil once or twice a year (making them ideal for remote locations).
Water is set to become a scarce resource – by using a wind pump, you can recycle grey water (or rainwater) to irrigate vegetables or trees in summer.
How wind pumps are built at Aermotor Windmills, the last wind pump manufacturer in the US (there used to be over 1000). The process is still very hands-on.
What can I do?
You're allowed to dig a borehole without planning permission or a licence if you're looking at extracting small amounts (less than 20 cubic metres per day). More information here, and the company that digs your borehole can help you too. You can also use a wind pump to raise water from a pond or a tank – obviously in a position that's not going to annoy neighbours; so probably not a good idea in the 'burbs. In other parts of the world, different rules apply, and in remote areas, there's probably very little in the way of regulation.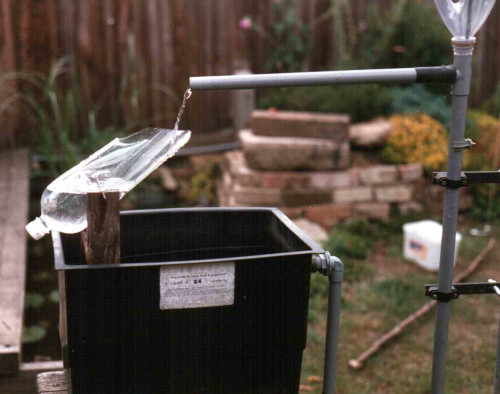 In the UK, a wind pump could be used by a market gardener or a smallholder to deliver water to a polytunnel or greenhouse. Rainwater or grey water could be collected in a tank, and then pumped higher, so that it can flow downhill into an irrigation system. It could also be used by fish farmers to aerate ponds.
Installing a large wind pump on a US ranch.
Poldaw is a tried and trusted brand of wind pump that you can sometimes find in the UK. However, you can build your own wind pump if you have engineering skills and you like messing about in sheds. See the Lowimpact.org book How to Build a Wind Pump for detailed instructions on building and maintaining your own wind pump; plus there's advice about pipework, storage and filtering (the wind pump described in the book is smaller than the smallest Poldaw pump; anything smaller than the rotor described in the book wouldn't move any useful volumes of water). Some precision skills are required to build a wind pump, but it's low-tech, it doesn't matter if it rattles, and it can be made from scrap materials.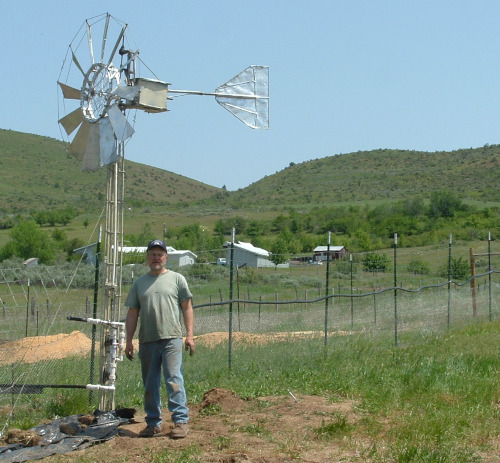 The wind pump needs to be directly over the body of water you want to move, but if the tank is uphill from the pump, water can be piped downhill to a sump at the base of the pump.
---
The views expressed here are those of the author and not necessarily lowimpact.org's
---
10 Comments
1

Peter Sharp May 3rd, 2016

I'm developing much cheaper windmills. Contact me for information. I'm looking for help developing them because I'm too old.

2

Ellie May 4th, 2016

Hello there I am interested in what you have to say, we're do you live ?

3

nina May 5th, 2016

Hello Peter, I would really be interested in hearing more.

4

carlos barrios December 26th, 2016

hello sir please send me info for further conversation

5

Dawn Ward June 1st, 2017

Hi, Could you send me some details please. Thanks, Dawn

6

Peter Sharp July 30th, 2017

Hi Ellie, Sorry for the tardy response. Contact me at sharpencil at sbcglobal.net for information about my two windmills. They seem to be the best vertical axis windmills. One of them is a 3-bladed cycloturbine with cheap and accurate passive pitch control. It can be used for generating electricity or for pumping water, and even for generating heat. The other is a single-blade cycloturbine that is primarily intended for pumping water extremely cheaply, but it can also produce electricity. I also invented water pumps to go with each of these windmills. They are easy to build, but difficult to understand. Hope to hear from you and any other folks who want cheap wind energy. I'm at the model stage for both windmills. I don't have a test site. I have done a lot of research, so I have advanced knowledge of VAWT.

7

Tiveron October 9th, 2018

Pena que não tem tradução em Portugues

8

Will Benzies July 12th, 2019

Peter Sharp, hi i am interested to learn more about your designs.I'm hoping to install a wind pump for a 50ft minimum lift.

Thanks

9

Peter Allen Sharp July 12th, 2019

Hi Will Benzies, I have two new windmills. They are easy to make but hard to understand. Contact me, Peter Sharp, at [email protected] and I will send you my papers on them, which include videos, photos, and drawings.
Leave a comment