Posted January 8th, 2019
How to build an adobe earthen floor with Sigi Koko (Part 4)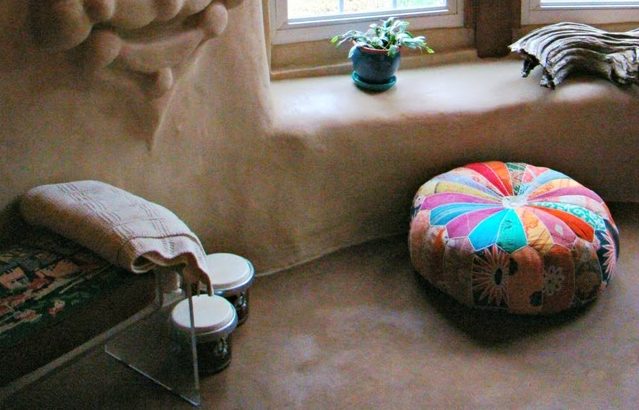 Natural builder Sigi Koko of Down to Earth Design shares how to build an adobe floor. In Part 4, we learn how to perfect the final finishing layer.
---
Catch up with stages one to six in Parts 1, 2, and 3 first if you missed them.
7: The finish
There are several options for finishing your beautiful adobe floor. (Have you noticed the trend that there's never just one way with natural building?)
If you chose to apply a thin final layer of clay, you have 2 options:
Apply an 1/8″ finish layer, much like a clay plaster, but applied to the floor; when this layer is dry, seal as described below; you can find more info and a recipe here
Apply 1 to 4 coats of clay paint, also called "alis"; when this layer is dry, seal as described below; you can find more info and a recipe here
If you chose to burnish your floor, then as soon as the clay is completely dry, you are ready to apply a sealer. The sealer densifies the top layer of clay (making it more durable and scratch resistant), prevents dusting (so you don't get clay on your butt when you sit on the floor), and reduces absorption (so makes it more stain-proof and easy to clean).
The most common sealers are hardening oils, which react with oxygen in the air to chemically change into a hard, transparent, water-resistant, but breathable resin. Hardening oils include linseed oil (derived from flax seeds), hemp oil, tung oil, walnut oil, etc. The oil is applied in multiple layers, and each subsequent layer is thinned with a solvent to promote deep absorption into your adobe surface. Common thinning solvents include citrus solvent (d-limonene based, i.e orange peel) or mineral spirits (petroleum based).
There are alternatives to oil and wax sealers, so feel free to do additional research & experimentation on that. (The most intriguing of all sealers to me is cow urine. Yup, not a typo… cow urine. Traditionally used in parts of Africa, it apparently makes for a stunning floor). You can also add pigment to your sealer if you want to enhance the colour of your floor.
Here are the layers I most commonly use to seal a floor:
1st coat – pure hardening oil (1 gallon covers approximately 200 SF when applied full strength)
2nd coat – 80% hardening oil with 20% thinning solvent
3rd coat – 60% hardening oil with 40% thinning solvent
Optional 4th coat for high traffic or damp areas – 40% hardening oil with 60% thinning solvent
Optional beeswax paste to finish – if you want a really luscious surface that feels like leather, then I highly recommend a final coat of beeswax paste buffed into the surface of your sealed floor
A note on smell: the oils harden by oxidizing, a chemical process that off-gases an aldehyde compound. Aldehydes are technically a VOC, though the particular compound off-gassed from oils as they oxidise has extremely low toxicity (unlike their cousin, formaldehyde, which is carcinogenic). However, there is definitely a smell that can linger (especially from linseed oil) and some people with respiratory issues may experience discomfort.
Additives
There are loads of variations on the mix for adobe floors, including additives to enhance various properties. Common additives include cow manure, prickly pear cactus juice, hydrated lime, milk protein (casein), wheat paste, pigments and even blood protein.
Recommended reading
I recommend reading this comprehensive book by earthen floor guru Sukita Reay Crimmel.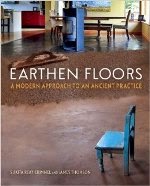 Find the original post here on Sigi Koko's Building Naturally blog.
---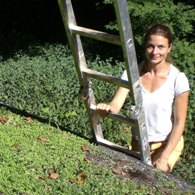 About the author

Sigi Koko is the principal designer at Down to Earth Design, which she founded in 1998 to help her clients manifest their dreams of living in a natural, healthy home. She also teaches natural building workshops that empower her clients to contribute creatively during the construction of their own home. You can find out more about her work on her website and blog.
---
The views expressed in our blog are those of the author and not necessarily lowimpact.org's
---
Leave a comment