Posted July 14th, 2016
Beautiful, meditative video on the art of oak swill basket weaving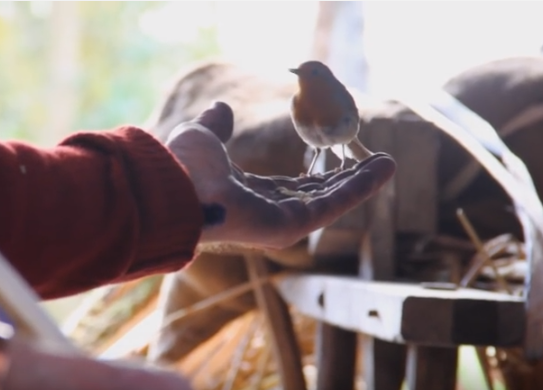 We were approached by a young film maker who has produced a video of Owen Jones at work – no interview, no music, just an almost hypnotic and definitely meditative study of Owen using traditional tools and natural materials to make beautiful things.
Here's the video, with more information on Owen and on oak swill baskets below.
What's an oak swill?
Oak swill baskets are traditional to the southern Lake District and they have been made in this area for centuries. Their origins are unclear but it is likely that they evolved as a cottage industry which then expanded post the industrial/ agricultural revolution into a trade in its own right.
Swills were used for coaling steam ships, in mines, mills, ironworks and many other industries. On farms they were used for broadcast sowing, harvesting root crops and for feeding animals. Their domestic uses included , laundry, log, garden and shopping baskets, even cradles.
The swillmaking industry declined rapidly in the post war years which mirrored the rise in mechanization  and other technologies such as plastics.
Swills were part of a large coppice wood industry  in the predominate oak woods of the Furness fells.  The coppice woodsmen would deliver oak and hazel to the mainly workshop based  swillmakers or 'Swillers' (see picture to the right). The rim or 'bool' of the basket is a hazel rod which has been steamed for 20 minutes and then bent into the characteristic oval shape.
The butt end of 4" – 6" oak trunks are sawn to various lengths, cleft into lengthwise billets using a froe or 'lat-axe'  and then boiled  in a large metal trough for several hours. Once softened, the oak billets are taken out one at a time  and riven or torn into thin strips (see picture to the left), the shorter ribs or 'spelks' left thicker (1/8") and the longer weavers or 'taws' riven finer (1/16").  The spelks are dressed (smoothed and shaped)  on a mare with a draw knife and the taws are dressed over the knee using a hand knife.
The swill is then woven, taking about 4/5 hours in total.
About Owen Jones
I was taught to make swills in 1988 by a retired 'Swiller' from Broughton-in-Furness, called John Barker. John served his time in a 1930's swillshop and when I met him he was one of the last swillers from that generation who was still making them. Now there is no one left alive from that era and I feel very privileged to have been taught by John, to have learnt from within the tradition and to now continue a local trade which has remained largely unchanged for centuries.
When I first started I was supplied my oak and hazel by a local coppiceman, Bill Hogarth, who was reliable, knew what I wanted and became a good friend. Bill was the last true coppice merchant in this area and after he died I had to source my own wood and so for the last 19 years I have been coppicing in the local Rusland valley.
When I learnt the trade I just caught the tail end of their previous uses and sold to farmers and industries e.g a snuff factory. However this market soon dried up and so from the early days I travelled countrywide to demonstrate and sell at fairs and shows. This still remains my main source of trade and I particularly like selling direct. From selecting and felling the oak, through to completing the swill, all is done by my hand and so to complete the final link and meet the customer is most rewarding.
For many years I have been running courses, typically a 3 day course where we start with an oak tree and a hazel rod and end up with a finished swill. Whilst this is not a substitute for a 5 year apprenticeship it does hopefully allow interested people to get a greater understanding of this old craft. It is generally a very sociable 3 days and a chance to meet new folk.
The oak for swills is only a proportion of the wood that is produced from the coppicing so using the rest is another quite large aspect of my business. I have a small firewood round, locally, and make charcoal in the wood during the summer to supply some local campsites and garages.
In the winter I gather and grade bundles of birch for besom brooms, cut hazel for bools and beanpoles, and in April when the sap starts to rise I start peeling oak. The oak bark is collected in the autumn by the country's last oak bark tannery and the peeled oak poles go for rustic garden use.
The larger oaks I cleave to make gate hurdles and other cleft oak fencing. Working in the woods and enjoying their seasonal nature provides great satisfaction for me.
---
The views expressed in our blog are those of the author and not necessarily lowimpact.org's
---
Leave a comment