Posted June 9th, 2021
How to build a bent willow chair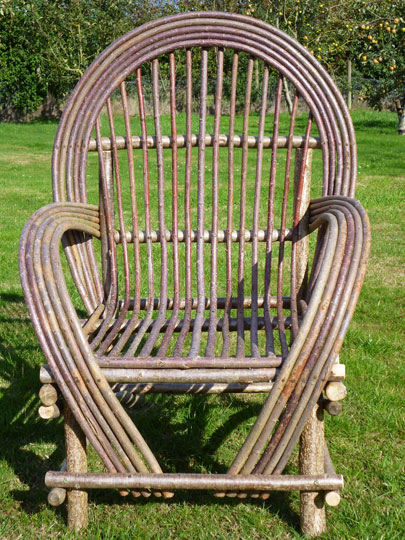 Complement your home or outdoor space with an easy chair, rocking chairs or a living willow chair! This guide should help you to build a bent willow chair – a fantastic piece of willow furniture. Building a willow chair is incredibly satisfying. Just imagine, when you've finished you can literally sit back and enjoy your endeavours.
Willow can offer so much visually to a garden or home. There are so many attractive stem colours,
Chair Design
No matter how large or how small a willow chair you build, its main structural components will always be in the same proportions.
The rear legs and the two large, horizontal back rest support members should be twice the length of the front legs. All the rungs, braces, and crosspieces will be halfway between the two in length.
The actual dimensions — for three different chair sizes — are as follows:
A king-size chair has two 18-inch long front legs, four 36-inch long rear legs and back rest supports, and fourteen 27-inch long framing members.
A medium chair has two 14 inch legs, four 28 inch pieces, and fourteen 21 inch members.
A miniature chair has two 10 inch legs, four 20 inch pieces, and fourteen 15 inch members.
Tools Needed
Galvanized framing nails, 2-1/2 to 4 inch
Finishing nails, 1 inch and 1-5/8 inch, for armrests, headrest, seat/back
Measuring tape
Small bow saw, rasp and hammer
Secateurs
Cordless drill, selection of bits
Bristle paintbrush
Linseed oil, turpentine
How To Guide
Decide on the size of chair that you would like to build. Using a small bow saw or secateurs, cut shoots to length.
To make sides: On work table lay out side beams and front and back legs. Using corner of table as a square, position 1 back leg on table parallel to and alongside edge of table; move bottom (foot) of back leg in 3 in from side edge of table, ensuring that it touches bottom edge of table. This is back slope of chair. Place 1 front leg 20 in from bottom of back leg parallel to side edge of table (not sloped).
Place top and bottom side beams (parallel to bottom edge of table) across front and back legs, with bottom beam 4 in up from leg bottoms. Position front end of top side beam approx. 1 in down from top of front leg. Adjust front and back legs to appropriate width. Using 2-1/2-in nails, fasten beams in place. Repeat for other side, making mirror image of first side.
To join sides: Lay top front beam on top of top side beams; adjust width between sides and using 2-1/2-in nails, fasten in place. Place bottom front beam on top of bottom side beams; adjust sides and nail in place as above.
Working at back of frame, determine desired width at top between 2 back legs and adjust. Nail top and bottom rear beams to back legs as in Step 4.
Place headrest beam on top of back legs so that it extends same amount on both sides; using 2-1/2-in nails, fasten.
Eight inches above top rear beam, measure distance between back legs and cut stretcher beam to fit. Using 3-1/2- or 4-in nails, fasten stretcher to back legs, nailing through each leg into center of stretcher beam.
Position back ends of side braces inside back legs and under bottom rear beam. Position front ends of side braces outside front legs and under top side beams. Using 2-1/2-in nails, fasten to front legs only.Examine frame, making sure everything is symmetrical! Square up frame by pushing or pulling on beams. Using 2-1/2-in nails, fasten back ends of side braces to back legs.
Secure frame by double nailing in every location.
Using 2-1/2-in nails, fasten front seat beam to top side beams just behind top front beam; attach rear seat beam to top side beams 5 in from top rear beam.
To make first armrest: Select 5 or 6 shoots and bow each along length by flexing gently over knee. Place root end of first shoot inside bottom front beam; bring other end up and over to outside of back leg, forming gentle curve with highest point of bow 28 in from ground approx. in middle of side.Bend down upper part of shoot and using 1-5/8-in finishing nails, fasten to back leg approx. 8 in above top side beam. To achieve desired amount of armrest flare beyond outside of chair, adjust shoot by adjusting free root end at front. Nail first shoot to top front beam, 4 or 5 shoot widths away from front leg. This shoot is the first of 5 or 6 to be installed. Make any adjustments using lower free end, then, using finishing nail, fasten to bottom front beam approx. 10 to 12 in from end of beam. Repeat for other side. The shoot ends should be cropped later.
Fasten each successive shoot to back leg on top of preceding shoot, using 1-in finishing nails, fasten shoots to each other at 4- to 5-in intervals over entire length.
To make headrest hoop: Bow each shoot as in Step 11. Place root end of first shoot inside top side beam on outside of armrest and behind rear seat beam, leaving overhang of 3 to 4. Loop shoot up and over chair back in front of headrest beam and down other side of chair, positioning shoot in same manner as on other side. This is bottom shoot of headrest hoop.Add remaining hoops on top of previous shoots, alternating root and top ends. Adjust, then, using 1-in finishing nails, fasten to headrest beam and at intervals as in Step 12.
To make back/seat: Rasp root ends of each shoot. Place first shoot in through back at center, having rasped end resting on top front beam and upper end loose behind headrest hoop. (The rasped ends will be lined up evenly to create front edge of seat.) Gently push shoot downward from top to work shoot into gentle curve at back of seat.While holding curve in position and using 1-5/8-in finishing nails, fasten to rear seat beam; then fasten to front seat beam, then to stretcher. Space each successive back/seat shoot as desired, matching curve of first shoot as closely as possible.Using one nail per shoot, fasten loose top ends to hoop; crop shoots at top. Crop armrest ends.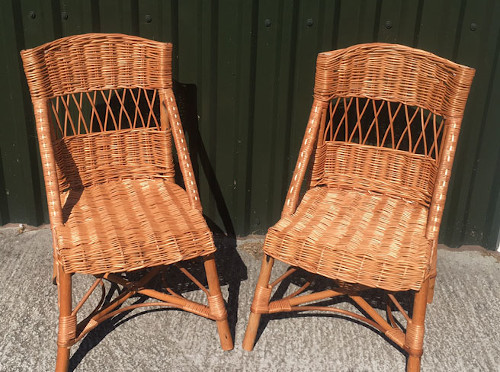 Adding The Finishing Touch
Once the chair is completed, stains and finishes can be applied, using 1-part turpentine to 2 parts linseed oil. This type of finish should be renewed once a year. Doing this will help protect and prolong the beauty and life of your furniture.
Variations – the list is endless!
Bent willow settee, dining chairs, garden benches, Love seats, couches, rocking chairs, easy chairs, swings. If you have some great ideas, why not leave a comment in the section below, and check back for more great ideas in the future.
---
The views expressed in our blog are those of the author and not necessarily lowimpact.org's
---
Leave a comment