Posted January 19th, 2016
'Business Against TTIP' launched yesterday; we could actually win this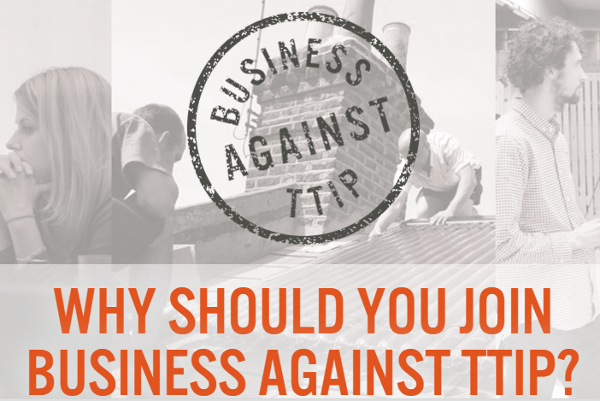 I'm beginning to think that we could actually win this struggle against TTIP – the latest in the corporate strategy to undermine democracy. Yesterday, 'Business Against TTIP' launched – no corporations involved, obviously, but it made me realise that a much wider cross-section of society is becoming aware of what they're up to.
Business Against TTIP might not oppose TTIP for exactly the same reasons that Lowimpact.org opposes it. For instance, even if TTIP did what it says on the tin – i.e. increased transatlantic trade and boosted growth, we still wouldn't want it. We don't want to increase transatlantic trade thank you very much – let's get our essentials of life from as close to home as possible. And we've been actively opposing the concept of perpetual growth since we formed in 2001. But the very fact that there is a business organisation opposing TTIP at all has filled me with optimism.
In the same way that GM is nothing to do with 'feeding the world', and the invasion of Iraq was nothing to do with 'bringing democracy to the Middle East', TTIP is ultimately not to do with trade. TTIP is for transferring wealth and power from small businesses and taxpayers to the corporate sector. SMEs understand that TTIP would give more power to their corporate competitors – hence this new website, and our blog yesterday was about a Canadian corporation – TransCanada – that is suing US taxpayers for $15 billion because their government cancelled a pipeline from the Canadian tar sands.
Here's the press release from yesterday:
UK businesses say "no" to EU-US trade deal
Entrepreneur of the Year 2015 joins leading UK business owners to highlight dangers TTIP poses to British business
Leading UK business owners today launched Business Against TTIP – a business-led initiative and response to the serious dangers posed to UK businesses by a new EU-US trade deal.
The Transatlantic Trade and Investment Partnership (TTIP) is a comprehensive free trade and investment treaty currently being negotiated – in secret – between the European Union and the USA.
Business Against TTIP believes that due to TTIP's agenda of unfair competition, deregulation and 'corporate courts', the deal is a grave threat to UK businesses, standards and democracy itself.
Business Against TTIP join similar initiatives, including similar business platforms in Germany, Austria and the Netherlands, Artists Against TTIP and Students Against TTIP, and more than 3.4 million people around Europe who have signed the European Citizens' Initiative (ECI) against TTIP.
Titus Sharpe, CEO of MVF Global and Entrepreneur of the Year 2015, said:
"This deal has been created with predominantly large American corporate interests in mind and will have a negative impact on small and medium sized British business. This deal puts large corporate interests ahead of our government and democracy. It's imperative we stop this deal happening for the sake of the British economy.
Ben Goldsmith, Menhaden Capital PLC, Chair of Conservative Environment Network, said:
"TTIP is very different to a normal trade deal. It is profoundly hypocritical of our current government to highlight threats to UK sovereignty while also promoting TTIP within Europe. I am supporting Business Against TTIP because I believe it is vital that small and medium sized companies join this conversation."
For more information, email [email protected] or call +44 (0)7804289680
Business Against TTIP – includes some corking anti-TTIP articles here.
Report by the Veblen Institute: "A Transatlantic Agreement: But at What Cost to SMEs?"
Get involved in the fight against TTIP here.
If you are a member of a community group and would like an expert on TTIP to come and give a talk to your group, let me know – [email protected]
---
The views expressed in our blog are those of the author and not necessarily lowimpact.org's
---
1 Comment
1

angela porter January 22nd, 2016

Excellent piece on TTIP, thanks for highlighting info and raising subject…we need as much opposition to this as possible and quickly!! We can't let ignorance and apathy help them get their way on this.
Leave a comment