Posted March 14th, 2017
Career change? Interview with Amanda James about becoming a dry stone waller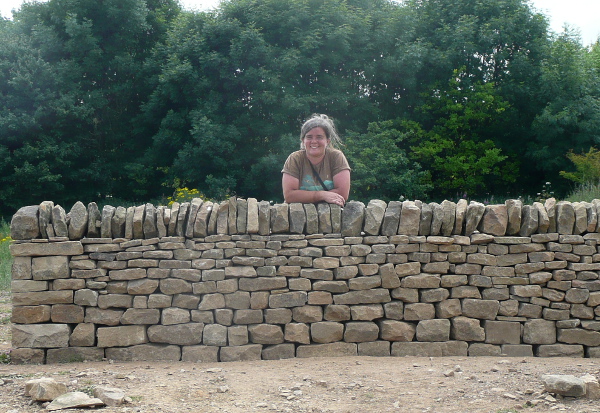 In a society increasingly out of touch with the joy of crafting and building by hand, making a transition to gain new skills and work within a traditional rural craft can seem at once appealing and daunting. This week, Lowimpact.org spoke to Amanda James, to find out how she made the change to become a professional dry stone waller. The above photo is Amanda showing off the results of her Level 1 training.
Lowimpact.org: What is it that you were doing and what is it you're doing now?
When I initially started out in life I was focused on academic work and not very interested in the 'hands-on' stuff. After many years of study I felt I hadn't achieved anything physically lasting and took a turn in the Environmental Conservation direction. This led me to work as an urban ranger for a social enterprise in Sheffield from 2007 until 2012, working with volunteers and apprentices doing practical countryside management – anything from post and rail fencing to mixed hedgerow planting and tree planting. I also worked with a Clydesdale horse, mowing the local parks, ploughing and harrowing, doing educational work with local schools and tree felling and timber extraction from local woodlands.

Now I work as a self employed dry stone waller in the Peak District and local area. We build double-faced and retaining walls and walls with curves and features. I have walled on large, construction site projects with 3 other colleagues and smaller domestic jobs. I also teach at the Derbyshire Eco Centre.

Completed work undertaken with a construction company.
What prompted you to want to move away from your former work?
A change in management and subsequent lack of support led me to feel dissatisfied with my work at the social enterprise, along with a feeling of being stuck in a rut. I came to an agreement that I would work 3 days a week and in my spare time work towards a Level 3 Diploma in Environmental Conservation with (B)TCV. In the same year I started my Diploma, I did my Level 1 (Initial) Dry Stone Walling Association (DSWA) / Lantra dry stone walling course at the Derbyshire Eco Centre. The situation at work looked set to improve and I was planning my return to full time work but another change led to my post being made redundant two years later.
What was it that drew you towards dry stone walling as a potential new career?
I really enjoyed all things related to countryside management and took advantage of all training opportunities whilst in employment, be it chainsaw training or horse logging training, but of particular interest was dry stone walling. In 2010 I trained in Level 1 dry stone walling, gaining my Level 2 (Intermediate) DSWA/Lantra in 2012 just after I was made redundant. After doing some voluntary walling on a friend's land, I asked one of my walling tutors if I could wall with him and said he could pay me what he thought I was worth; I worked with him and another waller for 3 years, gaining a lot of experience and improving my skill and speed.
Do you have any advice to offer anyone curious about moving into or starting out in the field?
Find someone who doesn't mind you rebuilding their walls for free whilst you start out; obviously this has to be gradual as you need to earn money somewhere. Get qualified through the Dry Stone Walling Association (DSWA / Lantra), preferably to Level 2 and then try to get some experience with experienced and qualified wallers. Work hard and get known for quality work. I was very lucky to gain my walling experience with an excellent teacher with 50 years walling experience. I was also passed a job with a construction company by another tutor and, because I was working with an experienced team, the company was happy with the work and this lead to more work. Create yourself a letterhead and give written estimates to people. Keep a clear record of your days worked and income and expenditure to make your tax return easier. Be aware that some builders merchants can charge you a different price for a product each time you go!
What's the best and worst thing about your work? Is there anything you would change if you could?
The best things about my work are working with people who are skilled and passionate about walling. Being with people who are interested in the weather, cloud formations and their meaning and in the diversity of bird life and all nature. The worst things are the very heavy nature of the job and being injured, along with working in noisy and smelly situations e.g. by roadsides and working with mortar. If I could change anything, I would do more dry stone walling work and less mortared work.
Has dry stone walling led you towards any other low impact endeavours?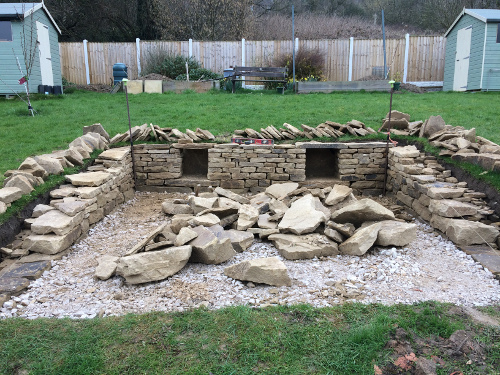 Both my ranger work and dry stone walling work have shown me that I can produce lasting, quality work and given me confidence to step into the world of Eco-building, in particular straw bale building with the School of Natural Building. My future is in building my own straw bale houses for holiday lets or renting out, giving myself and others a healthy and sustainable place to call home, but I'd like to keep my hand in with walling, perhaps even in China.
Sounds exciting! And what do you think the future holds for dry stone walling in the UK in general?
There is a strong culture of dry stone walling in Derbyshire and the Peak District National Park. Dry stone walls are everywhere here and are a durable boundary method. I also think tourists like to see walls as they are a part of the countryside. There is some grant funding for landowners. I have seen small scale walling apprenticeships on offer via the Countryside Jobs Service in Scotland and in the North East over recent years and the DSWA has got funding for apprenticeships in the North West of England. Different areas of the country have different boundary treatments e.g. hedges, fences so different things are available in different parts of the UK.
How might people get involved, as a potential career or even just for fun?
Look for your local dry stone walling association (e.g. Derbyshire DSWA), which can be found via the national DSWA; they offer beginners training courses and practice weekends. In my area there is the Derbyshire Eco Centre, which is run by Derbyshire County Council; they also run all sorts of craft, woodland management and countryside crafts courses. Walls for the Future (WFTF) offer dry stone walling training through the Eco Centre and in other ways. DerwentWISE offers a variety of courses including dry stone walling; they are based in a small area local to me, but I am sure there will be other opportunities in other areas of the country. Countryside Jobs Service (CJS) advertises training opportunities. (B)TCV offer some opportunities to learn dry stone walling, as do the Wildlife Trusts and the National Trust. The TCV 'Dry Stone Walling: A Practical Handbook' is very well written and recommended by people throughout the walling world.
Thanks for sharing your experiences and advice with us, Amanda, and good luck with all of your dry stone walling and natural building endeavours!
---
The views expressed in our blog are those of the author and not necessarily lowimpact.org's
---
5 Comments
1

John June 3rd, 2018

Hi imI interested in doing this kind of work where can i get a chance to do it i done a course it was one day a week for 6 weeks but would love to do some more of it so would love to get some more information about how to get doing it I'm in cardigan in south Wales England i look forward to hearing from you thank you John

2

Dave Darby June 4th, 2018

Hi John – do you have a specific question, because the article itself, and the links in the right column, contain the kind of information you're asking for.

3

tasha ell November 27th, 2018

16 year old would like to get started in dry stone walling – studying brickwork at college at the moment but loves historic buildings etc. warwickshire area

4

Sophie Paterson November 28th, 2018

Hi Tasha, it's great to hear about the interest in a career as a dry stone waller. A good place to start might be the Dry Stone Walling Association of Great Britain (DWSA). The nearest branch for you would be the Cotswold branch at http://www.dswa.org.uk/cotswold.asp. They'll be able to advise as to any upcoming training days for beginners and you can get an idea of what this would involve at http://www.dswa.org.uk/userfiles/file/training/training-course-leaflet-2018-10-april-2018.pdf. I attended a weekend course a couple of years back and can highly recommend it as an introduction. There was a discount for under-30s too so it could be worth asking about this in case it's still on offer. Hope it helps!

5

Nick Emms December 6th, 2020

Hi, I took part in a 2 day DSWA course in Dorset 1yr ago and thoroughy enjoyed it. I am contemplating moving to Wales in the future, could you tell me if dry stone wallers are in high demand there? I currently live on the Isle of Wight but work in Norway on a 2 weeks on, 4 weeks off roatation. Would it be possible to complete an intensive training course, during my time off periods, that would allow me to gain my qualifications quickly? Thanks, Nick
Leave a comment