Posted November 4th, 2020
Great ways to reduce plastic use in your home: Part 3 – around the home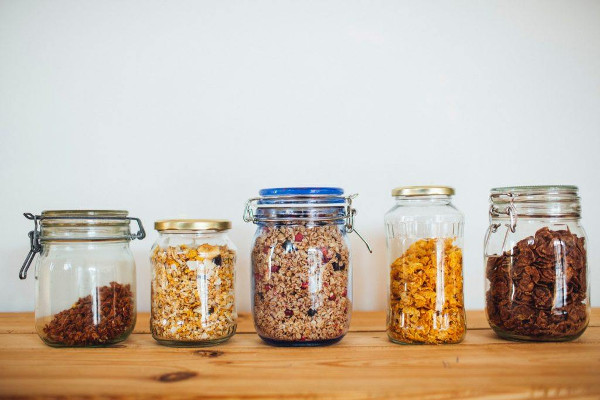 Explore how to reduce plastic use in the kitchen, living area, bedroom, bathroom and even the garden, with the help of our friends at Ethical.net.
---
Find Part 1 here and Part 2 here.
Plastic packaging is, of course, not the end of the story; most of us also have a huge array of plastic items in our homes. Those looking to reduce plastic use will want to find alternatives, where available, rather than purchasing any new plastic products.
Reduce plastic use in your kitchen
Let's begin by looking at ways to reduce plastic use in your kitchen. You could consider:
Simplifying your cooking and avoiding purchasing any new gadgets.
Choosing crockery and utensils made from ceramic, wood, bamboo, metal, and other natural materials. (Avoiding knives, etc, with plastic handles, and all disposable plastic products.)
Choosing wooden rather than plastic chopping boards.
Selecting metal or silicone washing-up bowls, draining boards, etc.
Opting for pots and pans without Teflon coating (which is toxic when overheated), and without plastic handles.
Using silicone, glass, or metal containers to refrigerate and freeze food, rather than plastic tubs or freezer bags.
Buying/making organic cotton beeswax wraps to store leftovers and for packed lunches, instead of using plastic clingfilm.
Reduce plastic use in living areas
Next, let's turn our attention to where and how we can reduce plastic in our living areas, beyond reduction of the amount of things that we buy. In all living areas you should:
Choose wooden/tile/stone floors or natural fibre rugs rather than plastic options like synthetic carpet or laminate.
Choose eco-friendly, plastic-free paints and avoid plastic-coated wallpapers.
When buying new, opt for furniture made from natural materials like wood, and items upholstered and stuffed with sustainable natural fibres. But also consider secondhand options / up-cycling before making purchases.
Choose curtains, cushions, and other soft furnishings that use natural materials. (And consider making your own.)
If you have kids, try to choose sustainable toys made from natural materials like wood rather than plastic. Encourage natural/outdoors play as much as possible.
When crafting, avoid glitter (as well as plastic paints, etc). Use sand for some sparkle instead. Choose coloured pencils or crayons rather than plastic pens.
Choose wooden/bamboo/organic natural fabric covers for smartphones and other devices.
Stream or download films/music rather than buying CDs, DVDs, Blu-rays, etc, in plastic cases.
It is very, very unlikely that you will have an entirely plastic-free living space, but you can take steps to move away from complete reliance on plastic products.
Reduce plastic use in the bedroom
The biggest hiding place for plastic in most homes is the wardrobe. If you haven't paid much attention to problems with plastics before, you may not be aware of just how many of your clothes are made from it. Polyester, nylon, polyamide, spandex, or acrylic, faux fur, faux suede, or faux leather: these are all made of plastic.
While some plastic fabrics may be more ethical and better for the environment than the alternative (in the case of fur, leather, and some other animal-derived products), they cause their own huge problems. Synthetic clothing can shed up to 700,000 micro-fibres with each wash – tiny bits of plastic which wash down the drain and often end up in our waterways and seas. And that's before you even think about what will happen to them at the end of their useful life.
To reduce plastic use in your bedroom:
Choose bedding and clothes made from natural rather than synthetic materials wherever possible.
Carefully consider each clothing purchase, and choose fewer quality items, rather than lots of fast fashion. Whatever you buy, choose items that will last, and be aware of the true human and environmental costs of textiles.
Consider choosing secondhand clothing rather than new clothing where synthetic fabrics may be required (such as for performance outdoors gear), and look into recycled options.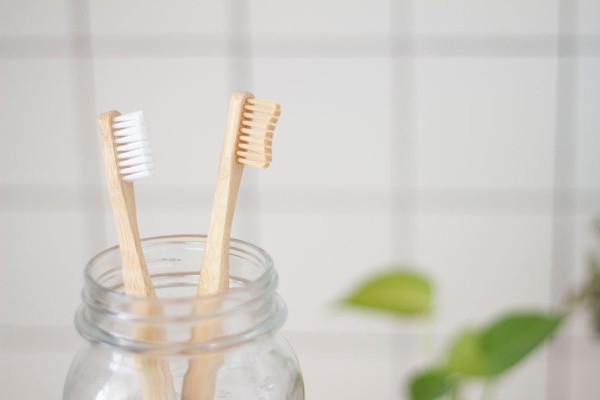 Reduce plastic use in the bathroom
Next, let's turn our attention to the bathroom. We've already discussed how you can significantly cut down the number of plastic bottles there, but how else can we reduce plastic use in the bathroom? Examples include:
Buying a hairbrush with a wooden handle and natural bristles.
Opting for a bamboo toothbrush.
Choosing a plastic-free toothpaste. (Such as Georganics Natural Toothpowder, for example.)
Choosing an eco-friendly, plastic-free floss.
Using cloth nappies for babies rather than disposable plastic ones.
Avoiding wet wipes, as most contain plastic.
For women to use a reusable silicone cup rather than other sanitary products.
Reduce plastic use in the garden
Finally, if you are trying to go greener, it's likely that you're interested in growing at least some of your own food. But, if you have one, plastic – however big or small – can accumulate in your garden too. Whether you are growing food on a windowsill, or have a large garden, plastic pots can sometimes quickly accumulate. Here are some tips for reducing plastic use in your growing efforts:
Grow from seed or propagate your own plants as much as possible, rather than buying plants in pots.
Consider sourcing plants (without pots) from friends', family, or neighbours' gardens.
See if you can find a garden centre or plant nursery that sells plants in biodegradable or ceramic pots.
Save your own seeds, reducing the need to buy more.
If buying them, choose organic seeds in paper rather than plastic packaging.
Don't buy plastic seed pots, trays, or containers. Choose biodegradable pots (or make your own from toilet roll tubes / cardboard/ papier maché / newspaper). Also consider making soil blocks, which do away with the need for seedling containers altogether.
For larger containers, up-cycle household items and use reclaimed materials.
Use organic materials like straw or other mulches to provide extra warmth and protection for plants in place of synthetic horticultural fleece. Alternatively, use old cotton sheets or other repurposed fabrics no longer good enough for the home.
Choose wooden/metal garden tools rather than ones with plastic handles.
Use natural cotton/hemp/coir/jute netting rather than plastic netting to protect fruit bushes from birds. Affix with wooden stakes (make your own) or old metal tent pegs.
Likewise, choose natural rather than plastic twine for tying in plants.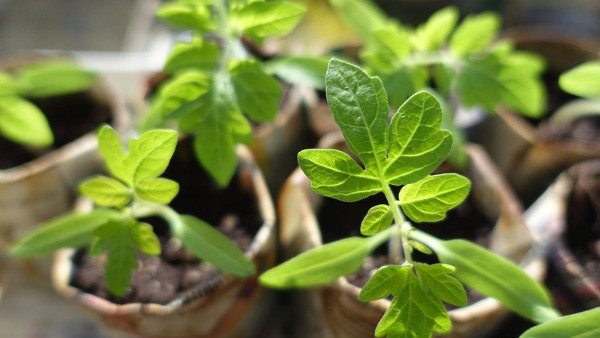 Elsewhere in your garden:
Choose (or make your own) patio furniture with reclaimed/natural materials.
Choose wooden/metal playsets and swings for kids, rather than plastic ones. (Or consider making your own more natural obstacle course.)
Choose an eco-friendly natural washing line and wooden clothes pegs.
The lists above by no means cover everything that can be done to reduce plastic use in your home – but they should give you a good starting point.
Main image by Markus Spiske on Unsplash. Find the original article by Elizabeth Waddington on the Ethical.net blog.
---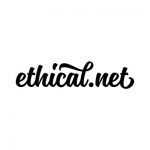 About the author
Ethical.net is a collaborative platform for discovering and sharing ethical alternatives, whether purchasing from a social enterprise, thrift shopping, or learning how to fix your old phone instead of buying a new one. They aim to make ethical the new normal.
---
The views expressed in our blog are those of the author and not necessarily lowimpact.org's
---
Leave a comment