Posted April 22nd, 2018
How to make a chicken coop from a repurposed plastic barrel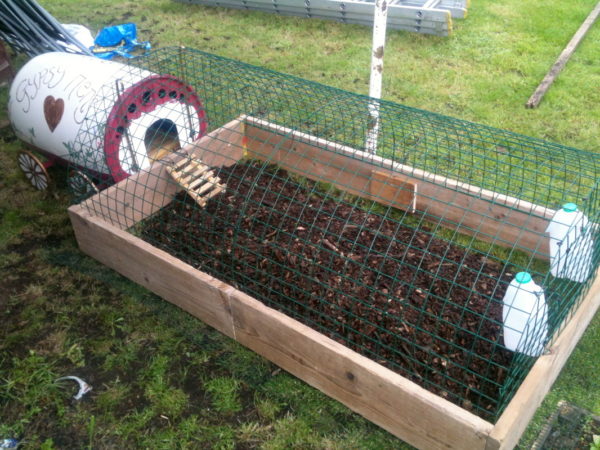 Wooden chicken houses can be a nightmare, especially when they are infested with red mite: hiding in every crack and crevice and tormenting your hens. Those recycled plastic chicken houses can be expensive though and even they have some design flaws!
As one of his projects for his Diploma in Applied Permaculture Design, Darius Namdaran set himself the goal of making a beautiful chicken coop from waste. The design brief was to make a DIY plastic coop from waste that outperforms an Eglu and that is beautiful. As Darius notes it was a challenge: Eglus perform well! His 5 years of observation showed some possible improvements though: the dropping tray got damp; the coop, tray and run were a little too small; woodchip spilled out of the run; and the door was fiddly.
I was impressed with the chicken coop when I visited his garden, especially the ventilation system which results in desiccated chicken poo, only needing to be cleaned out once every 6 months! Darius hires these coops out but you can also make your own (the design is free for personal use CC-BY-NC 3.0).  What follows is an extract from Darius's website. Scroll down for a video tour of the coop.
The design
Gypsy caravan shape
A blue plastic barrel forms the basis of the coop. On its side it looks like a mini gypsy caravan. It is 100% waterproof.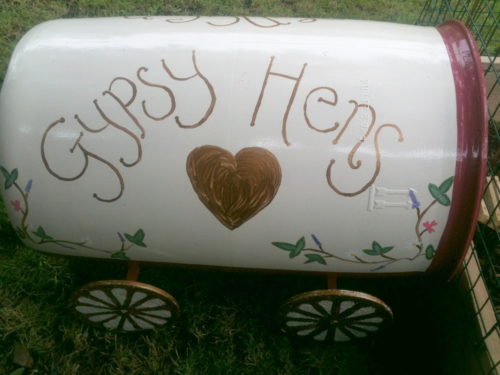 Self contained coop and run
Ideal suburban home and run for hens. Designed to keep them happy, healthy and safe.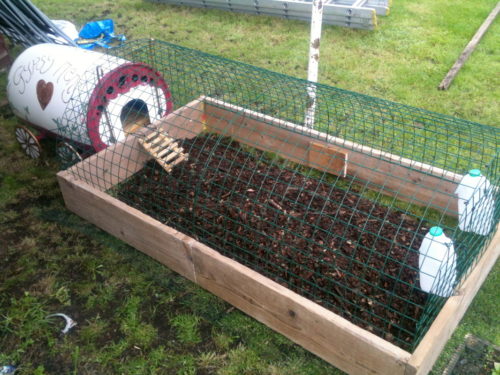 Dog, cat, fox and fool-proof
The flexible mesh stops foxes digging under. The rigid upper mesh stops any attack. The hens feel safe.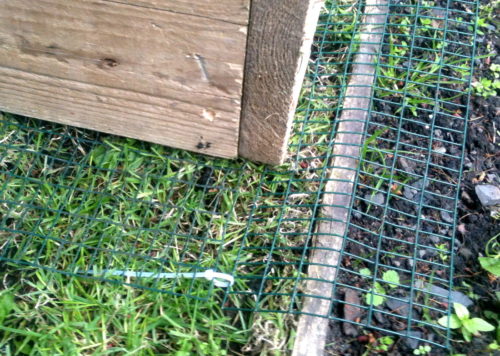 Raised, slatted floor
A slatted floor means droppings fall through the gaps to a tray: it is cleaned once every 6 months. Also, no red mite!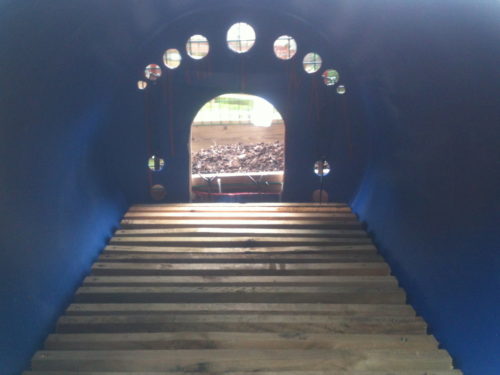 One handed opening
Strong lock, easy one-handed opening and shepherds hook for storing on mesh.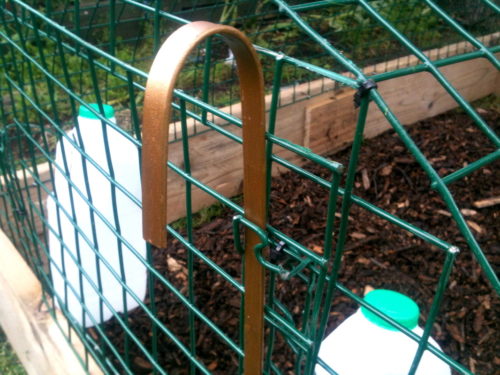 Easy egg access
Large access door to get to the eggs and see the birds.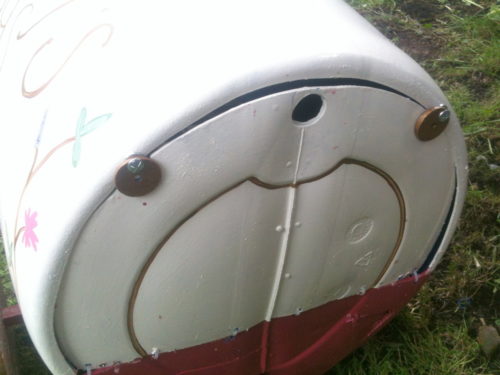 Healthy ventilation
The design uses body heat to drive warm old air out top vents, drawing cool fresh air in through lower vents.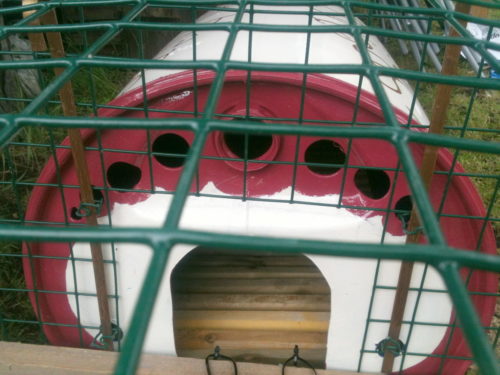 Removable poo tray
The dropping tray is easily removed. The cool air drawn over the top drys it out leaving no odours.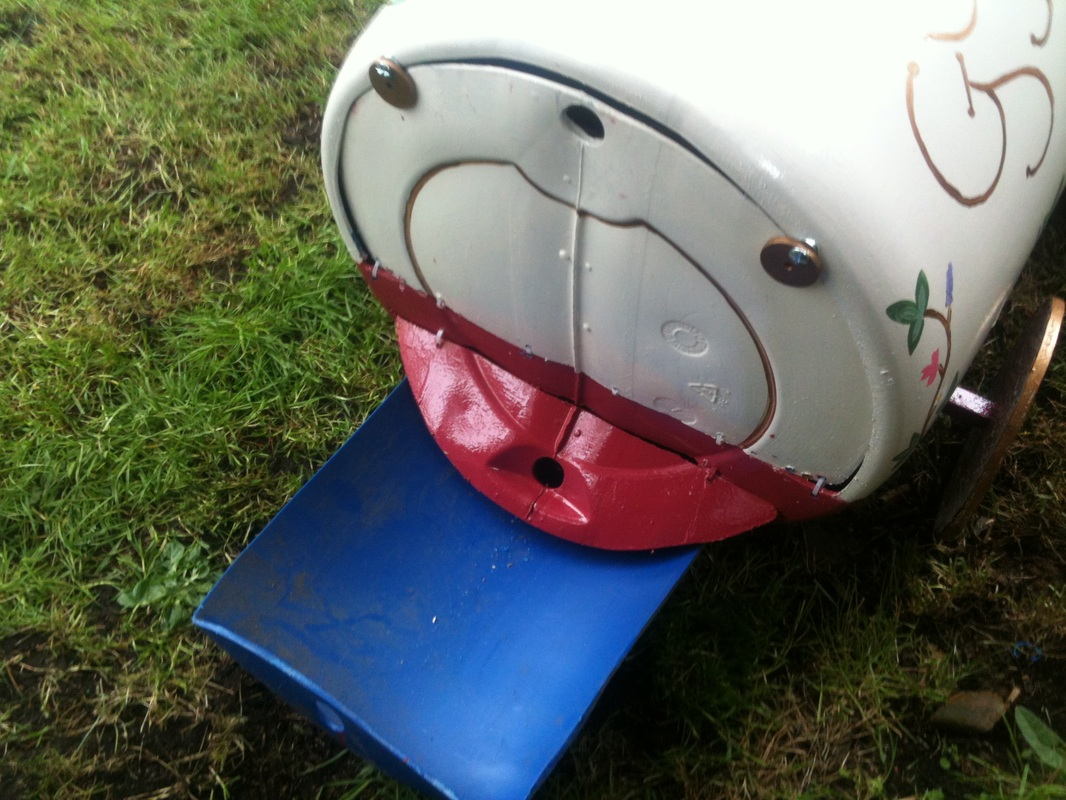 Raised Feeders
Upcycled milk cartons used as raised feeders: They stay cleaner longer and birds can't perch on them.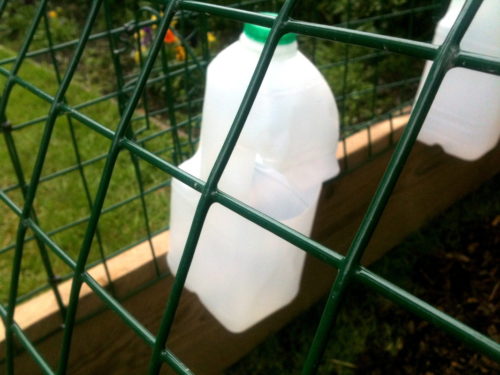 Woodchip run
Deep woodchip with a 9″ frame means the chickens can continually peck and dig without it getting clogged up.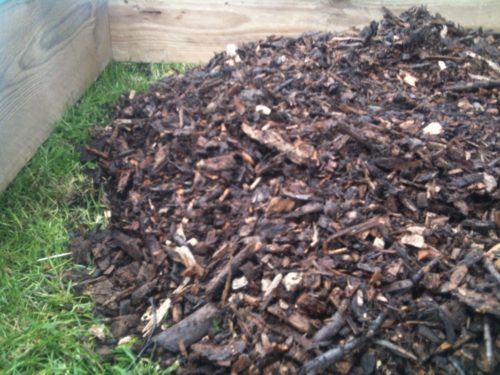 Expandable run
New 'hoops' can be inserted if more birds are wanted.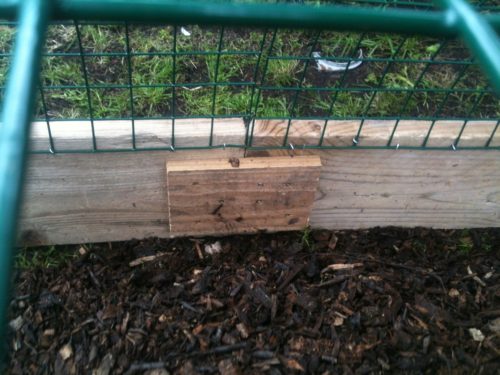 Personalised
The hand painted coop means you can personalise it.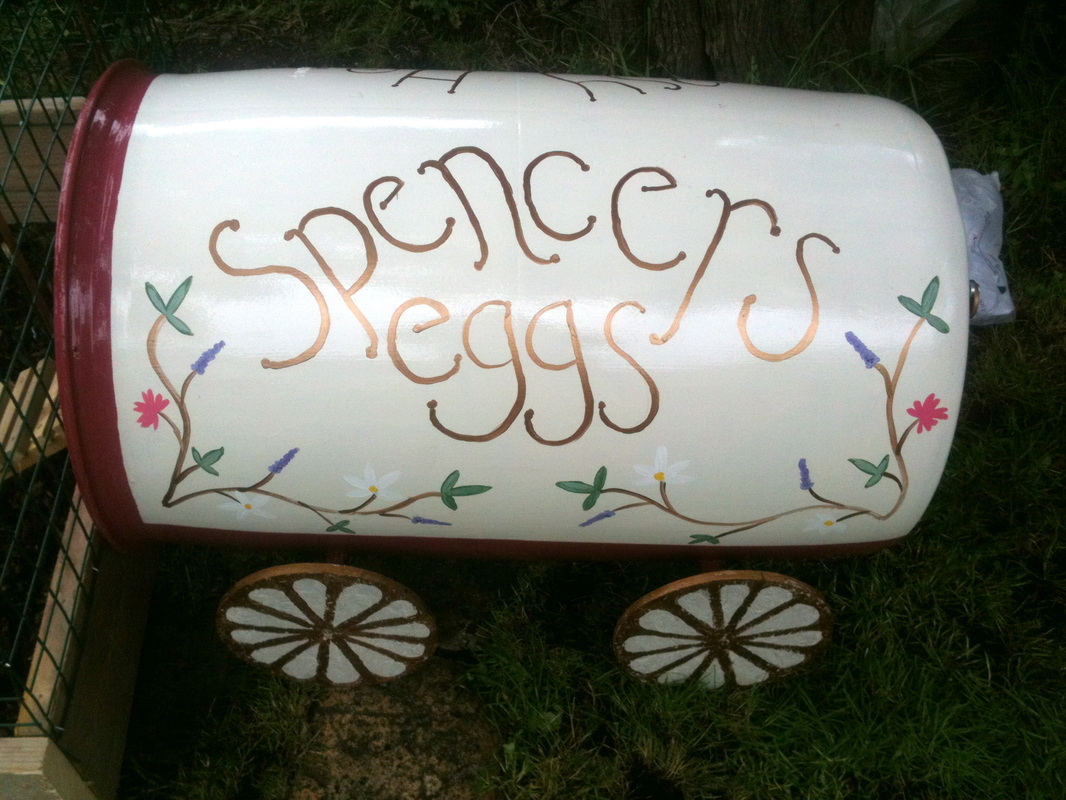 Bike delivery
Designed to be delivered by bike.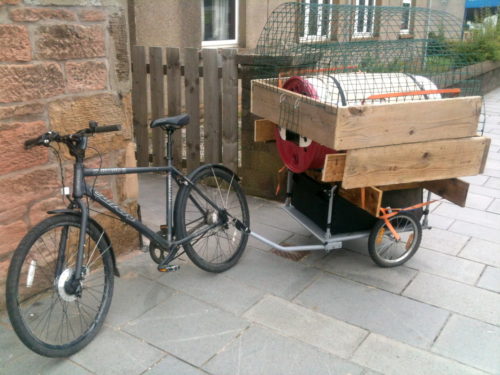 A tour of the completed coop
Darius has a YouTube channel where you can find a video of the first stages of making the coop to get you started.
Darius Namdaran's suburban garden is a ScotLAND Centre and therefore an excellent place to see permaculture in action. To find out more, contact Darius or see more of his diploma projects, please visit his website.
---
The views expressed in our blog are those of the author and not necessarily lowimpact.org's
---
13 Comments
1

John Harrison April 23rd, 2018

That's an ingenious and innovative coop, and I love the fact it's simply made from recycled materials and could be made by anyone with some DIY skills. However, I would question the comparison to an Eglu which I have. For a start the Eglu is draughtproof ventilation and a double skin that insulates in extreme temperatures. The Eglu roosting bars are plastic as well which makes cleaning very easy.

I'm not sure the wooden floor bars are shaped quite right if the hens are roosting and regardless of gapping bound to get droppings adhering which will need cleaning. Neither am I convinced of the 6 months period before needing the droppings tray emptying but if that's what they reckon, I'll accept it. Finally, on design, there isn't a separate nesting area as with the Eglu.

The rental cost of £45 initial charge plus £3.00 a week is actually quite high. An Eglu Go with 2 metre run would cost £360 and have a life of at least 10 years. They hold their value really well if you look on Ebay or Gumtree. That equates to £36 per annum against the £156 per annum rental of the barrel coop.

Great idea for more sheltered locations though and economical if you build it yourself.

2

Max January 6th, 2019

John Harrison raises some very good points, and being a chicken owner myself am inclined to agree with him. You would need some way of shutting down the vents in wet & windy weather (or very cold), my chickens even poop on the little wooden steps to get them into the coop so wooden slats arent a good option hre, or even the right shape. A good efort though, just needs more work.

3

Lesley Anderson January 6th, 2019

Thanks for your comments, I am sure some improvements could be made to the design. I do not use these coops myself, but know Darius has been using them with success for years and I have seen them myself, not just when new and clean! Darius is in an urban, sheltered location which may be important. The droppings do dry out and he does indeed clean them out only every 6 months, or even once a year. The slats don't seem to get caked though I can't comment on why this works!

4

Emma Philpott January 11th, 2020

This looks great. I'd love to have a copy of the plans to make our own but the link to Darius' website appears to no longer be working. If you are able to share the link to the designs that would be great! Thanks!

5

Lesley Anderson January 11th, 2020

@Emma Philpott Thanks for letting me know, I'll have a look and see if I can find another link

6

David Sharpe June 14th, 2020

Dear @Lesley Anderson

We have been thinking of reentering the world of chicken ownership after a fox got ours some years ago.

We love the idea of this coup and run- I cant seem to find any plans -are you able to help at all?

7

Lesley Anderson June 14th, 2020

Hi David, if you click the link at the bottom of the article to Darius's Youtube channel you will find a few videos on there of the chicken coop. You can also find contact details and a link to his facebook page on there if you need more. Unfortunately it looks like Darius has not been active on social media lately and his website no longer exists. I hope you find what you need, good luck!

-Lesley

8

thoms June 15th, 2020

what about for winter time?

9

Jc Dafel October 30th, 2021

I used a similar drum recently , different configuration for a day old to 14 days coup ….I installed a red light and feeders in it . At the same time I made one out of wood …this enables me to do a comparison with ….in 5 days the chicks have more than doubled their weight and size .

10

Chris m January 20th, 2022

What state are you guys in? Just curious wind

Winter and humidity wise

11

none ya buissness May 20th, 2023

How many square feet is this barrel?

12

JC Dafel May 21st, 2023

Good day …..I tried the plastic drums Two years ago ….whilst the idea is marvellous the heat of close to 40 degrees C simply was not accommodating and I especially lost a lot of chicks in the first two weeks

Regrds

13

Rebecca Stacey May 21st, 2023

Hi none ya buissness

The best way to find more information about this now would be to check out the vids on youtube.
Leave a comment