Posted January 19th, 2022
How to support anaerobic digestion for biogas and compost in communities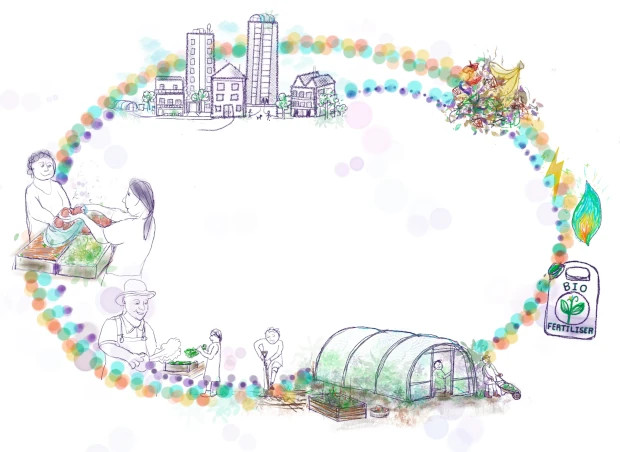 SOURCE turns food waste into energy, fertiliser and compost to grow healthy crops and create local jobs – in the heart of our cities!
A local, low carbon solution is critical at a time when the global food system is responsible for a massive 37% of global greenhouse gas emissions, a third of all food produced is wasted, landfill sites are filling up and food and fuel prices are rising along with unemployment levels.
SOURCE is pioneering a circular, zero waste approach to managing our food, waste and energy. It combines advanced waste management with smart urban farming to help us:
Reimagine our villages, towns and cities as thriving centres of production;
Revitalise communities with green growth opportunities;
Reconnect people, food and nature in a move towards one planet living.
SOURCE
combines small-scale anaerobic digestion and composting to treat unavoidable waste where it's produced;
uses the by-products to grow affordable healthy food and tackle food poverty;
reduces food and waste miles to decarbonise food production;
creates meaningful green jobs and shortens supply chains to boost local economic resilience.
Also, food grown for local consumption avoids early harvesting, chilling and long-distance transport, preserving nutrients for better health and immunity.
OUR TECHNOLOGY AND APPROACH
Anaerobic digestion is one of nature's pathways to breaking down organic wastes. We use this approach to turn food waste into bio-energy and liquid fertiliser. After 8-years, we've accelerated the process, tested the by-products and explored circular business models. Our technology now costs less and treats more waste in a smaller footprint to meet urban demands.
Systems will be assembled in our fabrication workshop for rapid deployment. Combining anaerobic digestion with composting, means both food waste and green waste can be processed, producing by-products to support soil-based and hydroponic food growing. Hydroponics is a lightweight method of growing food without soil that uses 10x less water than conventional agriculture.
We will work with established partners and suppliers specialising in composting, hydroponics and food growing to deliver SOURCE as a smart, flexible package that can be adapted to meet site-specific requirements, with planned future additions such as mushroom cultivation.
We will follow the waste hierarchy, setting waste reduction targets first to ensure only unavoidable food waste is processed. Modular technology means that capacity can be easily increased/decreased, making this localised approach more resilient in the face of waste volume fluctuations to complement large centralised infrastructure. The table below shows payback periods, carbon savings and other benefits for two different-sized SOURCE systems.
Having prototyped all elements and tested their integration across three Living Labs in London, our next step is to scale up a SOURCE pilot, working with Poplar Harca, public works, London Borough Tower Hamlets and Cultivate London.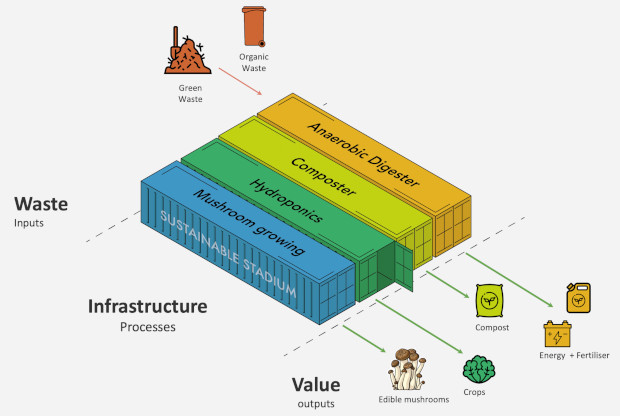 HELP US SET UP A PILOT DEMONSTRATION
Our host site is the Teviot, a social housing estate in East London, currently part of a wider regeneration scheme. A successful demonstration here could mean that smart, circular infrastructure becomes integrated into the new development – a milestone in urban planning.
With your vital support, we will engage the target community, pilot and optimise SOURCE, validate the social and environmental impacts and test the circular business model with input from established academic collaborators:
WHAT WE NEED
Building our demonstrator will involve 6-months preparation and 12-months operation, with the last 3-months evaluating the pilot.
The total cost, including community/stakeholder engagement, materials, equipment, assembly, installation, lab analysis, operation, evaluation and project management, is £289,450.
We have already secured 38% of this and have identified a funder willing to help us apply for a further 36% of our crowdfunding target of £75,000. The table below summarises what we need and where the rest of the money is coming from.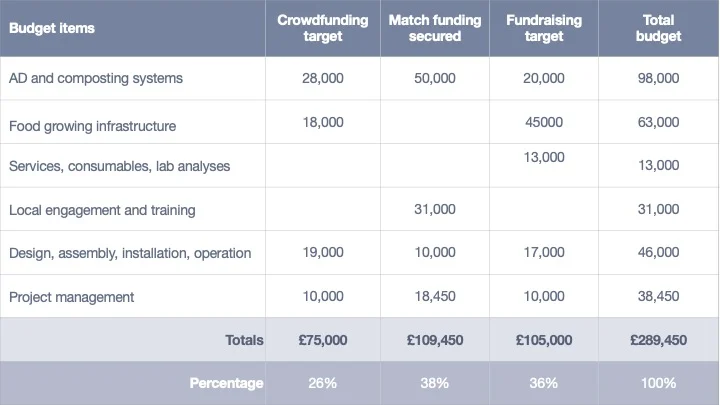 If you'd like to make a donation and/or share the campaign link with your network/family/friends to make it go viral we'd be most grateful! You could even run your own sponsored activity to support this campaign.
THE PILOT
What we will assemble and operate:
Advanced micro anaerobic digestion system
Rapid composting system
Resource-efficient hydroponic growing system
Raised-bed food production
Integrated control and monitoring system
Other outputs include:
Engagement and co-design strategy;
Site and system designs and drawings;
15 workshops teaching practical green skills;
9 co-design workshops engaging local residents;
3 jobs and 8 training positions;
A SOURCE blueprint for replication;
Updated business model;
Full technical, environmental and economic evaluation.
Benefits over 12-months operation include:
87 tonnes food waste diverted from landfill;
3,249 m2 biogas generated;
79,114 kg food produced;
20.5 tonnes carbon saved.
WHAT HAPPENS IF WE DON'T REACH OUR GOAL
We've chosen a flexible campaign so if we don't raise the full amount, we can still deliver elements of the project while we fundraise for the rest. If we raise:
25% – we will design the site, systems and infrastructure, deliver training workshops.
50% – we will engage the community, submit the planning application and develop the food growing infrastructure and local supply chains.
75% – we will assemble and install the waste management systems, integrate waste and food systems, operate and monitor SOURCE.
100% – we will evaluate the pilot, create a replicable blueprint to attract investors and approach identified early adopters to roll the model out.
The above percentages apply to the crowdfunding target plus the projected fundraising target (£75,000 + £105,000 = £180,000).

IMPACT
Piloting SOURCE is the stepping stone to replicating it more widely, giving communities and businesses the tools to reduce waste management, food and energy costs to reach next-level sustainability.
We've explored the market with universities, parks, local authorities, hospitals, markets, municipal parks, off-grid communities, restaurants, schools and more. Scaling up SOURCE will give investors and potential host sites confidence in the model, just in time for the upcoming 2023 food waste ban to landfill.
International development
The pilot will also pave the way for translating benefits into developing and middle-income country scenarios to help raise people out of poverty. Generating clean energy from waste will help extend study time, replace firewood to avoid deforestation, and improve indoor air quality.
A percentage of LEAP profits will support work with our partners in Sub Saharan Africa (such as Solar Sister) and South East Asia (Arkitrek and FAB) where we've conducted extended feasibility studies on how SOURCE could:
Enable cassava cooperatives (80% run by women on low incomes) to manage their wastes, produce low cost fertiliser for their crops and use clean energy for processing, drying and refrigeration;
Transform the high volumes of food and plastic wastes produced by disadvantaged communities and generate bioenergy to power plastic recycling.
Improve sanitation, turning human waste into valuable agricultural resources, for example in Sub Saharan Africa where one in four people still lack access to adequate sanitation and fertiliser is expensive.

About us
We're LEAP Micro AD – or MAD LEAP! Passionate about the environment, we combine design, engineering, training and expertise, specialising in small-scale anaerobic digestion (AD), a technology that turns organic wastes into biogas and bio-fertiliser. Our model combines anaerobic digestion and composting for the best combination of outputs.
With London Living Lab prototypes and a fabrication workshop in Wiltshire, we have over 100 years combined experience within the core team. We also have delivery, supply chain and manufacturing partners in place.
Risks & Challenges
Over the last 8-years, we've encountered many challenges.
Scaling down equipment means we lose efficiencies of scale;
Equipment for some processes doesn't exist at smaller scales;
Most of the green incentives for anaerobic digestion have expired, forcing us to look for other ways to make SOURCE economically sustainable.
This led us to:
design and fabricate some of our own equipment;
become experts in the low-cost approach;
form many cross-sector collaborations to find solutions and build networks.
The result?
A robust solution with added social and environmental value with a better economic model, plus more knowledge, determination, skills and connections to make it happen.
Other Ways You Can Help
Even if you can't donate at this time, it would be enormously helpful if you could share this with campaign with your network or any individual/organisation you think might want to support us – the Crowdfunder share tools should make this easy
If you're a company/individual interested in donating anything we could use as a reward, please get in touch!
If you'd like to offer your time and skills, please contact us, we often have several volunteer/intern opportunities and are looking for people who could help us make links with potential customers/communities/businesses looking for a circular, net-zero food solution.
THANK YOU!
Support LEAP AD's work here.
---
The views expressed in our blog are those of the author and not necessarily lowimpact.org's
---
Leave a comment