Posted August 5th, 2015
How you can help cottage industries provide solar in African villages (not for cheap electricity – just for electricity)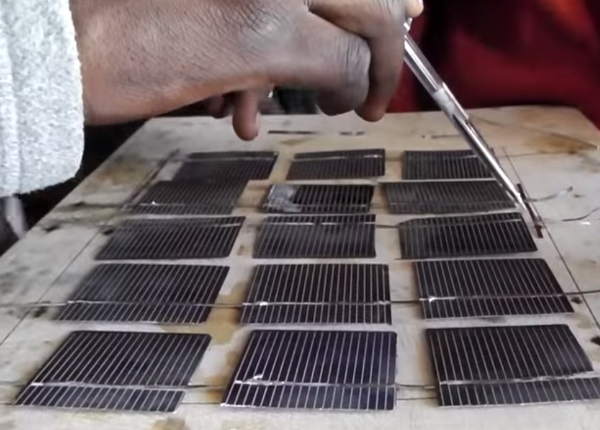 We had a solar electric system installed on our house in London last year by Norman Phipps of Assured Solar. We've had the system for a year now, and its output was almost exactly what Norman predicted, which means we're headed for a 9-year payback time. I'll blog more about this soon.
When he was installing our system, I interviewed him for a guide to everything you need to know about getting a solar electric system installed. You can find the information in the documents here. I can't recommend Norman enough.
Now he's going to use some of the income from installing systems in the UK to help set up cottage businesses in Tanzania and Cameroon, building panels from the waste from the solar industry. These systems will be installed in homes and schools, and in most cases it will be the only electricity supply they have.
So we'd like to suggest that you consider getting an installation from Norman to help fund this project – but also to add to the amount of clean energy generated in this country, and to save yourself some money in the long run. Have a read of our guide first, for more background information.
Now over to Norman.
———————————————————————————————————–
I've been approached by Building Schools for Africa, A UK charity I went to Cameroon with in 2010. They want to put some Solar on a couple of the schools they have built in Cameroon, West Africa. This is not to save money on energy bills, this is to actually have basic access to electricity where there still isn't any at all!
I'd love to do this for them, and I'm not asking for any money. We would pay to supply the equipment and I'll go out to train some local guys in much the same way I did in Tanzania in 2012.
A basic Solar installation for an African school isn't going to cost the earth. We could achieve this with less than 10 sales, maybe even as low as 6. We will be installing basic lighting and basic power for a laptop or two.
We would donate directly to Building Schools for Africa on the completion of each job. I'd propose that we make the donation visible to you and would provide updates and a video of the completed installation. All monies would go straight to the project. No admin, flights or wages – just solar.
Building Schools for Africa have built 60 or so schools over the years. I don't remember the exact number, but I do remember that only 2 have electricity! Pretty sad in 2015. If this approach works there is no reason why we couldn't roll it out to new customers and see where it goes.
Our new promotional video may help your readers see what we are all about.
---
The views expressed in our blog are those of the author and not necessarily lowimpact.org's
---
1 Comment
1

ian thomas September 11th, 2019

Hi Norman

Great work. Are you back in the UK?? You installed a Growatt system fir us in 2017. All good except CT clamp was disconnected and the iBoost. Is there any chance you could come and reconnect these and check the system is working well??? Also need the panels raised to 30′ currently 20′. With many thanks. Best regards

Ian Thomas

GU4 7BH
Leave a comment