Posted August 12th, 2018
Living together 4: how to turn a row of terraced houses into a housing co-op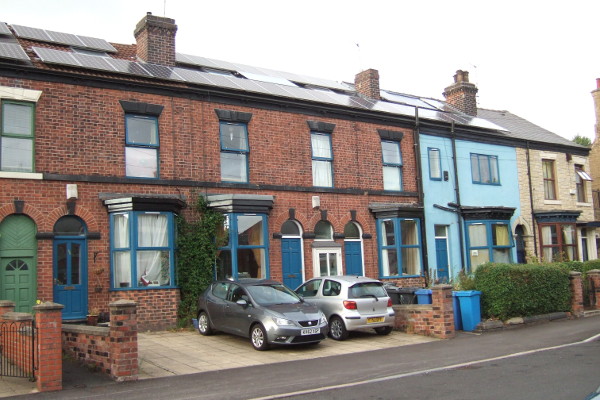 This week we're talking with Rick Watson, who has been a member of Fireside Housing Co-op in Sheffield since 2010. They've purchased and co-operativised 5 adjoining houses on a terraced street. It's the fourth in a series of articles about setting up alternative, co-operative living arrangements – cohousing, community land trusts, housing co-ops, intentional communities etc. A group of us in London hope to gather information to help us start our own project. More on that here.
What kind of a place do you live in?
It's a fully mutual housing co-op in a terraced street in a poor area of Sheffield. We have for 22 years owned four adjoining terraced houses, and just three weeks ago completed on the fifth. So now we have five adjoining houses – the gardens have all been joined together to create one large garden. We're lucky to have an old cemetery behind us, which is like backing on to woodland, or a park full of mature trees. The individual houses are relatively small – with several of them the front doors go straight from the street to the front room.
Over the years we've renovated the properties considerably, starting with council grants for double-glazing at the front, and we've done a massive eco-renovation on the back, knocking down the old cold, damp kitchens and putting up a 2-storey, timber-frame extension along all the houses, airtight right up to where it meets the old roof.
How did you manage to get 5 houses next to each other?
It happened bit by bit. Just one was bought initially, and the second (which wasn't adjoining it) within a year – at a time when property was very cheap in this area. I think the first 4 houses were bought for a total of something like £70-80k, 22 years ago. We've just bought the fifth house for nearly twice as much as the previous 4 cost.
Was the aim to get a row of adjoining houses from the start?
No – there was a group of people (only one of whom has ever lived here – and only for a short time) – all quite alternative, all living in rented accommodation in this area. They knew about housing co-ops, and decided that they should start one. Their intention was to create perpetually affordable housing in this area – but not necessarily together, or even in the same street.
When the first 2 houses became available, private individuals known to the group bought them, and then a co-op was set up which got the finances together to be able to buy those 2 houses from the private owners. Then those previous owners became members of the co-op.
Did they intend to become co-op members when they bought the houses?
Yes. They bought them to facilitate the housing co-op, which had no credit rating, no buying history etc.
How did the co-op then raise the funds to buy the 2 properties?
Largely with loan stock from friends and relatives. They also got a small mortgage, I think from the Ecology Building Society – but that was before my time.
And the houses after that?
A third house came up, and by that time they had a borrowing record, so that property was bought with a combination of mortgage and loan stock from private individuals. The fourth one, which was then in the middle of the row, was privately owned by an elderly woman, who was a friend of the group from the early days. The group kept an eye on her to make sure she was OK. She loved having the group around, especially the kids. But these are old terraced houses with extremely steep staircases, and she said quite early on that it wouldn't be long before she really didn't want those stairs any more, and she'd go into sheltered accommodation. She offered to sell the house to the co-op if they wanted it – and that's what happened. Already having 3 mortgages, it was relatively easy to borrow again.
We've actively kept mortgages going that we could have paid off, even if they've got down to hundreds of pounds – so that we can extend them, rather than re-negotiating new ones. This is in case we need major improvements or if there's an opportunity to buy another house. So the fifth house was bought mainly by increasing the mortgages that we've already got.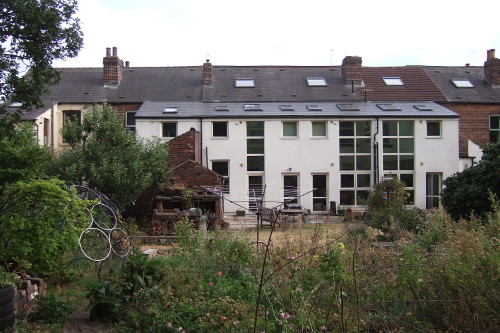 Might any more houses be added?
It's not impossible – there are owners in our stretch of houses who we know, and would talk to us first if they decided to sell. However, the likelihood that this group will make a decision to add another house is quite low for the next few years.
How's it all looking, financially?
We're stretched in terms of the amount of loan stock we've got. It's quite high, so we could be in a postion in a few years where we need to increase mortgages to pay off loan stock. But the loan stock is beneficial to both parties. Lenders get a better interest than they would get elsewhere, and we are borrowing from them at a better interest rate than we could get even from the Ecology Building Society. So it's a win-win situation. But there comes a point when people want their money back, and you have to raise it to pay them back. But on the rare occasions that people have had a financial need so that they have to withdraw their loan stock early, we've been able to pay them.
On the new house, the Ecology Building Society would have lent us as much as we wanted, as we have a good record with them. But at the time, we had an influx of new members, some of whom had family with a bit of money, so we had interest-free loans from various family members, which was obviously more in our interest than a bigger mortgage.
Do all members pay rent?
Yes. We're a fully mutual housing co-op, which means that all members are tenants and all tenants are members. We co-manage the finances – so we decide how much the rents have to be, and we're collectively legally responsible for the mortgages as directors of the co-op. This is my third housing co-op – all very different places, but they were all fully mutual housing co-ops, despite operating in different ways – and all very sound financially.
How many members do you have altogether?
At the moment we're 9 in the 4 houses, and in the new house we're actively seeking a family with children. We're a co-op that's grown up. Our last 2 children have stayed and become adult members. But there's no space for children now. We want to address that, because if you don't have children, you don't attract people with children. Several of the people who've come to look at the house have children, so we're quite positive that that will happen. It needs to happen relatively quickly, as we've started paying the mortgage on it.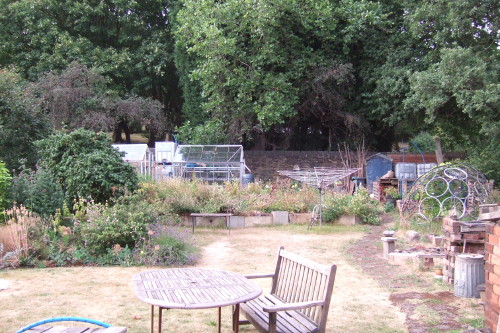 Why did you want to live like this?
Members have very different reasons. I wanted to share things, for ecological reasons, but also for political reasons. There are only two of us here who have owned properties – most people have lived in co-ops as an active political statement. There have been other members who knew nothing about co-ops whatsoever – we've introduced them to it, and they've thought 'what an amazing idea, why aren't there more of them?', and stayed for years.
There are lots of legal models you could have used. Why a co-op?
It facilitates affordable housing. A lot of cohousing groups really struggle to put in an affordable element. The cohousing movement is growing in Sheffield, and it's great. There are 2 already up and running, and there could be 4 soon. They're quite substantial developments, but they're all pretty pricey to live in. One of them is trying to make sure they have an affordable, rentable element. But the 2 that have been able to form quickly and successfully have done high-spec work on big old properties and turned them into units, have been for middle-class retirees, or on the verge of retirement, or in well-paid jobs, and who can sell a house to do it. That's not my scene, although I think they're fantastic, and they're providing a different thing for different people. We know them well and get on with them. I'm here because I want to live a lower-impact life with far less need of income. That's the case with other people here too; others are here because they want a bit of control over their own housing, and want somewhere affordable to live.
How much are rents there?
The basic rent is £53 per week, which includes council tax but nothing else – so on top of that there are bills. We have solar hot water and solar electricity systems, so bills can be kept low. Utilities bills work out something like £20 per month. Then we have an income pooling system which is means tested. So what people pay into the pool depends on their income, and from that pool comes things like contents insurance, water rates, maintenace of houses and gardens, parties and social things that we get up to. In total, people pay around £70 per week, inclusive of all bills, but not food.
What have been your biggest obstacles and how did you overcome them?
I guess living with a lot of people takes work. It doesn't just happen. People have ups and downs in their relationships with each other – so we do actively have to support ourselves and each other when that arises. When people struggle, other members of the group support them. Outside facilitators have been used once I think, but not since I've been here. Usually small internal group sessions are enough.
Sometimes people join, then after a couple of years decide that it's not for them, and leave. That's quite hard – to take the time to integrate people into your close circle, and then for them to leave. Then the integrations starts again with new members. Emotionally, it's quite hard work doing that. It's both a joy and a burden.
If we could splash a few tens of thousands of pounds out, we could make this an exemplar of ecologically-sound terraced housing – we could improve the insulation, the windows and cellars for example. But the only way we could do that is by paying a lot more to live here, and we don't want that. We want it to be at housing benefit levels if that's necessary, although no-one here is claiming it, it's just in case it's needed.
Are you looking for new members?
We are actively looking for new members at the moment, yes. We're looking for people with children, but we've got single rooms available in some houses too. If anyone's interested, they can contact us through [email protected].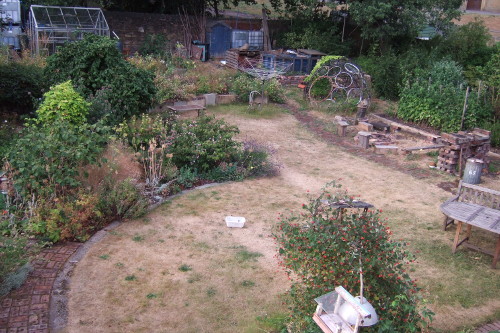 Are you looking for investors as well?
At the moment we're not increasing our loan stock, but we will be. We're interested to talk to people at any time, but we're probably not looking for investments this year. We need to stagger loan stock, and we've taken in a lot in the last year to buy this property – which means we'll have a lot to pay back at the same time.
What's your membership process?
You come on a first visit, after which you either decide we're all mad, and go away, or decide we're not, and come back for another visit. After a few informal visits, we'll fit you in for a few days stay – at a time when you can come to a meeting. If people are in Sheffield, they can get involved in lots of ways. There's a local guy helping me on my allotment at the moment.
Is that a way of jumping the queue?
Ha ha – no, it has to be the right person for everybody. You have to be careful about informality in the membership process. If a potential member becomes very friendly with a member, they might think that everything is hunky dory, when actually someone else might be very dubious about their membership. It can be quite awkward. You have to be very clear, and explain the score to people. Most people get it though.
Do you have internal rules?
Yeah – we call them internal agreements though. People hate the word rules. It sounds authoritarian, when really they're just agreements that we've come up amongst ourselves. Those agreements stay in place until we agree by consensus to change them. So the decision-making process supports the status quo until consensus is reached to change it.
We have a decisions folder, with things that have been agreed at meetings, so that we can look back through them. We have a no cats/dogs policy, which comes up for re-discussion periodically. We have an agreement on eco-paints – i.e. that's what we use – and if people want to decorate their space, the co-op will subsidise the cost of the paint, because eco paints tend to be more expensive.
This place is less rule-oriented than other co-ops I've lived in – it's more to do with consideration for others. In some ways, it's more conventional, like a big family.
Thanks for the chat Rick, and I hope to come up and visit you at some point.
---
Shared from an original post on our sister site – find it here on Noncorporate.org. Why not take the chance to find out your Noncorporate score whilst you're at it? We'll be sharing new interviews every week with key people already building the non-corporate economy on our blog. Stay tuned by signing up for email alerts here.
---
The views expressed in our blog are those of the author and not necessarily lowimpact.org's
---
2 Comments
1

Theresa Munson August 12th, 2018

Interesting! How have you divided the space up? Are there self contained units with communal areas?

2

Rick Watson August 22nd, 2018

Hi Theresa. No separate 'units', unless a family is occupying a whole house, which may well become the case with our new 5th 3 bedroom house. Each of the other four houses has a shared kitchen, bathroom, sitting room and 3 bedrooms. We have interconnecting doors between houses so some people may sleep in one house but share the kitchen in the next house. Usually that means 2-3 individuals sharing a kitchen. Levels of communal meal sharing vary between houses and over time, and we try to eat together as a whole co-op 2-3 times a month, usually on work days or before co-op meetings.
Leave a comment