Posted August 11th, 2019
Networking small businesses and co-ops to replace corporations: Micky Metts on the new economy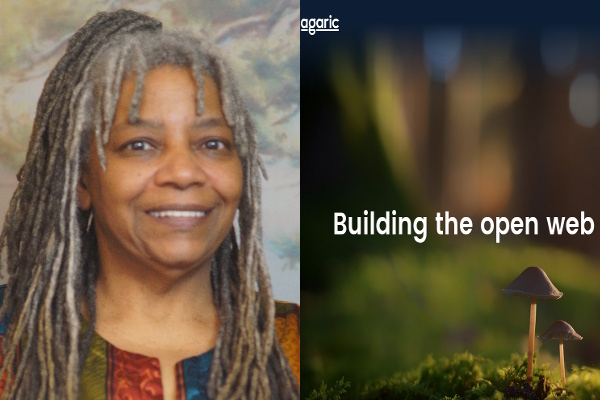 This is part 2 of a conversation with Micky Metts of Agaric – a co-op in Boston, Massachusetts that provides online tools for other co-ops. Part 1 is here. I told Micky about some of the meetings and discussions we've been having in the UK with people working to build 'new economy' infrastructure, like community energy, housing, worker, land, platform, tech and even transport co-operatives, free software, community-supported agriculture, community land trusts, 'commons' etc.
We've been discussing how to accelerate the growth of the new economy, whilst keeping it decentralised. The problem with centralisation is that institutions grow huge, and are no longer really democratic, or worse, like the Co-op Bank, they get swallowed by capitalists (in this case, a hedge fund) and leave a gaping hole in the co-operative economy. And yet it's still called the Co-operative Bank, when it's nothing of the sort (Micky suggested it should be called the 'Co-opted Bank' – very good).
Micky said that it's a problem in the States too, and there are a lot of great people working on ways to keep things democratic, decentralised and out of the grip of corporations. There's sociocracy, the Enspiral group, and many more. Her co-op doesn't want to get large – they've decided on a maximum on 12 people.
When she was at the international summit of co-operatives a few years ago in Quebec, one of the themes of the conference was growing your co-op, and there was, thankfully, a lot of resistance from the audience, who questioned what the growth mantra was for – to look powerful? To make more money? This is not what co-ops should be about. They need to spin off other co-ops, that will do things ancillary to what they do.
It's about federating co-ops and other businesses in the new economy, rather than letting some grow to dominate their sector and become de facto monopolies. Agaric has a weekly online 'show and tell' that usually involves developers, but sometimes involves co-operative workers, who explain about the internal workings of their co-operatives – how they get paid, how they make decisions, who does what etc.
A co-op called Fiqus, from Argentina, has come up with a federated way that they share their development work with other co-ops all over the world. When you see it, it's a no-brainer, but they've laid out a very interesting method of sharing. It's intuitive, but makes it so simple for groups to share work, which has been a technological stumbling block for a long time. See the link above for more details, including the video, which is well worth the watch.
I talked with Micky about the viable system model as a tool for keeping networks decentralised, plus our idea about interviewing people in pairs, to find out about each other's work. She talked about the Radical Connections Network – a bridge between activists and technologists, talking about what needs to be built.
I then went on to talk about the Open Credit Network, a mutual credit network for the UK, explained the difference between mutual credit and local currencies, and also the Credit Commons idea to network mutual credit schemes to create a global mutual credit network. This reminded her of the currency of Boston Ujima Project – the Common Good system of money – a 'community-centred democratic currency' (it operates like a local currency, in that you have to buy into it with real dollars, but you then get credit on a card that can be spent at local businesses and beneficial projects).
Micky is also liaising between the US Solidarity Economy Network and the US Federation of Worker Co-ops, involving over 600 worker-owned companies. I asked if the co-op sector was a sub-set of the Solidarity Economy, and if so, what else is part of it. Her very interesting answer was that the Solidarity Economy is more of a mindset and a framework, as we put together the tools we need to be a self-sustaining community. It goes hand-in-hand with decolonisation. People's minds have been colonised, and ideas about alternatives, especially financial alternatives, are seen as bizarre. The Solidarity Economy is an economy that sustains communities, rather than sucking wealth out of them. Decolonisation has to come first, so that people are ready for an alternative message.
Are sole traders part of the Solidarity Economy? Micky agrees that they probably are – like a single-person co-operative. But what happens if small, local businesses start to grow – some of them will be the multinational corporations of tomorrow (Starbucks was one local coffee shop once), after which, they will put their branches in communities, refuse to pay taxes properly, and put local businesses out of business. Of course it's better to use a small, local business rather than a multinational corporation, but we don't want to inadvertently become a nursery for giant, extractive companies. Who are we in this with?
Micky believes that we've all been brought up to take care of your own – and yourself first. When does that self-care end? She believes that it's when you have enough – then the sharing starts. To stop growing when you have enough. If you have a successful coffee shop, great, but to want to have a branch in every community seems like a 'modern-day mania', where you can never have enough – they've been indoctrinated into the 'scarcity message' – i.e. you'll be left out if you don't join in this expansionist, corporate race.
But growing the new economy as a sector (at the expense of the corporate sector) is something different from growing individual businesses or co-ops. That's not the same kind of growth – the overall economy can stay the same size (or shrink) – just let's co-operativise and decentralise it – make it better for people.
Highlights
Co-ops don't have to grow to a large size to be successful. A decentralised federation of smaller co-ops is more democratic and a better way to build the new economy.
People's minds have been colonised, and ideas about alternatives, especially financial alternatives, are seen as bizarre. Decolonisation has to come first, so that people are ready for an alternative message.
If you have a successful coffee shop, great, but to want to have a branch in every community seems like a 'modern-day mania', where you can never have enough.
---
The views expressed in our blog are those of the author and not necessarily lowimpact.org's
---
2 Comments
1

Michael Monterey October 19th, 2019

Highlight # 2 is the critical prerequisite of sustainable success, mission accomplished: a nontoxic cultural economy sustaining the cultural wellness of a communitarian civilization. It is the key enabling process necessary for establishing a nontoxic global currency exchange and a stable, steady-state global credit commons capable of counteracting the opposition's global national-debt-for-profit money & banking game: neoMonopoly, played by the Fed's "Winners Take All" rules. So, if 80% or 90% of us remain unable to understand the realities, the goal, strategy, methods and mechanics that keep the hyper-rich 0.0005% of us at the tiny tip of their illusory financial pyramid, then how do we break the spell, dehypnotise & re-educate them? The spell has been so pervasively successful for so long it's hard to find a humanitarian cultural innovator willing to consider the realities. I only know 3 or 4 other observers who clearly understand the nature and scale of the problem and the principles & mechanics of the neoMonopoly world game. They also try to help with Any helpful suggestions will be very deeply appreciated. Thanks for all the efforts in The Right direction. MM

2

Dave Darby October 19th, 2019

Michael – yes, when talking with people about a potential credit commons, the biggest hurdle is getting people to realise that the current set-up hasn't been around forever, and doesn't need to be this way. And yes, any helpful suggestions appreciated.
Leave a comment