Posted November 30th, 2016
Nature in December – what to look out for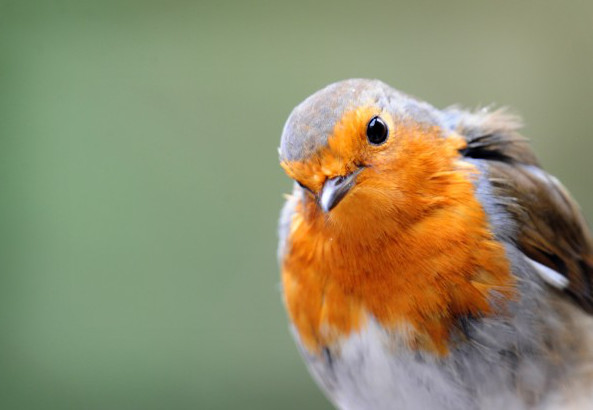 December always naturally makes me think of Christmas, and Christmas makes me think of robins, and this colourful little bird seems to feature on almost every Christmas card I receive and no wonder – it is a bird we very much notice, and associate with, nature in December. There is no skulking in the undergrowth for the Robin and the bright red breast can be picked out from some distance as they sit on the tops of my hedges this month. Robins nest in the garden here, both in a purpose-made Robin box but also at the base of our hedges and sometimes under dense clumps of vegetation in the borders, especially the plant Pendulous Sedge where Dunnocks also sometimes raise their young.
Last year a pair of Robins nested on a small, well drained bank at the back of my house where I grow Lavender. This is an area I walk past several times a day and to avoid disturbing them I initially took a different route up to the vegetable garden, but soon forgot and found I was walking past the young birds with their gaping beaks on a regular basis. Neither young nor adults seemed to mind my presence – parents with food in their beaks simply waited in a nearby hawthorn until I had passed and carried on as usual. Five spotty young were successfully fledged in spite of my comings and goings.
Perhaps it is in part because of the Robin's tolerance to humans that we love them so much – they take advantage of our generosity where food in our gardens is concerned and we in return think of them as our 'special' Robins because they are so friendly. Between themselves however, Robins, especially males, are very aggressive and as the New Year approaches I shall be watching out for males fighting quite violently over their territories around the garden here. With more young robins after last year's successful nests I suspect the competition for nest sites will be fierce but hopefully, with many undisturbed spaces that are available to them, there will be room for all.

Of all the birds that visit my garden, and to date there have been 78 species in total, I am most fond of those that have subtle colouring. Sparrows, dunnocks, warblers and wrens are good examples of 'little brown birds' with plumage that to me at least, seems exquisite. I do like the more brightly coloured birds too – bullfinches are a good example of a species that I would describe as 'gorgeous – ' but the LBJ's fascinate me.
I would add to my favourites the marsh tit – brown, grey, buff and white so hardly colourful, but with  a subtle beauty and a feisty character. Marsh tits are common in my garden, feeding every day from the feeders and around the hedges and shrubs, and in the late spring we often have family parties – they certainly nest quite close by. So recently when I started to see a marsh tit that had something about it that wasn't quite 'right' I took some photos and sent them off to my friend Ian Lewington – county bird recorder for Oxfordshire, bird ID specialist  and one of the best illustrators of bird field guides in recent times.  'My' marsh tit was more pinky buff, dumpier in shape and the cap and bib didn't look quite right. More to the point, the one characteristic that I look for in a marsh tit – a hint of white on the beak – was just not there. Sure enough my bird was a Willow Tit, a species that has declined by over 90% since the 1970's, a victim of habitat loss.
So every day for the last couple of weeks I have been watching both marsh and willow dash back and forth from my feeders. They both cache food so at around three in the afternoon there is a flurry of birds, all feeding before dusk falls and temperatures drop, and in the case of marsh, coal and willow tits, taking sunflower seeds off to hide for later. Seeing 'my' willow tit frequently has foolishly led me to believe I can now instantly identify it even without binoculars – the way it moves, its general shape and colour. I'm sure I am fooling myself, but I just hope it stays around so I can get to know it a little bit better.

This year seems to have raced by and I have been thinking about my wildlife highlights.  Some have been in places other than my garden (some gorgeous birds and other wildlife while on holiday in southern Spain, and the wonderful views of choughs that I had while on a recent trip to Pembrokeshire stand out in particular) but my garden wildlife always gives me the biggest thrill.  The fact that all sorts of wonderful creatures live in or use the garden here is very rewarding, especially as there was really no 'garden' to speak of when I arrived eight years ago.  Since then the numbers of invertebrates, birds, mammals, reptiles and amphibians have risen fantastically and every year something new appears.
This year we had more than 30 new moth species from the moth trap including this Lesser Swallow Prominent and 3 new bird species – reed bunting, snipe and meadow pipit – bringing our total number of birds up to 78 and moths to 186. This number of birds doesn't include species we may see flying over the garden or in the adjacent fields so is a pretty remarkable increase from the 20 or so species seen here regularly when we first arrived. Equally important where moth numbers are concerned is the fact that there are always some I am unable to identify!
There were also large numbers of dragonflies and damselflies using the ponds and there were a great many butterflies, especially the whites throughout the summer, and the influx of peacocks in the later summer months. We also were able to add slow worm to our garden list, which was very exciting! It is very rewarding to know that all this wildlife appreciates the garden habitat here.
Everything happening in my Shropshire garden over the last couple of weeks has been completely dominated by water.  Rain, flooding and saturated ground has made it difficult to do anything constructive outside and has severely restricted any travelling.  It has though, brought many smaller birds flocking to the garden, especially tits, nuthatches and at least one treecreeper.  Marsh and coal tits have been very active, taking sunflower seeds to cache for later in the winter.
The small feeding tray I use outside the back door has food placed on it every few hours, but I have to keep my eyes open for the local Grey Squirrels who will devour the whole lot in a few minutes.  They even take the apples directly from our trees and eat them there and then.  As well as seeing a large assortment of small birds, we have also been lucky here in the last couple of weeks to see both a stoat and a weasel around in the garden, the latter popping in and out of the mole runs and the log store.
But although the wet weather has brought a few less usual visitors, hopefully as we move towards January the wet and windy weather will make way for something more settled and dry. One of the great pleasures of wildlife gardening is knowing that it is possible to do something positive to create habitats for our native wildlife – habitats that do what they are supposed to do.  Wildlife gardening does work!  But it is also a joy just to see what is out there and enjoy it.  Who knows what next year will bring?
---
The views expressed in our blog are those of the author and not necessarily lowimpact.org's
---
1 Comment
1

sarahlstanden November 30th, 2016

I absolutely love your posts! I agree with you about how beautiful 'plain' birds can be – this morning, a wren made its way into our conservatory and, whilst I was trying to usher it out, I got such a wonderful view of its feathers, it was so lovely!
Leave a comment