Posted October 31st, 2016
Nature in November – what to look out for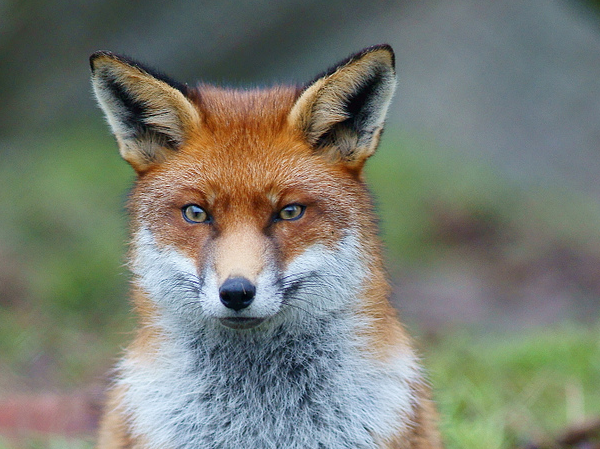 I'm beginning to realise just how much the garden birds occupy my thoughts when it comes to nature in November, as there is little else around in my wildlife garden just now. Apart for a single Bank Vole, a few Grey Squirrels and the occasional Brown Rat from the farm next door, there are no mammals to speak of at the moment, although as the weather gets ever colder we do expect to see a Fox or two.  Our Foxes are quite unlike the urban Foxes that I sometimes see when I am visiting towns – these are often thin, straggly haired creatures that do not really look terribly healthy.  Our foxy visitors are large, robust-looking and obviously well fed with thick, furry red-brown coats and they seem to have a swagger in their step as they wander around the garden and past my office door. My impression is that their main source of food must be the Rabbits that live in the hedge banks and fields here but also a good few Pheasants get killed on our narrow roads – easy food for a Fox wandering about in the early morning.
The other time we see Foxes here frequently is in early summer when they have young to feed. Our garden meadows provide plenty of food for their cubs in the form of voles and mice, so we are used to seeing females here, leaping in and out of the long grass and jumping over the hedge with a mouth full of small mammals. But if a bit of bird-watching is the only distraction from work for me at this time of year, I really can't complain. I expect to see between twenty and twenty five species  here over the next couple of months and I enjoy looking out for a Siskin or Reed Bunting amongst the finches. Redwings and Fieldfares visit for berries and fruit and it is a great pleasure to see many birds here enjoying the conditions I have created for them. But there is something very special about seeing mammals, especially a large male Fox, seemingly unafraid of me, searching the garden for a meal, peering through the glass doors of my office and wandering around the garden as if he owns it.
I have several favourite birds that visit my garden, some of them permanent residents, (Wrens and Marsh Tits in particular) and others that are more seasonal or migratory.  As someone who is not terribly fond of cold weather I find I need a bit of avian excitement to get me though the winter! That generally comes in the form of Fieldfares and Redwings at this time of year, and once we are past Christmas I look forward to Bramblings, Redpolls and Siskins – I am a huge fan of the finch family. This year I have not had to wait until January to get my annual Brambling fix though as a handsome male turned up on my feeding trays right at the beginning of this month. With the extraordinary migration of finches and other birds this autumn, it is not a surprise to see this bird here, but it is still a delight and I hope he will stay around for a while.
When these birds visit the garden in the new year, the males are often on the point of acquiring their full breeding plumage – the rosy orange breast and black head makes them stand out and they are extremely attractive little birds. My current visitor (above) is well coloured but lacking the striking plumage of a spring bird, but handsome none the less. On finding a small feeding tray full of sunflower hearts, he took up residence and angrily fought off Chaffinches and tits until he had eaten his fill. He returned later that day and has been around on subsequent days too. Bramblings breed in Scandinavia and their main source of food in winter is Beech Mast. It is interesting that we have a large Beech tree in the garden here, but I have never seen a brambling eating the seeds – perhaps it is much less effort to sit on a small tray and eat the food that has been put out for him – no husks to remove for a start! In full breeding plumage the male is strikingly beautiful, but even in his less colouful  winter plumage he is still a beautiful bird. I hope as the weather gets colder we will have a few more of this favourite species joining him here.
I often bemoan the fact that House Sparrows aren't a constant presence in my garden. I love these birds and we had plenty in our garden in Oxfordshire so I miss their chirpy personalities and subtle plumage of browns and greys. When we first arrived in South Shropshire nine years ago there were lots around us especially in the summer months when small flocks with plenty of juveniles would appear from the local farms to feed on seeds around the garden. We even had a successful nest and I hoped this would be a yearly occurrence, but alas it was not to be. Our 'sparrow terrace' nest box has only accommodated nesting blue tits and the occasional wasp's nest since its first success as a sparrow home.
Yet if I walk less than half a mile to the local hamlet, the roofs of the houses and shrubs in the gardens are covered in house sparrows. The 'un-modernised' terraced dwellings and stone and brick outbuildings are alive with them and their chatter, and in the summer they are constantly flitting back and forth, feeding on the ground and garden bird feeders and taking food to their nests under the eaves. I have little doubt that our house and garden does not provide good nest sites for them because the modernised and insulated roof space doesn't allow them access to the sort of warm and sheltered spaces they require and we have no outbuildings that fit the bill. Each spring we look around the various areas in the garden to see if there is anywhere that could be adapted to accommodate their nests, but short of building a small tumbledown stone structure (and we have actually considered it) we will have to accept that our rather windswept house with no gaps under the eaves is not what they are looking for, plus it makes the odd house sparrow visit rather special. Twice we have seen a wonderful tree sparrow here – apparently they were once quite common in this area. At least the house sparrows are within walking distance if I am missing them too much.
As the winter starts to creep up on us, there is so much I am going to miss about the warmer weather, but equally there is so much to look forward to.  Last week there were still red admiral butterflies in my garden on one particularly sunny afternoon, but today I have both Redwing and fieldfare here – birds very much associated with our garden in the depths of winter.  The fieldfares, which we sometimes have in the garden in large numbers, are here for our windfall apples.  We grow more than we can possibly use and part of their purpose is the feed the birds – there are enough to go around in that respect.  It is early at the moment to see fieldfares actually in the garden. Usually at this time large flocks are moving over us and alighting in the large hawthorn trees round about to take advantage of the hawthorn berries. It is only when this supply has been exhausted that they normally venture into the garden to eat the apples on the ground, although today one joined the blackbirds under the apple trees. The redwings are far more shy and prefer to eat our holly berries. However, at the moment these gorgeous birds, which are considerably smaller and more delicate than the fieldfares, are rummaging about in the wildflower meadow.
The meadow was cut in September and has been raked very thoroughly over the last few weeks.  It is a rich and diverse habitat at any time of year but the redwings are scratching about and finding food of some sort – small invertebrates is my guess as any seeds here wouldn't be equivalent to the fleshy berries they prefer. Whatever it is they are finding is there in a big enough quantity to ensure they continually return. The local massive flock of several hundred wood pigeons spooks them all from time to time and they fly off only to come back half an hour later which makes me very happy. With their distinctive creamy eye stripe and dark russet red patch under the wing, they are easily my favourite of all our thrushes. I hope they can find sufficient food here for a while yet.
Although autumn weather is with us in many respects – we have had lashing rain, gusty winds and a few cold very nights – we have still only had a couple of proper frosts here so far.  The ash tree in the garden has lost all its leaves but our other trees including a large beech tree, hawthorns and some small oaks, are still fully clothed in their lovely golden foliage.  Birches in the copse are bright yellow and when the sun shines between autumn storms the garden looks positively golden.  The hawthorn outside my office window is smothered with bright red berries, as yet untouched by the blackbirds.  The change in the seasons is noticeable in other ways however, especially with regard to the birds now feeding here.  We have already had our first redwings in the hawthorns and large flocks of fieldfares have flown over the garden several times although it will possibly be a while before they are bold enough to venture to the ground for the fallen apples.
Jays are busy burying acorns in the lawns and around this time ducks, especially mallard, return to the Big Pond to spend the night. I can sometimes hear their rather eerie quacking echoing around the garden at twilight, even though I can't see them.  We have also seen pied wagtails on the house roof, presumably stopping off here on their way to a roost somewhere.  Best of all the marsh tits and coal tits have come back to the feeders. They are amongst my favourite bird species and the feeders on my office window are being visited constantly by a stream of these smaller birds. The complete absence of house sparrows is a worry though as they generally return to us about now to take advantage of seeds falling from the hanging feeders.  Instead we have rather a lot of pheasants, many of the males obviously tainted with genes from the Reeves pheasants that are sometimes released around us.  Perhaps we need a little snow before we have our full compliment of winter birds and I suspect it is on its way.
The weather is considerably cooler here now and there is a real feel of autumn in the mornings.  This has meant the arrival of the winter thrushes, and I can put up with any amount of cold weather if the consequence is have redwings and fieldfares in the garden.  The largest flock of redwings I have ever seen here – over 200 – arrived a few days ago and are making their way around our little valley eating every berry in sight.  Fieldfares so far have only arrived in small numbers but they are as grumpy and feisty as usual and already arguing over the remaining apples on two of our biggest trees.
Gardening at this time is certainly lessening, as I tend to leave alone as much as I can from now until the spring.  So much lives here in sheltered places that I have no desire to disturb hibernating mammals and invertebrates.  Raking up leaves though is a job I do when I can, as we have a large number of trees here.  The leaves all go into the chicken wire leaf compost area where they can be left to break down over time, while making a great wildlife habitat and a place for blackbirds to search for food.
---
The views expressed in our blog are those of the author and not necessarily lowimpact.org's
---
Leave a comment