Posted September 30th, 2016
Nature in October – what to look out for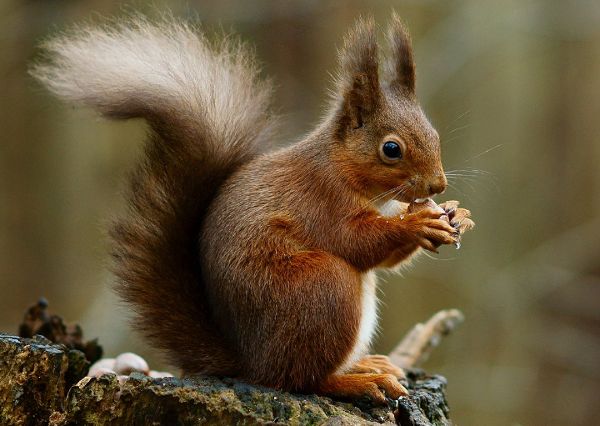 This time of year is usually holiday time for me, so, when it comes to nature in October, my trips away from Shropshire and my garden have to involve a large element of looking at wildlife and hopefully walking in beautiful countryside. This article covers holidays I've had in recent years. A trip to Scotland seemed like a good idea and indeed it was – the weather for the majority of my time there was glorious, after apparently the worst summer for many years.  The weather doesn't bother me too much when I am away as long as I can get outside every day, but the warm sunny weather has meant lots of long walks in the hills and along the loch sides and several visits to a wooded spot where the local Red Squirrels are fed, enabling me to see these stunning little mammals close up and to photograph them. Back in my wildlife garden we are overrun with Greys, but not a single Grey Squirrel has been seen here due to the presence of Pine Martens and the nature of the complex relationship between these three mammals.
Pine Martens have recently been re-introduced to Mid Wales, just a short distance from my home in Shropshire, in the hope that their predatory nature where Grey Squirrels are concerned will bring about a change in the numbers of these non-native mammals, allowing Red Squirrels back, either naturally or by introduction. The Reds here are amazing little and very beautiful mammals. They vary tremendously in colour from dark reddish brown to almost orange! They are lively and argumentative, agile and extremely cute! The feeders encourage them to particular spots designed for squirrel watching, but I have also seen them in other places on my walks, and sadly, one dead on the local road. A Pine Marten has not been seen here, although we know they are around us and it is a mammal I have wanted to see for a very long time, but the squirrels have made up for that. And who knows – I may be adding Pine Marten to the other mammal species regularly seen in my garden sometime in the not-too-distant future.

It is very difficult to leave a large garden at any time but everyone needs to get away from time to time and my recent holiday was to Dordogne in Southern France. I always look forward to seeing wildlife in other gardens and inevitably there is the excitement of seeing something different. The garden around the area I was staying (bearing in mind that the weather was excellent) was alive with wildlife of all kinds especially butterflies. There were four species I had not seen before – the Southern White Admiral, Bath White, Long-tailed Blue and a fascinating little hairstreak called Geranium Bronze. This was a mystery to me when I first encountered it. I was unable to find anything that resembled it for this particular area of France. After a bit of internet searching I realised that this was in fact an alien species – one that has also appeared in recent times in the south of the UK. The species is actually a native of South Africa where its larval food plants are Pelagonium and Geranium.
This tiny butterfly has travelled widely on imported potted plants and can now be found in several countries around the Mediterranean. It has also appeared briefly in southern UK. It was feeding mainly on rosemary flowers and seemed to be fairly sedentary – always appearing in the same warm, sunny spots around the garden. It was interesting to see that most of the invertebrates around this area, whether they were butterflies, bumblebees or hummingbird hawk-moths, were feeding on Buddleia! Other than that, Rosemary, Perovskia and Charlock (for the whites) were the most popular – all plants that perform well in our slightly colder gardens in the UK. However the numbers of butterflies were distinctly higher than they are  in Shropshire, the most notable butterfly habitat being the many small meadow areas on roadsides and between fields, full of native wildflowers.

I am always interested to see the wildlife around gardens during holiday trips and was certainly not disappointed in Almeria in Southern Spain where it was possible to see a large range of exotic species including long-tailed blue butterflies, Black Wheatear, Sardinian warbler, praying mantis and Bonelli's eagle to name a few and I didn't even need to leave my shady lounger by the pool! Long walks in the foothills of the Sierra Cabrera and trips further afield, especially to the wonderful wetland area of Cabo da Gata, gave me even more opportunities to see new birds, butterflies and dragonflies plus terrapins, lizards, snakes and many fascinating invertebrates.
I was surprised by how impressed I was by the greater flamingo and saw several new bird species including slender-billed gull and kentish plover.  But also it is always interesting to see 'our' wildlife in a different location.  Common butterflies in Almeria were clouded yellow and painted lady, house sparrows and jackdaws flocked around my apartment and the chattering of the local wagtail roost sounded much the same as it does in Ludlow!  Here at home now it is cool, misty and damp but on a positive note the Big Pond is completely full again indicating that there has been a lot of rain while we were away, but the borders are still bright with flowers, especially Michaelmas daisies and a solitary red admiral butterfly was seen yesterday.  Plenty of yellowhammers and red kites around the garden, plus the return of species such as marsh tit, mean its good to be home.

In Cornwall I enjoyed gardens very different from mine here in Shropshire, as well as catching up on some wildlife watching along the coast.  I always find it inspiring to look around other gardens and often I come home from trips away with ideas for this garden, with a list of things I would like to plant here that I don't already have.  Rarely do I see a garden with as much wildlife as this one, and that gives me a great deal of satisfaction.  I must be getting something right!  The garden of the cottage where I was staying though, had running water in the form of a sparkling stream and a Grey Wagtail frequented the garden from time to time, so that was a positive bonus.
Often the gardens I visit when I am on holiday are those under the care of the National Trust and generally tend to be very large, but I am sometimes disappointed with the lack of planting for wildlife.  But still they are beautiful gardens and I enjoy them very much. Back home the autumn is well and truly upon us.  There have been frosts while we have been away, but still plenty in the vegetable garden.  Apples too are still in need of harvesting so hopefully there will be some pleasant weather to tempt me out, although it probably won't be as warm as Cornwall.
---
The views expressed in our blog are those of the author and not necessarily lowimpact.org's
---
Leave a comment