Posted December 23rd, 2014
New website, new name & the power of networking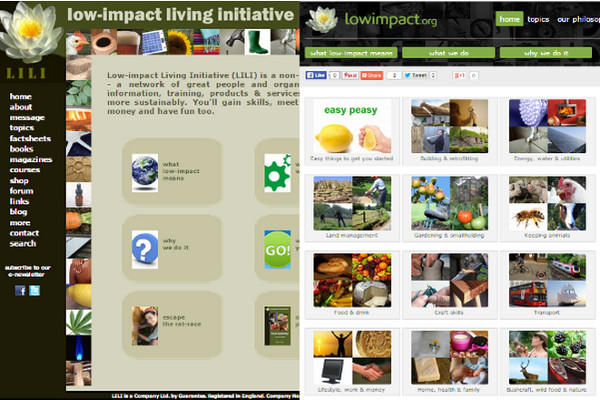 Goodbye old website (left), hello new website (right) – and with the new website comes a new name. Since we started in 2001, we've always had a bit of a problem with our name. The long-hand version was too much of a mouthful, and many people didn't seem to notice that LILI was an acronym for Low-impact Living Initiative, and so we were sometimes called Lily, Lilly, Lilli, and some people were convinced that our website was lili.org. So we've tried to solve all these problems in one go, by calling ourselves Lowimpact.org. Now there's just one name, it's not complicated, and there's no acronym. And of course, you can't know our name without knowing our web address any more.
We're also doing things differently. We started out by running our own courses – in how to make biodiesel, building your own solar hot water systems, compost loos, building with lime, straw-bale building and more. We were approached by Hackney City Farm, who asked if we would run courses in London, and we agreed. We then started running courses in other cities, after which we started taking bookings for other course providers, and the size of our course programme grew. Since then, the website has grown exponentially, as we have become a network of small companies providing courses (including online courses), products and services in all of our 200 topics.
We also publish books, run the WWOOF organisation and provide tons of free information and advice. But we'd really like to develop as a network of like-minded groups over the coming years. Here's what we'd like to achieve with the network:
1. promoting small businesses doing good things
There's a lot of informal networking going on between small companies and organisations involved in natural building, food production & distribution, renewable energy, craft skills etc. We often meet and chat at events, festivals etc. The conversation tends towards the environmental and social problems facing us today, and how our businesses can contribute to solving them. We'd like to build a formal network and allow the public to join in on the conversation too.
But I have to stress that we're talking about small companies doing good things. I was at a family fun day / green event in Southampton several years ago and our marquee was next to a company called Windsave. I hadn't heard of them, so I went over to chat. There didn't seem to be any interest in environmental problems, and the only conversation they wanted to have was about their new house-mounted wind turbine and how many units they were planning to sell. When the local authority buyer appeared, I was dropped mid-conversation as they rushed over to schmooze him. I did a bit of research on Windsave, and the people in the know seemed to think that unless they'd found a way to break the laws of physics, their turbine was never going to generate as much energy as was used to make it. Which? agreed (see here) – their research found that the inverter used more electricity than the turbine generated! The public agreed too, and Windsave went bust in 2009.
And as for the corporate sector, we're tired of large corporations jumping on the green bandwagon – for example, bringing out a range of 'eco' cleaning products because they 'really care about the environment', although the majority of their products are still highly toxic; or getting into renewable energy when they really don't have the expertise. The corporate world wants to take over the green world – from the genuine companies that have done all the groundwork. We want to stop them, by networking to provide the public with good advice, products and services and to ensure that money is channelled to the people who believe in what they're doing and know what they're talking about.
2. promoting the low-impact sector as a whole
We'd like to play a part in building a new kind of economy from the grassroots.
Practically, this is the idea. We already know of thousands of great people and companies doing useful, interesting things, and we think that there could be an awful lot of 'cross-pollination'. I think that people who have solar panels installed might be exactly the kind of people who might want to join their local Transition group; and that someone opening an account at their local credit union might be exactly the kind of person who might want a veg box delivery; or that someone visiting a herbal practitioner might be the kind of person who's thinking about 'downshifting', learning a craft skill or building a natural home.
We think that we are the ideal platform for introducing the public to good companies working in a wide range of fields. We cover 200 different topics on our website, and we have plenty of experience of dealing with sneaky marketers and disguised corporate branches. We know how to keep them out.
3. spreading a message
I started Lowimpact.org (as LILI), in 2001. If I could condense everything I've learned since then into one sentence, it would be that if we continue on the same path, we're finished. We can't continue to degrade nature forever, because nature will get rid of us. Sorry, that was two sentences, but you get the point.
So I'd like to promote an alternative worldview. Here's a summary, and here's more in-depth information. We didn't initiate it – it's been put together over the years from research into ecology, economics, land, politics and philosophy. We know academics, campaigners, writers and movers & shakers in existing networks who share our worldview – such as Transition, Permaculture, and groups working on land issues (the Ecological Land Co-op, Lammas, Simon Fairlie etc.), as well as alternative finance and economics, food, community-owned renewables, natural building, transport – it's a pretty huge list. What I want to say to them all is that although we're doing great things, we're losing, and losing heavily. I'm tired of losing – I want to start winning.
So I want to somehow start brainstorming with these people about how we might start winning – to come together so that we can all punch above our individual weights. Again, I think Lowimpact.org might be a good platform for that.
4. helping to stop pointless ideological battles
I think that most of us now get that we're going in the wrong direction. If you step back, especially if you have kids, and look at the technological advancement in (and the sheer amount of) weaponry and toxicity, you can see that it's really dangerous. Nuclear weapons, nuclear power, fracking, pesticides, plastics, waste incineration – it's all toxic and it's all about making money.
Most people are kind and honest, but some people aren't – and unfortunately, kindness and integrity are not the quaities that get you to the top in this system. We need a new system. So let's come together to talk about what to do about that. It doesn't matter if you consider yourself right-wing or left-wing, neutral, green, libertarian or anarchist. If you recognise that we're not headed in a good direction, there are ways that we can work together to change direction, whilst still disagreeing on other things. I think Lowimpact.org is a good vehicle for this network, because:
We have a unique website, with 200 different topics.
We're a growing network of makers, fixers, teachers, growers, builders, installers, academics, campaigners and thinkers.
We have a message you can get behind – and help change if you disagree with it.
We're not party-political, and we don't have an ideology (we don't think that recognising where power ultimately lies is dependent on an ideology).
We want to debate and promote change in the planning, economic and political systems.
We intend to offer free franchises to groups in other countries.
We're a not-for-profit organisation – all money will be used to employ people, build the network and promote.
We won't ever take corporate advertising.
5. what you can do
If you disagree with our philosophy, there are plenty of places on this website to argue that our economic system can grow forever, or that we are not destroying nature, or that ultimate power isn't corporate. I'm interested in having those debates. But if you do agree, then let's get together to punch above our weight, because our argument isn't being heard. Here's how.
If you're a small business doing stuff we like, join the network.
If you're not a small business, join as an individual.
Add the network logo (right) to your website.
Blog with us, comment on other people's blogs, answer questions or debate on the forum.
We can help campaign for things like land reform or a steady-state economy, and we can debate how we might initiate systemic change. Meanwhile, it's the 'cross-fertilisation' that's very interesting – all our little boats are raised on the same tide and we can really start to challenge the way the world is run.
---
The views expressed in our blog are those of the author and not necessarily lowimpact.org's
---
1 Comment
1

Dani Austin July 29th, 2015

This is completely inspiring!
Leave a comment