Posted January 22nd, 2019
Help bring community energy to North Kensington with the NKCE share offer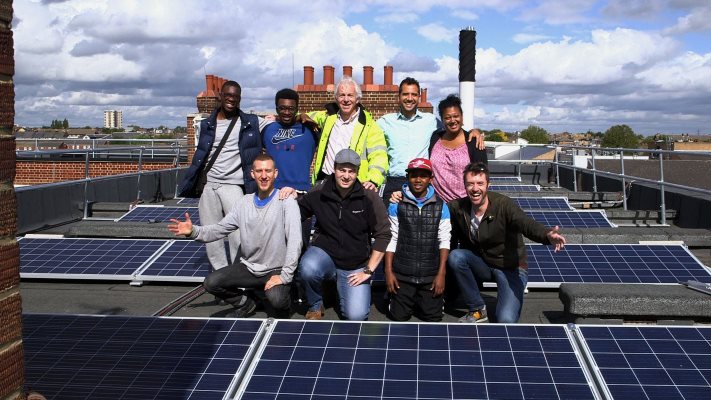 North Kensington Community Energy is the first community-owned energy enterprise in the Royal Borough of Kensington and Chelsea. They are installing solar panels on 2 primary schools and a community centre.
Electricity from these climate change fighting solar panels will help power the schools and create a community fund of £28,000 for local groups but they need some help to make it happen. Over to Juliette Gauvain to tell us more.
---
You can invest and become a member of NKCE. By purchasing shares you will be raising the money we need to buy and install the solar panels. Once they are installed, the solar panels will generate clean electricity for 20 years and you will receive your investment back and interest at an average of 3%.
How it works
North Kensington Community Energy is a Community Benefit Society set up to allow people to invest in renewable energy generation while sharing the profits between investors and the local community. The project will be funded through the community share offer where the shareholders will make up the membership of the Society and have a say in how the project is run.

The sale of electricity from the solar panels aims to repay investors a 3% IRR on their investment and create a Community Fund to be used in the local area. The 86.27 kWp of solar generation is enough to power 23 homes, saving 32 tonnes of CO2 a year. The solar panels will generate £28,000 for the community fund over the lifetime of the project.
Key community benefits
Reduced energy bills for the schools and community buildings in the project
Creation of the NKCE community fund
Reducing CO2 generation
Encouraging interest in science and energy issues and inspiring wider environmental activities in the borough
Sustainability and energy usage projects with schools
Allowing the wider community to take positive action against climate change while promoting renewable energy
Our sites
We wil be installing the solar panels on
Avondale Park and St Anne's Federation of Schools
The Dalgarno Trust
Thomas Jones Primary School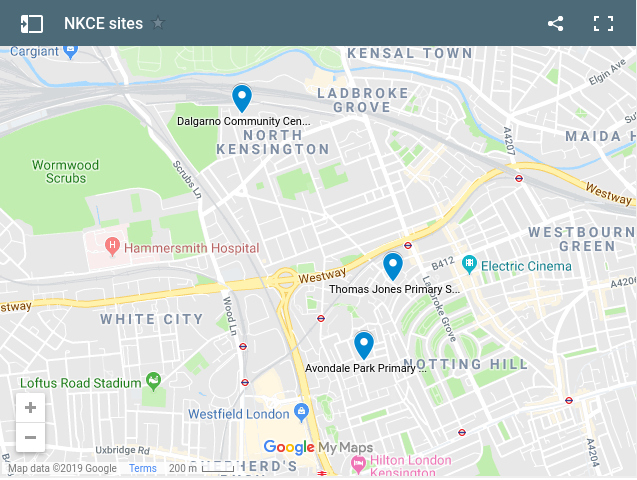 We are already working on sites for phase 2, which will include Westway Leisure Centre, Kensal New Town Housing Estate, Acklam Road Estate and others.
Work experience and training
In autumn 2018, Repowering ran an AQA accredited paid training programme for 16-19 year olds from the north of the borough as part of the project. This training was funded by the blowUP Media Community Fund and the Bank of America. We plan to continue this work in 2019.
We will also work with our solar installers to create work experience opportunities for local tradespeople, helping North Kensington residents to gain the skills needed to work in the renewables sector.
How to get involved
NKCE is a community project run for and by the people of North Kensington and beyond. There are lots of ways to get involved and have your say in how the project is run. We hold regular meetings that are open to anyone to attend, if you would like to know when the next meeting is please email Dave Fuller ([email protected]) or visit our Facebook page.
If you would like to know what it's like to volunteer with a Repowering project have a look at this video from our Vauxhall Energy scheme.
Invest in NKCE
To purchase the solar panels, NKCE is rasing funds through a community share offer, open until 22nd February 2019. The solar panels will remain the property of North Kensington Community Energy. You can invest in the project here. If you would like to invest more than £5,000 or donate to NKCE please contact Dave Fuller on [email protected].
Our funders
The NKCE project has been funded by the Royal Borough of Kensington & Chelsea Council Climate Change Team and the Mayor of London's Energy for Londoners programme.
About the Energy for Londoners programme

The Mayor's £34m Energy for Londoners programme aims to make London's homes warm, healthy and affordable, its workplaces more energy efficient, and to supply the capital with more local clean energy. The London Community Energy Fund contributes to the Mayor's ambition of London installing up to 2 gigawatts (GW) of solar energy by 2050, and around 1 GW by 2030.
---

Repowering London is a not-for-profit organisation that specialises in facilitating the co-production of community-owned renewable energy projects.
---
The views expressed in our blog are those of the author and not necessarily lowimpact.org's
---
Leave a comment