Posted November 18th, 2021
Support the Landworkers' Alliance by buying their beautiful 2022 calendar
We'd like to bring the Landworkers' Alliance to your attention if you don't know them already. They're a wonderful organisation that could do with your support. You could help them in a small way by purchasing their beautiful 2022 calendar, or if you have a shop, ordering in bulk at a discount to sell on.
---
For the year following COP26 this calendar showcases twelve practices and activities that are part of the solution for cooling the planet and building the world we know is possible. From Agroforestry to Seed Saving, Soil Health to Coppicing, there's a range of stories, all beautifully told by on the ground practitioners. Once again the stories are accompanied by beautiful images from artist Rosanna Morris – the talented, socially engaged artist behind our last three sell-out calendars, and are beautifully reproduced onto 100% recycled paper.
Whilst always tracing back to the land, the solutions featured here are expansive in their outlook: "Our clothing can be a carbon sink" you will read in April as we examine how we can grow our clothes and undo the destructive impact of disposable fashion. "Let's grow our houses!" is the rallying cry for July, as we look at the climate impact of our housing stock. And in October, we move of the land and onto the sea, to look at how climate and social justice interweave for fishing communities here and around the world.
With justice and community at their heart, these examples are accompanied by 9 more hopeful, real world solutions to the climate crisis that we can put into practice right now.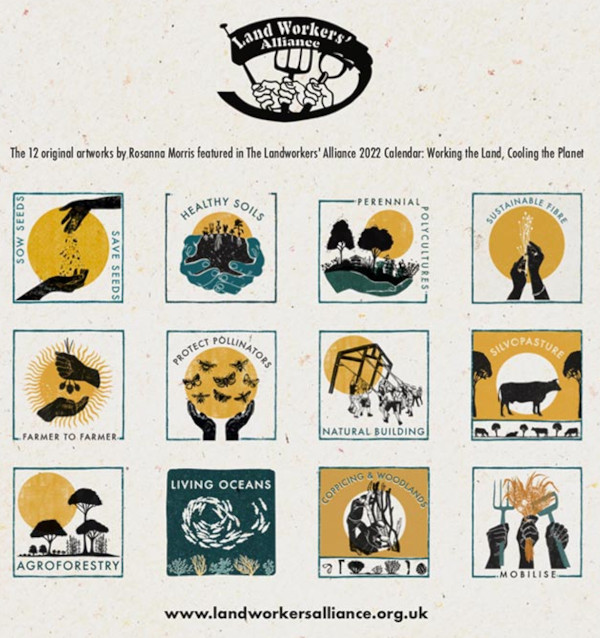 The Landworkers' Alliance is a union of farmers, growers, foresters and land-based workers. Our mission is to improve the livelihoods of our members and create a better food and land-use system for everyone.
We have a vision of a future where people can work with dignity to earn a decent living and everyone can access local, healthy and affordable food, fuel and fibre – a food and land-use system based on agroecology, food sovereignty and sustainable forestry that furthers social and environmental justice.
---
Here's the link to buy the calendar.
Shops and retailers etc can also stock the calendar – wholesale enquiries to [email protected]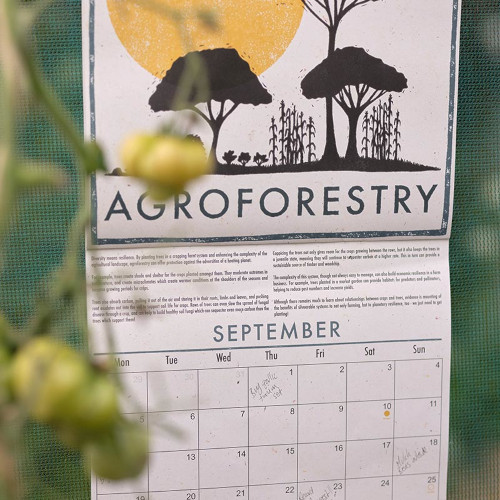 ---
The views expressed in our blog are those of the author and not necessarily lowimpact.org's
---
Leave a comment