Posted January 16th, 2018
The Wool Journey Part 6: grading, sorting and storing of fleeces following shearing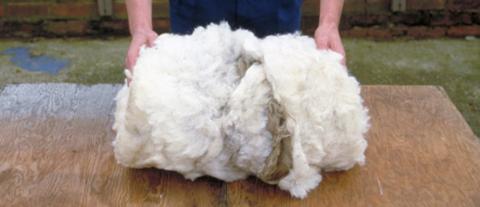 In the sixth installment of The Wool Journey by Sue Blacker of The Natural Fibre Company and Blacker Yarns, she outlines the crucial steps of grading, sorting and storing of fleeces following shearing.
Having described how the quality of wool is critically affected by the health and type of the sheep, it all begins again immediately after shearing!  It is a real shame and can ruin the results if the next steps are not followed as soon as practical.
This crucial next stage starts the transformation of the raw material, bringing together the vital producer quality and aspirations with the capability and expertise of the processor in exploiting the potential of the fibre.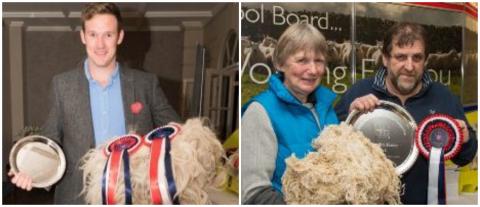 These are the photos of the winners of the British Wool Marketing Board Golden Fleece competition, being a Scottish Blackface (on the left) in 2017 and a Blue-faced Leicester in 2016 – very different styles of fleece but each was judged the best overall fleece entered in the competition across the UK in those years.
Not all of every fleece is wonderful! So it is worth sorting and grading the fleeces as they come off the animals. This is because neither humans nor machines can remove all contamination later and even the most well sorted and graded fleeces will only be as good as this initial important process. Grading is deciding on the fibre quality of a whole fleece, for fineness in particular, and also on type (lustre, Longwool, downland, etc.). Sorting is separating the different types of fibre, removing contamination, and possibly sorting the colours (in particular with Jacob wool) as well. To do a good job, both actions are required if working towards a high quality end product. Just grading can result in leaving contamination in the fleeces and just sorting can result in leaving a very mixed bag of fibres.
In Australia, New Zealand and the Falkland Islands, the belly, crutch and neck wool are bagged up separately as of lower quality due to shortness, sweat and dirt and of course no dags (bits of poo stuck in the fleece), bits of vegetation or marker paint is permitted. In addition, the fleeces will be sorted and graded according to the degree of whiteness.
Here in the UK, because the wool is used mainly for carpets, a mix of fibre from a group of sheep is actually more helpful for a strong durable yarn. Indeed the ideal carpet yarn consists of a blend of mountain/hill sheep with their strong, possibly slightly lustrous wool with downland sheep with their bouncy crimpy wool: to achieve both durability and comfort underfoot.
The Wool Board has a quite lengthy list of avoidable faults which reduce the quality of wool, available here. Sending fleeces with these faults, even if they are good quality fibre, will result in a lower price to the producer.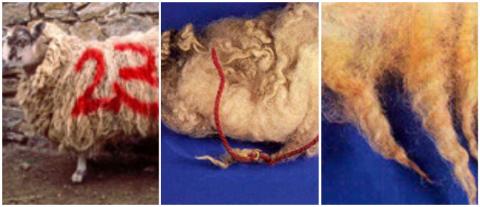 Some of the most obvious faults are shown above – completely avoidable!  Graffiti markings, cord or the odd traditional habit of dyeing some sheep, particularly Suffolks and Texels a gold colour, or Herdwicks a red colour for showing completely reduce the value of fleeces!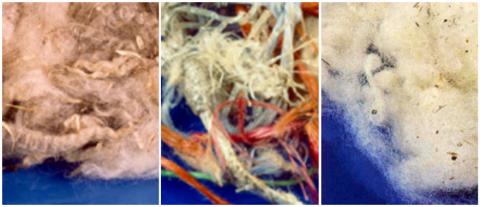 Less easy to avoid is vegetable matter, whether large like straw and hay or small like dust and dirt, or both!  Kid angora goats have a particular habit, as do lambs, of nesting under  hay racks and therefore collect more vegetable contamination than older animals, which is a  nuisance as of course they also usually have finer fleeces!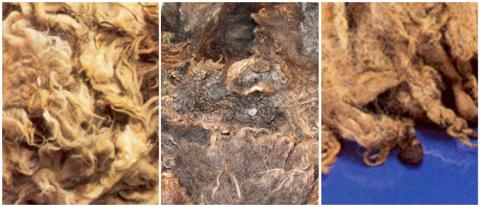 Finally there is a group of quite avoidable faults, like damaged fleece (left above) due to damp and rot in poor storage, matted fleece (centre above) due to late shearing usually, or claggy, daggey fleece (right above) due to dirty conditions in the fields and poor weather.  In the "olden days", shepherds could drive their flocks through the river, hence the place-name of Sheepwash, to get them clean before shearing but nowadays this risks water contamination so maintaining clean conditions and leaving them out in the rain are today's options!
The Wool Board also has an extensive list of wool grades, as befits the enormous variety of British sheep breeds, so that the quality of the wool will be assessed as to 6 main grades according to type (lustre, downland, specific breed, etc.), then further, with a very wide range of sub grades, including:
Fineness/age
Uniformity of fibre, style, colour, soundness and length
Quality and degree of contamination, weakness, discolouration, coarse fibres
Natural colour
If, as a producer, you pick up the fleeces yourself at the time of shearing, you can quality control, reject waste, colour sort and keep an eye on things as you go – delegation of this vital job should only be done to people whose opinion you respect.  Also once the stuff is in sacks, and stacked in the barn, it's very easy to forget about it until you want to use it and then you discover that there is a great deal of sorting out to do, which would have been quick and easy at shearing and is now a mountainous task!
Once the fleece is off, it should be correctly separated – for alpacas the blanket, neck and legs should all be bagged separately – the leg hair may be sold for duvet stuffing, the neck for needle felting and the blanket, provided there are not too many medulated hairs, can go for yarn.  For sheep, the fleece should be skirted, and to achieve the best price, for instance from a hand spinner, who will usually pay the most, this means no belly wool, no crutch, no dirt, dags, vegetation or other contamination and also the dirty edges all around the fleece pulled off to leave a nice clean result.  Animals with very varied fleeces may benefit from the coarser hair from the back legs being separated into a different batch.
Second cuts and leftovers from sweeping the shearing board and all rejected fibre, dags and rubbish should be kept separately and mulched or otherwise recycled.
Finally, the fleece should be correctly stored: rats, birds, mice and damp are all dangers to be avoided.  Moths will invade especially alpaca fleeces.
All wools and fibres contain a varying proportion of lanolin ranging from 6-7% for alpaca, 10-15% for mohair, 15-20% for most British wools up to even 30% for Merino.  Lanolin is good for water-proofing the animals but will also encourage bio-degradation, and if there is damp as well, fleeces quickly become mildewed and smelly, with the smell being almost impossible to scour out.
Therefore storage in clean, dry conditions, not in plastic bags, but paper or fabric sacks or purpose designed wool "sheets" from the Wool Board is important.  The sacks should be stored off the ground, for example on pallets, or hung up, and the fibre should be processed as soon as possible.
It is possible to store wool for up to 3-4 years to collect a particular type or quantity and it can still be processed, but it does slowly dry out or otherwise deteriorate and is ideally processed as soon as practical for the best quality.
To aid quality for storage, washing at home, or fermenting in water are options, or sending to a mill for scouring can be done – this will prevent deterioration even if you do not know what you finally want to achieve from the fibre.
---

About the author
As British wool spinners, The Natural Fibre Company add value by processing quantities of fleece from 20 kilograms up to over a tonne and more. As we scour, card, dye and woollen and worsted spin under one roof, we are effectively experts in all aspects of the process of turning raw fleece into high quality yarn. Most of our customers are in the UK for rare and specialist breeds.
---
The views expressed in our blog are those of the author and not necessarily lowimpact.org's
---
Leave a comment