Posted May 29th, 2022
Is it time to rethink the UN's Sustainable Development Goals?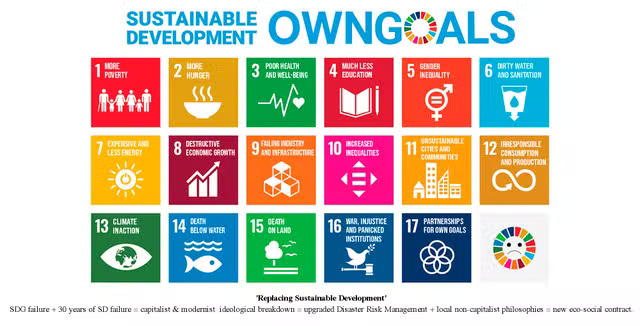 I always assumed that the Millennium Development Goals, and since 2016, the Sustainable Development Goals were unequivocally good things. The United Nations, caring for all people, sets targets for the improvement of the human lot in various specific ways: reducing poverty and hunger, improving access to clean water, electricity, education, and such like. Until recently I didn't realise that these goals, and the way they are implemented, are based on some very questionable ideas.
Let's take 'Sustainable Development'. This ideology was widely adopted in the late 90s as a compromise between the need for most countries to grow to catch up with the West, and the realisation that resources are finite and that the greenhouse effect was a threat. Of course, the rich countries, who pull all the strings in the UN, had already developed unsustainably, and would continue to develop without UN support, so however 'sustainability' was supposed to restrict development didn't apply to them. Meanwhile 'less developed' countries were paid to develop, essentially more slowly, and to fall further behind in the economic race.
Beneath that is the notion of development itself, which goes back some decades further. Development is the public name for what rich countries 'do' to poor countries. It entails lending them hard currency, guiding them to spend the money in the 'right' way – much of which involves buying rich countries' technology, shaping their economies towards exporting raw materials, ensuring they don't slide too far to the left, and of course increasing the standard of living, or at least GDP. This is a cynical take, of course, but scholars more learned than I have called it neo-colonialism. And when development projects fail to generate local wealth, which is often, the end result is much the same as colonisalism.
At LowImpact we imagine development in a very different way – not poor countries becoming more like rich ones – but all communities becoming more self reliant in their environments, happier yet coordinated in order to be able to tackle global issues. As David Fleming, in Lean Logic, explains:
large-scale problems do not require large-scale solutions; they require small-scale solutions within this kind of large-scale framework
We imagine technology increasing the resilience and autonomy of communities and people, rather than plugging everyone into a single global technology-control grid with many points of technical and political failure. Instead of those proprietary technologies competing in the marketplace to maximise profit, we think that technology serves us much better when done in the spirit of open source collaboration.
All this development discourse is premised on a cultural expectation of economic growth and 'progress'. People and politicians alike have come to depend, psychologically and structurally, on civilisation expanding and improving forever. This is evident in narratives around economic growth (including 'green growth') – the subject of SDG no. 8 – which appears oblivious to the finite nature of energy, rare earth metals, productive land etc, and deaf and blind to the need for rich countries to scale back consumption by an order of magnitude. The SDGs instead assume that we can all get richer if we just manage resources more carefully and fairly. This is a myth.
The slowing of 'progress' is becoming more and more apparent economically and politically. A UN report last month included this:
Humanity's broken risk perception is reversing global progress
The same report, going into more detail, blamed economic growth which is, awkwardly, as we mentioned, SDG number 8.
A new paper by Prof. Jem Bendell proposes that the whole SDG framework should be ditched for all these reasons. Development, in the context of progress, is accelerating our civilisation towards its physical limits in ways that almost appear calculated to cause maximum damage and suffering. This week Bendell showed up at a conference of the United Nations Office for Disaster Risk Reduction (UNDRR) with a public letter signed by 100 academics stating that the Sustainable Development framework should be replaced with Disaster Risk Reduction, because the future will be more about disasters than about development.
The letter highlighted a particular approach to disaster preparedness, which is gaining strength, called locally-led adaptation, which is an attempt to make sure the recipients of 'development' are also the main beneficiaries.
As I said, the SDGs don't have much bearing on developed countries, but the rise in disasters, especially wildfires and floods, is noticeable, so more emphasis on preparedness seems like a good thing. The whole development agenda has a very mixed track record and we agree that 'Sustainable Development' is sounding more and more like an oxymoron.
---
The views expressed in our blog are those of the author and not necessarily lowimpact.org's
---
Leave a comment