Posted September 13th, 2018
A woodland classroom for north London – help OrganicLea make it happen!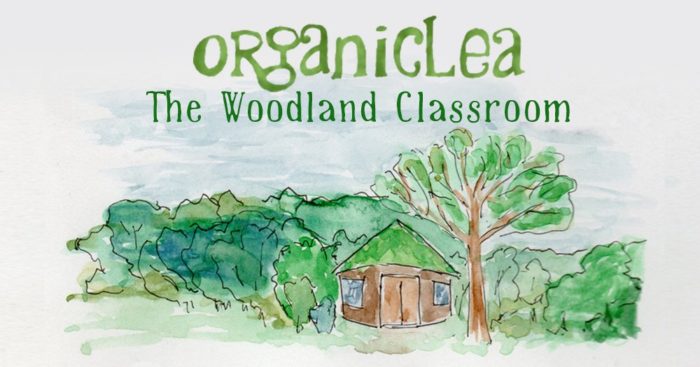 OrganicLea are planning a woodland classroom but need your help to make it happen. Craig Bayne tells us more about how you can get involved with this fantastic opportunity to create more space for nature-based learning and food growing skills in north east London.
---
Who are we?
OrganicLea is a food-growing cooperative located in north-east London in the borough of Waltham Forest, on the edge of Epping Forest in the Lea Valley. We work with individuals, communities, schools and groups offering horticultural training and volunteering, enabling people to take part in a better and more just food system as they reconnect with the land, their food and each other. We support a diversity of people to gain confidence, skills and social connection, and to improve their wellbeing.
Our story
At OrganicLea, people and community are just as important to us as soil and food production. In people, as in plants, we know everything has value and we celebrate diversity. Since 2001, when we began clearing and growing food on a small derelict allotment site in north-east London, encouraging people to learn and enjoy growing food in nature has been at the heart of everything we do. We now work around the corner from this allotment, in Hawkwood Plant Nursery, a previously disused 12-acre tree nursery owned by our local council. This move allowed us to significantly increase the amount of people we could work with, the range of opportunities we could offer to trainees and volunteers, and begin the work of setting up an ultra-local veg and fruit bag scheme in Waltham Forest.
It changed everything for me… It's an incredible place. I find it really hard not to sound too cheesy but it's such a lush community space. It's got so much energy, it's such a caring space. My message to potential donors? You need to come here and check it out and then you'll see how much love and passion there is here. It's such a supportive environment for all sorts of people – but you've got to come to really experience it.
Jess, volunteer and Level 1 Work-Based Horticulture graduate
We deliver courses on everything from growing salads and surveying soil, to cooking from scratch and beekeeping. Every month we host open days where the public can come for volunteering opportunities, free workshops, a forest school, good food and good company. Last year alone, over 225 school students and adult learners completed one of our training courses and we partnered with eight schools and facilitated six community gardens to flourish.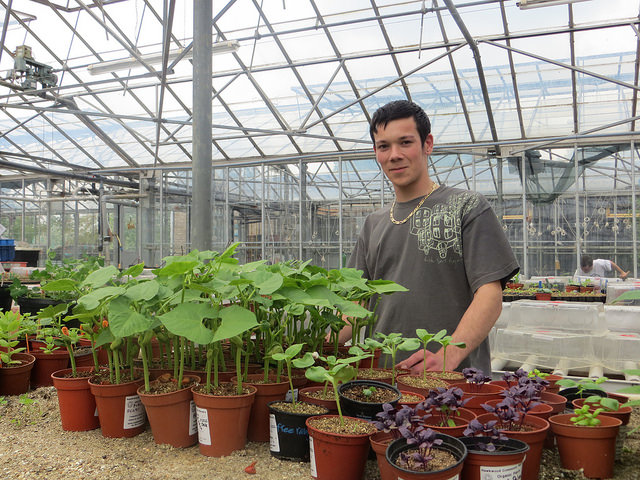 Many of our community of 160 volunteers have been referred to OrganicLea through mental health services or are long-term unemployed and at serious risk of social isolation. We have an innovative programme to provide training for people with learning disabilities. Coming to OrganicLea can be truly transformational, a place of hope and opportunity.
We have grown into a thriving community of people that love being outdoors, growing food and eating together. However, the facilities we have can't cope with demand. We currently have only one training room, which is regularly oversubscribed and we are having to limit learners, schools and community organisations that want to visit and learn with us.
We need more space to continue to grow! With the money you donate we can make this happen.
The project
Help us raise £38,000 to build a new training space to meet an ever-growing demand for nature-based learning and food-growing skills in north-east London. Our Woodland Classroom will be nestled into the trees at our 12-acre organic market garden and wildlife haven, Hawkwood Plant Nursery. It will be a roundhouse structure built using organic materials from the local surroundings, with traditional greenwood techniques.  Most importantly it will be used for workshops, training, a place for people to gather and be, a space for nature-based learning activities for all age groups and an informal educational setting for those who thrive outside of the norm.
Where will the money go?
If we hit the minimum target of £25,000 by our deadline of 30th September we can build a basic roundhouse timber-frame structure that's weather-proof, enclosed and functional. If we make our full target of £38,000, the Woodland Classroom can be used year round and will be insulated, warmed by a wood burner and connected to the solar panels in our main building. We would also be able to provide year-round accessability to the space with hard-landscaped paths from the main building.
Beyond the target, we can create learning aids and increase habitats for wildlife around the classroom, further enhancing the teaching experience at OrganicLea.
Breakdown:
Building materials (£11,500)
Skilled workers (£13,500)
Installing water and electricity (£5,000)
Ensuring the site is accessible by people with extra mobility needs (£8,000)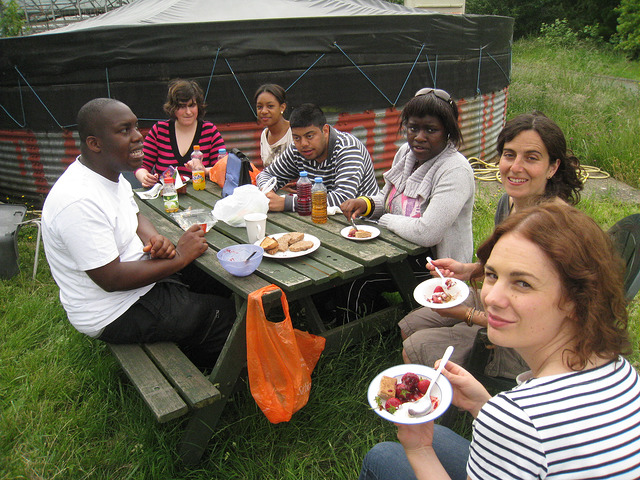 Rewards
To say thanks, we have a few things to give back. From OrganicLea tote bags to workshops at Hawkwood, to a night out at one of the fancy restaurants we supply to. You can even bag a year's supply of fruit and veg! You can find full details about all the rewards on offer and how to make a donation here on our Hubbub campaign page. The project will only receive pledges if at least £25,000 is pledged by Sunday 30th September 2018.
Help us succeed by spreading the word and donating!
Please share this project with friends and networks on Twitter, Facebook, Instagram and by email, telephone, a chat at the bus stop or down the allotment.
Hold a fundraiser. Could you do a bake sale or supper club for us? We'd really appreciate anything you can do to help make this happen.
Donate as much or as little as you can by Sunday 30th September 2018.
Find us here
Follow our Hubbub page here to find out how we're doing with The Woodland Classroom!
Hear about events and news on Twitter @organiclea , on our Facebook page or on Instagram.
Find out more about what we do and what we have achieved at organiclea.org.uk.
---

About the author
Organiclea is a workers' cooperative, growing food on London's edge in the Lea Valley. The co-operative's main growing site is the Hawkwood Plant Nursery, where its winery and vineyard are also located. From growing and selling food to workshops for schools and community groups, find out more about all that they do here.
---
The views expressed in our blog are those of the author and not necessarily lowimpact.org's
---
Leave a comment