Posted April 15th, 2020
Becoming a woodland owner: an alternative view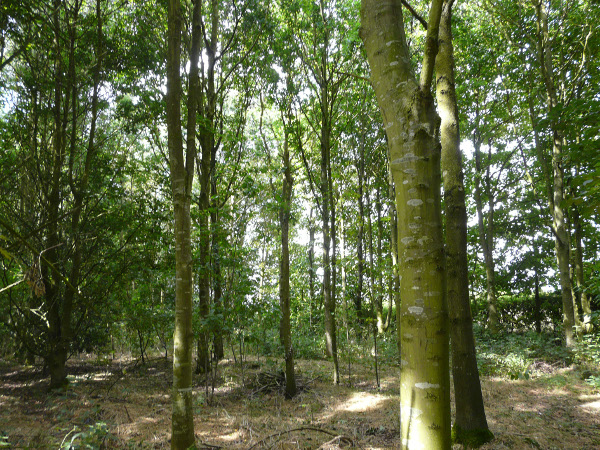 There are many and various drivers behind the desire to become a woodland owner, varying from wishing to impose one's self on the landscape and latterly build a house on a green field site; to the other end of the spectrum to benignly caring for an increasingly rare habitat.
I have in the past heard the erroneous comment from someone wearing designer country-wear that "they bought a woodland to reduce their carbon footprint". Sadly deluded as woodlands have a fairly stable carbon content (looking on a 50 year view), unless it is felled to build an industrial complex, or to provide housing.
The availability of woodlands within a local area can be a once in a lifetime chance and I will come back to this theme later on. With this restriction I have heard of people buying woods huge distances away from their homes, and Julian Evens covers the setbacks he suffered with this scenario in his book A Wood of Your Own.
The obvious problem is that you cannot simply walk out the back door or bicycle a mile or so to spend a few hours in your woods. With woods at a distance eventually hassle can win over enthusiasm and the woods get neglected and can fall foul to fly tipping.
We took a different and long-term view of this logistical problem, and planted one.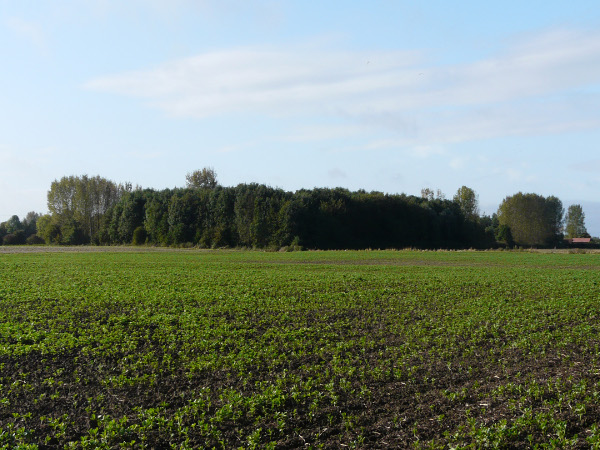 Most of us are keenly aware of the environmental disaster that the human race is staggering into and hopefully the corona pandemic will cause a serious change in attitude, though for some reason I doubt it.
I heard on Radio 4 that an area of forest the size of the UK is lost globally each year, mainly to agriculture or mineral extraction following logging. However, each and every one of us can make a difference through the choices we make, and here we are drifting into the realms of desire, marketing banditry, and the difference been real need and want.
One of the ways forward to reduce environmental collapse is to turn our backs on advertising messages and seek a life with some real meaning – a life where we are who we are, not what we possess. See my recent video: Threat resilience, self reliance and low impact living.
How it worked out for us
Returning to the subject of woodland ownership, if the reason for ownership is greater than mere self-importance, then there is another way – a way that we took back in 1987. It's a long term view, but what is forestry and woodland management other than something that goes beyond our own short lives? I'm talking here about planting new woodlands on open sites, preferably agricultural fields. Why this choice? Well, land use starts with habitat destruction and in the view of many ecologists to plant a woodland on an ancient meadow would represent loss of a rare habitat, so arable fields are a great choice in reversing land degradation.
Going back to 1983, we bought a cottage with a demolition order on it in the middle of the windswept and desolate Lincolnshire fens. Why there? Well that's what we could afford and no-one else seemed to want it – I think the demolition order put them off. That was just the start of a lifelong adventure (which could be available in book form if I could find a publisher that I can work with). A few years down the track, with the cottage renovated, we had one of those unrepeatable lifetime opportunities – 8 acres of arable field was up for sale close by, so we tightened our belts and with help from family members, we bought it. After all, sometimes you only get one chance. It's very heavy land at 8 feet above mean sea level, described as unrefined silt, but two feet down it is solid blue clay. Not good for arable and vegetable crops in a variable climate but just great for certain species of tree, and some grassland to diversify the habitat. That was the plan, as at that time the agro-chemical industry was blazing away killing everything in and out of sight, using some chemical based on wartime gas weapons. So we decided to plant a wood in an area where many of the local agricultural community though that trees just ain't natural.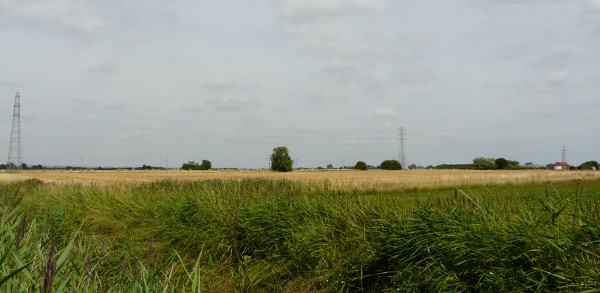 The benefits of planting a woodland on arable land are immense. They include habitat creation, which speaks for itself – as you create a habitat that a diverse range of species will move into. This gives further benefit if it can join up with other features in the landscape that can create wildlife corridors, and so reduce habitat islands. The time we first planted the wood coincided with the start of European rules that reduced the use of agricultural chemicals, without which the corporate multinationals would still be encouraging poisons everywhere they can. So with our wood growing, starting to give cover, and the reduction of threats to wildlife, the number of species finding a home increased.
In this process we improved the soil too, when the constant disturbance and application of chemicals stopped. Soil life was allowed to flourish and the organic matter content increased from a devastatingly low figure. This organic matter also helped with both drainage and moisture retention – a good thing.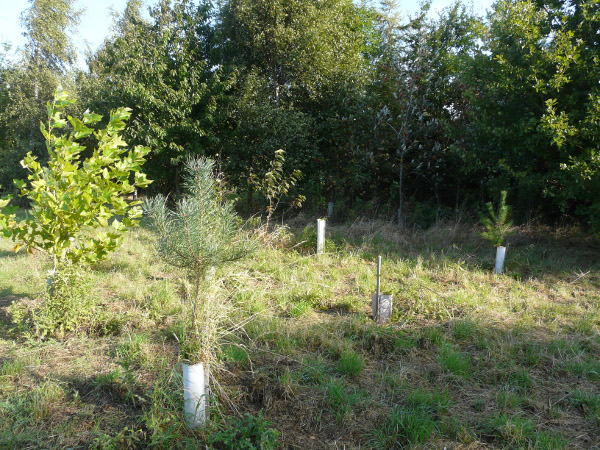 There is also the question of carbon capture. New woods capture carbon not only in the trees but also in the soil. Forests, carbon and climate change, produced by the Forestry Commission, puts forward the view that on average over the first 100 years, a new woodland will capture 8 tons of carbon per hectare per year. This obviously depends on the species planted, as well as the site condition, altitude, rainfall, aspect etc, that has an overall effect on the yield class (average increase in volume per hectare per year) of the growing trees.
There's a wide difference between the weight of the growing trees and the weight of carbon, mainly due to the water content that sometimes can be over 100 percent (oven dry basis, (see my book: Timber for Building). We are talking here about weighing a small fresh cut wood sample and then gently drying it, and then weighing the dry sample. A minor bit of arithmetic will give you the weight of water lost and it is this figure the can be greater than the dry weight sample. The soil carbon increases as the new woodland grows and soil disturbance is halted; and this soil carbon is also included in the estimated 8 tons per hectare. This part is obviously dependent on the soil type. Alkaline soils have a tendency to break down organic matter whilst acid types will build up a thick surface layer.
How we started
So, how did we go about planting this woodland? The field had been left ploughed so the first thing was to get the land worked down and then sown with grass, to level the area and to give some competition to the weeds. It was into this new meadow that a year later we planted four acres of trees, set out at 2.5 metre spacing. This was back in 1988, and I lacked the experience I have gained over the last 30 years of woodland management, but hey-ho, you ask and do your best. We planted Oak, Ash, Cherry, Field Maple, Norway Maple, and Lime, not all of which were ideal for the soil and the exposure. The Oaks have done very well as have some of the Ash but the Cherry does not like the heavy ground, and the Lime didn't appreciate the exposure – I was to later learn that they are a woodland climax species.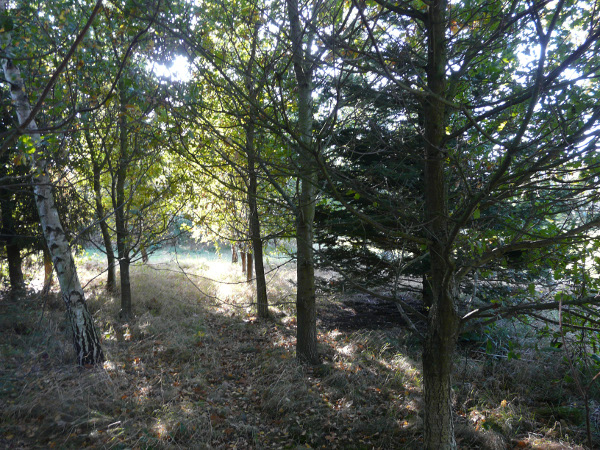 Silivicultural characteristics should be the basis of species choice rather than just choosing arbitrarily. A useful book in making these choices is The Silviculture of Trees used in British Forestry, by Peter Savill. So given the selection again, bearing in mind the initial exposure, soil type and water table, I would have preferred to add to the mix: Alder, Norway Spruce, Scots Pine, and Birch. Why include conifers? Quite simply, they contribute widely to diversity of habitat, landscape and resilience against climate and pest threats. I think they are so important and such a necessary addition that we add them wherever possible. My partner also sees the benefit of species diversity in the face of climate change and included Walnut and Sweet Chestnut as the opportunity arose.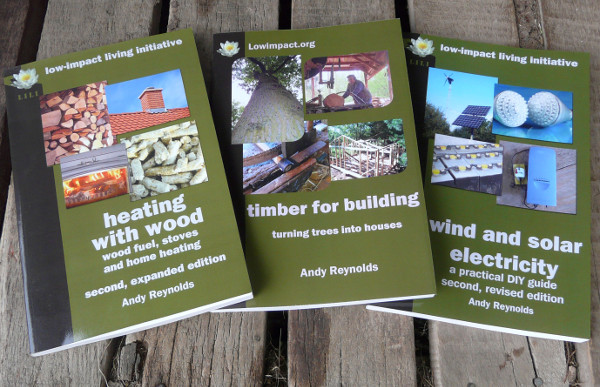 To end with, then, here's a snippet of life as a woodland owner in action and a message we can all heed: build a habitat, and they will come and live in it!
Images: author's own.
---

About the author
Andy Reynolds is a provider of open access learning on YouTube, author of Heating with Wood, Timber for Building, and Wind & Solar Electricity, forester, instructor, and practitioner of low-impact living.
---
The views expressed in our blog are those of the author and not necessarily lowimpact.org's
---
3 Comments
1

Doctor Hilary Jones April 15th, 2020

wHAT A WONDERFUL PIECE OF WORK, aNDY

2

Shaun Chamberlin April 15th, 2020

That ended rather abruptly! Is this Part One?

3

homeminderuk April 21st, 2020

I thought the same meself, Shaun
Leave a comment