Posted July 20th, 2015
Cargo bikes collecting local food waste for anaerobic digestion and biogas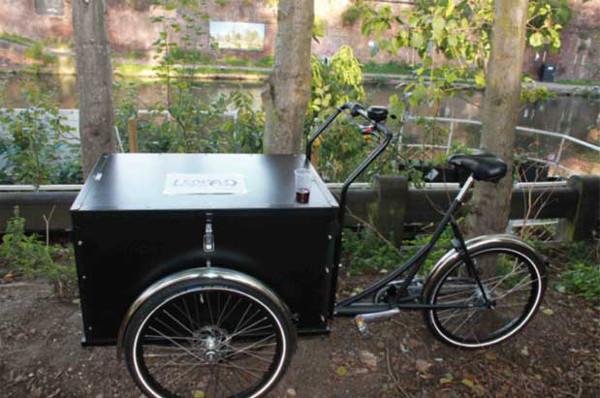 Closing the food-waste-energy loop – a celebration of sustainability. Enjoy a free community event in a beautiful wildlife park learning about closed-loop recycling, urban agriculture, sustainable cities, decentralised waste management, renewable gas and how YOU can make a difference.
Activities for kids and adults including eco games, anaerobic digester assembly demonstrations and tour, closed-loop food growing site, creative workshops, wildlife walks, and a closed-loop quiz with exciting prizes!
Join us for a delicious feast made using ingredients grown on site; with eco games, sculpture, waste to energy demonstrations, seed sowing, delicious free food, quiz and prizes!
2-6pm Thursday 23rd July
Camley Street Natural Park, 12 Camley Street, London N1C 4PW
Enquiries: [email protected]  07864 002189
The Project
Today, 18 million tonnes of the UK's edible food ends up in landfill. Valued at £23 billion and rising, this is costly and bad for the environment with London's food waste alone representing 6.3 million tonnes of greenhouse gases.
We could use this resource to help power and feed our cities making them more sustainable and resilient.
LEAP is developing micro anaerobic (AD) technology to processes organic waste and generate clean, renewable fuel and fertiliser in the urban environment.
Currently, AD in Europe is only cost-effective on a large scale. Our vision is to see networks of micro AD hosts including food waste producing businesses, schools, universities, social housing flats, and eventually, individual households tackle their food waste sustainably and benefit from clean fuel and fertiliser.
To achieve this, we need to develop and demonstrate, affordable, efficient systems. We have established our pilot system at Camley Street Natural Park in Central London.
Our core team welcomes collaboration with individuals and organisations contributing on an open source basis to the creation of robust, sustainable micro AD solutions. Get in touch to find out more .
To date, we have:
Designed, built and commissioned our pilot plant.
Compiled a report for the Technology Strategy Board exploring the feasibility of a borough-wide network of micro anaerobic digesters in Camden.
Completed a

WRAP

report in preparation of the micro AD network expansion to demonstrate a range of digester sizes, costs and biogas applications.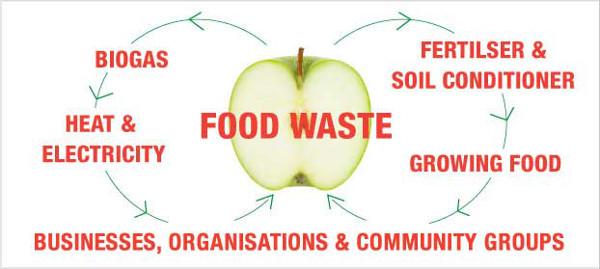 Anaerobic Digestion
During decomposition, organic wastes (food, manure, non-woody green waste etc.) emit CO2 and methane. Methane is a greenhouse gas 20-30 times more potent than CO2. Anaerobic digestion simultaneously captures these gases for use as a clean fuel and produces fertiliser and soil conditioner.
Anaerobic digestion takes place in gas tight vessels, where naturally occurring anaerobic microorganisms flourish in the absence of oxygen. They enable the breakdown process that produces biogas and digestate or the remaining digested material, which is siphoned off for use as a fertiliser and soil conditioner.
Greenhouses and polytunnels work well with AD by providing cost-effective insulation and a use for many of AD's outputs including CO2, heat, fertilser and soil conditioner. However, micro AD could be effectively located across a range of sites e.g. community gardens and allotments, transport depots, street markets, social housing flats, hospitality businesses, universities, prisons, hospitals etc.
Managing food waste locally helps reduce pollution and greenhouse gas emissions associated with "waste miles", and generates onsite, clean renewable energy.
Nutrient-rich digestate can be used to support local food growing, increasing community access to healthy organic produce. It can also be used for urban greening programmes to beautify urban areas and contribute to better air quality.
Community-scale anaerobic digestion demonstrates a closed-loop system that offers excellent educational opportunities, helping people better understand the benefits of recycling.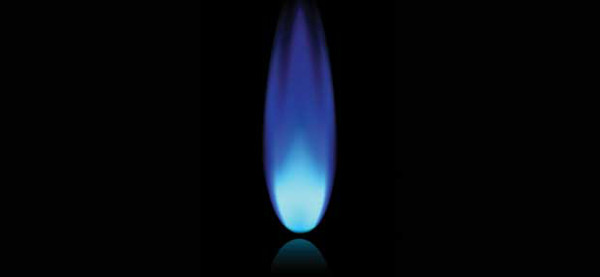 Biogas
Biogas is released during anaerobic digestion and captured for use as a clean fuel. When produced from food waste, it is approximately 60% methane and 39% carbon dioxide with small amounts of water vapour, hydrogen sulphide, and ammonia.
It may be burned raw to generate light, heat or electricity, or purified to over 99% methane, at which point it becomes identical to natural gas. It is known as biomethane and can be used:
to generate heat using a boiler,
for cooking or lighting,
to power CHP (combined heat and power) units, which generate electricity and heat,
as a vehicle fuel,
or be injected into the grid.
Widespread use of biomethane could lead to improved air quality.
The current FIT (Feed in Tariff) for biogas-generated electricity is 14p/kWh for small installations and biogas-generated heat is eligible for 6.5p p/kWh.
Biomethane for transport
The main causes of air pollution in cities are emissions from traffic and gas boilers. Compared to diesel and petrol, biomethane burns cleaner and more quietly, significantly lowering PM10s ((particulates) and NOx (nitrogen oxides), the most harmful emissions for health.
Use of biomethane from waste actually results in a net saving of greenhouse gas emissions, as decomposing organic waste would otherwise release methane into the atmosphere.
Europe's first biomethane refueling station was installed at Camden's Transport Depot in 2008, storing up to 6 tonnes of liquid biomethane for use with public and private fleets.
---
The views expressed in our blog are those of the author and not necessarily lowimpact.org's
---
2 Comments
2

Jon Parkman July 3rd, 2023

What an amazing initiative!




It's great to see such innovative methods in waste management being used to foster sustainability and promote renewable energy sources. The use of cargo bikes for collection adds an additional layer of eco-friendliness to the process. This project really seems to be ticking all the boxes: reducing waste, lowering greenhouse gas emissions, producing renewable energy and fertiliser, all while engaging the community in the process. It's truly a celebration of sustainable living! I hope this serves as an inspiration to others around the world. Let's keep innovating and driving change!
Leave a comment