Posted March 31st, 2015
How new straw-bale homes could help solve the housing crisis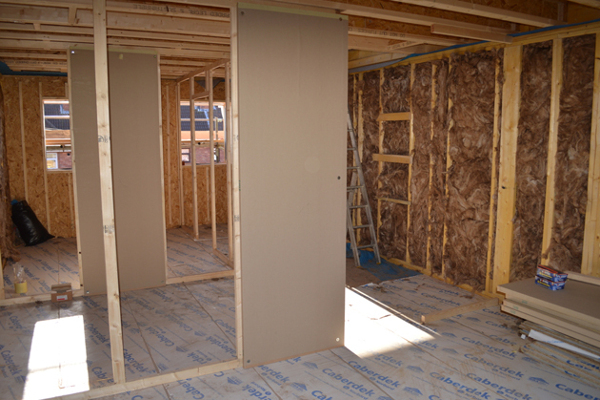 In an ordinary street in Bristol, UK, something extraordinary is happening.
All of the seven houses are made with straw.
Built from carbon-capturing, renewable materials of timber and straw, the homes bank more carbon than is emitted in making them.
In addition, the negative-carbon homes have received crucial industry certification. Having the BM Trada's Q mark makes them the first commercially-available straw bale homes in the UK because they are mortgageable and insurable.
This means that straw – a home-grown and low-impact building material – is now a viable way to tackle the UK's housing crisis.
Making sustainable housing accessible to the public was important to the developer, Martin Connolly.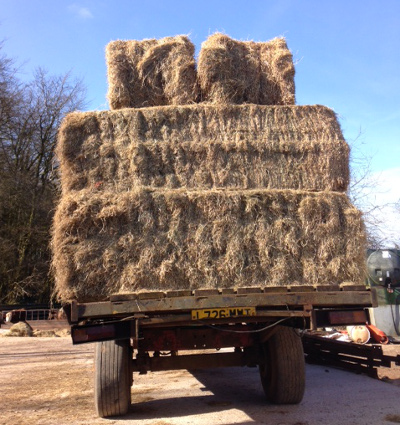 Concern for homeless and climate change
A social landlord providing emergency accommodation and food for homeless people since the 1980s, Martin Connolly's family company was awarded 2009 Environmental/Conservation Development of the Year for flats made of solid-wooden blocks, a first for Bristol.
"We got into straw bale housing out of concerns for homelessness and the environment," he says..
Martin's vision of affordable low-impact housing led him – after a worldwide search – to ModCell on his doorstep in Bristol, after seeing the eco-design company featured on TV's Grand Designs.
"Our vision was natural, non-toxic house building which stores carbon. ModCell was the first design we saw that did not use plasterboard which is horribly toxic, but straw board instead," says Martin who is also a co-founder of Bristol community hub, Hamilton House, which is helping regenerate the inner-city.
Straw bales – low-impact and fuel efficient
Straw is an amazingly low-impact building material. Grown in fields with the power of the sun, straw absorbs carbon dioxide as it grows and needs very little processing to be compressed into straw board (for internal stud walls), or turned into straw bales for construction.
The actual construction is fast. The seven storm-proof houses were erected in only nine days, thanks to their prefabricated factory-made panels – straw bales sandwiched between timber frames – and precision-made to slot together perfectly.
Quickness of build adds to affordability as does fuel-efficiency. "Our homes help people out of fuel poverty; they are so well-insulated they need little heating even in the winter," says Martin Connolly.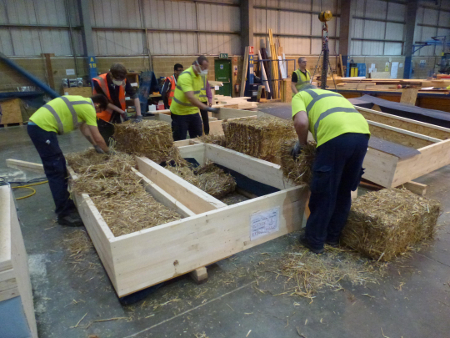 Efficiency of straw bales backed up by science
The effectiveness of straw as a building material is now proven by Bath University. Working with ModCell, the university department of Architecture & Civil Engineering has demonstrated that straw building is durable, insurable, mortgageable and genuinely low impact.
Their durability were tested by being exposed on a Cornish coast, blasted by simulated hurricane-force winds, soaked in water to simulate flooding and exposed to roaring fires.
The academic team assessed energy consumption by monitoring ModCell homes at Lilac (Low Impact Living Affordable Community) in Leeds, finding savings of residential energy usage of up to 90%.
As well as being super-insulated and air-tight, the seven straw-bale homes in Shirehampton, Bristol produce virtually all the energy they need to run. Rainwater harvesting cuts water and sewage bills, while LED lights, solar panels and an air-source heat pump all help reduce light and heating costs.
The homes crucially include Mechanical Ventilation Heat Recovery (MVHR) – the green ventilation system that cannily swaps heat from the house's stale air with incoming fresh air, ensuring stable temperatures, better air quality and drastically reducing heating bills and carbon footprint. The combination of straw bale construction and MVHR means the homes stay warm in winter and cool in summer.
The two-bed two-storey and three-bed three-storey homes are priced between £220k and £235k. A bargain compared to Bristol house prices, Martin would like to increase the affordability of future straw bale developments.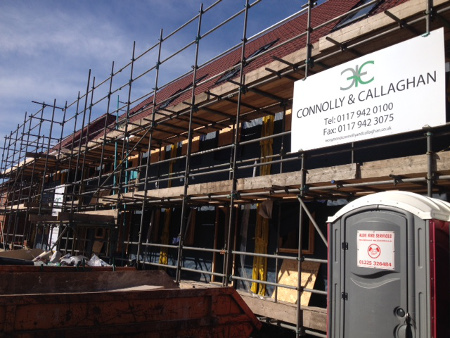 Calling landowners and communities 
One of the reasons houses are so expensive is that developers sell houses at the highest price they can command.
As a green developer, Martin Connolly, has a radically different approach:
"Our aim is to support communities to create straw bale housing at affordable prices, similar to the Lilac housing co-operative," he says. 
Connolly and Callaghan's and ModCell's next project planned for June will see 49 homes built in Shirehampton.
"It is ripe for community-led development. We are looking for ways to make this possible and welcome enquiries," says Martin Connolly.
As well as looking for community developers, Martin Connolly is also looking for others sympathetic to his housing vision.
"We want to work with other partners including local authorities and landowners in a co-operative way to deliver genuinely affordable, low-impact housing."
Find out more about straw-bale building here and check out our straw-bale building online course here.
---
The views expressed in our blog are those of the author and not necessarily lowimpact.org's
---
10 Comments
Land value is a huge cost of a house. I wonder how much (excluding land) a standard size 2 bed house would cost to build?

2

Clair March 31st, 2015

Hi Tessa – One of our most FAQs at Straw Works, is it really cheap to build?

Probably not as cheap as you imagine, but definitely cheaper than similar houses built with other materials that achieve the same level of thermal efficiency. It's very important to compare like with like. Well designed and built strawbale homes can easily achieve level 6 of the Code for Sustainable Homes, but this is never cheap for any method of construction.

Where strawbale buildings excel in terms of cost is in their accessibility for self-builders, because designs and techniques are simple and straight forward, so that with good instruction and on-site supervision, most people are able to participate in building their own homes. This affects the cost of labour in the build.

If you keep the design simple, put lots of time into collecting recycled materials, organise training workshops to build the walls and plaster them, and get your friends and family to help then yes, it can be cheap to build. For most people, it is more sensible to think of doing the simple bits yourself (sketch design, foundation, straw and plaster), and employing others to do the rest (construction drawings, carpentry, roofing, plumbing and electrics).

Harriet and Andrew Wishart, two of our self-builders, have built three terraced 2 storey 3 bedroomed loadbearing straw houses for £60,000 per house! And in only 2 years.

This works out at less than £700/m2. It has to be said that these are built to a very high standard, and you can go and stay in them if you want. Contact 01227 709404 and see them here https://www.facebook.com/ElmfieldStrawCottages

There is a pdf on the following link which offers a more detailed overview of the potential for affordable strawbale houses.

http://www.strawworks.co.uk/wp-content/uploads/2013/12/Strawbale-self-build-housing-with-drawings.pdf

Hope this helps – happy building : )

3

Jonathan Hill March 31st, 2015

Hi Tess, nice to see you on here! Good question and thanks for the reply Clair.

4

Tessa O'Sulivan April 1st, 2015

Hi Clair – many thanks for your reply. I'm quite impressed with £60k for a high standard home. Unfortunately I don't have enough money for the land to build it on which would be at least 3 times that amount! Therein lies a big problem for self builders and anyone who wants to buy an existing home unfortunately (and a big bugbear of mine). I do actually live quite close to the Wishart's properties.

5

Tessa O'Sullivan April 1st, 2015

Hi Clair – I replied below, but not sure in right place. The pdf is very interesting. I actually work in facilitating the development of affordable housing in rural areas on exception sites (land is cheaper) but the homes can only be lived in by people from the village who have a housing need; I work with parish councils, local authorities and housing associations. I think the model described is very suitable for these types of sites for various reason.

6

Elisabeth Winkler April 1st, 2015

Martin Connolly, the developer of this straw bale project in Bristol, says he would love to work with parish councils on a rural exception site.

He is passionate about making new houses affordable. He agrees that land is a huge cost; so is infrastructure (ie drainage, sewage), taxes (ie Community Infrastructure Levy), planning fees, and loan finance (about 10%).

The question is: how can we reduce cost every step of the way?

The answer? According to Martin: "All these costs could all be reduced if people worked in co-operation".

For instance, local authorities could give low-cost loans for finance.

Planning reports could be simplified and conducted in at an atmosphere of trust. Huge sums of money go on planning reports (ie environmental, transport) by separate companies, all of which used to be done by the local authority.

Martin says: "If everyone – the community, developer, landowners be it parish council or local authority – worked in co-operation we could do so much more for less. We could do it differently – and better."

Martin welcomes enquiries about community development 0117 942 0100 / martinc AT connollyandcallaghan . co . uk

8

Elisabeth Winkler April 14th, 2015

Thanks, Tessa. Yes! We need creative solutions – Community Land Trusts are indeed a vital part of the solution to the housing crisis.

9

bari Choudhury April 30th, 2015

Is it possible to build such home in London

10

Elisabeth Winkler May 1st, 2015

Hi Bari, yes, as long as there is available land to build, straw bale houses can be built anywhere, including London.
Leave a comment