Posted June 23rd, 2019
Come to our public event on the Open Credit Network, July 18th, London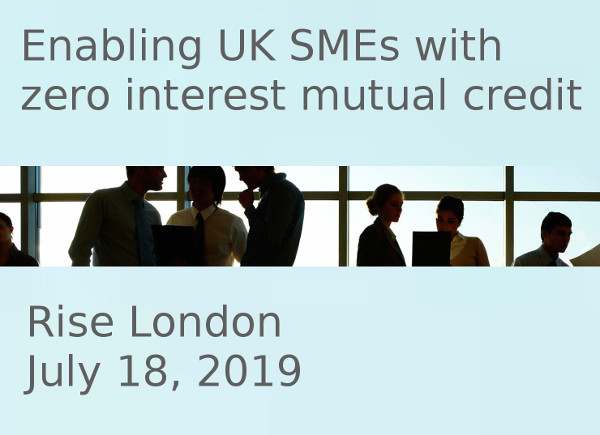 As you know if you follow this blog, Lowimpact.org and the Open Co-op have partnered up to build a mutual credit network for the UK, the Open Credit Network (OCN), and that we have people on board who are working to develop the 'credit commons' – a way of linking together mutual credit schemes anywhere in the world to create a global moneyless trading network.
You might have heard Mark Carney, governor of the Bank of England, on the Today Programme on Radio 4 on Friday, saying that the world of finance is about to experience huge upheavals. He specifically mentioned Facebook's upcoming 'Libra' cryptocurrency. Now, we welcome radical change in the financial system, but absolutely not a transfer of power from undemocratic, extractive banks to undemocratic, extractive Facebook. We'll be blogging more about this soon, but instead, we'd like to see a democratisation of finance, shifting the balance of power firmly to communities, SMEs and individuals and away from multinational, unaccountable institutions.
Mr. Carney also mentioned that 2/3 of us are employed by SMEs (small- and medium-sized enterprises) – they form the backbone of the economy, but find it incredibly difficult to obtain bank credit. It's just not worth the admin, risk and small profit potential for banks. We think that mutual credit can help SMEs in that respect.
We're holding a public event on July 18th (7-9pm), and we'd like to invite you to come along. You'll get to meet the team, and to hear what we've been up to, including Oli's recent visit to the very successful Sardex mutual credit network in Sardinia (40 million euros worth of trade in 2017, and growing), and the launch of our new directory for participating businesses. You'll also get to ask questions, and to hang out with lots of interesting people, who will also be attending.
Go to our EventBrite page to book your place.
If you work for an SME, please see the OCN home page, and click 'express interest' to have your business added to the directory.
Below is more information about the event.
---
For small businesses, cash flow is king.
If a business can't pay its suppliers, it can't produce goods to sell and won't be in business for very long.
Interest rates at banks are nearly always 10% or more – that's if a small business can obtain a bank loan and personal guarantees are usually demanded.
Business owners sometimes resort to using personal credit cards, with rates of 15% or more.
Specialist loan companies, like Iwoca, quote 49% or more for a £10k loan.
Small businesses shouldn't suffer because they can't access credit.
And now, thanks to the Open Credit Network, they don't have to.
The Open Credit Network is a new UK enterprise offering businesses access to interest-free loans via a mutual credit trading network. By offering their goods and services to the network, qualified businesses are provided with access to credit enabling them to buy the products and services they need even when they don't have cash.
In Sardinia, Sardex have been running a simple mutual credit network since the financial crisis of 2008. Now with more than 4000 members, the Sardex network enabled transactions worth more than €40 million in 2017.
For those who run, or provide services to, small- and medium-sized enterprises and would like to add additional value to their business networks, this event will provide:
an introduction to mutual credit
an overview of The Open Credit Network
a guide to optimising small businesses to increase turnover and profits
a guide to signing up and using the network
a guide to earning referral fees from signing up new businesses
Join us to learn about mutual credit and discover more about The Open Credit Network.
NB: this is a free event but as places are limited we ask for five (conventional) pounds as a deposit to encourage attendance. Attendees' deposits will be refunded on request – however, Eventbrite may deduct an admin fee.
---
The views expressed in our blog are those of the author and not necessarily lowimpact.org's
---
3 Comments
1

Jane June 23rd, 2019

Which lenders might be open to giving us a mortgage on land that we want to build a cob house on in Wales? Any suggestions , guys?

2

Malcolm Purvis June 23rd, 2019

Hi Dave, glad to hear that the Credit Commons Network is developing well. Shame that we didn't see your previous statement that 'we are going to implement a UK mutual credit network which will develop into a worldwide scheme in 5 years time, involving 1 billion people'!.

You can do it, lets hear it!!!

Warm regards and best wishes with it all.
Leave a comment