Posted October 28th, 2015
Starting your own business: how to sell hand-made soaps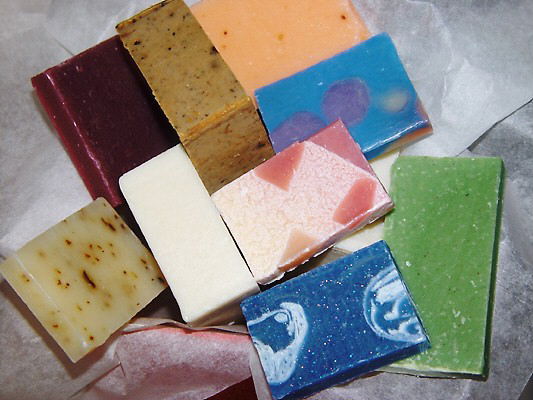 Want to start selling your home-made soap? Katrina McKenzie of Small World Soaps explains how to sell hand-made soaps in the UK and turn your hobby into a business.
As you enjoy soap making as a hobby and develop your expertise, you may find a growing demand for your soaps which awakens your inner entrepreneur; it can be fun and rewarding to earn money from something you love doing.
Handcrafted soaps are in a league of their own with their unique characteristics, and can command a premium price. Before you embark on trying to sell your soaps it is really important that you spend a lot of time making and using your soaps so that you are able to honestly assess your craftsmanship and the quality of the soaps. This will mean you will be able to effectively extol their unique virtues to potential customers.
I would encourage you to concentrate on building a reputation as an honest, ethical business person who is not only interested in making lots of money. Once you have established yourself as someone of integrity with a commitment to giving your customers first-class products and service then you will reap the benefits that happy, satisfied customers bring – a strong base for your business.
Before you start selling your soaps in the UK and other EU member states, whether it is at school fêtes, charitable events or on the internet, you and your products need to comply with the EU cosmetic legislation. I have provided a synopsis of the requirements of the legislation based on my own experience and understanding of the law to get you going. You must also be covered by product liability insurance.
Regulation
The manufacture and sale of soaps and toiletries is governed by the EU Cosmetics Regulation No 1223/2009. This is applicable to anyone selling soap irrespective of the size or scale of your business and you must be in compliance with the legislation when you accept money for your products. There used to be separate legislation for each EU country, but changes in the law in 2013 means that if you comply, you can sell your soaps anywhere in the EU now.
Safety assessment
There is a legal requirement for you as the manufacturer to hold a safety assessment for any soaps you are selling within the EU. A safety assessment must be undertaken by a 'suitably European qualified professional person' who has to sign off each soap recipe made for sale. In selecting this person it is crucial to ensure that he or she is knowledgeable and experienced and covered by Professional Indemnity Insurance, which will provide protection for you should any litigation be brought against you if someone experiences an adverse reaction to your soaps.
Once completed, the assessment is valid indefinitely. The Department for Business Innovation and Skills (BIS) and the Trading Standards Institute provide in-depth information on the regulations. There are many companies which supply courses to help you towards regulatory compliance and some of these can also undertake safety assessments. It's best to use the internet to find one that suits you.
The safety assessor will need the following information:
MSDS (Material Safety Data Sheets) for all ingredients. MSDS are a widely used system for cataloging information on chemicals, chemical compounds and chemical mixtures and are found wherever chemicals are being used. The relevant MSDS for each ingredient should be available from your supplier.
a list of all ingredients in INCI (International Nomenclature of Cosmetic Ingredients) format. INCI is a standard system of listing ingredients in soaps and cosmetics using their Latin names, scientific names and common names. There are International Cosmetic Ingredient Dictionaries available online and as books.
Here is an example of one of my soaps with the relevant Latin and common names: Sodium olivate, Sodium cocoate, Sodium palmate, Water (Aqua), Glycerin, Shea Butter (Butyrospermum parkii), Sweet Almond Oil (Prunus amygdalus), Oats (Avena sativa), Lavender Essential Oil (Lavendula angustifolia), Peppermint Essential Oil (Mentha piperita), Lemon Essential Oil(Citrus limon), citra, geraniol, limonene, linalool.
Your safety assessor should continue to help you after the assessment is complete and will be able to assist you with this.
the percentages of each ingredient in the recipe, in descending order
evidence from the supplier of any fragrance oils, essential oils or additives you use that they are in compliance with IFRA (International Fragrance Association) guidelines. IFRA is the international body governing the safe use of fragrance material.
details of colourants used and their CI numbers, which should be available from your supplier. The CI, or Colour Index, is an index of dyes and pigments prepared, in the UK, by the Society of Dyers and Colourists to provide accurate identification.
information about your manufacturing procedures – a step-by-step description of production processes
details of the format you will use for batch numbers and dates of manufacture
the names and addresses of all your suppliers and their batch numbers for the ingredients used
a sample of your label
Product information file (PIF)
As the manufacturer, you are required to have a PIF which should contain information similar to that required for the safety assessment including labelling details (see below), the weight and pH of each soap, batch records and traceability of ingredients. This file should be kept in a safe place and made available for scrutiny on request.
Product labelling
Labels should include the following information:
the ingredients list using INCI (International Nomenclature of Cosmetic Ingredients) names should be shown clearly on the product or be clearly displayed where the soaps are sold
ingredients with concentration of 1% or less can appear in any order at the end of the list
a list of allergens should follow the ingredients list. These are usually present in essential and fragrance oils and should be listed if they exceed 0.01% in rinse-off products such as soaps. Your supplier will have details.
the average weight of each soap with the little 'e' (average package weight) symbol appearing after the weight
batch number for the soap
use by' date – if raw, fresh ingredients are used in the soap this will influence the 'shelf-life' of the product. Your safety assessor will be able to assist you with deciding the correct date.
soaps that look edible should have the warning 'do not eat' in bold lettering
your name as the manufacturer and address of manufacture
Good manufacturing practice
EU good manufacturing practice was introduced in July 2013. Here is an excellent overview.
Trading standards
The Trading Standards officers are interested in three main areas:
Weights and measures
It is important that your finished soaps are the correct weight as stated, and you are required to use a scale that is 'stamped for trade'. This will be tested by the Trading Standards officer. The same applies if you intend to cut and sell your soap by weight from a log or block of soap.
Correct labelling
Please see the details provided above.
Manufacturing processes
The Trading Standards officer will also be interested in your manufacturing processes which should be included in your PIF (Product Information File).
Registration/notification
If you wish to make and sell your soaps within the UK you are required to notify the Department for Business, Innovations and Skills in writing via e-mail ([email protected]) that you are manufacturing soap; you should include your name, company name and address. You are also advised to contact your local Trading Standards Office at this stage.
---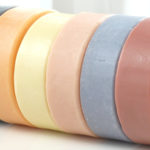 Did you know we have a natural soaps online course?
Interested in learning how to make your own soap at home? Our natural soaps online course is all you need to get a background in soap and soap-making, learn to make a range of different soaps and even set up your own soap-making business. It's just £30 for lifetime access, including 10 step-by-step videos and an entire e-book from expert tutor and professional soap-maker Maxine Clarke.
---
The views expressed in our blog are those of the author and not necessarily lowimpact.org's
---
35 Comments
1

Andrew Rollinson October 29th, 2015

Dear Katrina,

Regarding the safety assessment. Surely it is not defined as a "suitably European qualified professional person" is it?

Are you saying that by having this assessment, then you would in law be excempt from culpability if someone had an allergic reaction to your soap? I am surprised if this is true.

My wife and I have, and still are, trying to set up small businesses; and we have found, as you describe here, the bureaucracy overwhelmingly prohibitive. My wife gave in with cosmetics because of it.

Insurance is one of the worst things and it really opened my eyes to how ridiculous the world is. Not that I am an astronaut or anything like that (I'm a consultant), but I was unable to get insurance. I discovered that the main players have call centres where they have standard off-the shelf policies. They ask you to describe what you do, and then if you don't appear to fit into one of these categories, the call centre person says, "well can I put you down as this?" I then say that you can put me down as whatever you like, but I'm not getting a policy unless I'm covered. I then wasted another six months with brokers. One actually said to me "Oh, you actually want a policy that you can claim against do you". He then described that most people have insurance because a client asks for it, as their insurance company require this. The insured just wants it as cheap as possible as the client is paying for it, and doesn't care whether it can be claimed against. The client doesn't check anyway as they just tell their insurance company that the person doing the job is insured. The insurance company also know that they are selling a policy that can't be claimed against. So what the Insurance industry comes down to is people in offices working all day selling something that they know is useless, to people who know it is useless.

Then I was advised my other consultants that everyone is aware of how ridiculous the insurance industry is, and that the way around it is to register as a PLC. That way, you can't be sued! So it leaves the poor customer with no redress.

Anyway, it would be good if we could have a database of people who would advise on legal matters and insurance to support small businesses.

Thanks for the post Katrina.

Andrew

http://www.blushfulearth.co.uk

2

Andrew Rollinson October 29th, 2015

I meant "ltd" company not "PLC". I don't think that there's a way to edit posts on here, is there?

3

Katrina McKenzie November 2nd, 2015

Hi Andrew, I don't believe that even once you have had your recipes approved by a cosmetic chemist, a "suitably European qualified professional person" then it will cover you in an unfortunate situation where someone would have an adverse reaction to your soap/cosmetics. I also am personally insured by Ian W Wallace Ltd who are fabulous and I think that only with all of your paperwork showing good practice, by listing all the allergens on the labels and packaging, by only using the best ingredients, and having your own insurance policy do I feel comfortable and confident in selling my products to other people. I agree with your wife that it can be overwhelming, but don't give up!

4

Sara Barker March 21st, 2016

Hi there

I am currently in the process of setting up a small business selling soaps. I have paid for product safety report for each recipe but am I right in thinking I also need someone qualified to come watch me make soaps at home so they can produce a report?

Help

Sara

5

James June 30th, 2016

These people seem to know what they are talking about: http://gcstm.co.uk/ – they were very helpful when I spoke to them

6

Nina G October 9th, 2016

This is very helpful – thank you. Do you have any ball-park figures on how much the assessment process costs? Many thanks.

7

Arkadiusz October 27th, 2016

I have a question regarding GMP. If I create all the documentation required by it and use it in my production process, will it be enough? Or do I have to pay another company to get ISO 22716:2009 certificate?

8

Jojo February 7th, 2017

Help !! I have been bath bombing for a while now as a hobby and want to turn it into a business I've spent a lot of money on good quality ingredients mostly organic goods to suddenly find out I need all this regulation stuff I'm a hands on person and need sone one to simplify this as I'm dizzy & now left feeling like should I even bother ?? Please help as setting up my own is a dream come true but we all have a buget and most of mine is on ingredients now is it that bad ???

9

Jojo February 7th, 2017

I'm in the uk sorry forgot to mention that ?

10

Sabai Soaps March 1st, 2017

It's taken us some time, but we've finally got our products all assessed and legislation complying ?

11

bubblepatti April 13th, 2017

Hi! Thank you for this post, is full of super useful information!

I've been soaping for the past three years as a hobby, and now that I am finally happy with my formula I would like to start selling to the public.

In my current job place I have the possibility to present a product sto be sold under the name of the company I work for (is a coffee shop, so I thought of soaps made with the used ground coffee that usually goes to waste)

Here there are 2 questions: would it be possible to use the "old" ground coffee in my products, or would it be a problem as it went under a "transformation" after the extraction of coffee? Also is supplied by a coffee company which wouldn't have the MSDS sheets as a soap product supplier would have.

Also, if I sell the soap made by me (I don't have insurance or a registered company yet) to a company which is gonna sell under its own name, will I still have to have my own insurance and registered company?

Hope is not a confusing question!!! Xx

12

natural donkey milk soaps April 29th, 2017

Hi I am for the first time here ansd as a soapmaker I find this place and post very usful for the beginers at least!! Making natural soap is a very nice feeling especially if it is of donkey milk too!!!!!

13

Sally May 5th, 2017

Try Uttings Insurance Brokers in Hingham, Norfolk.

They had a hunt around and got a good insurance for me to cover soaps and skincare. I pay about £300 a year.

14

Awatif McGlynn (Mrs) June 8th, 2017

Hello,

I have just read your question.

The best thing is to call the experts in this area directly and ask them how much does it cost, you can ask several specialist in this filed and then you will get an idea of the cost.

15

Awatif McGlynn (Mrs) June 8th, 2017

Hello,

I searched on line today, Thurs 8th June 2017, for the first time, regarding these regulation, as I am thinking about setting my own business, selling soap. I must admit I am already feeling overwhelmed too.

However:

Just list what needs to be done as Katrina Mentioned above in terms of these regulations.

Then call each specialist and get information on fees and what needs to be done in order to be certified.

do all what needs to be done, even if it takes several weeks, when this is complete, you will feel secure, will have an insured expert, as Katrina said above, that will cover you in case of a reaction that one of your potential customers get, that you will not have to go to court, sued and your business be shut down.

Ingredients and Disclaimer

You will start your business with confidence, all these steps were followed,and completed, you will not have to worry.

Make sure always that the products ingredients and allergens are clearly written and visible on the packaging, with that done; you can also have a warning/ caution /disclaimer, that customers who are susceptible and /or suffer from allergy, to be cautious and do the normal allergy test after consulting their health professionals, if they are in any doubt regarding your products. Nicely written, but very clear.

One last note, I would start with making soaps, that are organic and contains no Lye, then later on, when you feel more confident, try using lye based soaps with an expert guidance, would be even better if they can be there when you start making these.

To conclude, of course make sure everything and steps you are going to take comply with these regulations, have at least 3 copies of each document n a safe place, then do a prayer and start. You will be fine.

16

FitGirlBathAndBody June 8th, 2017

Hiya. It does seem very daunting at first! The first thing is to get a Cosmetic Product Safety Report done. Google it and then read what the different companies offer as it explains what it is etc. Some will also do tests that will allow you to add an accurate best before date. Naturally Thinking used to have a brilliant web page that explained all their lab work but I have a feeling they may have replaced it.

Also, contact whoever you get your ingredients from, and ask them for the Material Data Safety Sheet. You will need one for each ingredient.

Next, make sure you understand what you have to put on your labels. Ingredients, company name and address, BBE date, batch code etc.

When you get a CPSR it will probably spell out for you how you will have to list your ingredients. Finally make sure you aRe insured!! There are insurance companies specifically for soap makers which helps!

17

Robyn July 18th, 2017

I am looking to set up my little soap business asap but i was just wondered can i register myself as self employed before doing all the checks etc.

18

Julie July 26th, 2017

Hi where do I find someone to test the product, I litteraaly do not know where to start

19

Elouise July 30th, 2017

Yes you can register as self employed 1st ?

20

Moya Rayner July 31st, 2017

Is there somewhere to obtain a sample of the paperwork to follow please? i.e. how to list your ingredients, percentages, measurements etc. Forms for application of testing.

21

dionne October 13th, 2017

can someone provide the link to the website where i can register my home made scrubs, balms and body butters. thank you

22

Dave Darby October 13th, 2017

Hi – email me – dave at lowimpact.org – with your details and I'll put you in our directory.

23

Renata November 26th, 2017

I would like sell my hand made soaps to the public too.Shall I have a specific space to make the products or it can be in the home kitchen?

24

Anna Deepford November 28th, 2017

Hi, does anyone know if people running parties (with general insurance) where the children make their own mini bar of soap or bath bomb, need to comply?

My thinking is that as the child is making for their own use and they are making it, supplying a parent with the 'approximate' ingredients would be enough, as it is the 'Party' and 'experience/activity ' that is sold not the item made.

Any thoughts anyone?

Very grateful for the steer.

Anna.

25

Katrina December 4th, 2017

Hi, I have a question regarding the PIF. Does anyone know exactly what should be written in it? Do I have to write the method in there, even though I have a separate file with all these information>

I would really appreciate it if someone could break it down for me as I have been researching and have been coming up with different things.

I would very much appreciate it.

Thank you

Katrina, based in France

27

arwa July 2nd, 2018

hi ! I am looking to set up my little soap business (org and naturel) but i was just wondered how can i market my product ? can you help me with any idea I would very much appreciate it.

Thank you

Arwa based in tunisia

28

Louise December 29th, 2018

Who do we get to do the actual safety check assessment please? All the links I looked at

just kept going back in a loop or to the guidelines but not who or how to get the safety assessment done.

29

Joey woodhouse February 9th, 2019

I'm looking at getting my assesment done where do i get this information?

31

Naravilar February 20th, 2019

Do i need all this documentation if i am just selling online?

32

Helen Myers July 24th, 2019

Is there anyone that sells recipes for approved soaps?

33

Teresa Smith August 19th, 2019

As farming income has declined dramatically we have listed our annexe on Airbnb.

I have been spending a good amount of money on locally made natural handmade soaps & shampoo bars.

My reasons were mainly for the environment and to save our septic tank lol but its also a nice touch for the guests.

I have been making my own soap using melt & pour base essential oils and some lavender from the garden.

After reading too much information I am now not confident to stop buying in and use the soap I've made myself for guests.

Could you please advise anything I need to do to be able to use my own soap, I can literally make 10 bars for the cost of 1 and its really nice soap, legislation is a nightmare, (I have to prepare my chickens treats in a separate kitchen or face 2 years in jail!!)

I just want to gift soap for use by guests but I am so confused by all the info I have read

Many Thanks

Teresa

34

Małgorzata Kledzik May 18th, 2020

Hi,

I got a question about the safety assesment and MSDS which shoud be provided to get CPSR.

If I understand correctly this is some document which proves that the oil or other ingredient are safe and my supplier should give me this paper if I buy oils , destilled water or sodium hydroside?

I wander what will happen with my soap if ill use herbs from the garden or wild flowers to make oil infusion or even turmeric from my kitchen, obviously I can't get papers on them so that means my recipe will fail safety assesment?

thanks for your help and great web

Gosia
Leave a comment