Posted February 12th, 2019
A guide to WWOOFing: 10 top tips from Scarlett Penn of WWOOF UK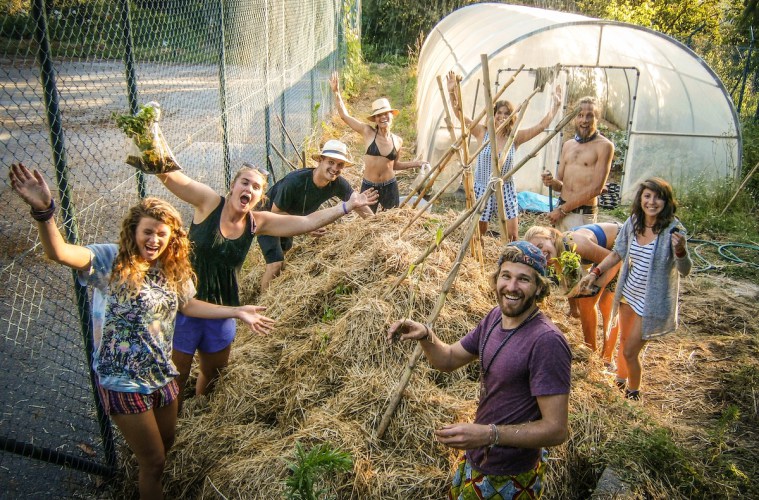 Considering going on a WWOOFing adventure this year? Read this first! Scarlett Penn of WWOOF UK shares her top ten tips for anyone new to WWOOFing.
---
1. Clear and honest communication, right from the beginning
This is the big one. We don't receive many complaints – just a tiny fraction of a percentage of the exchanges that take place – but most of them are down to misunderstandings which could have been avoided by clearer communication. Read a host's description well and if they sound good, make a personalised contact. Check your profile contains all the information you want your host to know, and add more in your covering email, particularly any dietary requirements. Explain what you like about their description and why you'd like to volunteer with them in particular. Try and exchange a few emails beforehand, to get an accurate picture of the host. Many choose to phone or Skype as well, to be sure the arrangement will suit both parties.
While you are staying with a host, if you don't understand something, ask. It's much better to check, than to weed out the wrong seedlings (which really does happen!) And do tell your host if your experience isn't matching your expectations. Most hosts are very reasonable people and want happy volunteers. Honest in-the-moment feedback gives them a chance to change something while you're there, rather than staying quiet, having a bad time and writing a letter of complaint afterwards. After you stay, provide reasonable and honest online feedback for your host, so that future volunteers can see what kind of experience you've had with your host.
2. What do you want to get from your experience?
Take time to think about what you want to gain from WWOOFing. Perhaps you'd like to learn something specific like chicken keeping, tree pruning or how to live off grid. Maybe you want to visit a part of the country you've never seen before or conversely, meet new contacts in your own local area. Do you want a place where there are lots of other volunteers (in which case consider a community) or would you prefer somewhere quieter? Read reviews that other volunteers have left on the host's profile to make sure they can provide what you're looking for.
3. Plan in advance
Work out when and how long you can go WWOOFing for (a weekend? A fortnight? A year?) and get planning good and early, especially if you're hoping to volunteer in July and August when hosts often fill up or go away. Committing to a week in the first instance is a good idea. If you like a place and they like you, a stay can often be extended. And remember, land based activities are seasonal! You can't help with lambing in September or cider making in March.
4. Use the forum
If you're having trouble finding a host for some very specific dates, a top tip is to use the forum. It's members only and caters for both hosts and WWOOFers seeking placements, so you can't go wrong. You can also find fellow travellers here, if hooking up with someone before a trip is an idea which appeals to you.
5. Pack sensibly
WWOOFers have been known to get off the bus in heels or bright white, brand new trainers. Host are likely to be living a much more out-doors lifestyle than you're used to, and there will probably be mud / compost / manure involved in your activities. Be warned, your new trainers will not stay white for very long! Take into account the season and the famous British weather and think warm, practical work clothes, waterproofs, wellies, hats and gloves, torch, wash-kit, and spending money. Sometimes the trolley-style luggage bags with small wheels, so well adapted to the streets of London, are awkward and uncooperative on bumpy countryside tracks. If you have the choice, you might find a rucksack is more suitable.
6. Take with you the things you can't live without
Do you love a glass of wine in the evening? Need to have to have real coffee rather than instant? Can you not possibly survive without chocolate? Unless you've checked beforehand, remember your host might not provide your favourite creature comforts so either take them with you, or be prepared to do without. Any regular or emergency medication is a must (e.g. asthma inhalers, hay fever tablets, EpiPens)
7. Spare time
Many hosts offer films, bicycles for exploring, maps for walking and public transport timetables for exploring, but you may like to think about bringing some of your own spare time entertainment. Art and craft projects, the book you've been meaning to read (or write) for ages and your own laptop or tablet are all good candidates. It bears repeating though; if good internet and phone coverage is important to you, be sure to clarify how strong the signal is where you're going, and for your particular mobile network.
8. Be prepared to experience a different way of life
Remember, you will be in someone else's home and you should be prepared to live by their (reasonable) house rules and culture. If you're used to living in a tidy shoes-off flat with a beige carpet, it's entirely likely your host's home will be more 'earthy' than yours. That doesn't make it wrong or necessarily unhygienic, it's just a symptom of a more land-based lifestyle. You may be used to taking a long bath or shower each day, and this simply may not be possible with your hosts if there are hot water constraints.
9. Keep your WWOOF word
Always honour the agreement you make with your host. They will have planned tasks around your stay, bought food for you and probably turned away other helpers because you were booked in. It will be very annoying and disruptive to their lives if you cancel at the very last moment for anything other than an emergency. If you simply don't turn up (it does happen) they will worry and contact the office. Please, do honour your agreement.
10. And finally….
….have fun!! Be flexible, go with an open heart and mind. You never know what other magical things might happen. WWOOF is about more than farming, and other opportunities and learnings may present themselves as you live alongside new people. Be ready to dive in.
Find the original article by Scarlett Penn on Indie Farmer and the WWOOF UK blog. Discover more about WWOOFing in the UK here.
---
---
The views expressed in our blog are those of the author and not necessarily lowimpact.org's
---
8 Comments
1

spacemao February 12th, 2019

Woofing is essentially serfdom without enclosure, landlords often expect more than 8 hours per day in return for extremely poor standards of accomodation. The food might be good, but then it's largely be the woofers, not the landlords, that cook it. Moreover, there is no job security whatsoever, so be expected to be moving at any moment. There are good landlords and bad landlords, many of which see Woofing as a cheap source of labour. They will often expect you to work without appropriate safety equipment, on tasks for which you are not qualified. Some landlords might even expect you to build the very accomodation you have been promised, or stay in unfinished or disrepaired buildings which leak, so you might end up staying in a tent indoors for the entire duration of your stay.

Therefore woofers need to have clear and consistent labour agreements with landlords. This is the most important thing to establish before arriving. The idea of woofing is that your trade some of your time for the ability to travel very cheaply. The standard price of a youth hostel is on or around £10 per day in the UK, this includes warm rooms, often is inclusive of long showers (if you need them) and proper facilities, food costs on a budget can be kept below £10 per day, so realistically, you should be offering no more than the equivalent of £20 of labour time per day to your landlord – this, in UK terms, is 2 hours per day. Most woofers are expected to work at least 8 – so bear in mind your landlord is making a huge profit over hiring local labourers.

Given that woofing is competitive, other workers will offer more work and harder work in order to get the best spots. This is why it's important you talk to other woofers and establish a common contract between you all. Laziness on your part will lose you friends very quickly, but working every hour god sends and expecting other volunteers to sacrifice their time this way is even worse behaviour. Landlords often can isolate individual woofers and expect different standards from them, this is inhumane, woofers need to meet regularly to discuss that everyone is having the expertience they had hoped for. Often, woofers, as outsiders to these businesses, have stronger insights and clearer ideas on how to improve things. Individual woofers can get ignored, but as a group landlords will have to listen.

The article above is written from a landlord's perspective. Requests that you adapt to a lone land owner's disgusting heigeine habits may seem reasonable but are not. Obviously you'll be on a farm, everything will be dusty and muddy, but you should not have to work and live in damp, unsafe accomodation, and the landlord should not expect that this voluntary labour doesnt also mean they may have to negotiate their habits. Have respect for yourself, protect yourself from exploitation, and bear in mind that ultimately, you are the one doing the largest favour to the landlord.

2

Dave Darby February 12th, 2019

That's really, really wrong in so many ways. I'll address a few.

WWOOF hosts tend to be small farmers / smallholders – often tenant farmers themselves, or intentional communities – plus Ecological Land Co-op members, 'one-planet' smallholders in Wales – not 'landlords'. Even if they own their own land, the relationship they have with WWOOFers is not a landlord relationship – WWOOFers are volunteers not tenant farmers.

Hosts as bad as your description would be reported and would be removed from the register.

WWOOFers are volunteers – they actually want to work on organic farms, to get into the countryside, to get their hands into the soil, to travel, to gain skills, to make contacts and friends – many reasons.

There's no job security because it isn't a job. It's voluntary, because people enjoy it. WWOOFers can volunteer for a weekend, or for an entire summer – that's up to them. You make it sound like Industrial agriculture exploiting migrant workers.

I lived at Redfield community for 13 years. We had WWOOFers all the time. It was very relaxed. WWOOFers received training in a range of activities, but because they were often newbies, they weren't massively productive. Sometimes we had skilled WWOOFers, and this wasn't the case.

WWOOFers would stop WWOOFing if this was what it was like. But they don't – they continue doing it because they love it, and they often return to farms over and over again, because they love the experience and they've made good friends.

WWOOFers and WWOOF hosts tend to be really nice people, who are into organic farming and meeting new people. There are bad eggs anywhere of course, but bad WWOOf hosts will be reported, and are soon weeded out.

4

Minty February 12th, 2019

Well said @Dave. It's a shame @spacemao has brought everything down to £££ and power struggles but seeing as they have:

– We have WWOOFers staying in rooms in a house; we could easily rent rooms for £300pcm, probably more

– @spacemao estimates it costs £10 to eat if you budget well – that would represent £300 per month. We provide 70% organic food AND DRINK to all volunteers for EVERY DAY they stay with us, not just the days they provide us with help. That is part of the WWOOF ethos

– Volunteers don't have to pay any bills, yet have free access to WIFI, showers, clothes washing, bicycles etc

This is before you consider all the rich learning our volunteers gain about food growing and sustainable lifestyles PLUS – guess what – we still interact with them after they have done their 5 hours, 5 days per week that we suggest as the exchange. They become part of our family, we enjoy what they bring. It's immersive cultural exchange that promotes deep human and environmental understanding. How do you put a price on that? You shouldn't even try, in my view.

5

Hilary Jones February 12th, 2019

I see from spacemao's remarks that, over the forty-eight years I've been a WWOOF host, I've been getting it wrong. I thought we were all engaged in a common endeavour to do what we can to reduce our consumption and our carbon footprints, starting with sustainable food production, but extending to production of other genuine needs such as fuel and fibre- and working together to define what those are. Everything else follows from that.

I will add that it's quite a strain for me to live at close hand with total strangers; and that the jobs I ask them to do at first necessarily are those that are easy to explain. If people will stay a bit longer and put more into it, of course they will get to know how this place works, become better friends and learn to do more with the livestock (strangely enough, animals don't always get on with nervous, jumpy strangers either, until they settle down a bit). The food and accommodation I offer are what I can offer. Usually if I'm away from home I'm sleeping in the back of whatever vehicle I'm getting around in , so a bunk with a quilt or two and a mattress, hot dinners and showers at all don't look too bad.

If the pace of life on a farm is not suitable for spacemao or anyone, perhaps their contribution to transition and powerdown could be made in another way.

6

Scarlett Penn February 12th, 2019

Thanks Dave, Minty and Hilary – between you, you've made most of my points for me.

There is one thing I agree with Spacemao about though (even if I don't agree with the terminology used) : "woofers need to have clear and consistent labour agreements with landlords. This is the most important thing to establish before arriving."

We try and reinforce this point as much as possible; a visit is likely to be more harmonious when each party has been clear and honest from the outset and so knows what to expect during the exchange. This works both ways. As a host myself, I've had a WWOOFer who'd not been truthful about physical ailments before she arrived, so I had no activities planned for someone who could could do nothing more physical than making jam and feeding the hens.

Also, to speak of the recommended hours exchange, we give the guideline of 25-30 hours a week. If a host requires over this recommended amount, we ask them to explain in their description why this is the case. In one example, a working biodynamic farm has far more applicants than they can accept because they are essentially offering a first class, free, biodynamic apprenticeship. They need committed applicants who recognise the high value of the opportunity on offer. In a case like this, WWOOF is happy to allow this exchange because the host organisation has a good reason and is providing excellent value.

Ultimately, going WWOOFing can provide amazing opportunities and we hear so often that lives have changed for ever – for the better – because of experiences had on an exchange. And as it says in point #10, an open heart and mind can be the key.

7

spacemao February 18th, 2019

Okay guys, my comment clearly got a lot of backs up. I have known several full time woofers who've had, what I could only characterise as, exploitative relationships with landowners. It may be quite cruel to analyse what is essentially a cheap way of travelling with an analysis of class and economics, but I believe very necessary, because woofers and those who run the service have the best of intentions, and I am sure they would welcome any critique.

If I may, I'd like to systematise and deal with the rebuttals to my comments thoroughly, so that I am not doing any of my respondants (and the first author) a diservice.

"the relationship they have with WWOOFers is not a landlord relationship – WWOOFers are volunteers not tenant farmers." This is subjective, they own land, they rent space on that land in exchange for labour. To call them volunteers is no less subjective than me calling them labourers – they are exchanging their labour time, there is nothing in this that forbids me from looking at the labour value exchange in a scientific and critical manner.

'Hosts as bad as your description would be reported and would be removed from the register.' I am sure this can and does happen, but how is the network policed? Do land owners have random inspections? Undercover volunteers who can check a significant (ie. 75-90%) proportion of the network on an ongoing basis? Is their a fully anominised reporting system that a) volunteers are made fully aware of and b) can report in a fully anomynous way where the landlord could not work out who it was? and be completely unable to leave them with a bad reference that will kill their future opportunities? Is there staff to mediate between woofers and land owners and is this done in a pro-active, rather than reactive way? Is this done by an independant body? Can woofers speak to a representative who represents only woofers in a similar way to what we would see within collective labour bargaining? Believe me when I say that I see the positive aspects of woofing, I still recommend it to freinds who are in the right position in life, but my stories are not bogus. I know woofers who have been expected to build the accomodation that they were supposed to stay in, and have had to stay in an uninsulated, leaking attic, inside a tent, with their child. The land owner in that case was absolutely lovely, the woofer was also absoultely lovely, neither of them would have complained – but personally I thought it was absolutely shocking. You cannot expect woofers to police your network alone, especially as the labour conditions are extremely individualised – in all other industries and societies this type of policing has been shown to fail. It actually makes a meritocracy of accepting bad deals. Sorry for the long winded response to that one, I am sure that some of those methods are employed but I want a YES to all of those questions without exception.

'There's no job security because it isn't a job. It's voluntary, because people enjoy it. ' This is the type of reactionary line of reasoning you get with poor wages, where bosses say 'if you don't like your job you have the freedom to work at another.' Life, as we know, is not that simple, and just like the labour market, the woofer market has scarcity and a high level of competition for good volunteer spots. Being that this is the situation, and that many woofers do not volunteer simply because it is a cheap holiday but for very serious personal and ethical reasons, it's not fair nor reasonable to revoke their security in living nor their right to negotiate the conditions of their employment with their land owner. Land owners should be expected to provide the equivalent standard of accomodation and food that could otherwise be paid for with 25-35 hours of labour at the living wage (if that is the expected amount of labour time required for volunteering.) in the UK that means volunteers should be compensated by £1000-1500 worth of accomodation and food – I am absolutely certain that no one could quantitavely cost the accomodation and food provided as being anywhere near that amount. Some space for a tent, a shower, home grown or otherwise inexpensive food and a composting toilet are (and I can only say personally) worth less than £300 per month to the land owner in terms of expenses (thanks for corroborating this minty.) This means they are paying at most £3 per hour for their labourers, if their labourers are working 35 hours they are being compensated £2.15 per hour.

This wage (and it is an exchange of labour time so I think it right to call it that) is unethical on so many levels I shouldnt need to go into, this also has an impact on the rest of the labour market and wages are depressed enough – moreover, the fact that these positions rarely last a season and woofers often move on because of crap conditions before they expected they would intended to, makes it even more inequitable. Woofing isnt simply a cheap holiday for woofers, it's a lifestyle, an ethical choice and an entirely different way of working, many of them are happy to get a crappy deal but the lack of security is something I cannot accept as 'just part of it.' If these land owners have half a brain (which they most certainly do) they could provide rididly fixed terms within the confines of their business model and strategy. Like any other business would be able to when they have placement or voluntary staff. Let me repeat that; Just like any other business would be able to when they have placement or voluntary staff.

'who tells of evil WWOOF hosts who made her go kayaking with seals and bareback horseriding – it's inhuman I tell you!' Please no individual examples, let's be scientific and talk about the material factors involved with this industry. I can provide individual examples to match yours but I wouldnt because of the risk to these people who actually woof for a living and you could probably identify.

'This is before you consider all the rich learning our volunteers gain about food growing and sustainable lifestyles PLUS – guess what – we still interact with them after they have done their 5 hours, 5 days per week that we suggest as the exchange. They become part of our family, we enjoy what they bring. It's immersive cultural exchange that promotes deep human and environmental understanding. How do you put a price on that? You shouldn't even try, in my view.' Well thankyou for being so gracious to 'interact' with the people who come and give you free labour haha. All I have to say about this is that I thought I was reading a victorian textbook on managing slave labour haha. And I know I am being mean and look, very tongue in cheek to call what you said that but it reeked of a paternalistic attitude which you need to criticise. I agree fully with your sentiment and I think it's great that you open your home in exchange for labour, but you CAN actually put a price on the work that they are doing. And there should be a price put on it – because we live in a horrifying capitalist society in which everything has a price. Come the revolution, when there are no landowners, there will be no labourers, just collective responsibility, then we can talk in this way. But for now, not putting a price on it allows people to think that it is an equitable exchange, and I am arguing that it is not, that hosts are the beneficiaries. I am not saying that the woofing model is irreparably broken, just that the article talks as though hosts are descending from heaven and lifting mountains for volunteers when my experiences and observations show the exact opposite, that often volunteers are breaking their backs (almost literally) for failing businesses who are accepting volunteers not for ethical or ideological reasons (because they believe in some fantastic sharing economy) but because they literally cannot afford labour any other way.

Hilary Jones, I am not saying that you got it all wrong at all, I am totally down with your reasoning. Perhaps I am being harsh on genuinely giving landowners who actually lose time and money by having to manage 'newbie' volunteers. I get that. I literally get that a lot in my work. If I did my work alone I'd do it twice as fast and get more done by doing it without volunteers. But it's not about developing capital for me, nor is it for the commenters here and I appreciate that and apologise for perhaps being cutting – but I am cutting for very deliberate reason and it's because I am angry at the disparity between how woofing is generally presented and the experiences I've (generally) witnessed.

This conversation highlights for me the problem of collective responsibility faced by businesses like private landlords (and also indivdiuals with things like car insurance) where the good eggs have to pay (and be regulated) because there are bad eggs out there. My response is that good eggs need to work together to root out bad eggs and police their own market more effectively. If they refuse to do that, then someone else will do it for them, and frankly should do that for them.

5 hours per day, 5 days per week, or 25-30 hours, is far too much to expect – I outlined the actual labour exchange costs from this figure earlier. Also, what I've seen in my experience is 'project' based employment where someone is expected to build or make something in a given time frame – often this might require 12 hours per day – and a woofer who is a nice person will do that without thinking about their own self. And I know that some of you are arguing that you provide lots of experience and training – but if you do not provide a certified, accredited qualification that this experience largely adds up to buggar all on the labour market as it currently stands. Of course, I am sure that some woofers are able to turn their woofing knowledge into gainful employment but this is never going to be certain and therefore the entire 'experience for labour exchange' angle is invalid.

Maybe you guys I am only talking about green, useless post graduate volunteers (like myself) who need their hand holding for everything, even feeding hens and making jam, but there are a large number of highly skilled woofers who do highly skilled work. And they prefer the lifestyle, they like to live nomadically. These people are incredible. I would argue that these sorts of woofers could gain some certification and priority on bookings but then this creates a different labour class that can be just as self interested as landowners. You guys need to decide, is woofling another form of hosteling? In which case stop talking about it like it's a life changing, spiritual, ecological and ethical experience and I'll stop moaning about the inequtable labour exchange. However, if you decide (and I hope you do) that it's a different form of working and something we need more of in the future then you need to radically improve and rapidly impliment fairer guidelines regarding working hours and actively police the network. £300 of monthly costs should be compensated by no more than 30 hours of monthly work – if we are going to try and even say that the labour exchange is ethical. Training is problematic but any workplace is expected to give training, personally I say training is an unfortunate concequence for land owners but one that they are compensated for. A 'woofers union' is somethiing I'd very much like to see and I can't take arguments that the networked is policed seriously until there is some independant body which can work to that end.

8

Dave Darby February 21st, 2019

spacemao – I think that there are some fundamental problems with what you're saying, not least that all over the world, capitalist, industrial agriculture is driving family farms and organic smallholdings out of business. Anything that redresses that trend is good imho – veg box schemes, farmers markets, community-supported agriculture, the 'one-planet development' policy in Wales, the Ecological Land Co-op, the Scottish Farm Land Trust, and the WWOOF organisation. All of those things help organic smallholdings to survive against the onslaught of industrial ag. Small farmers (less than 5ha) often struggle, because they don't get the subsidies that large-scale agriculture gets, and so WWOOFers can often help them survive.

There will be some bad eggs, yes – but as Scarlett can tell you in more detail than me, there are policies in place to weed them out.

But I think that my main objections to what you're saying are more deeply political and philosophical than just about the WWOOF organisation.

First – the relationship between farmer and WWOOFer is not a landlord / tenant relationship. Organic smallholders generally are not 'landlords', in that they have no tenants. Often, they'll be tenants themselves – working to produce food for local markets, and having to pay rent to absentee landlords who do absolutely nothing useful. If someone is prepared to work hard to produce healthy food for local markets, without damaging nature, then surely they deserve a secure tenancy / stewardship of that land, without the risk of it being taken from them. As for ownership – in the long run, I don't know. It could be argued that nature / the universe / God has provided the earth for all of us, not for some to own and some to pay rent or remain landless. But under the current system of land ownership, I think that organic smallholders have the the most valid claim – although only on land that they work. I don't think anyone should own land (apart from small gardens) that they don't work – themselves (rather than employing others to do it for them). But I certainly wouldn't want a centralised, statist system owning all the land. I'd much rather have it in the hands of communities, co-ops, community land trusts, 'commons' or the people who actually work it.

Second – the relationship between farmer and WWOOFer is not an employer / employee relationship. WWOOFing is a leisure activity. WWOOFers voluneer because a) they love working on organic farms; b) they use it as a cheap and interesting way to travel; or c) both of the above. They are not thinking in terms of the monetary value of their work. My advice for anyone who thinks that way is to do something else with their leisure time. Give it up, get a job, go back to college. Meanwhile, Eastern European workers are bullied, exploited and paid peanuts on industrial farms, because they have no other options. This is where we should focus our ire.

I travelled for 6 years, mainly volunteering on organic farms, smallholdings and intentional communities. I met hundreds of people doing similar things (I wasn't on the 'tourist trail'). I slept in sheds, old trucks and caravans full of interesting 'wildlife', tents, tipis, haylofts, treehouses, mud huts – and I absolutely loved it. I never met anyone doing a similar thing who didn't also love it. My 'research' involved quite a large sample. I never came across an unreasonable host either – although some were more reasonable than others.

When there are large, industrial farmers dousing the land in toxic chemicals, ripping up hedgerows, exploiting foreign labourers and mistreating animals, as well as corporate plantations overseas, it seems bizarre to criticise WWOOF, that offers fun, skills, contacts and travel opportunities to volunteers and a lifeline to organic farmers, who are being wiped out by industrial agriculture.
Leave a comment